Waterways Travel in Northern Laos
Mark Bibby Jackson
Posted on 28th Jul 2013
In search of well-deserved respite, publisher Mark Bibby Jackson tries some waterways travel in Laos and gets caught up in New Year chaos along the way.  
The boy with the pump-action revolver clearly meant business. Smiling through his toothless grin he let me have it. A huge jet of water exploded onto my already drenched t-shirt. This is how they say 'Sabaidee Pbeemai' or 'Happy New Year' in Laos.
Fortunately, I had already planned my retreat. A three-hour waterways travel along the Mekong river from Luang Prabang, Kamu Lodge is as close to getting back to nature as you can find in this world of globalised travel.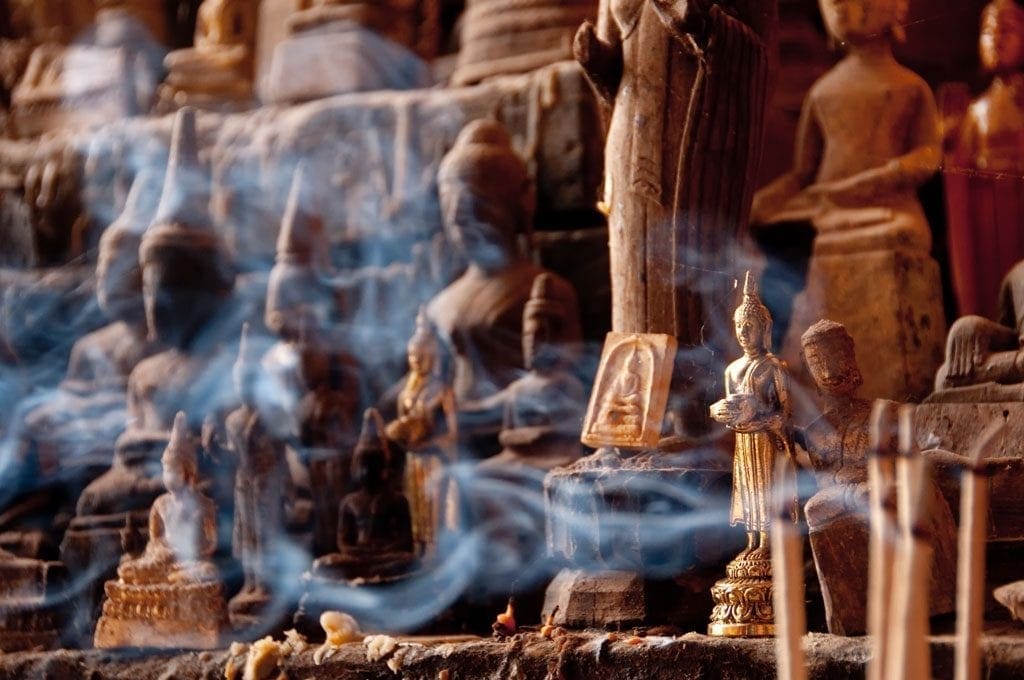 Consisting of a series of canvas tents strewn around a terraced paddy field, solar panels above each one provide sufficient electricity to power small fans and a light, but nothing else.
Unable to recharge an iPad or contact the outside world via internet, you are left to the company of your fellow guests and the solitary white buffalo that chews its way through the rice paddy. Stressed out by modern life? Escape to Kamu.
Taste of the Country
During our stay, a guide called Lee escorts us through a series of activities aimed at providing an insight into the life of local villagers.
Judging by our attempts at crossbow shooting, rice planting and net fishing, we would starve to death if left to our own devices. Fortunately, accommodation comes with breakfast, lunch and dinner already prepared.
We stop at the house of an old woman who offers us some black scorpion lao lao, the notorious drink of choice in Laos
The lodge borders on the tiny village of Yoi Hai. Small wooden and thatched houses clamber their way up the side of the hill. The newer buildings have concrete walls and tin roofs.
We climb to the top to meet the farmer who has just shown us how to plant rice. He is now constructing his new home and judging by the number of concrete blocks involved, he benefits from his employ at the lodge. He is one of 30 villagers who work there.
A Model Village
An official-looking notice board informs us that Yoi Hai is a model village. Lee says this means that all residents, apart from the elderly, can read and write.
The area was initially inhabited by the Buddhist Lau Lum tribe, who moved on as the government resettled animist Kamu people here from the neighbouring hills. This was in order to bring them closer to formal education, explains Lee. Now Lau Lum have started to return to their former land, although the Kamu are still in the majority. A shaman lives alongside a Buddhist monk and two novices.
We stop at the house of an old woman who offers us some black scorpion lao lao, the notorious drink of choice in Laos. Supposed to improve men's virility, the chances of us putting this to the test seem remote, although an intrepid, retired Australian couple might fancy their chances. They have travelled by boat here from Chiang Rai across the border in Thailand and only have words of praise for their journey.
Few experiences compare with a boat ride in Southeast Asia
I am the first to try the lao lao. It tastes warm like a shot of tequila, but without any pungent aftertaste. Fortunately the scorpion stays safe within his bottle. Our afternoon excursion over, we retire to our tents to freshen up. The sound of the cicadas intensifies as the night draws in and we are left to entertain ourselves in a world devoid of electricity.
Under Canvas
The following day we continue our waterways travel to Luang Prabang. Few experiences compare with a boat ride in Southeast Asia. Early in the morning we see two large barges chugging their way loaded up with what appears to be sand. Later on we pass fishermen as they hang the lines out to dry.
After 45 minutes we approach Pak Ou Cave, a popular day excursion from Luang Prabang. My fellow passengers climb the long steps up to the cave, while I stay on board with the crew watching the day-trippers with parasols making a pilgrimage to wash the many statues of Buddha inside.
Sitting Ducks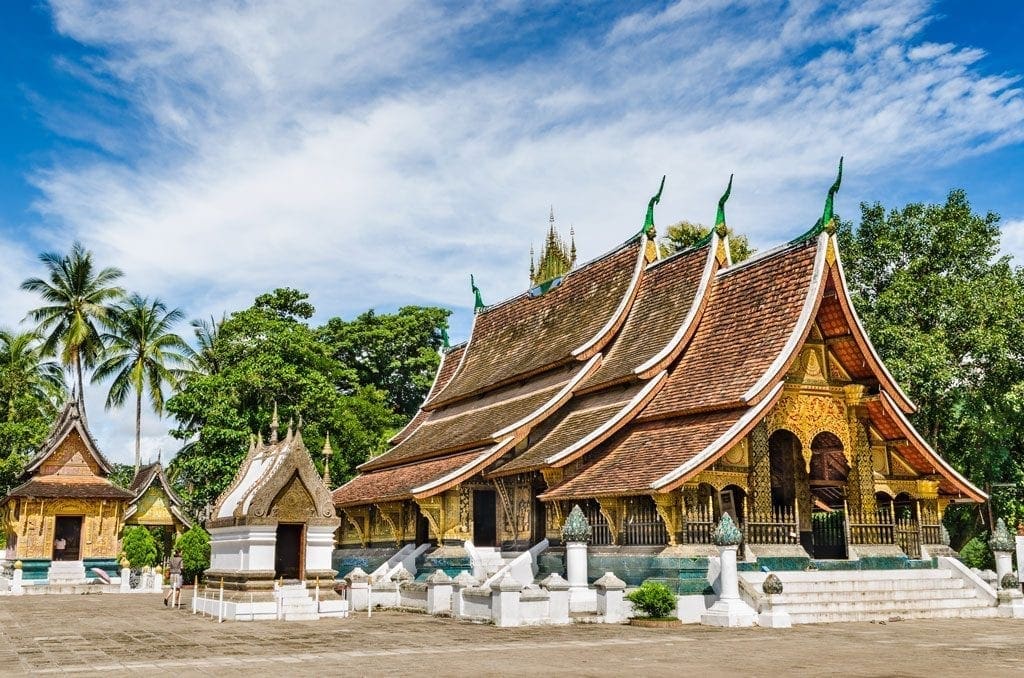 We have hardly disembarked from our waterways travel in Luang Prabang before the first water cannon hits us. Trapped in our tuk tuk, we are sitting ducks to every man woman and child. By the time we reach the sanctuary of our resort, the Villa Maly, all are drenched to the skin. I have now experienced New Year in Cambodia, Laos, Thailand and Myanmar. While Luang Prabang lacks the rock concert feel of Yangon, what it lacks in amplification it certainly makes up for in energy.
From midday to sunset a cavalcade of cars, trucks and tuk tuks parades its way around the ancient streets and along the riverfront. Restaurant, shop and massage parlour owners fight pitched battles with the invading troops. Some show the signs of camouflage with either black paint rubbed onto their skin or flour daubed on their cheeks. Backpackers join in the fray, wielding their pump-action water guns like Vietnam veterans.
As night draws, in the traditional traders of the night market resume their rightful positions. Judging by the fresh coiffeur of most of my fellow travellers, a lot of shampooing has taken place during the evening ceasefire. The fighting will resume for a third and final day on the following afternoon, by which time I shall be in neighbouring Chiang Mai to discover how toothless Thai children usher in the new year with visitors from a foreign land.
---
For a more luxurious waterways travel in Laos, read here.
Mark Bibby Jackson
Before setting up Travel Begins at 40, Mark was the publisher of AsiaLIFE Cambodia and a freelance travel writer. When he is not packing and unpacking his travelling bag, Mark writes novels, including To Cook A Spider and Peppered Justice. He loves walking, eating, beer, isolation and arthouse movies, as well as talking to strangers on planes, buses and trains.
Subscribe to our newsletter