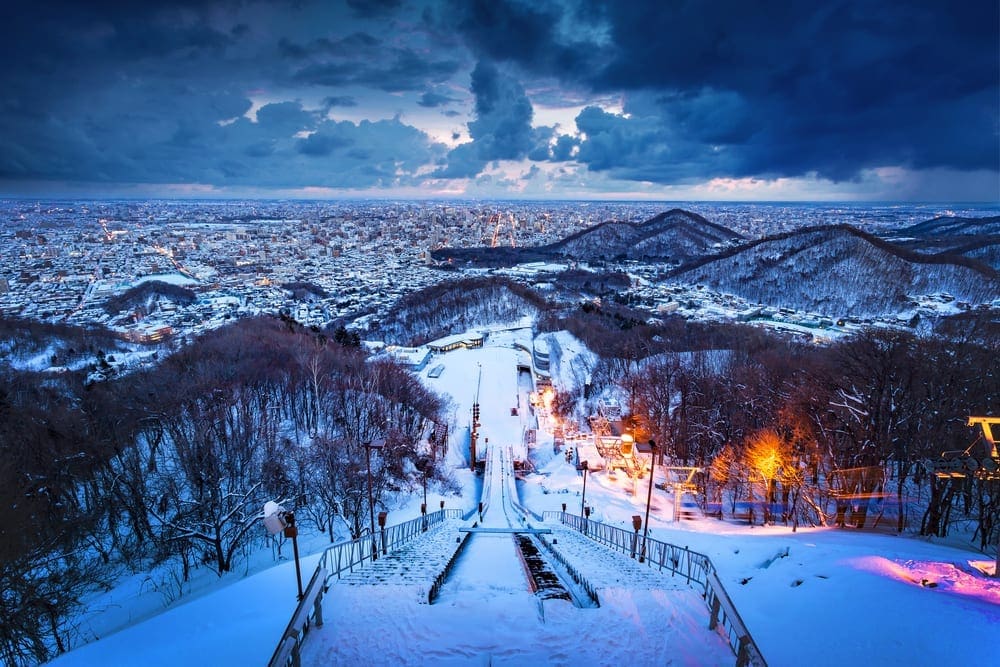 Niseko Ski Japan 40-year-old Virgin
Mark Bibby Jackson
Posted on 20th Jul 2017
First-time skier, Mark Bibby Jackson decides to ski Japan, well past his fortieth birthday, when he really should know better, but finds the experience rewarding.
I keep on hearing the same message as if a Buddhist mantra with which I am unfamiliar. "It's all about the snow," everyone is chanting. The staff at the hotel, my fellow guests, the guy who waits upon us at Yo restaurant, even the naked Englishman in the onsen bath – more of that later. They all agree it's the fine quality of the snow that makes skiing in Japan at Niseko Village a unique experience.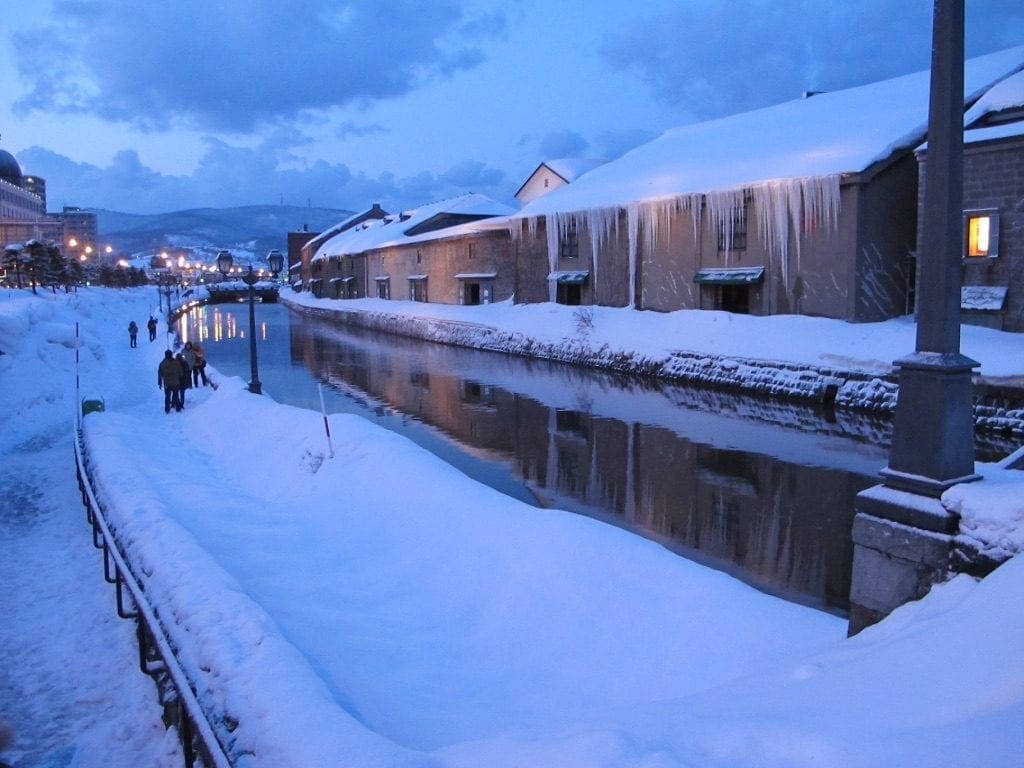 Japan Snow is the Best
It's what persuades even seasoned skiers from Europe to fly all the way to Saporo rather than take the short trip to the Alps, Augie Vong, the director of sales for YTL which owns both the Green Leaf Hotel in which I am staying, and the nearby ski runs, informs me.
The naked Englishman agrees.
"I just love skiing up to my waist in the snow," he says to the French Canadian next to him. I just hope he skis in more appropriate attire than he bathes. Like myself he has cast aside natural British reticence and braved intermittent snow flurries to walk to the traditional Japanese hot springs, a flimsy piece of cloth the size of a beer mat the only protection for national pride. Apparently Japanese do not have much to hide.
I'm not sure what surprised me the most – that snow can be dry or you can ski in Australia.
"It's the best," says Chris our Australian waiter at Yo, a traditional Japanese irori restaurant where customers sit around a sunken hearth. "Better than Australia and France. The snow is softer and more dry."
I'm not sure what surprised me the most – that snow can be dry or you can ski in Australia. Clearly, I had plenty to learn about skiing.
Sashimi, Teppanayki and Sake
Chris' occupation – a ski instructor by day and waiter by night – typifies the twin attractions of Niseko. No steins of beer and fondue here, but sake and the teppanyaki. Within Japan, the island of Hokkaido in which Niseko is situated, is noted for the quality of its fresh food produce.
This is something we had put to the test on a trip to the town of Otaru, by the end of which I have sushi and sashimi coming out of my ears. We even take in a nearby whisky distillery.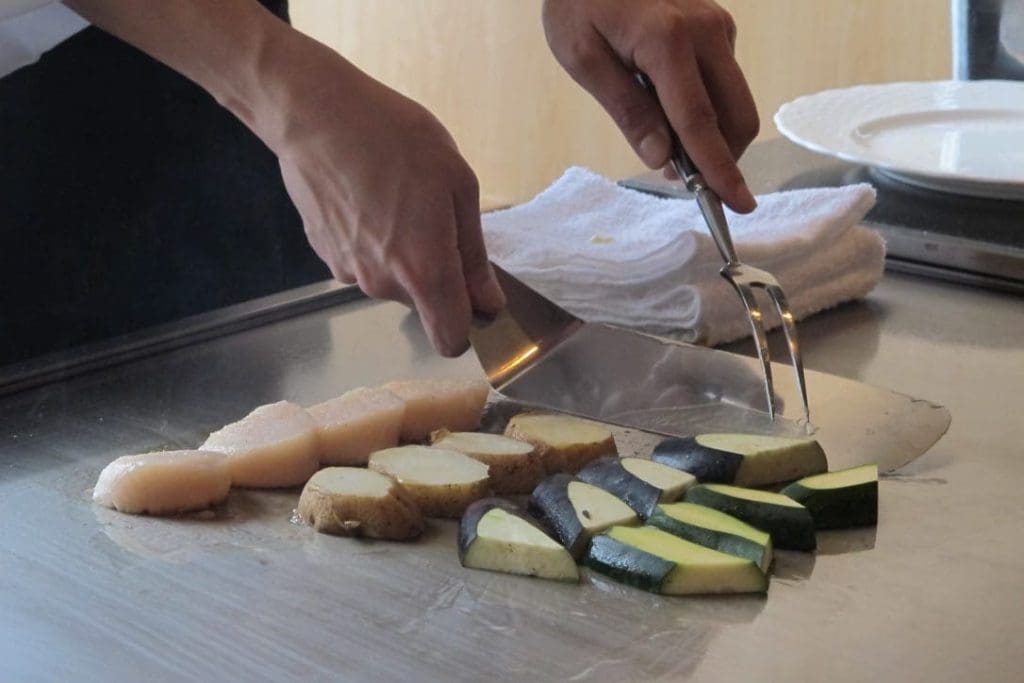 Not that there is any need to leave the ski village in order to try out the local produce. In addition to Yo, the Hilton Niseko – which was voted Japan's Best Ski Hotel at the World Ski Awards from 2013 to 2016 – has numerous restaurants including a quite fantastic teppanyaki grill with the freshest seafood and buttery prime, marble wagyu beef. There's also an ice bar, literally cut into the ice that melts away each spring. Just don't ask for your sake hot here.
But despite the excellent food on offer, it's the snow that is Niseko's main draw. Peter Novom, my ski instructor, who grew up on the slopes of Vermont, explains that it is the dry winds coming from Siberia that makes the snow so soft. Between 15 to 18 metres of snow falls each year, about three times that in Vermont, meaning it's always fresh.
"They do not even have a snow making machine here," Novom says. "The snow is reliable. I haven't heard anyone leaving disappointed."
"Don't worry the snow is soft … It cushions the blow." Now, why don't I find this totally reassuring?
Dry winds, soft snow, but still a mountain to descend on long wooden sticks that seemed to be crying out "break a leg" in time-honoured thespian tradition.
"Don't worry the snow is soft," said Aja Ng YTL's director of Public Relations, who like most on the trip was skiing for the first time. "It cushions the blow." Now, why don't I find this totally reassuring?
Leap Before You Look
This is my first time skiing in Japan, or anywhere else for that matter. First time that is unless you count one alcohol-induced assault on a dry slope in Essex, when my cousin had persuaded me to take the ski-chair to the top of the slope and make my own way down. She said I was a natural skier – the sole reason I was persuaded to take on the Estuary's equivalent of the Matterhorn – that and a few pints. Both my cousin and the alcohol had lied, I found to my cost as my descent concluded as I wrapped myself around a welcoming tree.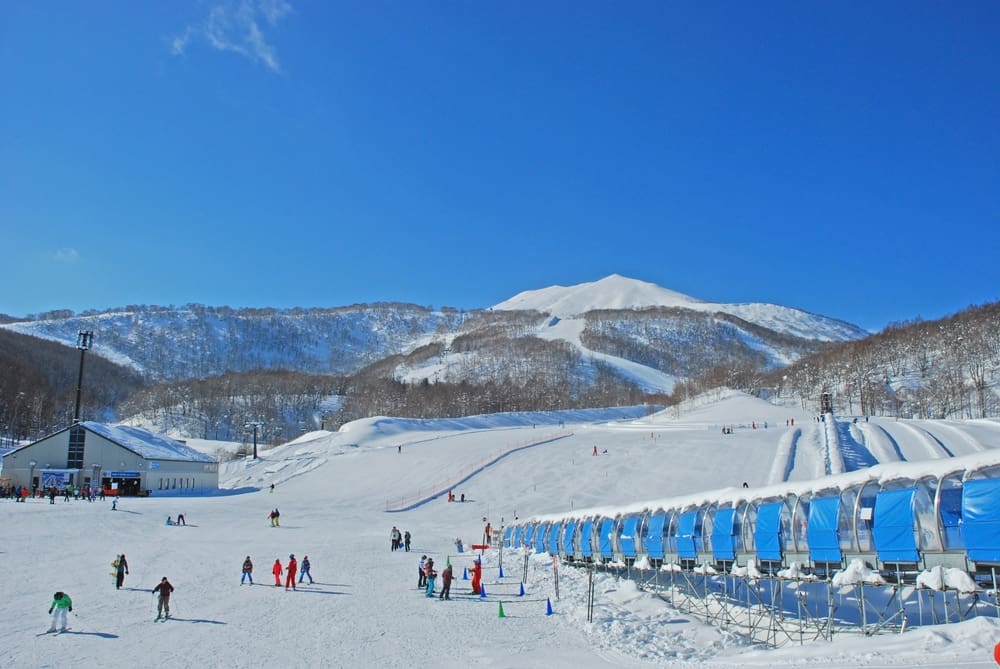 So, standing at the top of the community run, the finest teppanyaki lining my stomach, I try to banish all thoughts of my previous foolhardy venture and focus instead on the softness of the snow.
Like a condemned man joining the chain gang I stomped my way to the nursery slopes, discovering that ski boots are not made for walking
The morning had gone smoothly enough, my greatest ordeal had been finding a ski-suit and boots large enough for me. The consequent orange ensemble was neither fashion statement nor forlorn appeal to Buddha, but simply a case of wearing what fitted. Like a condemned man joining the chain gang I stomped my way to the nursery slopes, discovering that ski boots are not made for walking.
---
If Mark's ski Japan experience has piqued your interest in the country, then why not read his: Japan Travel: Glamping, Zip-cords and Samurai.
---
There, Novom showed me how to swerve left and right as well as the art of stopping safely – something I had never mastered in Essex. In truth, these skills, even for a klutz like myself are pretty simple to pick up. I think I only discovered how soft the snow was once and that at a pace most pedestrian.
But later that afternoon standing at the top of the beginner's slope run, both mind and knees turned to jelly. A sharp intake of fresh air and I was off.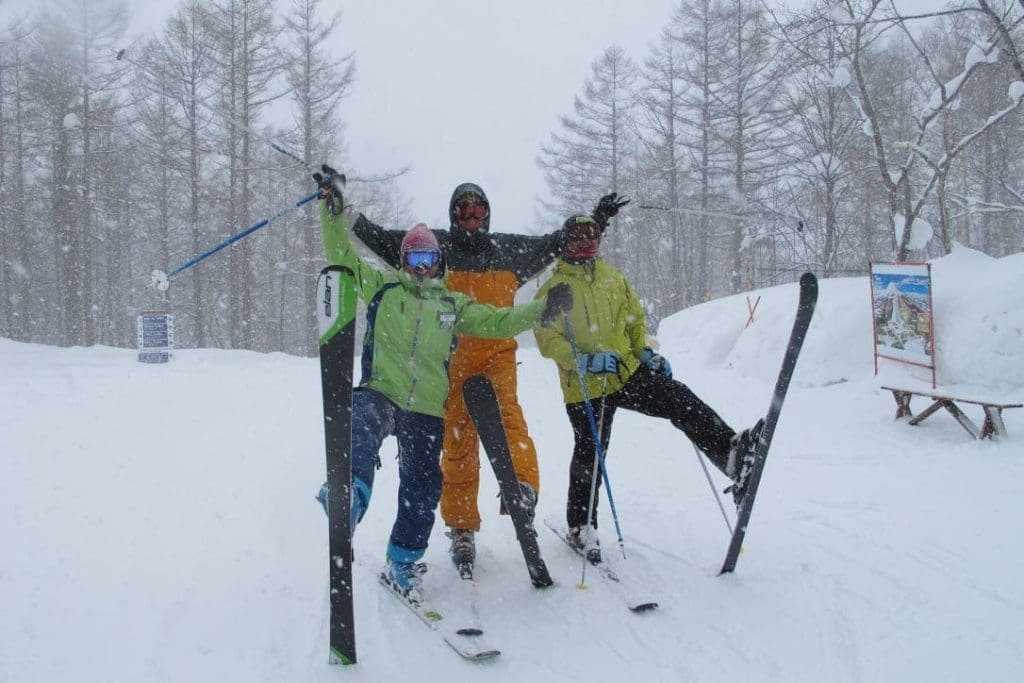 There is something both exhilarating and paralysing in attempting an activity that is quintessentially life-threatening. Each time I master a slow curve I get a sense of accomplishment, each time I lose control my heart beats faster. I descend the mountain like a large orange heffalump with the certainty of a novice duckling encountering an icy pond for the first time. Just as I have begun to stand on my own two feet, a small boy perhaps five or six years old comes whizzing past me, his relaxed mother close behind. Undeterred I persevere – after all I can hardly walk in these boots.
With the finishing line in sight and the Hilton lying in wait for me, the slope appears to grow steeper, or is that the adrenaline playing a trick on my mind. I lose my head and hurl myself to the ground one last time, rest assured in the knowledge that the slopes soft snow will break my fall and not my legs. After all, what is it everyone has been telling me all week – it's all about the snow, all about the snow.
---
Never been skiing? Why not try this Beginner's Guide to Skiing?
---
Japan Ski Season
The ski season in Japan tends to run from mid-December to March or April, depending on the snow.
Sapporo Hotel / Niseko Hotel
It helps support the running of this website if you book your hotel via our booking service with Agoda. Please click here to book your hotel for no extra cost.
Flights to Sapporo Airport
There are no direct flights from London to Sapporo Chitose airport, but Cathay Pacific does have a service via Hong Kong. Thai Airways also flies via Bangkok if you want to mix your ski Japan experience with some sun.
Sapporo Weather
For an accurate 14-day weather forecast for Sapporo, click here. Information on weather in Japan generally, can be read here.
Ski Japan – Niseko Ski Resort
For more information about ski Japan, visit Niseko Village's website. You might also think about downloading a skiing app.
Mark Bibby Jackson
Before setting up Travel Begins at 40, Mark was the publisher of AsiaLIFE Cambodia and a freelance travel writer. When he is not packing and unpacking his travelling bag, Mark writes novels, including To Cook A Spider and Peppered Justice. He loves walking, eating, beer, isolation and arthouse movies, as well as talking to strangers on planes, buses and trains.