Things to Do in Hanoi in 48 Hours
Marissa Carruthers
Posted on 20th Jul 2017
From drinking coffee to wandering around Hien Kien Lake and the Old Quarter, and sampling some bia hoi, Marissa Carruthers discovers there are plenty of things to do in Hanoi, the capital of Vietnam in 48 hours. 
We grapple past crowds of men perched on stools clutching mugs of coffee and make our way to the only free spot – a table sat in the scorching sun on a small balcony overlooking Hoan Kiem Lake. We have spent 30 minutes trying to locate the inconspicuous coffee shop, which is tucked away through a store flogging knock-off rucksacks, down a dingy alley and up narrow flights of dimly lit stairs, after it was recommended by some expats the previous night.
We'd been warned Café Dinh is difficult to locate and finding a seat was a feat. We'd also been told not to expect the glamour of the franchise coffee shops that line the streets below. However, they had raved about the egg coffee (caphe trung), claiming it was well worth the trouble. Not being a huge fan of eggs, the idea of my coffee being infiltrated by them didn't really appeal but the expats' passion had piqued my interest.
Soon four cups of fluffy white coffee were transcending from behind the worn wooden counter and through the clouds of smoke to our table. The silky smooth coffee, which is appropriately described as liquid tiramisu, slides down the throat, leaving a pleasantly sweet aftertaste. It is indeed the perfect way to start our first day in Hanoi.
Hanoi's Old Quarter and Hoan Kien Lake
Having landed late the previous afternoon, we'd checked into our hotel in the Old Quarter before taking a short stroll along the narrow, winding streets that lead to the city's centre point, Hoan Kiem Lake. Surrounded by wide leafy walkways, we meandered past young couples walking hand-in-hand, brides and grooms posing for photos, hawkers flogging everything from carved pop-up cards to snacks and drinks, and tourists from across the globe stopping to take snaps of the historic lake.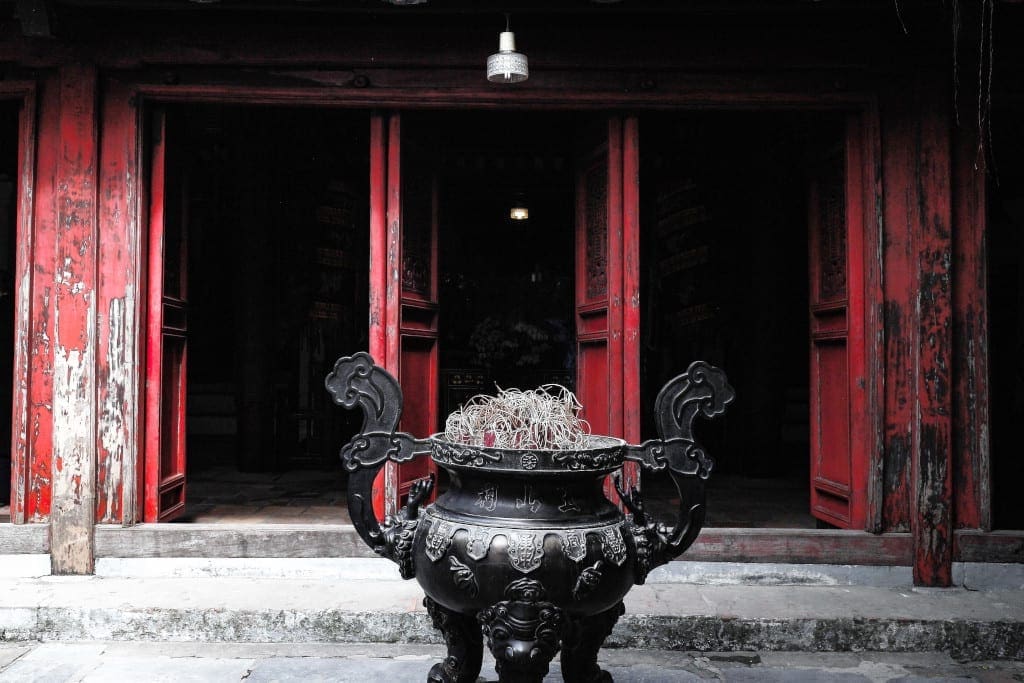 On an islet on the lake, Ngoc Son Temple commemorates 13th century Tran Hung Dao who fought the Chinese Yuan Dynasty. Jade island, can be accessed via the city's iconic scarlet Huc Bridge, which arches over a small section of water and is a classic example of traditional Vietnamese design. Both locals and tourists jostle for space to explore the embellished temple's interior and surrounding gardens, where elderly men crowd round battered chessboards battling for victory.
Artistic Hanoi
On the recommendation of some knowledgeable friends, we spent our first night at Tadioto bar and restaurant. The intimate boudoir is owned by Vietnamese journalist, writer and artist, Nguyen Qui Duc, who has designed the hideaway that houses exhibitions by local artists, poetry readings and other performances. Born in Dalat, Duc's father was the most senior official in the South Vietnamese Government. Captured by the communists in the 1968 Tet Offensive, he was held for the next 12 years. The family managed to flee to America in 1975, but Duc returned to Hanoi in 2006.
Since his return, Duc has made a name for himself on the art scene, launching Tadioto as a place for artists to meet and showcase their work. Boasting china-red iron gates, smoky velvet curtains, moody walls and an eclectic but funky collection of art, Tadioto possesses a unique ambience, refined menu and well-designed, handcrafted cocktails that perfectly compliment the food.
It was here, sat among Hanoi's literati and creatives, that we learned about Café Dinh – one item on a list of several that were thrown our way as the banter started flowing. Hanoi Social Club was another, then KAfe for breakfast, and Ray Quan's was a must for the rice wine. Opting for a lazy brunch, and pleased with the choice of Café Dinh, we took a sedate stroll along the streets, stopping off for a manicure at one of the many colourful salons, before heading to KAfe.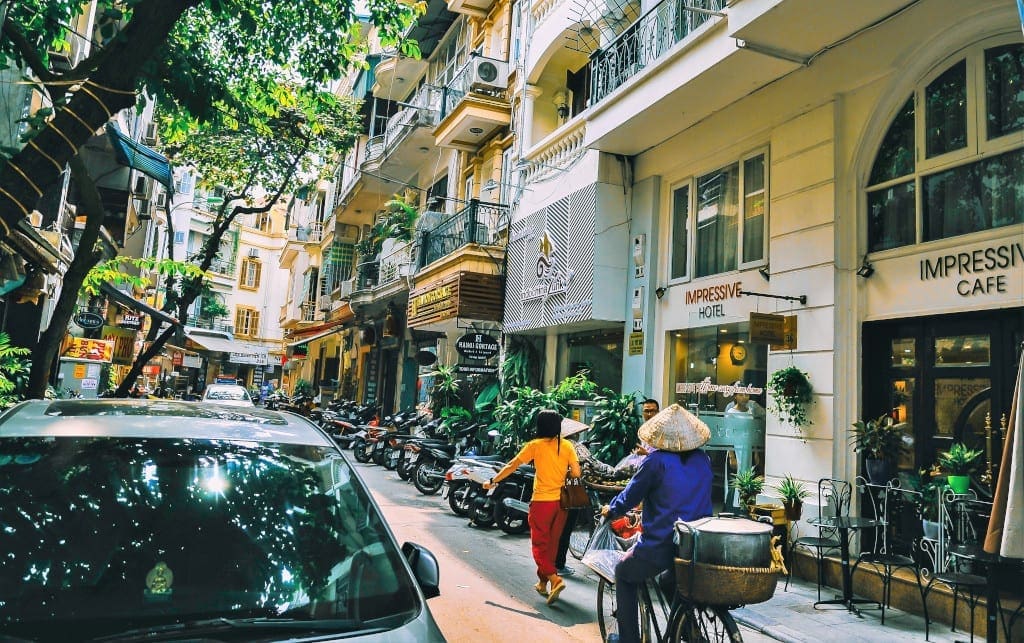 As a modern minimalist eatery, this trendy diner could be taken straight off the streets of New York. Serving up simple but hearty comfort food in an urban setting, rustic flavours are served in stylish dishes, which take in pancakes, xiu mai meatballs, banh mi, burgers and salads. And the place is certainly popular with the hip Vietnamese crowd, who gather around the heavy wooden tables, sipping aromatic coffee.
Thanglong Water Puppet Theatre
Wanting to indulge in some culture, our next port of call was to join the hordes of tourists swarming to see the frequent daily shows at Thanglong Water Puppet Theatre, next to the lake. As an art form that can be traced back to the 11th century, water puppetry stems from a time when villagers would provide entertainment by standing waist-deep in flooded paddies holding puppets that performed above the water.
In the absence of flooded paddies, Thanglong is a large theatre set-up, with a spacious stage at the front, and shallow water and painted backdrops to set the scene. Using large rods to support the puppets, snippets of traditional folk tales and legends are retold, accompanied by Vietnamese singers and an orchestra using drums, horns, bamboo flutes and cymbals.
As we spilled out onto the street, the day was starting to draw to an end so we headed to one of the many rooftop bars. From there, we enjoyed the sunset while sipping a cocktail and lapping up the stretching views across the still lake and out onto the twinkling horizon. Hungry, we hit the streets and stumbled across a bustling corner full of locals crouched on small plastic chairs wolfing down food.
---
If you have enjoyed Marissa's Things To Do In Hanoi, read her Halong Bay Cruise Avoiding the Crowds.
---
Before we knew it four bowls of nom bo kho were being slammed on our metal table. A popular street snack, the salad consists of slices of spicy sweet dried beef, pickled green papaya and carrot, a healthy mix of herbs, topped with crushed roasted peanuts and a secret sauce served from dubious-looking recycled bottles.
Trying the local Bia Hoi
Staying in the local spirit, bia hoi, or fresh beer, was next on the menu. A short cab ride later and we were in the midst of the bia hoi capital. The street was filled with seemingly endless collections of miniature plastic chairs and tables spilling over with beer glasses. The preferred tipple of many in Vietnam, bia hoi refers to both the refreshingly light beer and the spots where they're consumed.
The home-brewed booze dominates 30 percent of the country's beer market, a factor that is partially down to its bargain price but also due to its light golden brew and low alcohol content of between 2 and 4.5 percent.
After throwing a few down, we round off our day, and our short but sweet trip, how it started – indulging in some truly wonderful local delights.
---
Things to Do in Hanoi
For more ideas on things to do in Hanoi and the rest of Vietnam, click here.
Accommodation in Hanoi and Flights
To find the best accommodation in Hanoi and worldwide flights, please search via our comparison engine, which scans all the major booking sites.
Marissa Carruthers
Marissa inherited her love of travel from her parents, who would entertain her as a child with exotic tales of their adventures across the globe. Her first solo leap into foreign lands was an Inter-railing trip across Europe and North Africa during her first summer at university and, despite two muggings, several dices with death and a terrifying encounter with the monkey mafia, she was hooked.