Trekking in Nepal: Annapurna Revisited
Mark Bibby Jackson
Posted on 20th Jul 2017
In 1994, Mark Bibby Jackson first went trekking in Nepal, in 2017 he returned as a more mature traveller to discover the beauty of Annapurna unspoilt.
Nepal has always held a particularly soft spot for me. It was here in my tender twenties that I first became smitten with travelling. Three weeks on the plains of Rajasthan in the hottest April on record had left me short of breath and desperate for some greenery. I even considered cutting short my round-the-world trip and heading back home. Instead, I chose to take the bus from Varanasi to Pokhara and from there I would tackle the ten-day trek to the Annapurna base camp, and make friends that I still have to this day.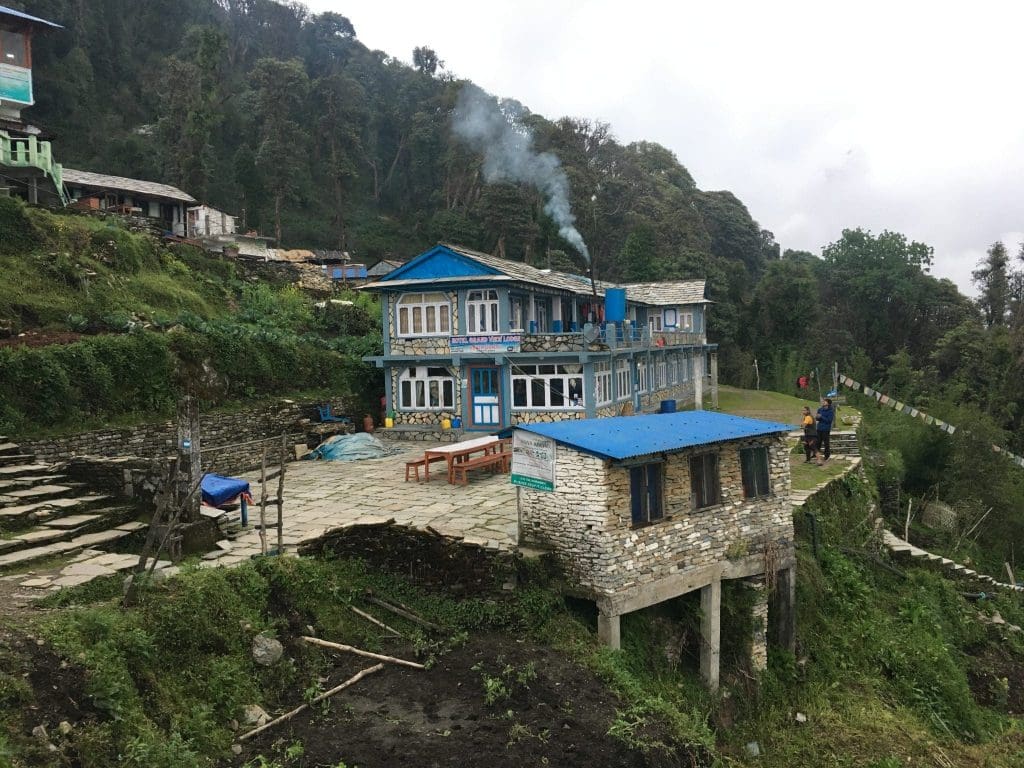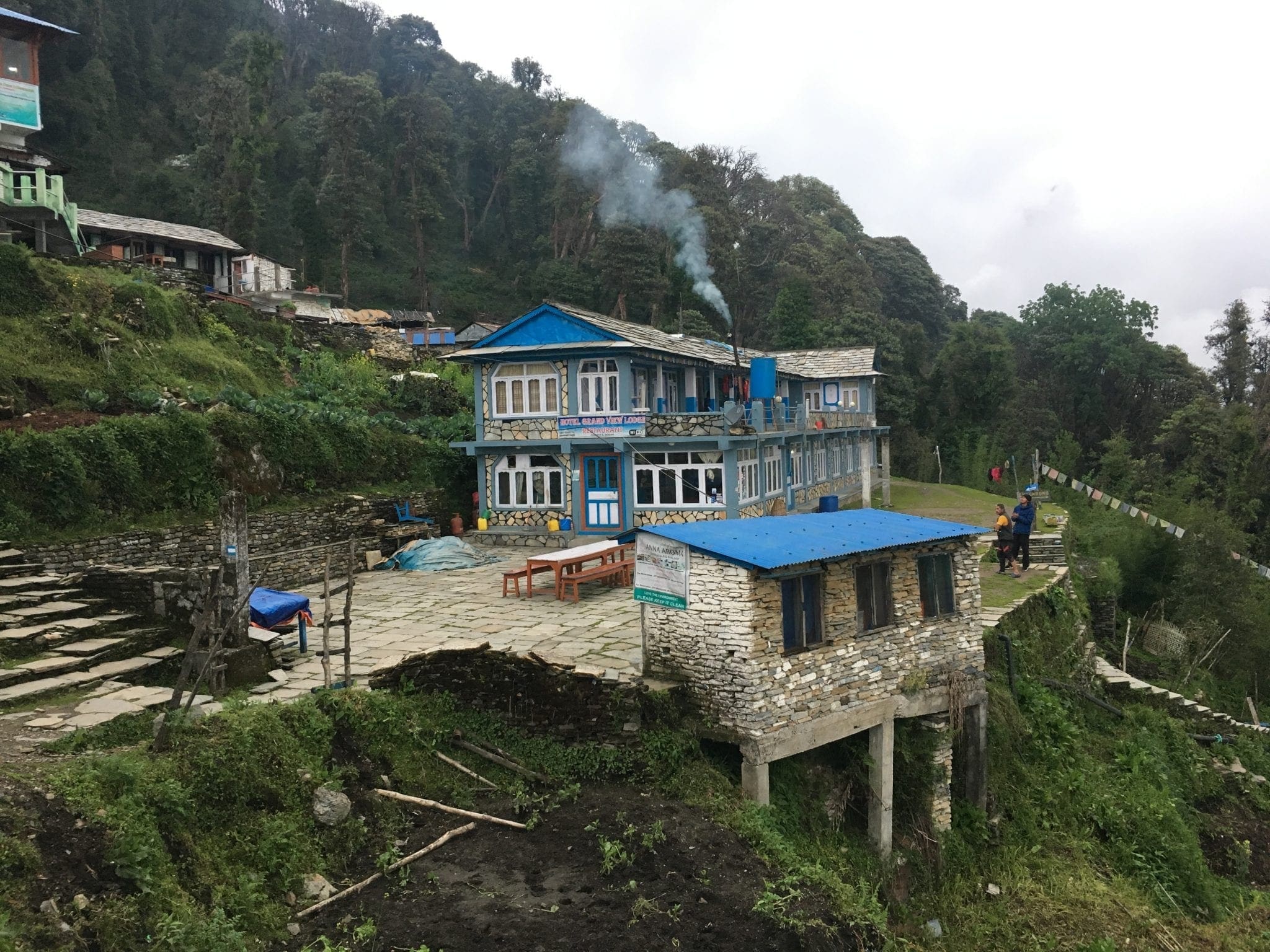 Even now, I can recall from my previous visit the sight of a rather overweight woman being carried in a large wicker basket by four sandal-clod Nepali porters, as they slid their way over a glacier. It is the only time that I have ever seen any porter struggle with a burden. At the top, denying any effect of altitude sickness I danced through the flat-lands approaching the Annapurna base camp as my trekking partner took a more acclimatised step. The scene that night as the stars appeared above the crucible of mountains still remains the most amazing sight in my life.
As short treks in Nepal go, this is not the hardest, but my body just like the majestic Annapurna has weathered with age
So, it was with a mix of anticipation and trepidation that I return to trekking in Nepal and set off on the more modest Poon Hill Trek some twenty-odd years later. Would my now more mature body be up to the test? As short treks in Nepal go, this is not the hardest, but my body just like the majestic Annapurna has weathered with age.
Trekking in Nepal – Poon Hill Trek
Fortunately, the trek started in a leisurely manner, as we stood outside a small hut stocking up on water and toilet paper and taking the prerequisite pre-trek group photo. The previous night in Pokhara our small group of travel bloggers, here for a bloggers convention in the capital of Kathmandu, had stocked up with sufficient provisions to fuel an assault on Everest Base Camp rather than the few days we were trekking. Now, bloggers are not the most natural bedfellows for any experienced traveller trekking in Nepal, unless you are suffering from ISS – Instagram Selfie Sickness – but despite one of our party coming equipped with trainers and no waterproof, we gelled remarkably well.
Then followed a short walk through the village of Birethanti before we passed over a bridge and reached green fields. The heat was intense and more than once I ventured into the river in order to keep my cool. However, the trek itself was a misleading stroll through deserted verdant countryside along the course of a river with the occasional goat to keep us company.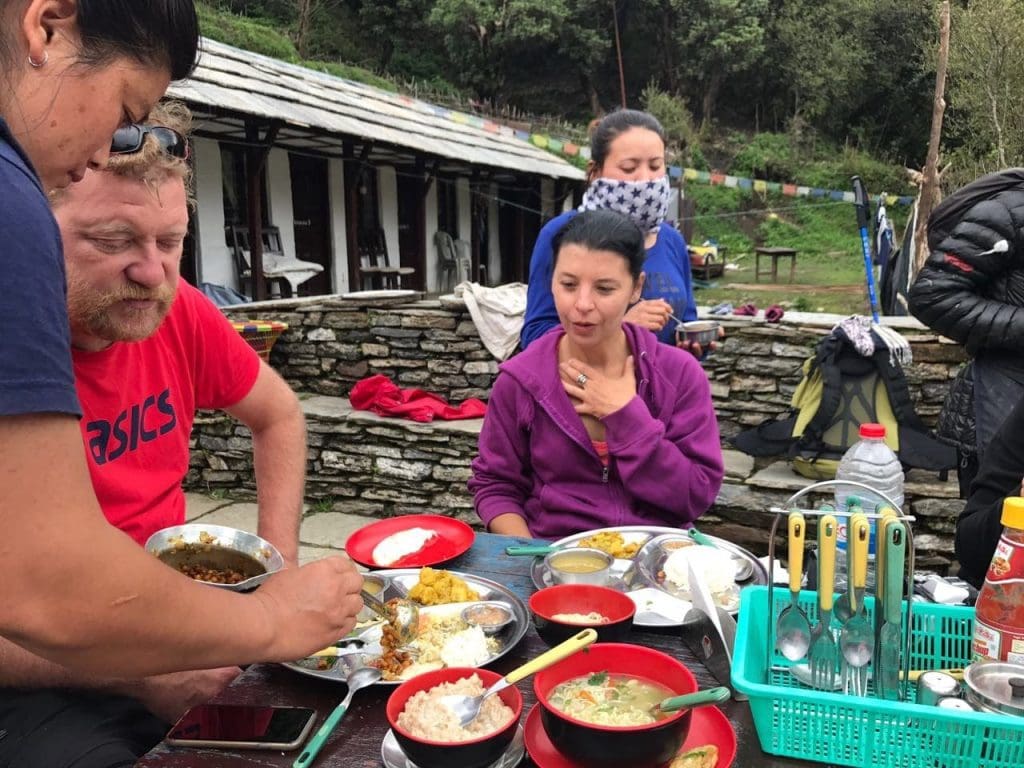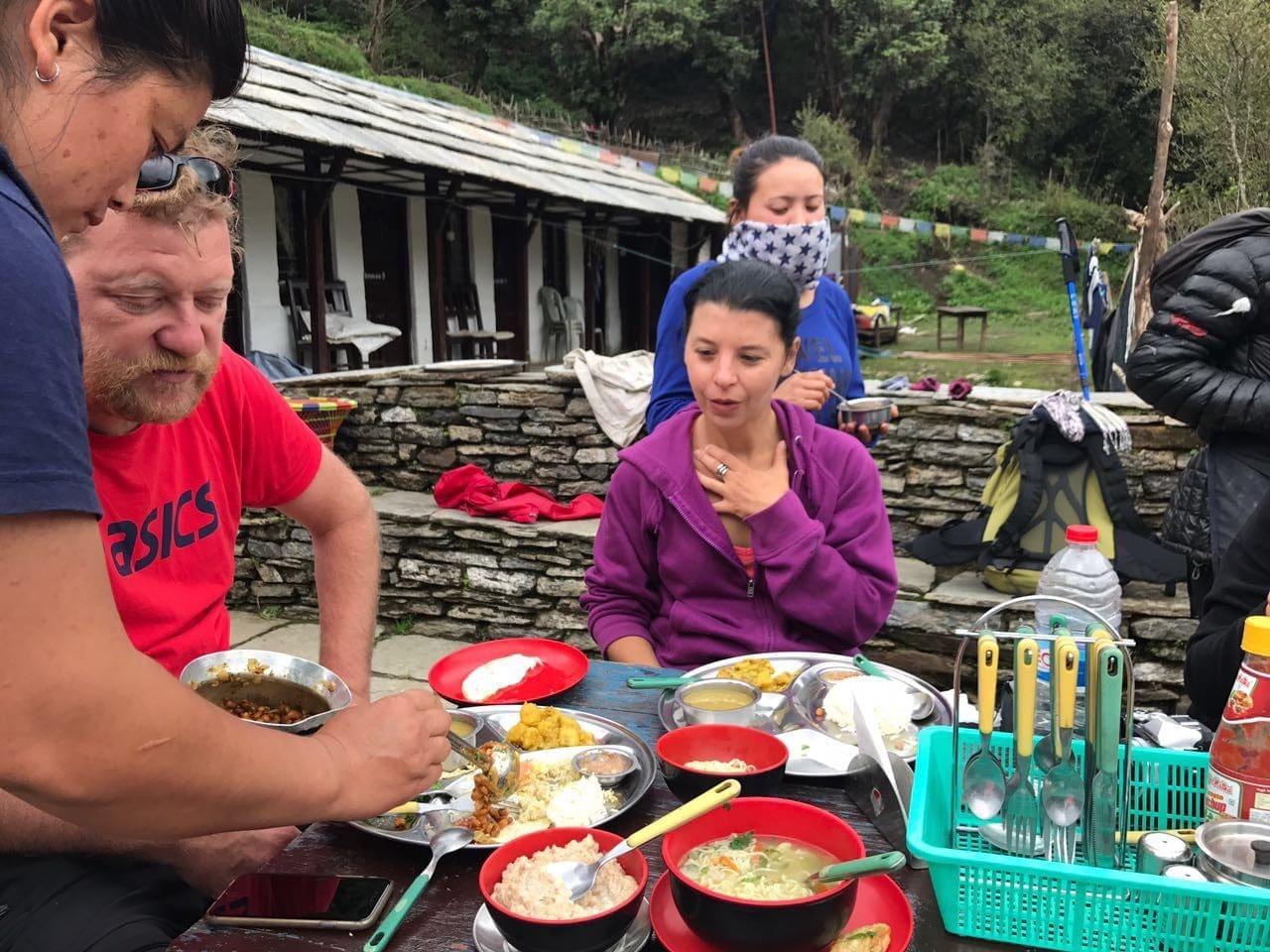 I arrived for lunch in the first group – first that is unless you count our mountain goat Pole, Andrei, who has been trekking in Nepal every couple of years since the nineties and knows the hills almost as well as the porters. I was relieved to rest my backpack, although it only weighed a few kilograms. On my previous trek, the spring of youth still in my step – and dollars light in my pocket – I had foregone hiring a porter, opting to carry the backpack that was to travel with me to Australia. This time, I was more than willing to employ some help to lessen my load. After all, it gives the local men much needed income, I thought to justify my wounded pride.
---
Discover more about Nepal by reading our Essential Travel Guide to Nepal Holidays for the Over 40s.
---
Trekking in Nepal – Tea Houses
One of the major changes since my first Annapurna trek is the food. Back then, as we ascended towards the base camp the diet was an unrelenting succession of dal bhat – a Nepalese thali with rice, dal, vegetable curry, poppadum and pickle – for lunch or dinner, and Tibetan bread and honey for breakfast. I adored the food, even picking up the moniker of Dal-bhat-man in part due to a passing hairstyle similarity to the Simpson's only son, from my fellow trekkers. Then, the occasional Mars Bar was a treat. However, most of my fellow trekkers soon bored of the regularity of the diet and by the end were craving western food, particularly pizza.
Now, there is no such concern. Although most tea houses offer the same menu – your guide can even phone ahead and order lunch or dinner in advance to speed up service – this is varied and substantial. It includes steak, pasta, noodles and momos (Nepalese steamed or fried dumplings). There is even an occasional yak burger for the more adventurous carnivore. However, in part from nostalgia I stuck religiously to my dal bhat, mindful of the t-shirts in Kathmandu which assured my diet would provide me with power that lasts 24-hours.
Blue plastic sheets were converted into temporary waterproof coverings, in a manner that would have made the late John Noakes proud
Reinvigorated by my dal bhat, I was able to tackle the afternoon's hike, up the hill towards the tiny village of Tikhedungha, where we would spend our first night.
Predicting the weather while trekking in Nepal is notoriously difficult. Blistering heat quickly changes to steady rains, and even before we set off the heavens had opened. Blue plastic sheets were converted into temporary waterproof coverings, in a manner that would have made the late John Noakes proud – as we tried to protect our backpacks. But it was all to no avail. That evening wet clothes were strewn in all available spots as we ordered a well-deserved Gorkha beer or three, to accompany our evening meal.
My sleep interrupted by an urgent call of nature, I awoke at three and glanced up to see the most amazing starscape as, freed from the restrictions of artificial light, the Milky Way unfolded in front of my eyes. At the time, I did not realise how lucky I was that my Gorkha-inspired bladder had betrayed me, for this was the sole clear night of our trek and I became the only one of our troupe to appreciate the majestic sight.
The Longest Trek
However, my lack of sleep – the bed was basic but perfunctory – was soon to work against me as we tackled our longest walk the following morning up the 3,700 steps to Ulleri. On the way up, we crossed chain bridges and dodged a convoy of donkeys that had much more sensibly than us decided to take the downwards route.
The next two-and-a-half hours was more up and down with the emphasis much more on the former than latter. Starting in clear land, we travelled along a river valley through rice paddies and small villages, we then entered an enchanted forest, where spirits, goblins and leeches awaited us.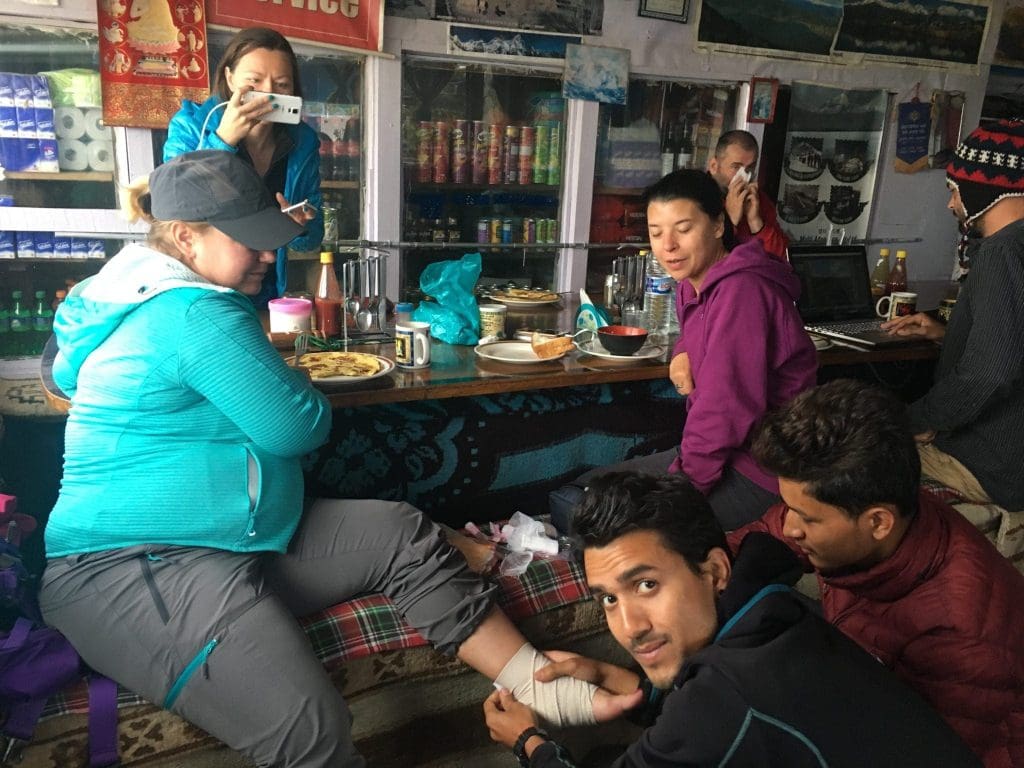 When trekking in Nepal as elsewhere, there is a sense of camaraderie you will not find in other types of travelling. Food is shared, pictures taken for each other and flagging members encouraged and supported. On our ascent one of the group became crippled with acute cramp. Our guide, Prasan, gave her feet repeated massages on the trek and later that evening in our hostel at Ghorepani we helped her with further massages and foot baths. Several leeches were also encouraged to relocate with the aid of a lighter.
The Solitude of Trekking
The following morning we woke at 3.30am for the final hour on the Poon Hill trek where we were promised majestic sunrise views of the Annapurna range. This was after all the main purpose of our walk – the focus for all our exertions. Only to discover the rains that were dogging us had woken even earlier that morning. In hushed voices so as not to disturb our fellow guests, we agreed that making the hour or so walk up the hill was both futile and dangerous. Our Poon Hill trek was destined to be sans-Poon. However, on the flip side it did allow us a further few hours in bed to recover from the previous day's exertions.
For me, that day's hike was the highlight of the trek. Part of the beauty of trekking lies in the solitude that it offers. Thus, upon leaving Ghorepani, I stretched out my legs and walked on my own for a while listening to the mountain – even temporarily passing our porters. A rugged terrain unfolded before me. The wind whistled through the trees and the sound of buffalo bells offered reassurance. Birds tweeted in the trees rather than on an irritant phone. I consumed the expansive views of the dense vegetation below with a greater appetite than I had shown for my dal bhat.
The day's trek was more exposed than anything I had encountered before. Gone was the protective canopy of the forest as I walked along the mountain ridge. At 3,000 metres high, it really did feel as if I was walking on top of the world, especially as a small plane flew beneath me through the valley below. Devoid of any village I was able to walk for an hour with only the forest to keep me company, until my fellow trekkers caught me up like a peloton in the Tour de France.
Now reacquainted with my comrades, we started to descend the mountain following once more the path of a small stream. The beauty of the verdant scenery was overwhelming. Huge cliffs plummeted into the water, small waterfalls crashed against the rocks, and tortured trees clung for their very existence.
---
Kathmandu Guest House
Although Pokhara is trekking capital of Nepal, most people combine their trip with a few days in Kathmandu. The capital's Thamel district is an enchanting maze of narrow alleys and dusty streets. This is where backpackers come to stock up on cheep trekking gear, pizza and Nirvana cover bands. Vibrant at night, it is intense by day as hawkers offer you a mix of  "massage, sex, marijuana …"
A good refuge is essential, and the Kathmandu Guest House is fit to purpose. The oldest surviving hotel in the capital, KGH as it's now called, is celebrating its 50th anniversary in 2018. Over the years it has been the respite for many a famous adventurer including Sir Chris Bonnington who used this as his base for exploring Everest.
Sadly the old building, which was built at the beginning of the last century, was destroyed in the April 2015 Nepal Earthquake. However a beautiful and relaxing garden – unique in Thamel – has risen from its ashes. Previous guests including Ricky Martin, Jeremy Irons and George Harrison, who popped in en route to or from the Maharajah, are celebrated in a Hollywood style pavement.
---
Tadapani to Ghandruk
That evening we stayed at an old-fashioned tea house in Tadapani where our porters dried their clothes above the communal heater. Shortly before sunset the clouds relented to allow us a fleeting but no less rewarding view of Annapurna. My memory had paid no tricks; it was spectacular.
Our final day was a pleasant two-hour downhill trek through forest with lots of small waterfalls along a mazing river to the town of Ghandruk for lunch. This was most definitely the calm after the storm, especially as the clouds for once relented. En route we paused for some tea at one of the villages.
As I drank my ginger tea, my fellow bloggers took out their mobile phones to share tweets and post photos on Instagram. Throughout our walk I had turned my phone to Airplane Mode and digitally detoxed with a devotion I have failed its more conventional cousin. I guess this is the real change to trekking in Nepal in the years since I last walked these tracks – the internet is everywhere thus necessitating a conscious effort to partake in the isolation of the moment.
Ghandruk is a relatively touristy town that came as a bit of a jolt.
However, this was nothing compared with the shock of the return to our soulless supposed five-star on the edge of Pokhara. In the past three days we had walked 45 miles and climbed over 700 flights, and all I wanted to do was return to the mountains. However my next port of call was the capital Kathmandu before I shall venture out again to meet up with a new friend of mine in the village of Nuwakot, itself an ancient capital of Nepal, which was so badly damaged by the 2015 Nepal Earthquake.
I just hope that this time I will not have to wait a further 20 years before I return to Annapurna and maybe this time I will actually reach Poon Hill on my Poon Hill trek.
---
If you're looking for something a bit more off the beaten track, we suggest you try trekking in Tajikistan and the Fann mountains.
---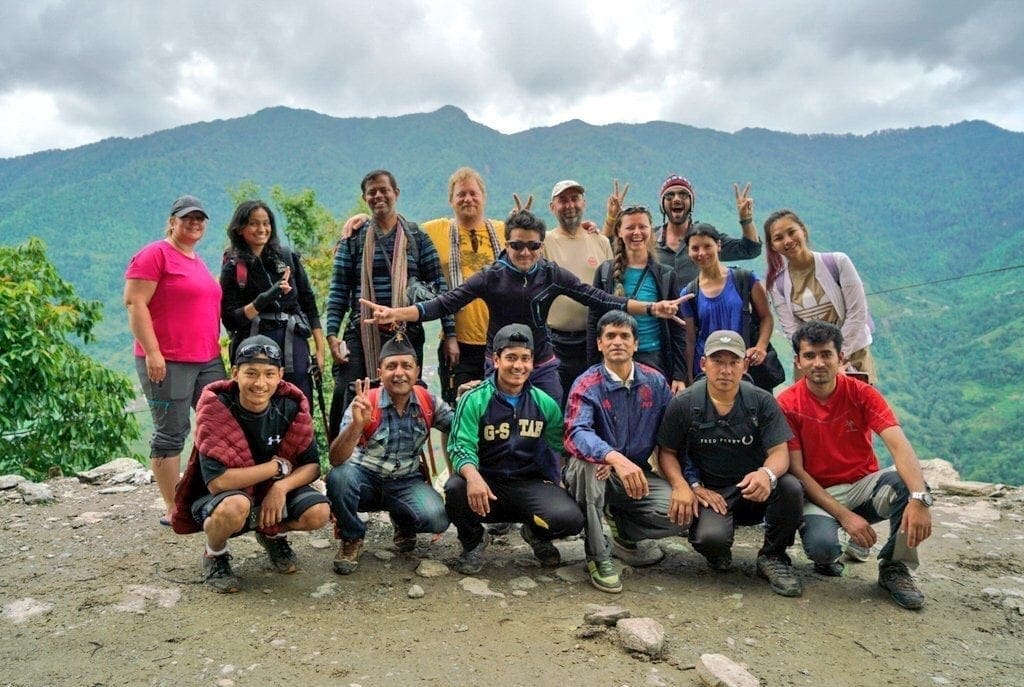 ---
Nepal Time
The time in Nepal is GMT / UTC + 5.45. This is 15 minutes ahead of India; somehow I feel the decision is more politically than geographically inspired.  There is no daylight saving time.
Flights to Nepal from London
There are no direct flights from London Heathrow to Kathmandu, although you can fly via Delhi with Air India, with Qatar Airways via Doha, Emirates via Dubai, and Turkish Airlines via Istanbul, the latter from London Gatwick.
Nepal Weather / Best Time to Visit Nepal
If trekking in Annapurna, avoid June to September which is monsoon season, and floods can cause landslides. September to November has clear skies and the rains have driven away the dust. After that snow can block certain passes, but the walks are less crowded. Spring from February to April has longer days. Whatever you do, make sure that you check conditions before you set out, and employ a porter.
Nepal Visa
Like most countries, citizens of the UK need a visa to enter Nepal, although this can be purchased at the main Tribhuvan International Airport. It says time to apply for a visa in advance. For information on UK visas to Nepal, click here. Further information about visa on arrival can be found here.
Nepal Currency
The currency is the Nepalese Rupee. As of writing the exchange rate is approximately 140 rupees to the GB pound.
---
More information on Nepal
For advice on trekking in Nepal and general travel information, visit the Nepal tourism website.
Mark Bibby Jackson
Before setting up Travel Begins at 40, Mark was the publisher of AsiaLIFE Cambodia and a freelance travel writer. When he is not packing and unpacking his travelling bag, Mark writes novels, including To Cook A Spider and Peppered Justice. He loves walking, eating, beer, isolation and arthouse movies, as well as talking to strangers on planes, buses and trains.