Trekking in Tajikistan and the Fann Mountains
Johan Smits
Posted on 20th Jul 2017
Our man in Central Asia, Johan Smits, travels to the Fann mountains to discover wonderful trekking in Tajikistan and even takes his parents along with him. 
Our hired minivan emerges safely out of the Tunnel of Death. Officially known as Anzob Tunnel, it's a three-mile-long dark hole blasted through rock that connects Tajikistan's capital Dushanbe with Khujand, the country's second city, without having to brave a long, teeth-gnawing mountain pass. Described by the Daily Mail as "one of the most terrifying places on earth to drive", motorists venturing into the unlit mouth of hell had to survive axis-snapping potholes submerged by flooding, falling rocks, suicidal oncoming truck drivers on a single carriageway, and death by asphyxiation due to a lack of airflow. Thanks to extensive repairs with the help of the Iranians, the Tunnel of Death has now been upgraded to the Tunnel of Hope, complete with lighting and ventilation.
We're on our way to Fannsky Gori or Fann Mountains, an alpine region five hours north of Dushanbe. A rare guidebook described it as "one of the best kept secrets of Central Asia" and I was determined to find out if there were any truth behind this deadened cliché, and to discover  the most stunning trekking in Tajikistan. To help me in my quest are an eighty-year-old former rock climber and his seventy-six-year-old wife – my parents. Amongst them they've clocked up a hundred years of worldwide trekking experience. If they can't objectively appraise this secret mountain Mecca, then who can?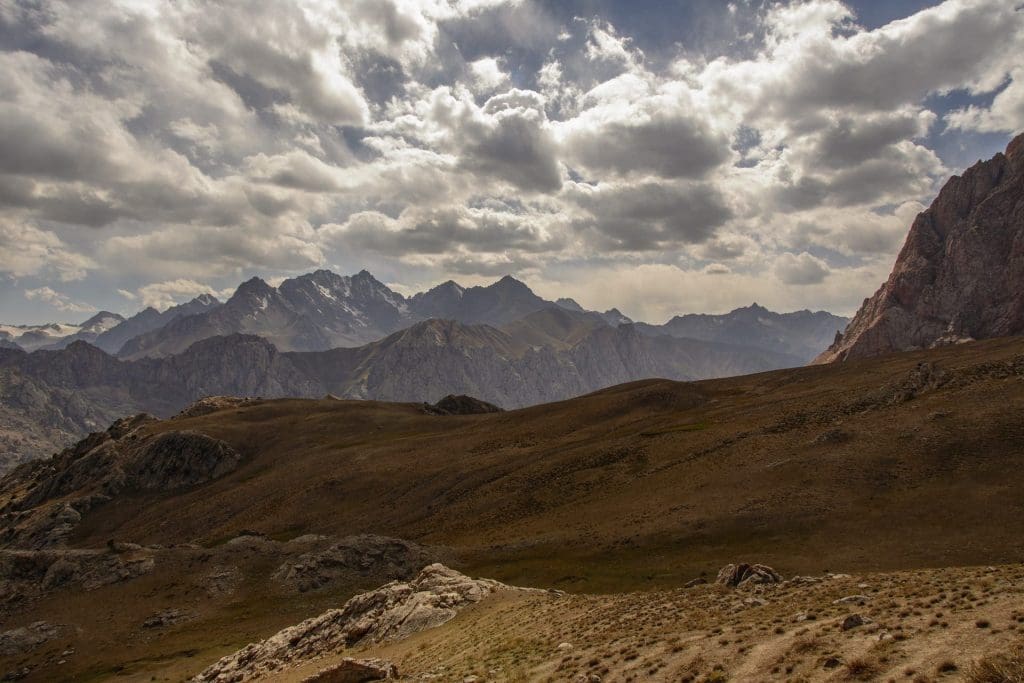 When I said I was travelling to Tajikistan, a common reaction was, "To Taki…Where?". Sandwiched between China, Afghanistan, Uzbekistan and Kyrgyzstan, Tajikistan is the smallest nation in Central Asia. It also holds the dubious title of poorest comrade of the entire former Soviet empire. So perhaps it's not too surprising that this landlocked country doesn't often make it onto the destinations list of homo touristicus.
This is not a natural reserve with sign-posted trails. Don't expect Sherpas and mountain huts. You have to come prepared.
"We're approaching Iskanderkul," Denis announces from the front seat. He's our twenty-something Tajik logistics man, translator and cook – in all of which he excels. Outside, the setting sun is squeezing out the richness of the mountain pallet – shades of purple, red, green and grey crash into one another. "Kul" means lake in Tajik, and "Iskander" is Persian for Alexander, referring to the great Macedonian conqueror who once passed through here with his army. Our destination is the mountain village of Saratog, less than an hour's drive away, but we stop here for a breather.
About four kilometres across, the lake is resting motionless against a backdrop of what looks like giant molehills made of stone, and when I turn around I'm faced with arid, ochre-coloured mountain flanks, their peaks sprinkled with snow. This is one of Tajikistan's most popular visiting spots for locals who come to barbecue on the lake's shore and spend the night in the Spartan bungalows of the nearby Soviet-era holiday camp. Far away, across the lake, the president of Tajikistan keeps one of his dachas, complete with helipad.
"The lake is seventy-two metres deep," Denis informs me. "It hides a lost city. Alexander the Great flooded it after he failed to sack it." The spotless surface looks inviting for a dip and I wonder if I might find a trace of the city beneath. But at an altitude of two thousands metres, the icy water makes me follow Alexander's example – I abandon my quest.
The next day we wake to the clattering sounds of our host family's morning routine and their domestic animals. Our simple but comfortable homestay is one of only three in the little village from where our four-day camping trek starts. Mahmed, the household head, will be our local guide. His face is that of a fifty-year-old patriarch of a large family who has lived a hard life, but his spirited eyes and lively manner give him the air of a driven, purposeful businessman. It makes him look timeless. That, and the copious amounts of home-brewed, sweet cognac he insisted we drank with him the night before.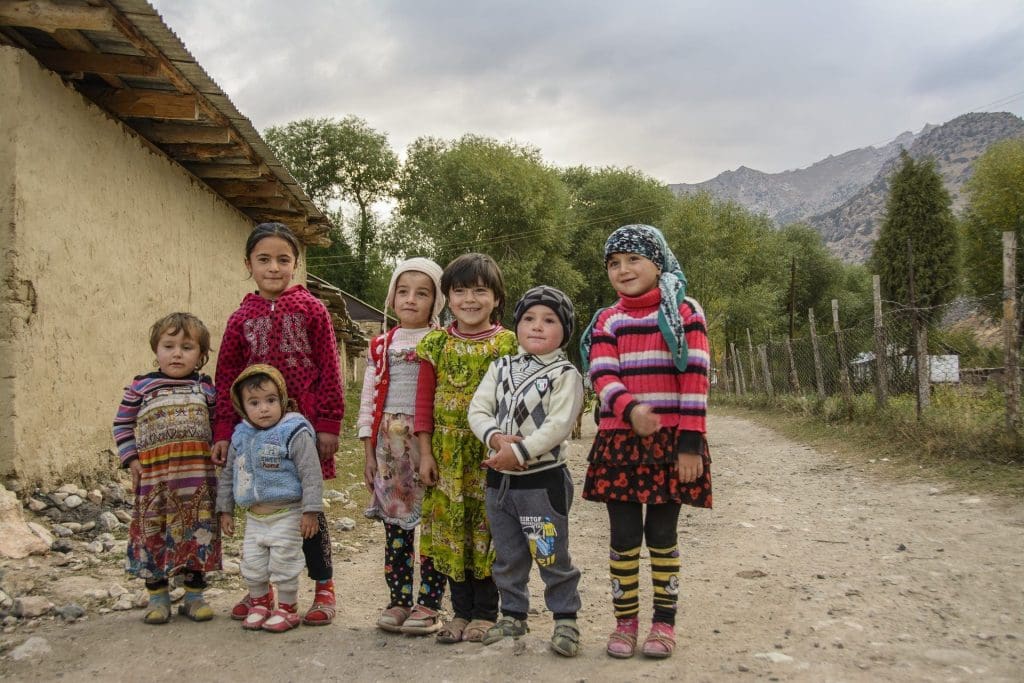 The famed Tajik hospitality not only applies to our host. Within ten minutes of wandering through the village's dirt lanes, a farmer's wife and her little boy offer us a large mug of homemade kefir – a refreshing, fermented milk drink. This is a poor village in the poorest country of Central Asia. Houses are made of sand-coloured mud bricks but their front yards are swept clean. The children wear faded hand-me-downs but none of them beg for dollars. These are proud people – strangers shall be fed.
Into the Fann Mountains
Mahmed throws me a thumbs up, laughter cracking through his tea-stained teeth. "He says your father is a strong man," Denis translates. It's our third day. We've gone through valleys alongside the Karakul river lined with willow, walnut, birch and maple trees. We've walked on narrow paths carved into steep scree slopes and crossed the 4,160 metres Sarymat Pass flanked by wild, rugged glaciers slapped against the mountains like the frosting on cakes. Lone, contorted junipers stand guard like sentinels on granite rock ridges while sky-scraping peaks look down at us from a distance. At night, around the campfire, dad plays his harmonica – badly – while Mahmed does a traditional Tajik folk dance. I'm not sure if he's enjoying my father's efforts or if he's keeping himself warm, but who cares. Every night I sleep like a happy puppy.
What strikes me most is the silence. The lack of reception renders our mobiles useless. Proof of life comes when we pass by shepherd bivouac camps littered with animal skins and blackened fire pits. Only once do we meet human souls – two herdsmen and their sheepdogs driving goats down a valley. I try to remember when I last experienced such days on end of absolute quiet. And fail.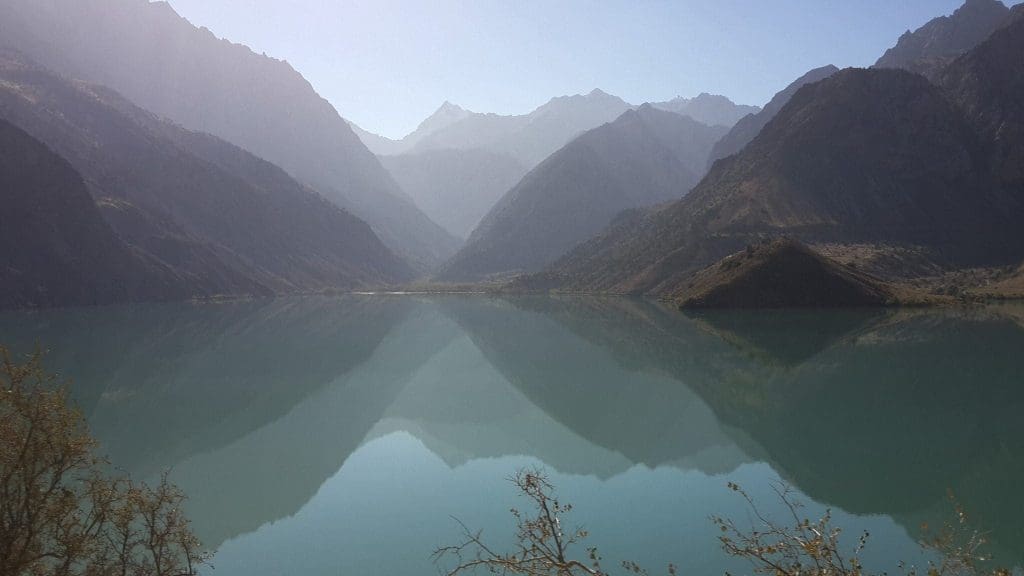 The raw landscape humbles me. Not just because it's so vast – the Himalayas are grander – but because we're so alone and at the mercy of nature. Unlike trekking in Nepal, this is not a natural reserve with sign-posted trails. Don't expect Sherpas and mountain huts. You have to come prepared. Mahmed's two donkeys are loaded like, well, donkeys, with food, clothes and all our equipment. Denis and his helper – a quiet, Buddha-like man called Bachrom – are doing a sterling job setting up our tents, cooking our meals and keeping us safe.
---
If you are enjoying Johan's account of the Fann mountains, read about his other Tajikistan experiences trekking the Wakhan Valley and traversing the Pamir Highway.
---
Our circuit is for seasoned hikers who are willing to trade off a little bit of comfort against an out-of-this-world experience. Yet, there's something for any mountain lover here, from short, light treks visiting pristine lakes to a full-on mountaineering challenge. Wherever you go, time has become lost within these mountain ranges. A seventeenth-century herdsman transported here through time, would happily carry on with his business, unsuspecting of what had just befallen him.
Back within the culinary comfort of Traktir, a Ukrainian restaurant in Dushanbe, one-litre mugs of cold, local Sim Sim beer half-empty before us, I ask my octogenarian dad for his verdict. How does trekking in Tajikistan and the Fans mountains rate? "Every mountain is exceptional to me," he says, "but here I feel at home."
---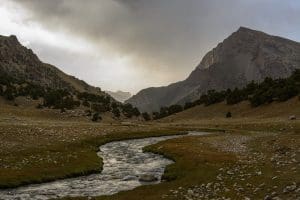 Further Surfing about Trekking in Tajikistan 
The Zerafshan Tourism Development Association (ztda-tourism.tj) will point you towards local travel agents, who will have lots of information about trekking in Tajikistan. Also, www.mariansguesthouse.com provides customised treks and tours. Other recommended websites include: www.pamirtrips.com, www.paramountjourney.com, www.hamsafartravel.com and www.tajikaviatour.tj (website is in Russian but the manager Dmitri Melnichkov ([email protected] / [email protected]) and his staff speak fluent English: [email protected] / [email protected]. Denis Galimianov (speaks English) organises every Sunday "Hike Tajikistan", a day trek on the outskirts of Dushanbe, popular with expats. Denis can organise trekking in Tajikistan including customised treks in the Fann mountains and elsewhere. Email [email protected]  Tel: +992 93 33 37 127.
Flights to Dushanbe, Tajikistan
From Asia: Air Astana (www.airastana.com) flies from Bangkok with a stop in Almaty. From Europe: Somon Air flies direct to Dushanbe from Frankfurt (www.somonair.com). Air Astana has flights from London and other major European cities with stops in Almaty and Astana. Turkish Airlines (www.turkishairlines.com) has flights to Dushanbe with a stopover in Istanbul.
Johan Smits
Freelance writer, translator, web content developer, author of the novel Phnom Penh Express and Tommy, a short story. Loves trying out local brews, avoids noise. Chronically indecisive about where to lay down his hat. Shortlisted AITO Travel Writer of the Year 2018.