The Lost Waterways of Kerala
Marissa Carruthers
Posted on 24th Aug 2017
With jet black hair that defies her age slicked back in a tight bun, the woman wrapped in a midnight blue sari smacks her lips over her gums. Pointing curiously to the beedi I'm holding, she takes it in her hands and carefully inspects it.
As the familiarity of the Indian cigarette slowly sinks in, the gentle wrinkles that life has etched on her face take a new form as the elderly woman cracks a smile. "You smoking?" she asks in broken English, laughing at the thought of a white woman indulging in a "man's habit".
Adi is one of many friendly faces we met on the banks of the twisting backwaters that are the veins of the Indian region of Kerala, and one of an abundance of hospitable characters that make India well worth a visit.
The previous day, we had jumped on board a houseboat at Kollam for a tranquil trip along the southern state's backwaters. The calm was a far cry from the chaos of cosmopolitan Mumbai, or the heaving palm-fringed shores of party-going Goa that we'd already sampled during our Indian adventure.
After an 18-hour train journey that involved a sleepless night spent inches away from an air vent belching out bugs with every grumbling breath, followed by a frantic hour in a tuk tuk trying to stock up on Kingfisher beer in the fairly dry state, stepping on board the kettuvallom – traditional Keralan houseboat – that was to be our home for the next three days was like passing through the Pearly Gates.
Under the command of our jolly crew, made up of a cook, captain and helmsman, we started our journey along the winding waterways. As our wooden house headed towards the horizon we settled into the plump cushioned seating and watched the lush coconut groves that flank either side – broken only by flashes of blues, reds, yellows and greens from washing hung out to dry – pass by.
Men's heads dip below the water as they scrub away the day's dirt, women gossip loudly behind clouds of soap suds erupting from laundry, and children chase the boat, waving frantically, crying out their hellos.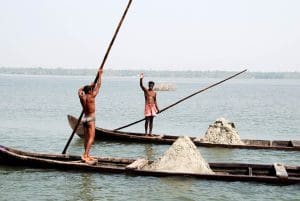 Slim canoes meander past, weighed down by a mountain of precariously balanced coconuts, stones, sand – anything and everything. The only sound is the boat weaving through the still waters, the call of colourful kingfishers and egrets dive-bombing in the sky, and the soft chanting of mantras from passing temples.
A couple of hours later, and we came to a standstill for dinner – a hearty meal of freshly caught fish, curry sauce and rice, rustled up in the tiny galley, and served on a palm leaf to be eaten in traditional Keralan style, with our hands. After eating we returned to the comfy cushions to wave goodbye to another day and watched the silhouettes of the palm trees swallow the sun and the surroundings slump into silence.
The next day our first port of call was a small village nestled in the mangroves. After passing through a camouflaged hamlet made of tiny wooden homes with roofs woven from palm leaves, complete with a flapping brood of hens, we came to an opening where a team of men were making rice barges similar to the one we were travelling in.
It takes three months to make one boat from lashed and sewn anjili wood, bamboo poles and coconut fibres, woven into Samson-strong rope by women's hands and a home-made loom. Eager to show off their craft, we watched as the men hammered, bashed and sanded the base of the boat that would soon be sailing on the water.
---
For further river boating adventures, read Waterways Travel in Northern Laos.
---
A little further up the river, we moored again to see one of the famous snake boats sleeping. As the thirsty grass snapped under the weight of our feet, we were reassured the boats get their name from their appearance rather than the number of snakes in the area, and it's easy to see why. Stretching to 120 foot in length and just a few feet wide, these boats are the highlight of the Keralan calendar. In August, the backwaters leap into life as each village dusts down its lengthy canoe and decorates it with a mix of paints, ribbons and ropes before 100 rowers leap on board to race down the river.
Our next stop was at one of many small fish markets that line the banks, given away by the greedy flock of gulls circling above. Taking fresh food to a whole new level, karimeen and pearlspot flap lifelessly on melting ice, and the juiciest king prawns swim in a bucket of water. After a bit of hard bartering, we walked away with a bag full of prawns that our chef later transformed into a mouth-watering meal.
By the afternoon, the dense jungle was replaced with paddies stretching for as far as the eye can see, and as the backwaters opened up they suddenly resembled a bustling shipping channel, with houseboats clogging the horizon.
With tourism rapidly rising, we'd been warned that tranquillity was difficult to find. We'd laughed that off when we boarded one of only a handful of boats docked at Kollam, but now reality sank in – most people clamber on board at our final destination, Alleppey. And when we arrived at the bustling port, we found swarms of people waiting for one of the many houseboats. So to avoid the madding crowd, I'd recommend jumping on board further south, where there are plenty of friendly faces such as Adi's waiting to welcome guests.
Marissa Carruthers
Marissa inherited her love of travel from her parents, who would entertain her as a child with exotic tales of their adventures across the globe. Her first solo leap into foreign lands was an Inter-railing trip across Europe and North Africa during her first summer at university and, despite two muggings, several dices with death and a terrifying encounter with the monkey mafia, she was hooked.
Upcoming Events

Subscribe to our newsletter