Tajikistan Travel – Dushanbe Lost in Time
Johan Smits
Posted on 24th Sep 2017
Johan Smits shares his fascination for an intriguing mix of old-world charm and bold new vision in Tajikistan's curious capital, Dushanbe.
The employee shoos us away with a mixture of embarrassment and nervousness. "No! Son of President is playing pool." A trio of men-in-black eye us from inside the venue. We're on the third floor of the world's biggest choikhona or teahouse, a vast, multi-domed, nearly empty building in Dushanbe, Tajikistan's capital. Completed in 2014 and meant to burnish the nation's reputation, it still stands largely unused. "Izvinite," I apologise in my best Russian and retreat hastily, not wanting to disturb the 20-something heir of this country's most powerful man. Instead we ascend to a new bowling hall one floor up. We have all eight lanes to ourselves and if it weren't for the Tajik pop music punishing our eardrums, I would instantly forget we're in Central Asia's poorest state.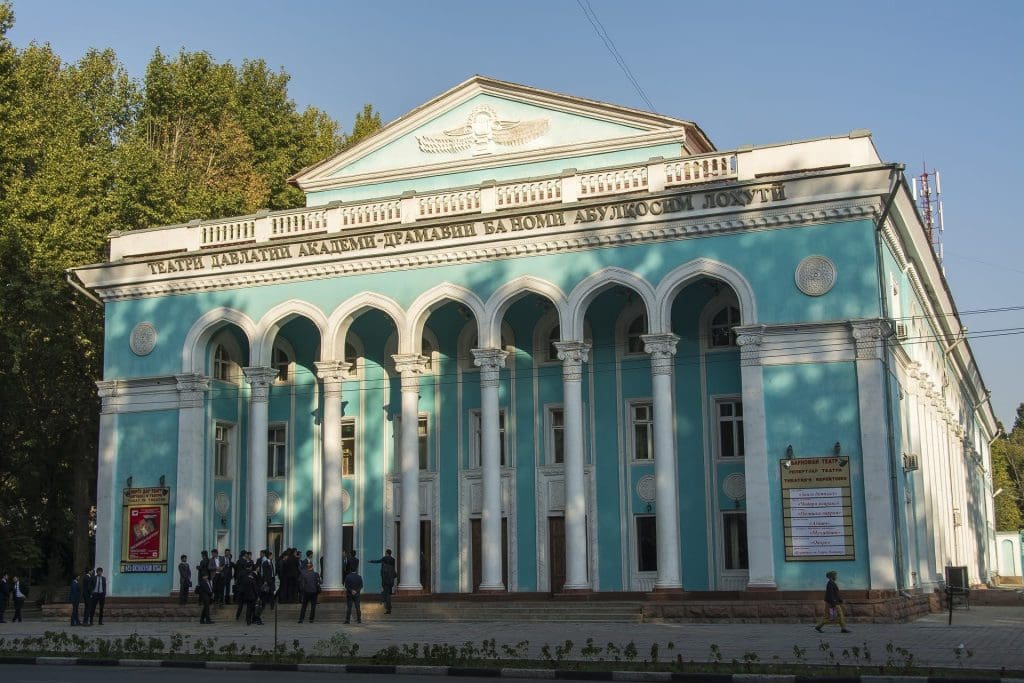 Dushanbe means Monday in Tajik, and is named after a weekly bazaar that once took place here. Harbouring less than a thousand souls in 1929 – the year the Tajik Soviet Socialist Republic was formed – the village of Dushanbe rode a communist tide that swept it out of the old world and turned it into the nation's capital city, now with a population to rival that of Amsterdam. The best way to explore its streets with their broad pavements and mature, shade-giving trees is on foot.
If you'd like a taste of how Dushanbe may have felt in pre-Soviet times, a good place to go to is the ant's nest that is the city's Green Market. This is not a tourist market. Here is where Dushanbe's residents buy their chunks of red meat and bags of sand-clotted potatoes, their dates and figs, their peaches, pears, peppers and pumpkins. Where young kids and skinny old men earn half a dollar pulling wooden carts piled with merchandise to people's houses. Bar the cheap, Chinese electronics for sale in the ramshackle stalls, this walled-in, colour-soaked bazaar feels like an independent microcosm stuck in an aged Persian time warp.
The story of what is now Dushanbe traces back three thousand years to ancient Greek-Bactrian settlements, and the small but splendid Museum of National Antiquities houses an impressive display of uninterrupted Tajik history. One of its centre pieces is the 16-metre-long sleeping Buddha from 500AD, the largest remaining one in Central Asia. But references to pre-Soviet times are also alive outside museums.
Bar the cheap, Chinese electronics for sale in the ramshackle stalls, this walled-in, colour-soaked bazaar feels like an independent microcosm stuck in an aged Persian time warp
Walking past the Tajik National Conservatory opposite Aini Park, you may hear students practice traditional music on Persian instruments such as the two-stringed dutor. And inside the stately Aini Opera and Ballet Theatre, dancers perform ballet interpretations of Layla and Majnun, the Persian Romeo and Juliet, alongside classics like Swan Lake. The ceiling of this Soviet-era theatre incorporates intricate Persian ganch designs. More worldly, and also more extreme evidence of life from a hundred years ago, still exists in some of Dushanbe's suburbs where families scrape by in mud brick houses on farmyards, and where they stock up on coal and wood for winter.
The contrast with the Constructivist buildings of the early Soviet Union is stark. Exploring the streets of Dushanbe is like stepping in and out of time machines. Ornamental government buildings stuccoed in mellow shades of pastel colours alternate with rows of solid, grey, three-storey Khrushchevka terraced houses carrying crowns of rusty satellite dishes. Crumbling but compelling blocks of flats with laundry hung out to dry all the way up to the 12th floor stand side by side with sleek but faceless towers that represent Tajik modernity. Meanwhile, local corner shops sell Russian chocolate bars and Tajik vodka from their chronically outmoded interiors.
But if there's one thing that anchors Dushanbe in place, it's Rudaki Prospekt, named after the celebrated, first-century Persian poet. This is the city's thoroughfare weaving right through its middle like a timeless, living thread. Nurturing rows of gorgeous, stately trees, this boulevard feels like the soul of Dushanbe, a humbler but more elegant answer to the Champs Elysées in Paris. Leading south to north it strings together a plethora of landmarks such as the attractive former Firdausi Library that combines features of Stalinist and Islamic architecture, the new, pastel multi-coloured Dushanbe Plaza nicknamed the twin wedding cake towers, a massive statue of Tajikistan's cult-hero Emir Somoni where Lenin's figure used to dominate and the striking neo-classical Lohuti Theatre, as well as a generous scattering of sprinkling fountains.
---
Tajik Hospitality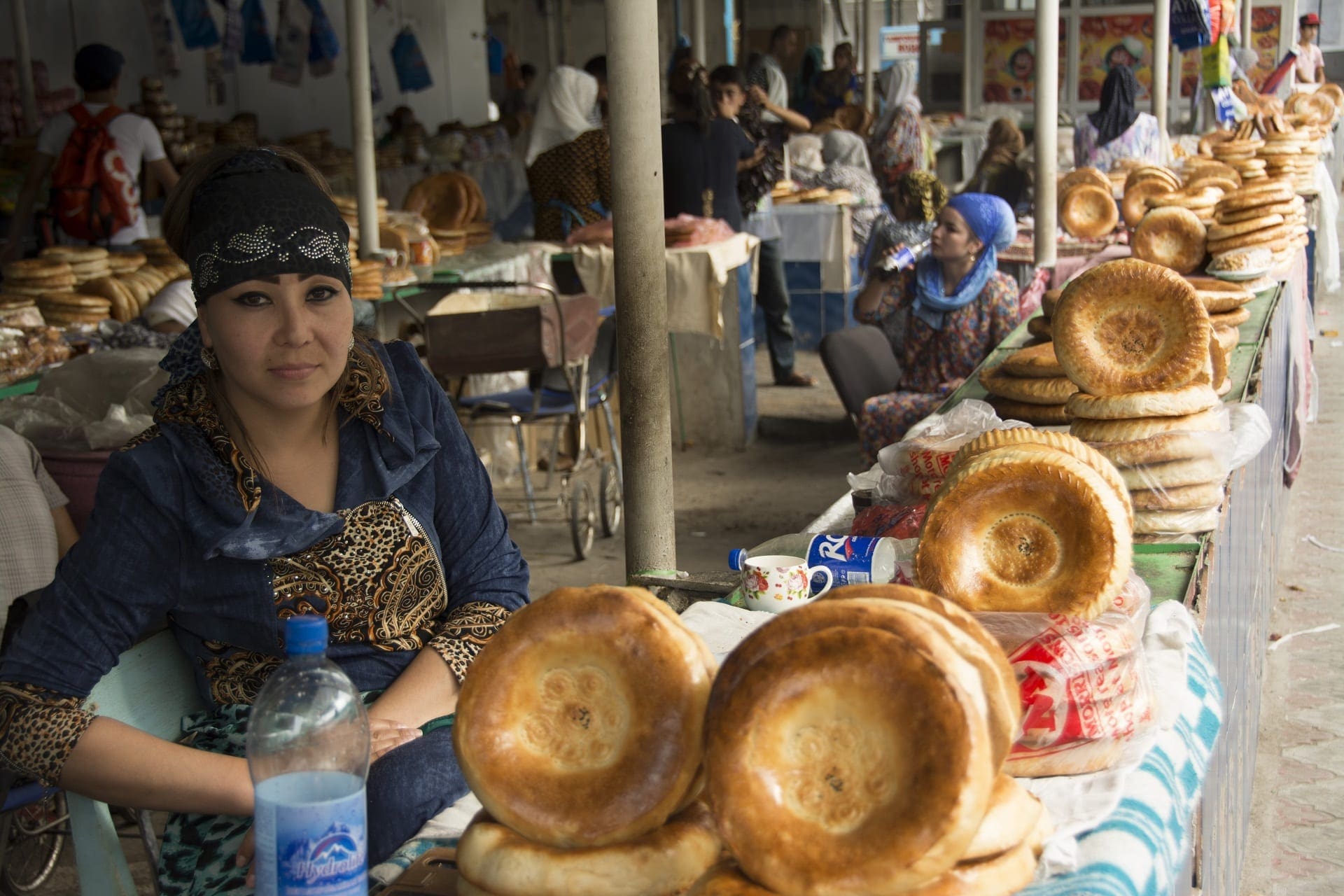 If you are lucky to be invited to a Tajik home, the hospitality will warm your heart and the food will keep your stomach filled for days to come. One of the two national dishes of Tajikistan is plov, a rice dish with onion, shredded carrot, garlic and meat fried together in a large, wok-shaped qazan. Traditional meals start with dried fruits, nuts, yoghurt and sweets that you share with your host on a cloth on the floor, followed by soup and meat and often other courses. Fresh fruit concludes the feast.
Tajik cuisine can be quite oily and has Russian, Iranian, Afghan and Uzbek influences. Ukranian borsh soup made of beetroot and cabbage is popular in winter and in summer you can eat shashlik – roasted pieces of meat on a skewer – in Aini Park washed down with a pint of cold, local Sim Sim beer. The other national dish is qurutob where you eat a mix of fried onions, vegetables and chaka, a type of strained yoghurt, from a wooden bowl together with thin, flaky flatbread called fatir.
Dushanbe may not be a gastronomic destination – although there are some decent restaurants in town offering both local and international cuisine – but if there's one thing that runs like a culinary thread throughout each neighbourhood, street and household, it's bread. Kulchas – flat, round loaves of manna, not from heaven but freshly out of wood-fired ovens – lie in stacked piles for sale along roads and food stalls. Bread is everywhere in Tajikistan and a meal is not worthy its name if it doesn't involve the staple. To Tajiks bread is sacred and you must never drop it to the ground, always place it upright and carefully break it by hand. Woe unto he who throws it away.
When walking the streets of Dushanbe you may often come across pieces of old bread lying on windowsills or other elevated places, left there respectfully for birds or beggars to pick up. You can even drink it – for 15 cents a pedestrian can quench her thirst with a pint of kvas, a refreshing brew made from fermented bread. In summer, the metal, mobile barrels from which it is served brighten many a street corner with their conspicuous yellow colour. A glass of the slightly alcoholic kvas will keep you going for another couple of hours.
---
At present Dushanbe is mutating at accelerating speed. Historical buildings such as the Mayakovsky Theatre, where the founding of the Tajik Soviet Socialist Republic was declared, are one by one razed to the ground while new, uninspired high-rises sprout all over the city like pimples on a budding teenager's face. This is not just a city knocking on the door of adulthood. It's as if Dushanbe is going through an identity crisis where it is willfully erasing its inescapable, multiple histories in favour of a hypothetical, glorious Tajik future.
Evidence of change isn't limited to architecture. The creaky trolley buses (10 cents a ride) are giving way to new, Chinese-made transport while the expensive SUVs of the nouveau riche are pushing out the remaining vintage Ladas and Volgas. Youngsters now prefer sipping espresso in one of the new, sleek coffee shops to drinking green tea under the stunning ceiling of the Choikhona Rokhat. All the while, a more assertive Islamic tradition is re-establishing itself and sometimes stands at odds with a government that tries to reign in some of its militant aspects.
President Emomali is very much behind the visual facets of the city's transformation. The world's largest teahouse is only one of his pet-projects. Other signature structures include what was then the world's tallest flagpole and Central Asia's biggest museum, largest library and largest theatre, the latter still in progress and costing a reported 100 million dollars. There's something quite tragic about spending over one percent of the nation's GDP on a theatre while Dushanbe suffers from a crumbling medical infrastructure, a vast decline in education standards, and both electricity and water cuts. Yet, despite protests by some of Tajikistan's intelligentsia, others seem proud that their city is earning itself a place on the map.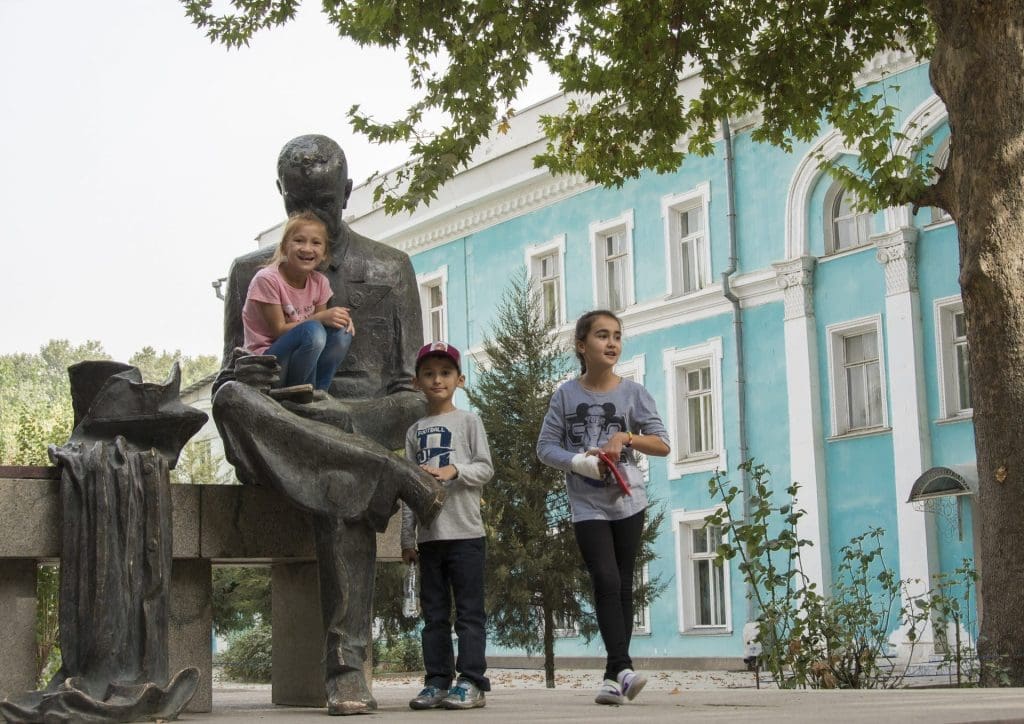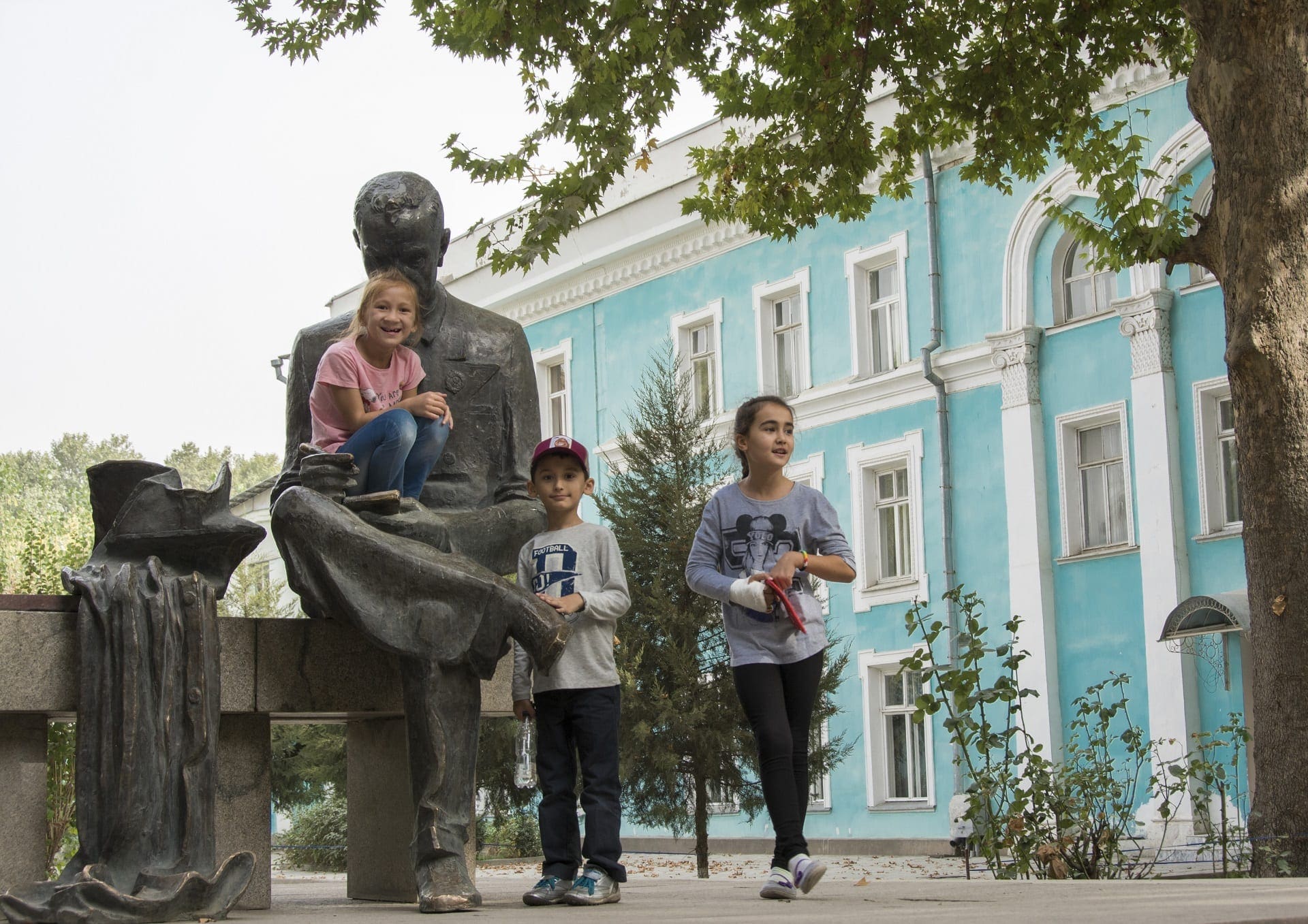 Despite all this, human-sized Dushanbe still very much exudes provincial charm. Small children play unsupervised on the streets, people stop to shake hands and young men parade their toned muscles leaving a trail of cheap, knockout-grade deodorant. While Tajikistan's mountains are incontestably its main drawing point, Dushanbe's contrasting mix of quaint pastel-coloured buildings and dictator-chic biggest-in-the-world projects, warrant it enough justification to grant it that extra day on anyone's itinerary. Just take care of whom you happen to be playing pool alongside.
---
Tajikistan travel is not limited to the city – for further ideas read Johan's article on his weekend visit to an ex-Soviet sanatorium just outside of Dushanbe, and his trekking trips in the Wakhan Valley and in Tajikistan's alps the Fann mountains.
---
Tajikistan Travel : Flights
From Asia: Air Astana (www.airastana.com) flies from Bangkok with a stop in Almaty. From Europe: Somon Air flies direct to Dushanbe from Frankfurt (www.somonair.com). Air Astana has flights from London and other major European cities with stops in Astana and Almaty. Turkish Airlines (www.turkishairlines.com) has flights to Dushanbe with a stopover in Istanbul.
---
Tajikistan Travel : Guidebooks
Difficult to find but very rich in background is Tajikistan and the High Pamirs, by Robert Middleton and Huw Thomas, 2012, Odyssey Books & Guides. Distributed in the UK and Europe by Cordee Ltd., www.cordee.co.uk
One of the most informative sources on Tajikistan travel, the Bradt Travel Guides website promises to publish later this year (October 2017) an updated version of their useful but now dated 2013 Tajikistan. www.bradtguides.com
Johan Smits
Freelance writer, translator, web content developer, author of the novel Phnom Penh Express and Tommy, a short story. Loves trying out local brews, avoids noise. Chronically indecisive about where to lay down his hat. Shortlisted AITO Travel Writer of the Year 2018.