A Cave Too Far
Mark Bibby Jackson
Posted on 10th Nov 2017
Upon arrival at the entrance booth for the Phraya Nakhon cave in the village Bang Pu you have two options – walk or take the boat. Taking the boat is the right option, believe me, we chose to walk. A two-kilometre stroll along the beach to the cave's entrance might sound like a pleasant way of spending your Sunday, but this was anything but a quiet stroll. Rather a hike up and over the promontory which separated Bang Pu from the cave's entrance. And this was midday, when Thailand's rays are at their sharpest.
By the time we reached Laem Sala beach on the other side, t-shirts clinging to our torsos – a sight nobody should be compelled to spectate – we did at least feel virtuous. The previous day's beers were now truly flushed out of our system. Our wiser compatriots stepped out of their boats into the warm, welcoming waters and strolled along the beach's perfect white sands.
Like innocents to the French Foreign Legion we marched on
But this was only the start of our labours. The cave itself lay some 450 metres away. Straight up.
Without pause we took on our Matterhorn. After all, weren't we accustomed to tropical heat, men, if not in our prime, then at least comfortably ensconced in the middle age's midriffs.
How wrong we were.
Like innocents to the French Foreign Legion we marched on.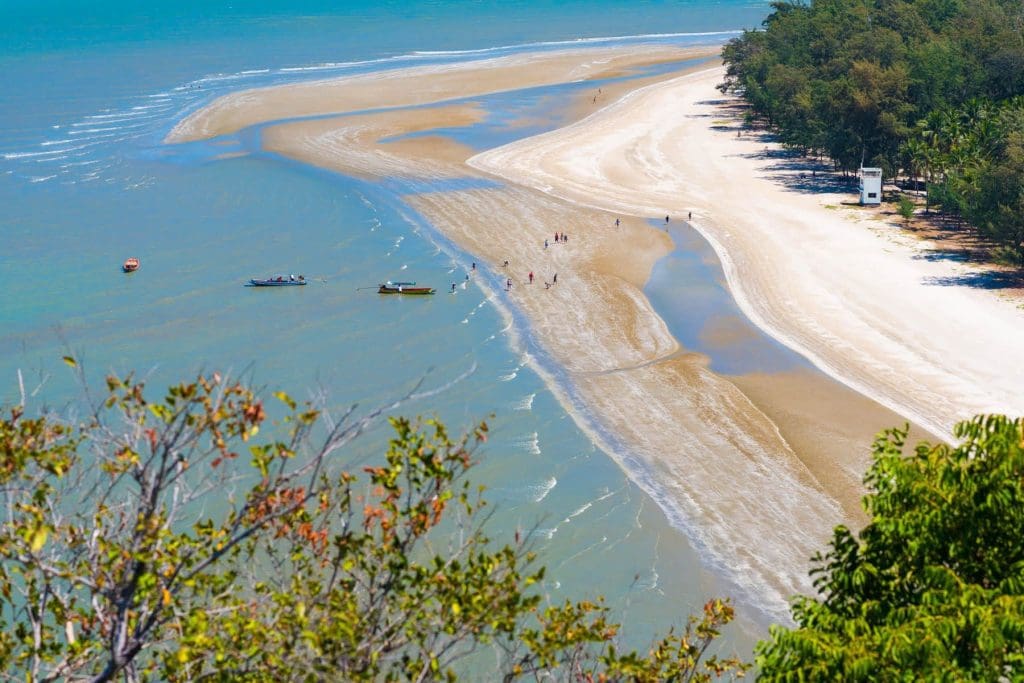 About half-way up I tripped on one of the stones that served as steps. Stumbling, I felt a sharp pain in my left leg. Two years earlier one of my quadriceps had torn – a genetic weakness I inherited from my grandfather along with his myopia towards Leyton Orient – as I was crossing the street in Bangkok. Fortunately, there was no passing traffic at that time and I had managed to crawl my way to the other side. Now, it felt as though my muscle had gone again. A volley of Hugh Grant Four Weddings obscenities flowed, only partially curbed by the oncoming stream of Thai and foreign tourists that were passing down the hill I was so singularly failing to ascend. My partner in climb paused as I sat on a rock and guzzled down some water and painkillers. After a few minutes respite I was able to continue, my leg only slightly bruised, my dignity much more so.
The ascent reminded me of a climb I had undertaken in Sarawak, Indonesia some 15 years earlier and the same number of kilos lighter. Then, with my ex I had taken on the Pinnacles, a steep climb through jungle along a path up a challenging mountain. Our guide had apologised himself from the walk as he had a stomach ache that morning. For some reason lost in the mist of time, we saw nothing suspicious in his absenteeism.
That night I felt parts of my body I had never previously known existed, and still now do not know the medical name for
Five hours later we had somehow managed to amble, walk, stagger and eventually haul ourselves up to the summit. Only to see – nothing. No glistening bellavista rewarded our honest exertions – just a few sharp rocks and passing birds of prey sensing blood. So, much disgruntled, we started our steep descent only to be greeted by our guide who had awoken like Lazarus from his slumber, a further five hours later. Apparently, his conscience was piqued at the thought that we may have wandered off the trail and been eaten by a tiger. That night I felt parts of my body I had never previously known existed, and still now do not know the medical name for.
At least the climb to the Phraya Nakhon cave only took around half an hour. And what awaited us at the top was well worth our labours.
Two chambers greeted us. The first was vacant apart from a dried-up waterfall and the occasional tree. Light filtered in through the large cavernous hole that led to the skies. Above us lurched a stone crossing known as "death bridge" for the many beasts that have fallen to their death from it.
A short path lead to a second chamber dominated by the Kuha Karuhas pavilion, built at the end of the 19th century for the visit of King Rama V. Huge engravings mark the spot where both Rama VII and the recently deceased King Bhumibol Adulyadej (Rama IX) also visited the cave. Apparently, the best time to visit is in the early morning when the pavilion glitters with sunlight. Although we arrived considerably later, the sight was no less impressive, though I suggest you time your arrival so as not to coincide with selfie-obsessed tourists.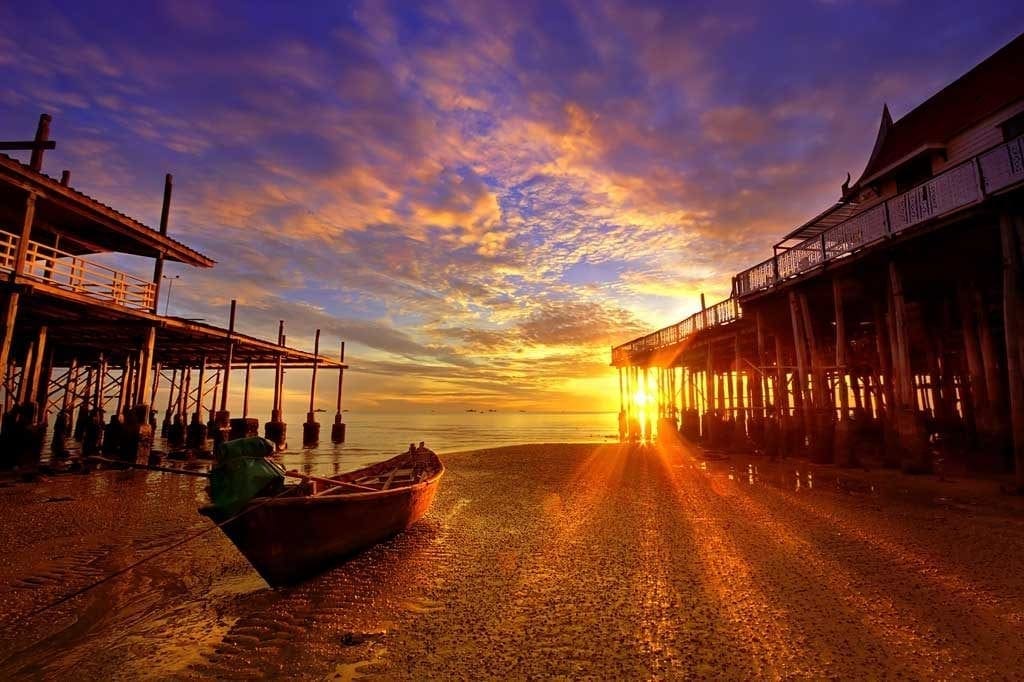 Phraya Nakhon cave is located in Khao Sam Roi Yot (literally 'mountain with 300 peaks') national park. Huge limestone karsts dot the landscape, while Sam Phraya competes with Laem Sala for the best beach award. My only regret was that I hadn't elected to stay on Laem Sala in one of the bungalows situated on the beach. Once the tourists had disappeared this must appear like a tropical paradise.
The cave is about a 45-minute drive, or a longer cycle along a preserved path, from the royal city of Hua Hin. Alternatively you can stay in the much quieter town of Sam Roi Yot. We chose the latter, and settled down to a cold bottler of Leo while eating the most fresh fish in the German-run Saloon restaurant. Served in a slightly sweet tamarind sauce, the fish was fantastic, and even the beer went down well. After the day's travails, I think we had deserved it.
---
For more ideas about what to do in Thailand, visit our Thailand section.
Mark Bibby Jackson
Before setting up Travel Begins at 40, Mark was the publisher of AsiaLIFE Cambodia and a freelance travel writer. When he is not packing and unpacking his travelling bag, Mark writes novels, including To Cook A Spider and Peppered Justice. He loves walking, eating, beer, isolation and arthouse movies, as well as talking to strangers on planes, buses and trains.