Burgundy Wine Cruise
David Powell
Posted on 17th Nov 2017
David Powell spent a week on the luxury hotel barge L'Impressionniste on a Burgundy wine cruise. The Burgundy canal is one of the most attractive canals in France, winding its way through the heart of renowned vineyards, medieval towns, elegant chateaux, magnificent cathedrals, picturesque villages and wonderful local markets.
Monday mornings don't get much better than this. I've had a lovely breakfast, the sun is shining and our luxury barge is about to set sail. There are 48 locks to navigate during our week on L'Impressionniste and I'm looking forward to every one.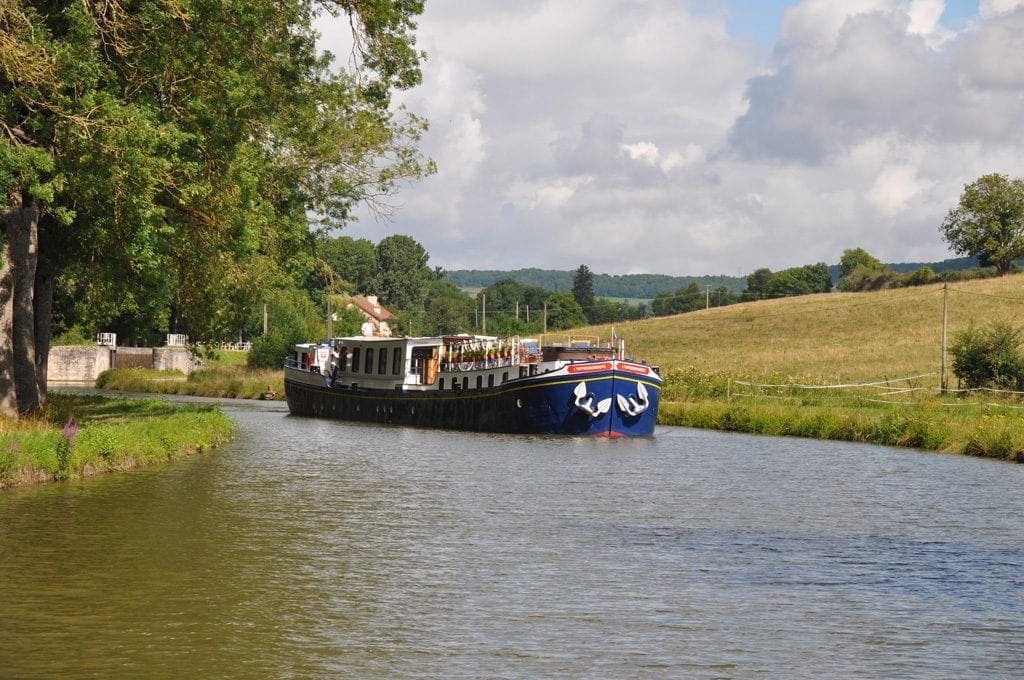 Still a little known niche concept within the huge cruise industry, maybe the term barge conjours up images of narrow boats or coal boats? In fact nothing could be further from the truth. Yes, most hotel barges started life as cargo vessels. L'Impressionniste, for instance, was built in Holland and carried cargo in the 1960s, but they have since been painstakingly converted to offer luxury boutique accommodation for small groups of passengers, and all barges in the fleet benefit from an annual refurbishment of some description. This is cruising but probably not as you know it. The pace is slow with a six-day cruise often covering less than 50 or 60 miles along a rural canal. Passengers can walk or cycle along the towpaths and never get left behind as their floating hotel glides gently along. Cruising just a few feet from the towpath it's easy to moor up and explore.
The hotel barge experience includes comfortable accommodation in air-conditioned state rooms, fully inclusive with gourmet meals prepared by the onboard chef, fine wines and an open bar. Daily escorted excursions are in private vehicles or bicycles, and there is an on-deck spa pool.
There's a large sun deck and a heated spa pool, which I can confirm is good fun having tried it several times with champagne in hand
We arrive in rural Burgundy and spot the elegant L'Impressionniste for the first time moored at Escommes. Forgetting the luggage that will soon be safely placed in our state room by the crew, we enjoy a champagne reception and meet the crew, captain and tour guide Daniel and matelot Sam, chef Joss, pilot James and our two hostesses Erell and Carolyn. More champagne and snacks follow with a chance to get to know our remaining fellow guests, two couples from Canada and a couple from California.
L'Impressionniste is certainly stylish, accommodating up to 12 guests. The lounge and open plan dining area are extremely comfortable with glorious panoramic windows, ideal to watch the world go by while cruising. The lounge is furnished with leather sofas and a coffee table and there's a fully stocked bar built from oak with a drinks cabinet and fridge. The elegant dining table accommodates all guests at one sitting and the selection of prints, fabrics and wall coverings are reminiscent of the era after which our barge was named. Outside, there's a large sun deck and a heated spa pool, which I can confirm is good fun having tried it several times with champagne in hand. There's a large table for outside dining and plenty of seating.
Joss, worked tirelessly throughout the cruise preparing fabulous three-course lunches and exquisite dinners. Before each meal he would pop out from the kitchen and in a relaxed and friendly manner outline the delicacies and regional specialties he had prepared. Dinner was always a gastronomic experience created by this very talented chef. Fine wines and a varied cheese board admirably served and described by Erell and Carolyn complemented each meal.
Monday morning is our first full day, and we set sail after breakfast from the canal summit at Escommes, 1,250 feet above sea level and cruise to Vandenesse-en-Auxois. After lunch it's time for our afternoon excursion to nearby Chateau de Bussy-Rabutin and here we see the portrait gallery created by the disgraced courtier of King Louis XIV and stroll around the gardens enjoying views of the chateau and its moat. Then we return to the barge where canapés and cocktails await our return.
European Waterways arranged for a wine expert to accompany us, which provided an interesting insight into the production of the domaine's Grand Cru and Premier Cru wines
The following day, I'm up bright and early for our cruise to Pont d'Ouche crossing the only canal bridge on the Burgundy canal. This is a perfect day for a walk along the towpath. After another splendid lunch we visit the medieval village, craft shops and castle of Chateauneuf-en-Auxois, once an outpost of the Duke of Burgundy.
By Wednesday, after a short morning cruise, we're deep into the Burgundy wine region and our excursion today is to the famous vineyard owned by the Domain Bouchard Pere et Fils. European Waterways arranged for a wine expert to accompany us, which provided an interesting insight into the production of the domaine's Grand Cru and Premier Cru wines. An exclusive wine tasting session and tour of the cellars at the Chateau de Beaune is followed by a gastronomic lunch in the orangery and a couple of hours to explore on our own the delightfully French town of Beaune.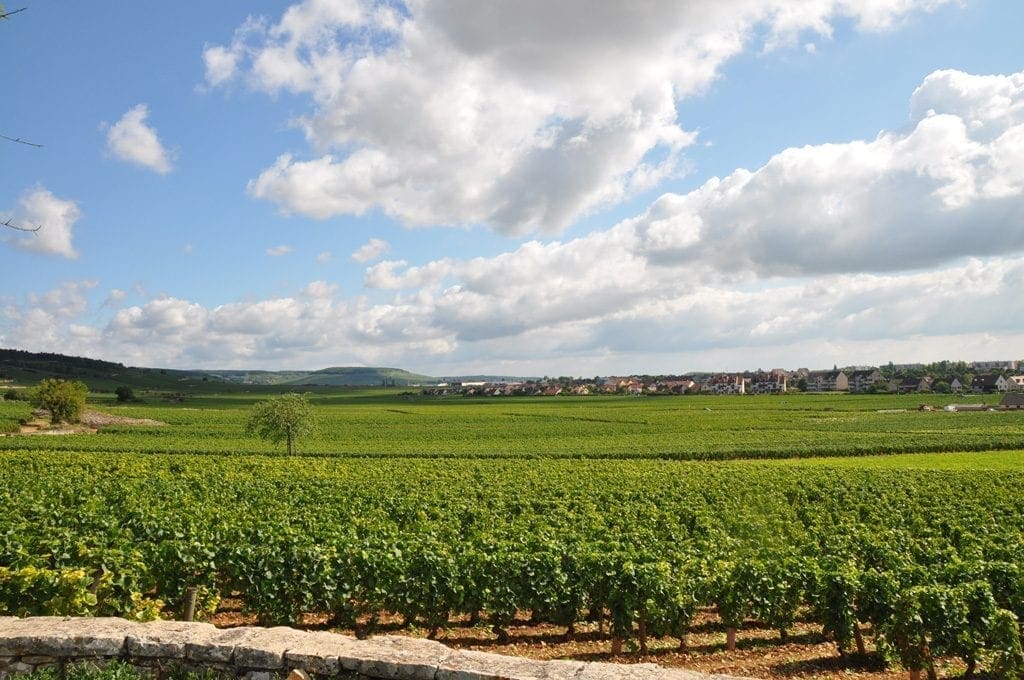 By Thursday we're totally relaxed enjoying every moment of this barge cruise which today takes us to Gissey-sur-Ouche. We cycle between two or three locks then head back onboard to relax on the sun deck with a glass of wine as we gently slide past sleepy villages and pretty lock houses. After lunch we visit picturesque Clos de Vougeot, headquarters of the esteemed Chevaliers du Tastevin, who award a prize label to the finest Cote d'Or vintages every year. On the way back to the barge there's another private wine tasting, this time the fine Burgundy wines of Chateau Andre Ziltener, a family run winery built on the foundations of an old Cistercian abbey. Here we have an opportunity to purchase many of the wines with shipping arranged to any destination in the world.
Friday and Joss joins us for the first part of our walking tour of Dijon. We visit the market and everyone gets a chance to choose what he or she would like to eat for lunch. Joss returns to the barge loaded up whilst we explore the many mustard shops and the impressive Notre-Dame de Dijon. Returning to our barge and its time for our Dijon market extravaganza lunch – quiche lorraine, prawns, mussels, a select of cheeses, raspberry gateau and pear and caramel alongside a fine Saint Romain white wine and a red Fleurie. This afternoon we cruise to our final mooring at Fleurey-sur-Ouche and the Captain's farewell dinner on board.
Barging through Burgundy was a fabulous experience. The highly professional crew on L'Impressionniste worked together as a team providing guests with a friendly service and experience. A superb way to see some of Europe's finest scenery, experience the history and local culture onboard one of the many luxury hotel barges in the fleet, I wouldn't hesitate to recommend it to anyone.
---
European Waterways offer luxury hotel barging in France, Holland, Italy, the UK, Ireland, Belgium, Luxembourg and Germany. Prices for a six-night cruise aboard the hotel barge L'Impressionniste are from £3,450 pp in a twin/double cabin, including all meals, wines, an open bar, excursions and local transfers. Full barge charters are also available for families and groups.
Website: www.EuropeanWaterways.com   Tel: +44 (0) 1753 598555
YouTube: Here there are plenty of short videos featuring the barges and various itineraries here