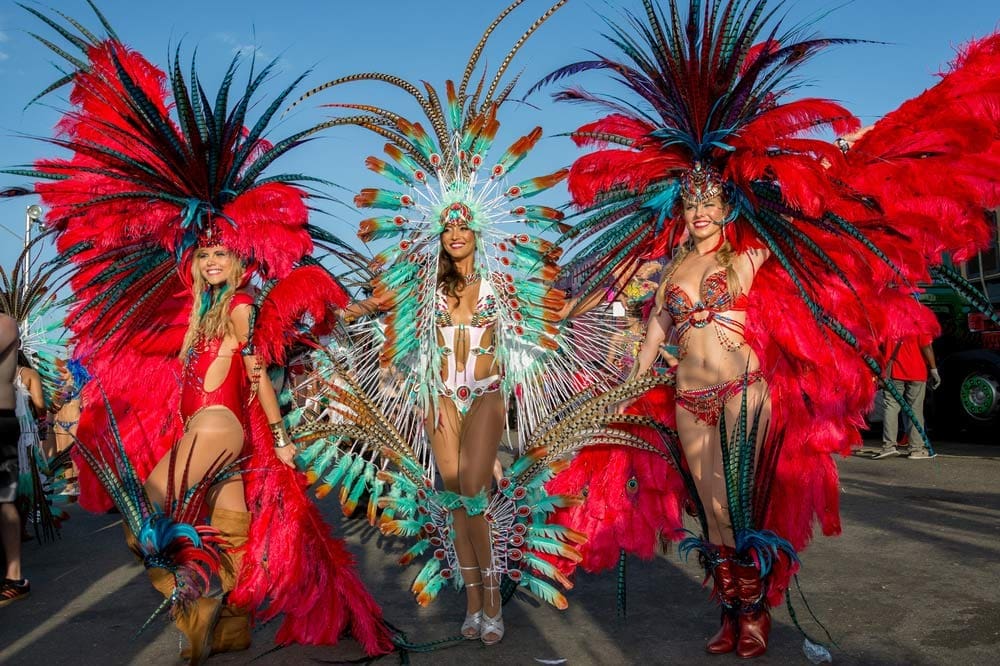 Caribbean Getaway: Trinidad or Tobago?
Mike East
Posted on 1st Nov 2017
Tobago is the classic tropical island. With its white sand, palm-fringed beaches it's a archetypal Caribbean getaway. But what about Trinidad? Mike East makes the case for a traveller looking for something different.
The charms of Tobago are obvious, but what about its far bigger twin Trinidad? Does it have anything to offer if you are not an employee of the petroleum industry. Yes, it does and this is why you should consider visiting.
Let's start with Tobago. It is a small island with old world charm. The tropical rainforest is protected and the plantation houses and colonial forts open to visitors. Accommodation here is in the form of bed and breakfasts, family-run hotels and low rise resorts. Most Tobagans live in small villages. The undersea world off its coast is ideal for diving and snorkelling. In short, it is a well-known Caribbean getaway destination for a quiet, often luxurious escape.
It's not just the infectious rhythm, as the lyrics play their part too, steeped in satire and full of comment on social and political matters
Trinidad is much less associated with travel, but well worth exploring nevertheless.
The world famous Carnival usually falls in February. It is celebrated on the Monday and Tuesday before Ash Wednesday, and its date is calculated each year by working back from Easter. Essentially it starts at 4am on that Monday, though keep an eye out for the great pre- events on the weekend before, like the cultural show Dimanche Gras.
Well before dawn crowds gather in the streets covered in paint, mud and oil to welcome in the Carnival. In the afternoon people change into their multi-coloured costumes and the party rolls on. You can even join one of the Carnival bands, which means you will receive your costume from them and become part of the group for the duration.
And with Carnival, we have to talk about music in the same breath, much of which originates from Trinidad directly. First of all there is calypso. It's not just the infectious rhythm, as the lyrics play their part too, steeped in satire and full of comment on social and political matters. Soca is similar, but with a faster beat.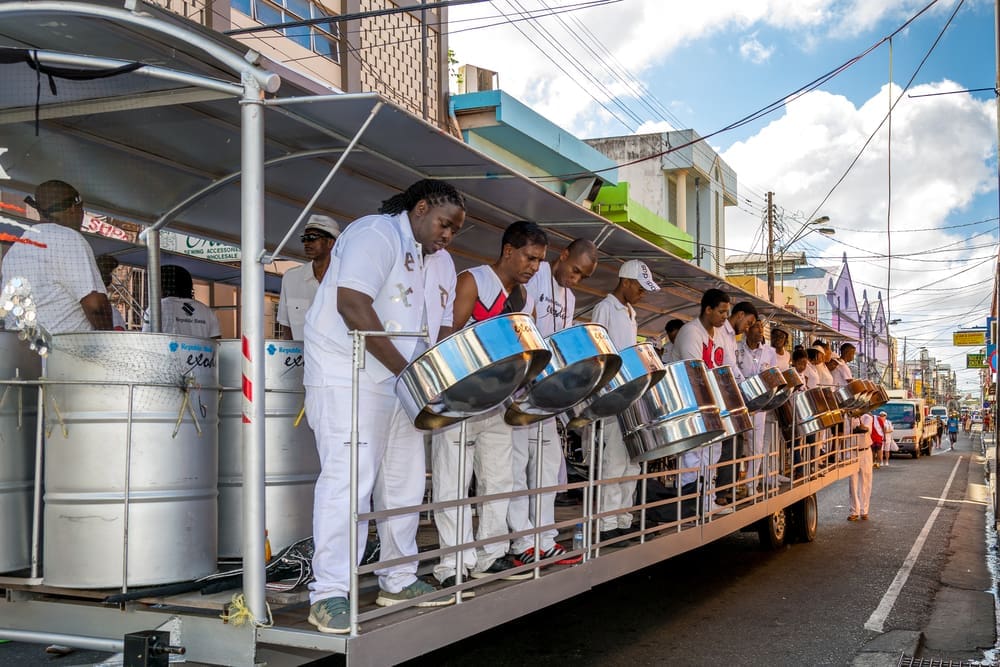 Other music with a local origin, yet not connected directly to Carnival, include the steelpan, or steel bands. From the East Indian community comes chutney, a blend of soca and Bollywood.
But what if you are not in Trinidad at that time? Are there things to interest the visitor? Again yes.
---
Top reasons for making Trinidad Your Caribbean Getaway
Carnival, a two-day party with an amazing dress code
The calypso, soca, steel band and chutney music genres
The food – try a range of rotis, or shark and bake
A fascinating mix of cultures and religions, living side by side
The great beaches on the north shore
That warm weather
---
Tobago is overwhelmingly African-Caribbean in makeup, whereas Trinidad has a far more mixed ethnic heritage. The two largest groups are East Indian and African-Caribbean respectively, with smaller numbers of whites, Chinese and Arabs, plus many, many people who are a mix of these different groups. When you add into that the religious mix of Christians, Muslims and Hindus, you are looking at a rich cultural pot that, amongst many other things, has that an incredible range of music for a small island and celebrates the festivals of Hosay, Divali, Phagwa and Eid.
Trinidadians will tell you that the groups don't mix as much as they should, or that there is friction. This is certainly true and can be seen in the politics, where voting is often along racial lines, however many visitors will notice a racial harmony that leaves most other nations deeply envious.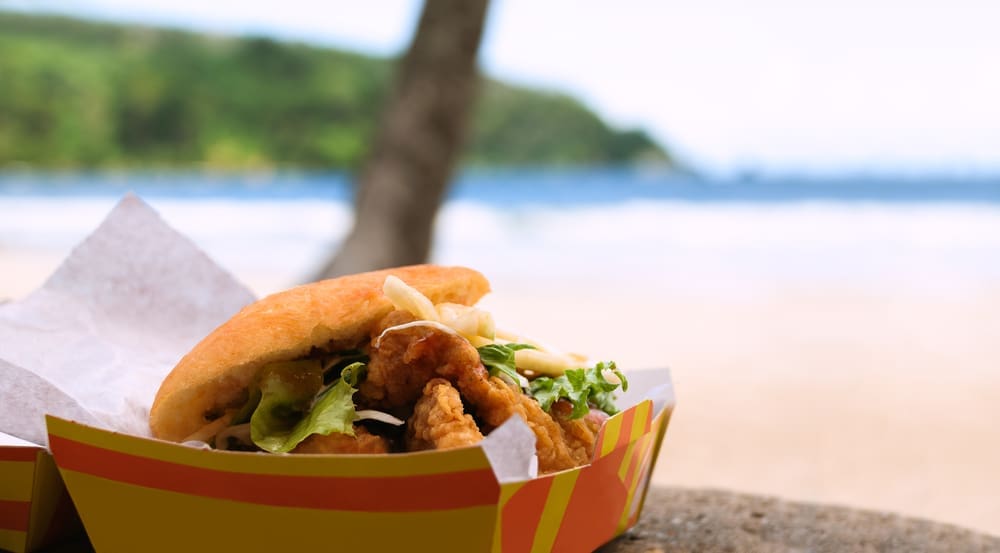 And all that diversity is apparent in the great selection of restaurants in Port of Spain, though there is one food above all others that is symbolic of the island, the roti. The name comes from the flatbread that is used for the wrap, but the taste comes from the filling of curried chicken, shrimp, beef, conch, goat, chick peas and/or vegetables. The pepper sauce that is offered is red hot, so take care. Or you can have it with chutney – the sauce not the music. One tip: if you want your meat boneless, say so. Another popular snack often found on the coast is shark and bake, the local name for a slice of fish sandwich – usually not a slab of Jaws, despite the name ­– often served with chips.
But can Trinidad cut it on beaches? The best way to find out is to drive out of Port of Spain along the North Coast Road. First of all, enjoy the drive, with the rainforest clinging to the steep slopes and then the view as you descend on the other side and go down to Maracas Bay – a great place to try your first shark and bake, by the way. If this doesn't meet your requirement for a Caribbean beach then your standards are pretty high.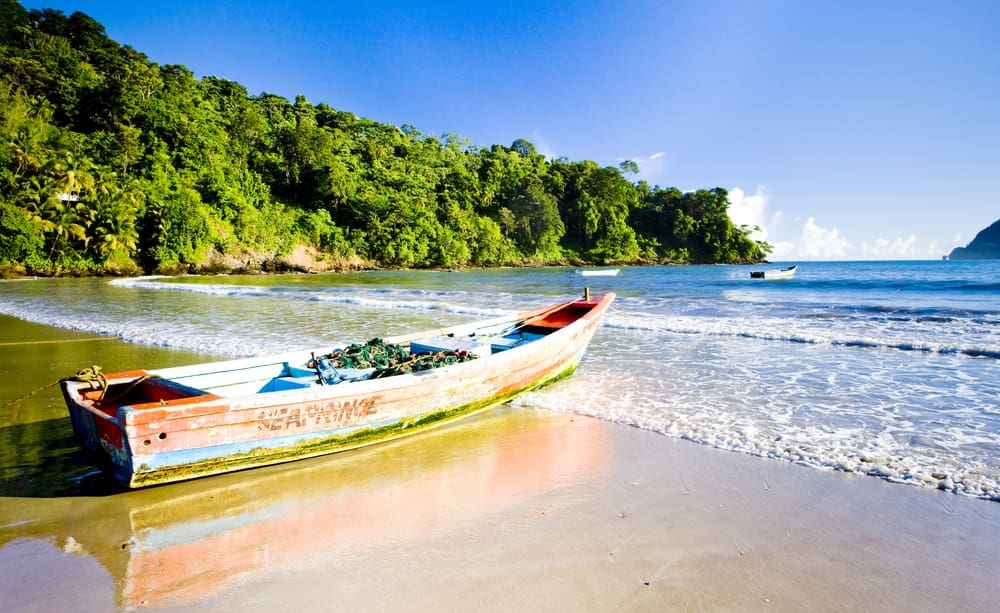 If you like the quirky, Trinidad has that too. In the south is the fascinatingly named The Devil's Woodyard, a small area of earthen volcanoes that ooze hot mud and, nearby, The Pitch Lake, which offers free asphalt if you happen to want to lay a new road on your travels.
Trinidad does not fit the stereotype of that classic Caribbean getaway, yet, in its own way, it offers more than that. Add to your vocabulary the Trini verb 'to lime', which means to hang out and have a good time – then make sure you do just that. Enjoy.
---
British Airways have direct flights to Port of Spain. US carriers link from Houston, Miami and New York.
---
For other ideas for where to spend your winter holiday in the Americas, why not consider New Years Eve in Rio?
Mike East
Mike began his career in travel writing by going overseas during his holidays and writing his own guide. He then sent this manuscript off to a range of travel guide companies and got a range of rejection letters — all except one. Getting a contract to write for Roger Lascelles Publications on the Caribbean islands of Trinidad and Tobago and The Bahamas was how his career began. With this opportunity came other pieces for British magazines and The Sunday Telegraph.