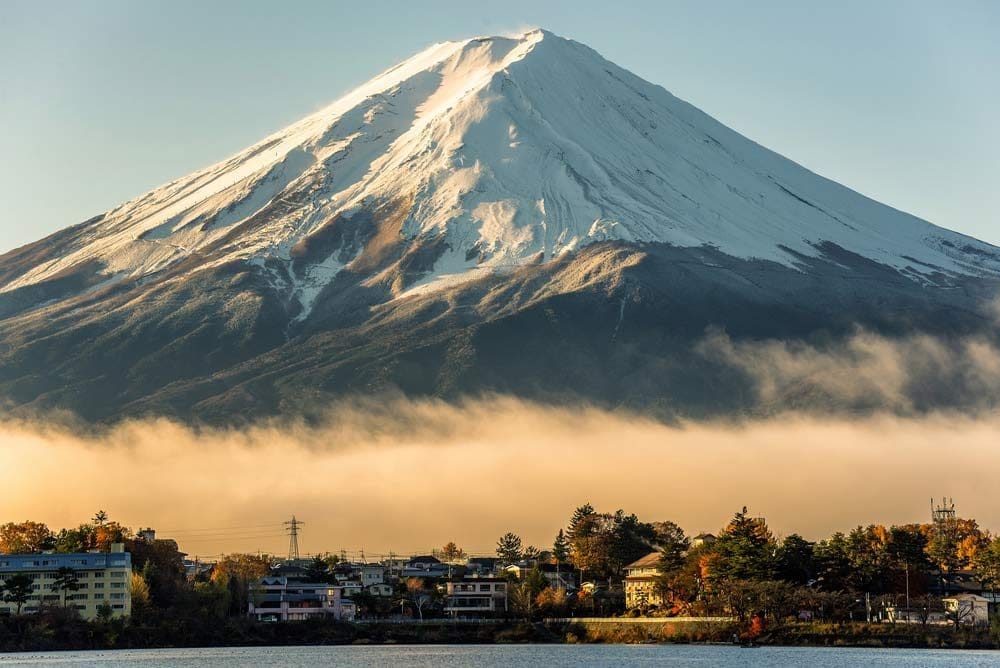 Japan Travel: Glamping, Zip-cords and Samurai
Mark Bibby Jackson
Posted on 3rd Nov 2017
On a mindfulness trip, Mark Bibby Jackson is surprised to discover the Japan travel scene confound all his expectations, and picks up a few tips towards enlightenment along the way.
Forest Adventure in Odawara
"Bounce and Catch." My instructor's words come rushing through my mind as I hurl myself headlong into the rope meshing.
I bounce, passing up the simple opportunity to grab hold of the meshing, to return a few moments later. Only this time I land much further from the platform that is my ultimate goal. So, in addition to climbing up I have to scramble along the net as well. For a second I consider letting go and allowing myself to hang free supported by the harness that is preserving me, then wait for the guide to come and rescue me. But considerations of my dignity prevail, as I scramble my way towards the platform, my strength evaporating quickly. Thankfully my guide makes a grab for my crutch and yanks me up by the harness. Did I mention dignity? It is two days before my group stops laughing. Wisely they chose to walk along a narrow rope bridge instead of leaping into the void.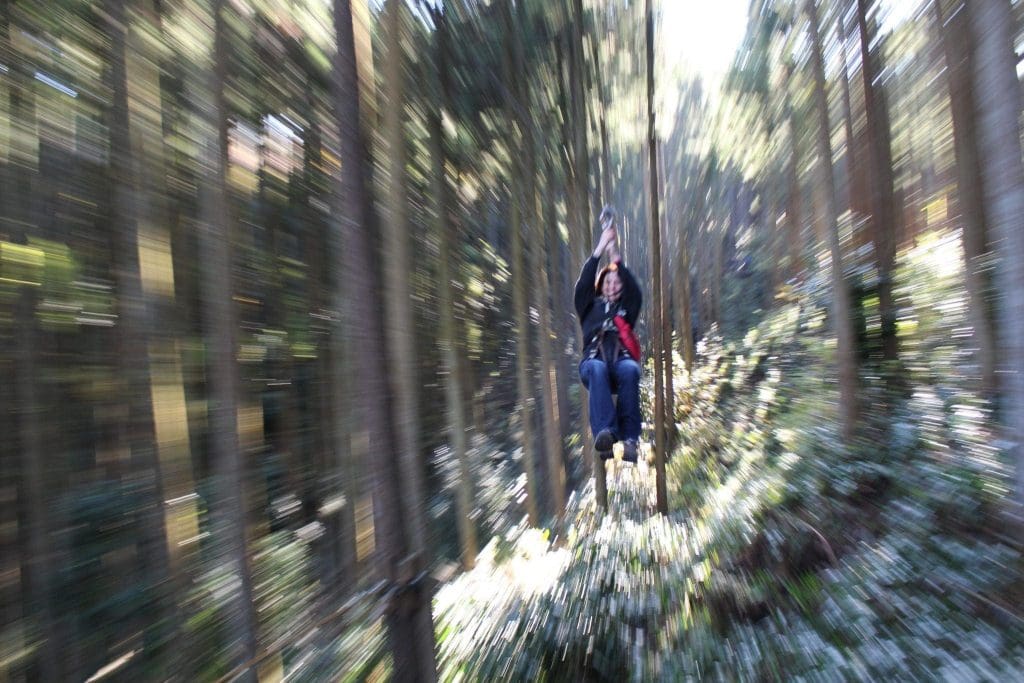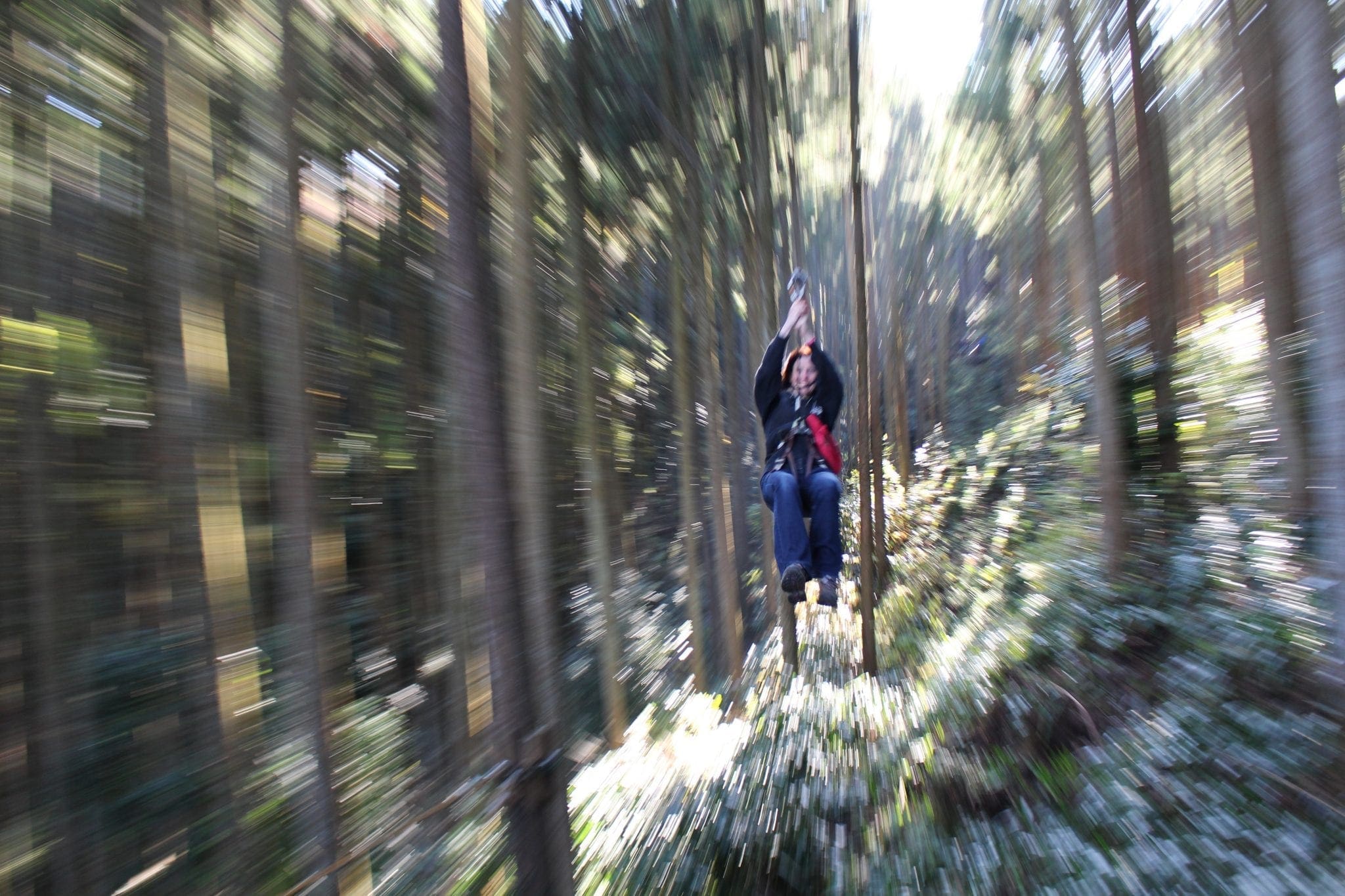 The scene of my shame is the Forest Adventure in Odawara. My companions are fellow journalists invited on a Japan travel mindfulness trip organised by the prefectures of Kanagawa and Yamanashi to promote their varied attractions in the build up to the 2019 Ruby World Cup. Somehow I think Maro Itoje and pals will make mincemeat of the Odawara zip cord challenge, if they fancy a bit of rest and recreation before taking on the All Blacks. However, the adventure is in a good cause as proceeds are used to protect the 300-year-old Odawara Forest which surrounds it.
It is Day Three, and already all my pre-conceptions of what to expect on a Japan travel experience have been shattered. This is my third visit to the Land of the Rising Sun, though it's the first time I have really explored the main island of Honshu. My first trip was a 48-hour jaunt to explore the gardens of the Imperial Palace, and the second was a skiing trip to Hokkaido.
The pod is more in keeping with Blade Runner 2049 than Carry On Camping
Mount Fuji Glamping
Outside the grey, concrete jungle of Tokyo, Japan really is a green and pleasant land. In the middle of Honshu rises the magnificent Mount Fuji. When as I child you drew a picture of a volcano from your imagination, it looked just like Japan's iconic mountain. The previous day, we had timed our first sighting of Fuji-san, as the Japanese respectfully call it, to perfection. The slightly menacing clouds had dispersed to be replaced by crisp wintry, blue skies that revealed a perfect Christmas pudding snow-capped crusting.
It might not be the cherry blossom season of April when the island is in its finest, but the autumnal hues more than compensate as we climb to our viewing point at the Arakura Fuji Shengen Shrine.
That night we rested at the Hoshinoya Fuji, a resort beside Lake Kawaguchi at the foot of Fuji-san, which claims to be Japan's first glamping centre. I have never really been a big fan of sleeping under canvas; a cold, sleepless winter's night in a site near Colchester still lies etched deep on my psyche, so it is with some reticence that I pay a visit to camping's glamorous younger cousin.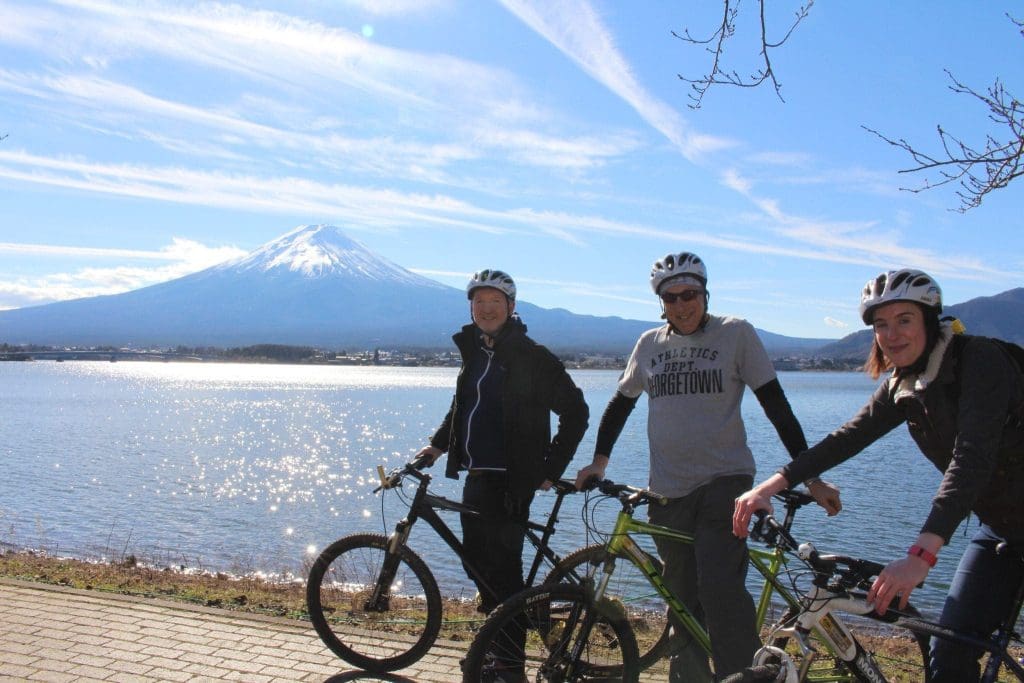 But as I am led to my personal pod, all recollections of rock hard ground, cold showers and thermal underwear are quickly swept aside. The pod is more in keeping with Blade Runner 2049 than Carry On Camping, equipped with the latest high tech features and a heated outside terrace that affords perfect views of Fuji over the lake.
It is here that I take my breakfast the following morning, having slept more soundly than ever whilst under canvas. Delivered in a back-pack and served in small metal containers, this is the closest I will get to actual camping. Paired with the fresh air and breathtaking view, this really is the perfect way to start the day.
Energised I take on the morning's activity, donning my checked shirt to chop some wood to fuel the camp's bonfire. To my amazement I hit the middle of the stump at my first attempt, the timber splintering in twain, as I ponder whether I too could have been a lumberjack, just like my dear papa.
It is not just at Hoshinoya Fuji that the food amazes me. Forget tiny bowls of sushi conveyed on miniature rail tracks and cold noodle, in Japan food is varied, tasty and incredibly healthy. After all this is a country where life expectancy rivals Scandinavia. Here dining is a ritual. A Japanese friend once informed me that in preparing food nothing is ever wasted. And true to her word, weird pickles, fermented beans and numerous takes on fish are placed before me in tiny bowls full of intriguing surprises; all washed down with the obligatory miso soup and green tea.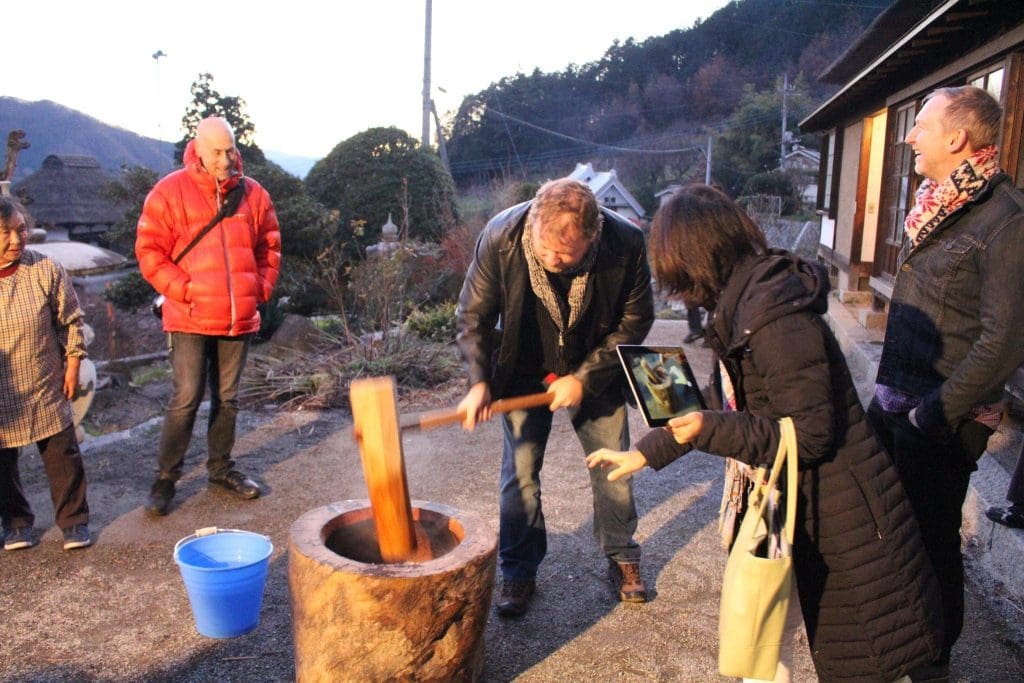 Life here revolves around food. On our first night, we were taken to the village of Kamijyo, where we were welcomed as if the first overseas travellers to visit this small hamlet, and invited to join them making rice dumplings in the traditional manner. Yielding a large pestle one of the villagers moulds the boiled rice into a large glutinous mass before inviting us to have a go. We achieve mixed success, my efforts more mixed than most. Then we dine with our hosts on tatami mats, where we wash down the freshly prepared rice dumpling and udon noodles with koshu grape wine made by Grace Winery, whose vineyard is in the nearby town of Tsugura-sha.
By now I was flagging after the overnight flight from the UK. So, once we have checked in to the Hatago hotel in Kikori – where we are greeted by a cacophony of noise and incomprehensible instructions in keeping with a Japanese rendition of Fawlty Towers –, I pay a visit to the hotel's onsen baths.
Like craft beer and gourmet burgers it is a concept that has crept up on me like the villain in a trashy horror film
Now, taking an onsen is an unusual cultural experience; one I first encountered in Hokkaido. There I had risked hyperthermia venturing into the snow before joining the assembled throng in the thermal waters. Only the men were not wearing any throng, just a small towel with which to preserve their modesty. At least this time I have the indoor pool to myself and can settle into the hot waters au naturel, the flannel resting on my head. And let all the aches collected on my long journey float away.
Temple Mindfulness and Playing the Samurai
In truth, I have never been exactly sure what mindfulness entails. Like craft beer and gourmet burgers it is a concept that has crept up on me like the villain in a trashy horror film. However, I am led to believe it involves refreshing both body and mind. To-date our excursions have been more corporal in nature. However, a trip to the Saijoji Temple in Kanagawa addresses this imbalance. The second oldest Soto-Sect shrine in the country, we are here to experience some Zen meditation, as well as brush up on our Japanese calligraphy skills. As a monk passes around my colleagues to encourage their concentration with a wooden baton that he 'taps' on their shoulders, I am glad I decided to opt out of the former. As for the calligraphy, I excel, that is if you judge performance on speed rather than accuracy. Perhaps, I still have much to learn about mindfulness. Despite being set in the most spectacular woods, I cannot quite see myself spending eternity here waiting for enlightenment.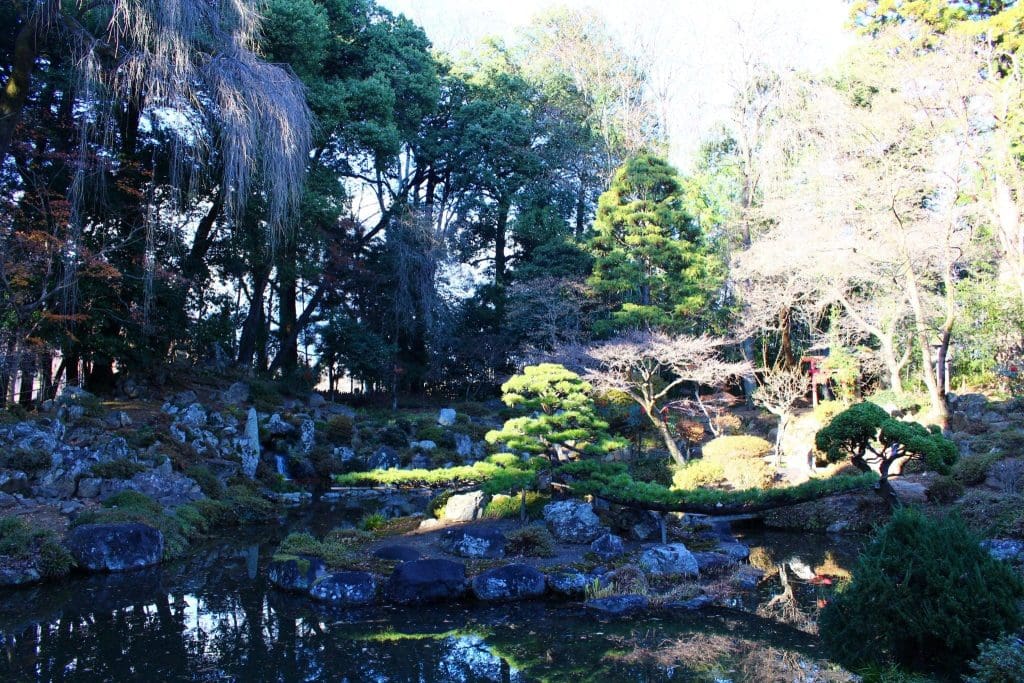 Much more to my liking is the Erinji Temple in Yamanashi, where we receive lessons on Buddhism from its head monk called Soy. He informs us that the key to enlightenment is to understand your inner self. However, as he has just informed us that he never wanted to become a monk but to travel to America instead, and only took up his vocation as it ran in the blood, I am left wondering whether the saucy monk should rather have followed his own advice.
Still, as we wander around the beautiful gardens at the rear of the temple, it's hard not to be impressed by the serenity of the place. Perhaps this is the enlightenment Soy sought after all.
On our final day we travel to the town of Odawara in Kanagawa, best known for its castle that dates back to 1682, although it was destroyed by the earthquake of 1923 and only recently restored. By now the tourist hordes that we have so far successfully avoided have caught up with us, and we find ourselves engulfed. But a visit here does allow ourselves one final highlight – to dress up as a samurai or ninja, depending on your fancy. Moreover, an excellent five-minute video provides a wonderful interpretation of what being a warrior in ancient time signified, and how the spirit of the samurai is endowed in nature.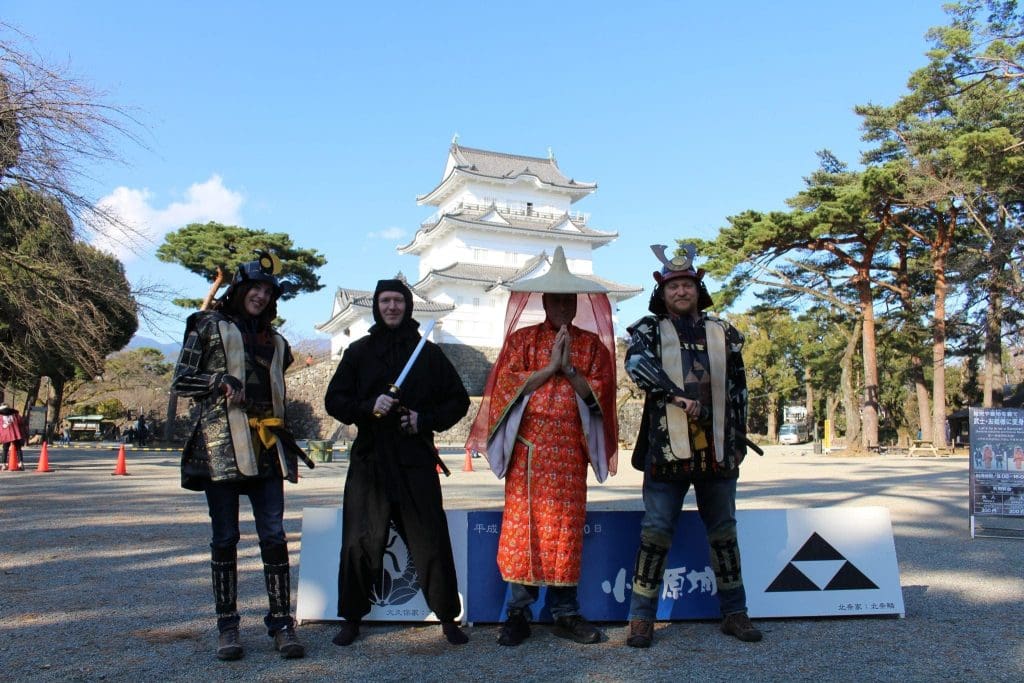 Bullet Train Japan
My trip to one of the world's oldest cultures ends with a bang as we take the bullet train back to one of the world's largest and most modern cities, Yokohama, which will host the final of the 2019 Rugby World Cup.
I'm not sure whether I have learnt much about mindfulness, nor advanced my own spiritual enlightenment on the trip, but my Japan travel adventure has helped me revise some of my preconceptions about this most amazing country and its culture. And one lesson I will take away with me for sure is that next time I find myself on a zip-cord, I'm not going to wait for the bounce, but instead I will grab the net straight away with both hands. For, isn't that why we go travelling in the first place?
---
Discover all there is to know about Japan's Cherry Blossom Festivals.
---
Time in Japan
Japan is GMT / UTC +9. There is no daylight saving.
Flights to Japan from UK
Tokyo has two airports  – Haneda and Narita. British Airways, ANA and JAL have direct flights there from London Heathrow.
Japan Currency
The currency is the yen. The GB pound is worth approximately 144 yen.
Japan Weather
With more than 3,000 islands, and spread over so many miles, it's hardly surprising that Japan has a very diverse climate. The northern island of Hokkaido has cold winters with average temperatures of -4C in January, and heavy snow ideal for skiing, however the islands to the south are almost tropical. In the more temperate Tokyo temperatures can rise to 30C in August, but seldom fall below 0C and snow is most uncommon. Winters are drier than summers. For more information on Japan's climate, click here.
Japan Visa
UK citizens can travel to Japan visa free for up to 90 days. If you are from another country, you may need a visa for your Japan travel. Click here to see a handy map for whether you need to apply for a visa or not.
Hotels in Japan
It helps support the running of this website if you book your hotel via our booking service with Agoda. Please click here to book your hotel for no extra cost.
For more information on Japan travel
Visit: See Japan.
Mark Bibby Jackson
Before setting up Travel Begins at 40, Mark was the publisher of AsiaLIFE Cambodia and a freelance travel writer. When he is not packing and unpacking his travelling bag, Mark writes novels, including To Cook A Spider and Peppered Justice. He loves walking, eating, beer, isolation and arthouse movies, as well as talking to strangers on planes, buses and trains.