Sampling the Great Outdoors in Kyrgyzstan
Johan Smits
Posted on 18th Nov 2017
Enjoying homemade cuisine inside a yurt, listening to old folk music and admiring the wonderful landscape of the great outdoors from the back of a horse, Johan Smits gets a taste of what the Kyrgyz country has to offer. 
"Lunch is ready," says Nazgul, the young Kyrgyz mother who is hosting me inside her family's yurt. Freshly baked bread with an assortment of jams appear on the table, then laghman, a soup with homemade noodles, mutton and vegetables, followed by potatoes and peppers stuffed with horsemeat. Fruit and sweets conclude the feast. I put on hold my ambition of becoming a vegetarian and wonder how I am going to survive the afternoon bouncing up and down the back of a horse.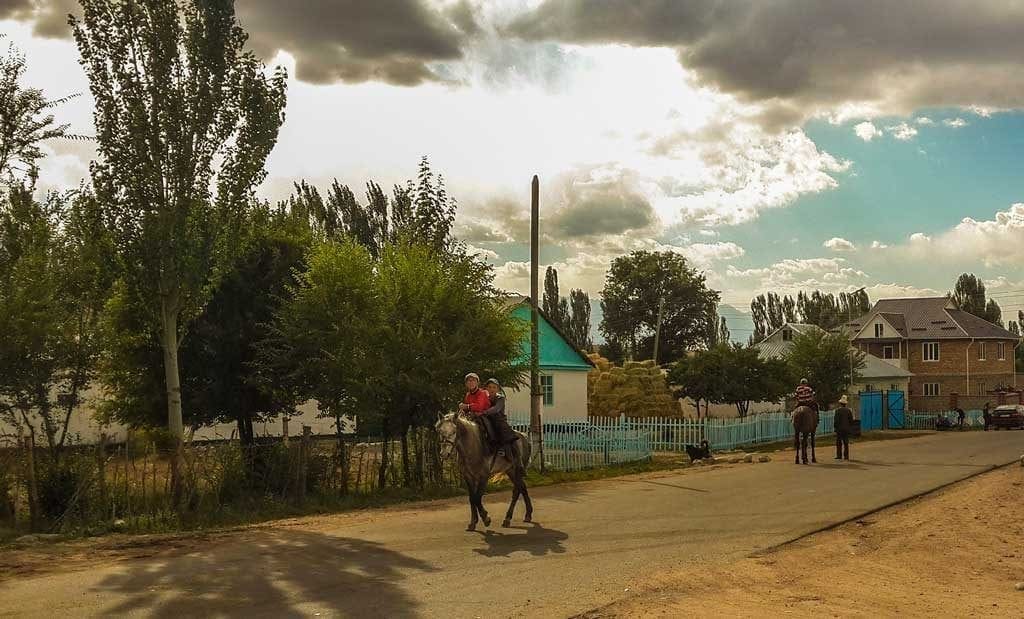 That morning I set off from Kyrgyzstan's capital Bishkek by car with Jeff Stamp, an American from Colorado who runs Taigan Expeditions and who was my guide for the day. Having arrived from Tajikistan on an extended weekend, I had already spent a day exploring Bishkek – now I was going to sample the Kyrgyz outdoors and its culture – to discover whether it would be worthwhile coming back for a longer visit. And in this country where horses and the nomadic way of life make up its DNA, what could be more appropriate than doing this the equestrian way? My guest house in Bishkek had recommended Jeff, and he in turn had recommended exploring a valley near Kochkor, a small market town in Kyrgyzstan's central province Naryn.
Nazgul's yurt doesn't stand lonely in the middle of an endless steppe, braving gale-force winds and sub-zero temperatures, but is set up in the courtyard of her family's homestay in Kochkor. At first, this appeared to me as a bit of a gimmick for the sake of foreign visitors, but I soon realised hers is as authentic as any other. The dwelling, which consists of interlaced wooden laths covered with thick felt and supporting a heavy, wooden tunduk – the apex of the yurt that lets light in and allows smoke to exit – is such a centrepiece of Kyrgyz culture that it appears on their national flag. "The yurt can be disassembled and moved in a matter of hours," Jeff pointed out to me. "Not a single nail is used. Everything is held together with leather or woven straps."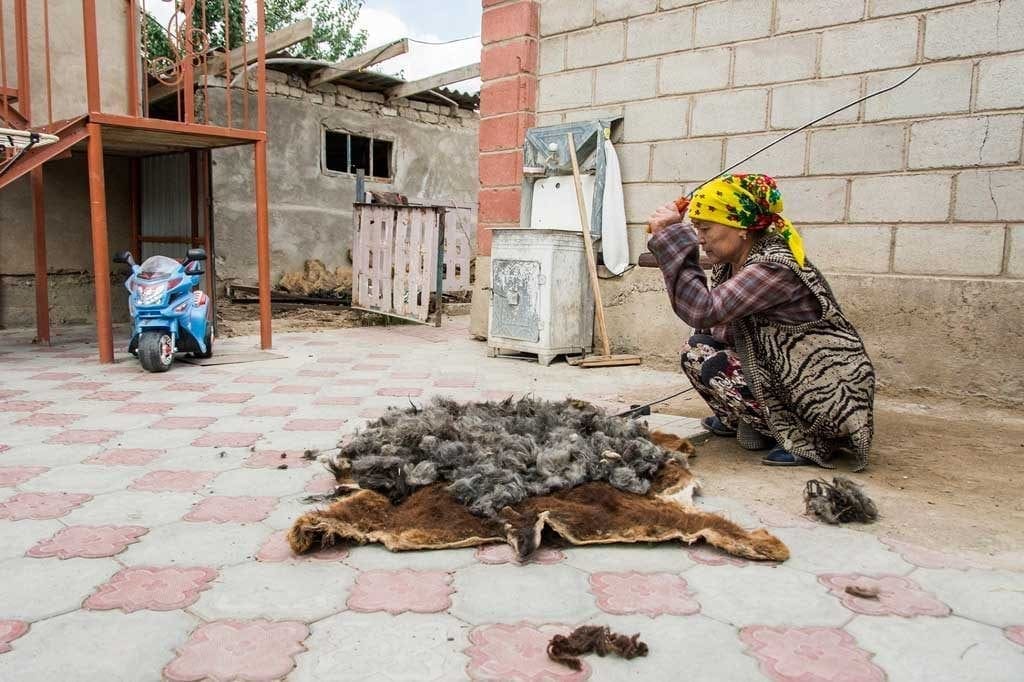 As I stepped out of the yurt, Nazgul's mother-in-law was squatting in the courtyard beating freshly sheared wool with a thin, metal stick. I asked Nazgul what was going on. "She's separating the dirt from the wool," she answered, and explained this was the first of a number of laborious steps for making felt. Felt is Kyrgyzstan's national treasure – both hardy and colourful, it covers yurts, is woven into rugs, carpets, wall hangings and table covering, and people dress in it.
Kochkor, at an altitude of 1,800 metres, is a three-hour leisurely drive from Bishkek, at times straight through wide open landscapes and sometimes meandering through red-coloured, craggy rock formations that would not be entirely out of place on the moon. Before arriving at our destination, we stopped at a viewpoint looking out over the Orto-Tokoy reservoir, a source of military tension between Kyrgyzstan and neighbouring Uzbekistan who has repeatedly claimed rights to its waters. "Folks at home rarely visit us here," Jeff told me. "We have to deal with a false perception of Central Asia, with fears about local safety. We hope to change that perception in time." Back in the car, discussing tourism, I learnt that Jeff also organises trophy hunting trips. Telling him I can only imagine myself shooting animals with a camera, Jeff countered with a number of arguments in favour. We agreed to disagree.
horses are everywhere in Kyrgyzstan – in valleys and mountains, in villages, in mythology and on the menu
"There are no horses available," Nazgul confirmed apologetically. Our faces dropped and Jeff, who takes customer service to another level, offered a refund and proposed to explore Kochkor while Nazgul worked the phone trying to find a last-minute solution. Locally, Kochkor is best known for its potatoes and sacks full of them could be seen dotting the fields. Normally, horses are everywhere in Kyrgyzstan – in valleys and mountains, in villages, in mythology and on the menu – but today, it transpired, all of them were used in the fields for potato harvesting.
I didn't come across any other foreigners in town. The end of September is also the end of the tourist season and many shepherds, who during the summer live in yurts on jailoos – or alpine meadows – return to Kochkor for winter. Yet, first-time visitors to Kyrgyzstan often end up staying overnight in Kochkor because of its strategic location. The roads to Bishkek, to Lake Issyk-Kul – the second-largest alpine lake on the planet after Titicaca – and to the wild, 2,200-metre-high Suusamyr Valley, all meet here. Plenty of Community Based Tourism (CBT) homestays, an information office and some shopping options – Kochkor has gained a reputation for high-quality felt objects – make for an excellent gateway from where to start excursions into the high country.
As we were strolling through town, my intention of riding off into the great outdoors of Kyrgyzstan apparently thwarted, we received a call from Nazgul. She'd managed to source two horses and a local guide to lead us up the valley. Half an hour later I finally found myself on an easy trot befitting an amateur horse rider. Assuming I'm lighter than twenty sacks of potatoes, I didn't feel too bad about the horse being pulled out of its harvesting duties. It was worth the wait. A late-afternoon sun coating the valley and its surrounding mountains with a golden gloss, vistas wider and further than my eyes are used to, and an absolute silence but for the snorting of the horses, all made for a quietly magical moment. Naryn is the largest and, with six persons per square kilometre, the least densely populated province of Kyrgyzstan. What had been merely a statistic had now turned into a feeling of joy and awe.
Assuming I'm lighter than twenty sacks of potatoes, I didn't feel too bad about the horse being pulled out of its harvesting duties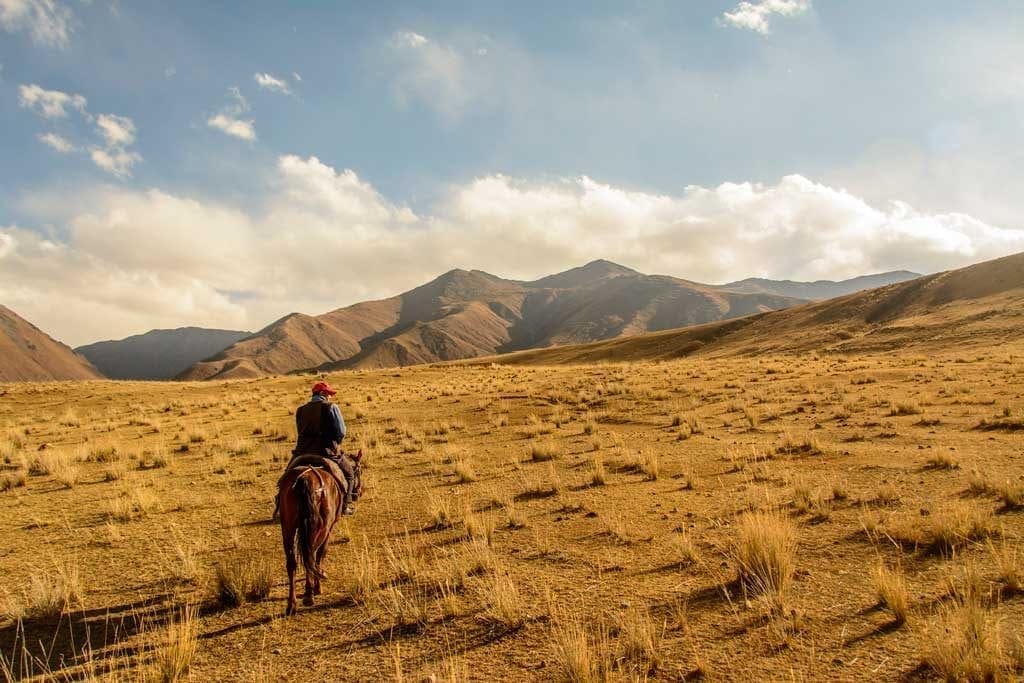 When, a couple of hours later, we arrived back at Nazgul's courtyard-yurt for dinner, a pleasant surprise awaited me. An ensemble of three women and two men were performing traditional Kyrgyz music and song. Their repertoire of instruments included the kyl kayak, a two-string fiddle made from apricot wood, the ooz komuz or mouth harp producing mesmerising sounds, a flute called chopo chor, a tambourine and, surprisingly, an accordion. Traditional Kyrgyz music broadly consists of kiy, which is purely instrumental, and yr which is vocal and includes poetry, folk tales and singing. The musicians demonstrated the two forms both with humour and great skill. Afterwards I learnt that the youngest and oldest women were a grandmother and her granddaughter.
The next morning, as I was sitting in the taxi from Bishkek to the Kyrgyz-Kazakh border, the events of the previous day were still running through my head. The ride to the border only takes one hour. The first half hour I was ruminating about the musicians, their beautiful music and song, and the earnestness and dedication with which they performed. I thought of the young girl and her grandmother and what felt like an almost heroic struggle to keep alive centuries of their stories and that what makes them who they are – Kyrgyz. The other half hour I spent plotting my return to hear them play again.
---
---
It's not just in the Great Outdoors of Kyrgyzstan where you can stay in a yurt, click here to read Tegan Chapman's experience in Mongolia.
---
Flights to Kurgyzstan

Turkish Airlines (www.turkishairlines.com) and Aeroflot (www.aeroflot.com) fly to Bishkek from various destinations in Europe including London, with a stop in Istanbul and Moscow respectively.
Air Astana (www.airastana.com) flies from London and other European cities to Almaty with a stop in Astana. From Almaty it's possible to take a taxi or minibus (3-4 hours) to Bishkek, or fly. Air Astana also flies directly to Almaty from Bangkok.
---
Further surfing on the Great Outdoors of Kyrgyzstan
Visit the website of the Kyrgyz Community Based Tourism Association: www.cbtkyrgyzstan.kg or www.cbtkyrgyzstan.kg
Johan Smits
Freelance writer, translator, web content developer, author of the novel Phnom Penh Express and Tommy, a short story. Loves trying out local brews, avoids noise. Chronically indecisive about where to lay down his hat. Shortlisted AITO Travel Writer of the Year 2018.