Oman Holidays: A Leap into the Unknown
Mark Bibby Jackson
Posted on 5th Nov 2017
When considering a trip to the the Middle East, Oman holidays might not be top of your list, but as Mark Bibby Jackson discovers the sultanate has a rich culture waiting to be discovered by those who dare.
I have discovered, often to my disadvantage, that in travelling, as in life, we are constantly confronted by challenges; it's how we rise to them that matters. Do we rush blindly towards them driven by that foolhardy rush of adrenaline, or sneak around them like children playing truant from school?
I froze.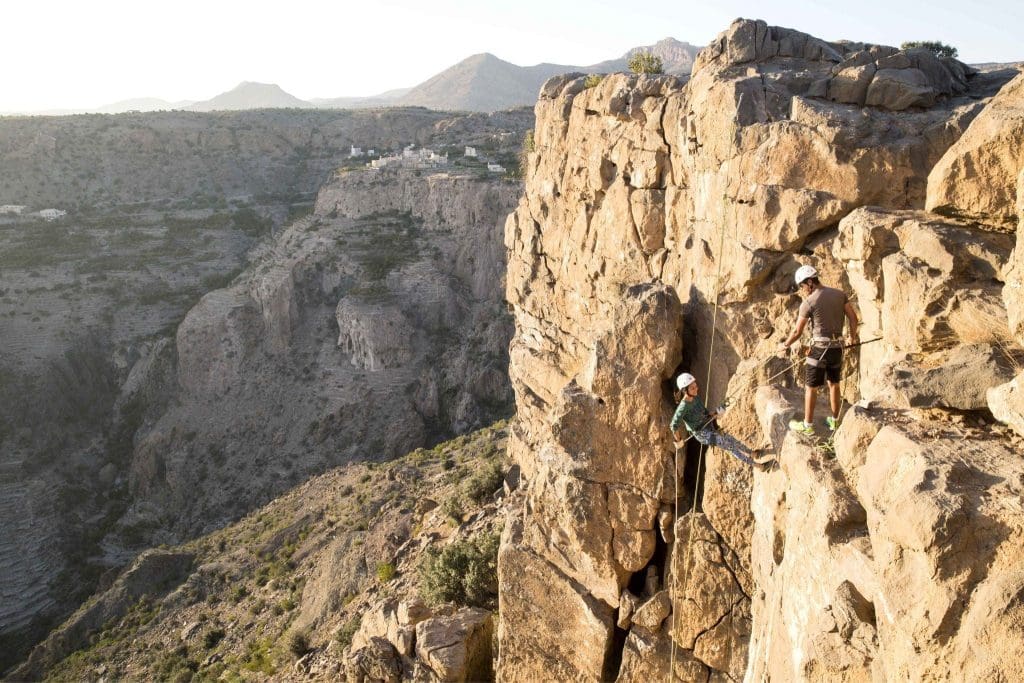 Oman Holidays : Anantara Oman
Staring at a twenty-metre drop, secured by a harness capable of carrying a bulk far greater than my own, I refuse to lean back over the chasm. Point blank. It's not that I have any great fear of heights – they have never worried me. It's the ground that you hit at the bottom that scares me witless.
I first discovered my phobia when taking a parachute jump at university. Still to this day I don't know how I managed to exit the small propeller plane in the days when instructors remained safely in the plane rather than accompanied jumpers to the ground. There is no word in the English language that combines the act of simultaneously falling and leaping that best describes how I started to descend headlong to my near certain death – a static line my only chance of survival. But the sense I felt as I eventually reached the ground, still alive, was most definitely that of immense relief.
But today as I walk back from the rock climbing cliff at the Anantara Al Jabal Al Akhdar Resort in Oman, it is not relief but shame that I feel.
"Do many people do the same as me?" I ask my instructor Maher, a native of these mountains. He nods understandingly, then recounts how only earlier that morning he had taken a brother and sister to the cliff's edge. She had taken it in her stride, while her slightly younger brother had frozen just like me, refusing to leap. He was six. Somehow, this did not make me feel any better.
I felt as if I had stumbled upon the set for the next James Bond movie, only my room number is 006 not 007
My manhood now firmly disestablished, I opt to take a clearly marked hike through three villages, which takes me through some olive groves down a narrow track and along an irrigation channel to the village of Ash Sharayjah. Along the way I pass many a fruit and nut tree. Fortunately, the hotel sends a car to pick me up as it would be a steep hike up.
Abseiling and rock climbing are part of the activities laid on at the resort. Perched 2,000 metres above sea level, this is the highest luxury resort in the Middle East. Earlier, as I was escorted to my pool villa with its majestic view across the most spectacular canyon, I felt as if I had stumbled upon the set for the next James Bond movie, only my room number is 006 not 007. After my close shave with abseiling, I am left feeling shaken not stirred.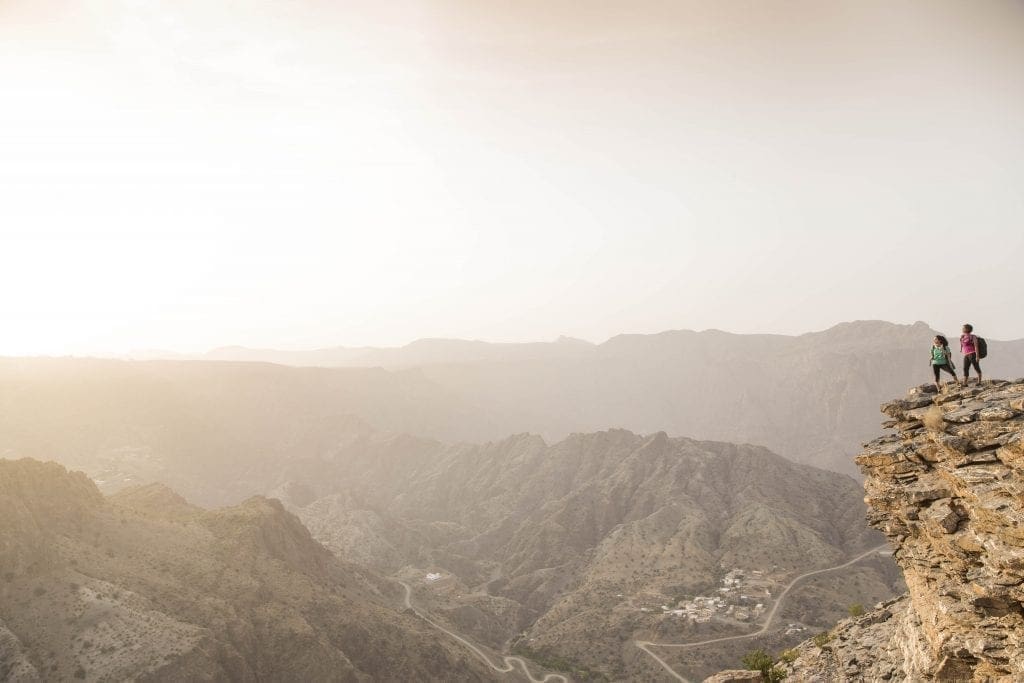 Princess Diana chose to visit here in 1996 on her Oman holidays, an occasion celebrated by the hotel's Diana's Peak panorama deck on the edge of the gorge. And it is easy to see why; the view from the peak of Al Jabal Al Akhdar, literally 'The Green Mountain', is simply breath taking. This is a world away from my image of the Middle East with its vast desert sands and modern skyscrapers.
The day before I had taken the two-hour drive from the capital Muscat, across a barren landscape. En route we passed numerous jagged rocks and drove over the occasional dried up wadi, or river bed. Given the unrelenting landscape, it's difficult to imagine it has ever rained here, yet the previous night there was a downpour, and Salalah some 1,000 kilometres to the north is green from June to September.
Before they built the road that spirals its way up from the Saiq Plateau, it took 24 hours for local farmers to travel to the souk in Nizwa at the base of the mountain with donkeys laden with fruit and nuts, which were exchanged for rice and other provisions, while the farmers walked beside them. The return journey took a further 36 hours.
At times as our car veered its way round blind bends in the middle of the road, I longed for the reassurance of a donkey.
Muscat Oman
I had started my Oman holidays in Muscat a few days earlier. It's unsurprising that the capital has the feel of a modern city, as most buildings date from 1970 when the current Sultan Qaboos bin Said al Said wrested sovereignty from his father, who had kept the country in perpetual isolation from the rest of the world.
There's little chance of being stuck next to a stag night from Prestatyn here
Upon arriving a few days earlier, I asked my taxi driver to take me to the 'city centre', only to discover that the City Centre is one of the many shopping malls in modern Muscat. Not that this means the capital is a sky-rise megalopolis like neighbouring Dubai or Abu Dhabi. Buildings taller than eight-stories are banned by decree of the Sultan, who apparently had one that contravened these rules torn down, with a couple of ministers who had approved the plans, loosing their jobs in the ensuing fall-out.
Omanis have a reputation for being amongst the most friendly and courteous in the Arab world. Also, it is a relatively liberal country where unmarried men and women can share the same room and alcohol is openly available in hotels but not restaurants, so there's little chance of being stuck next to a stag night from Prestatyn here.
Throughout my Oman travel trip, I encounter this hospitality, but nowhere more so than at the Al Dhalam souk in Muttrah. Literally meaning 'darkness', due to the absence of sunlight here during the day, this is one of the oldest markets in the Arab world.
I stop at one shop run by Paresh. Hailing from India, his family set up this shop around 1950, having arrived in Oman shortly after the partition of their native country. According to him, most of the shops are owned by traders from Kerala. There is a strong sense of community here, he explains, but also one of religious tolerance adding that he has Pakistani friends himself. "Religion is never a problem," he says. "The sultan is very nice. He makes peace everywhere."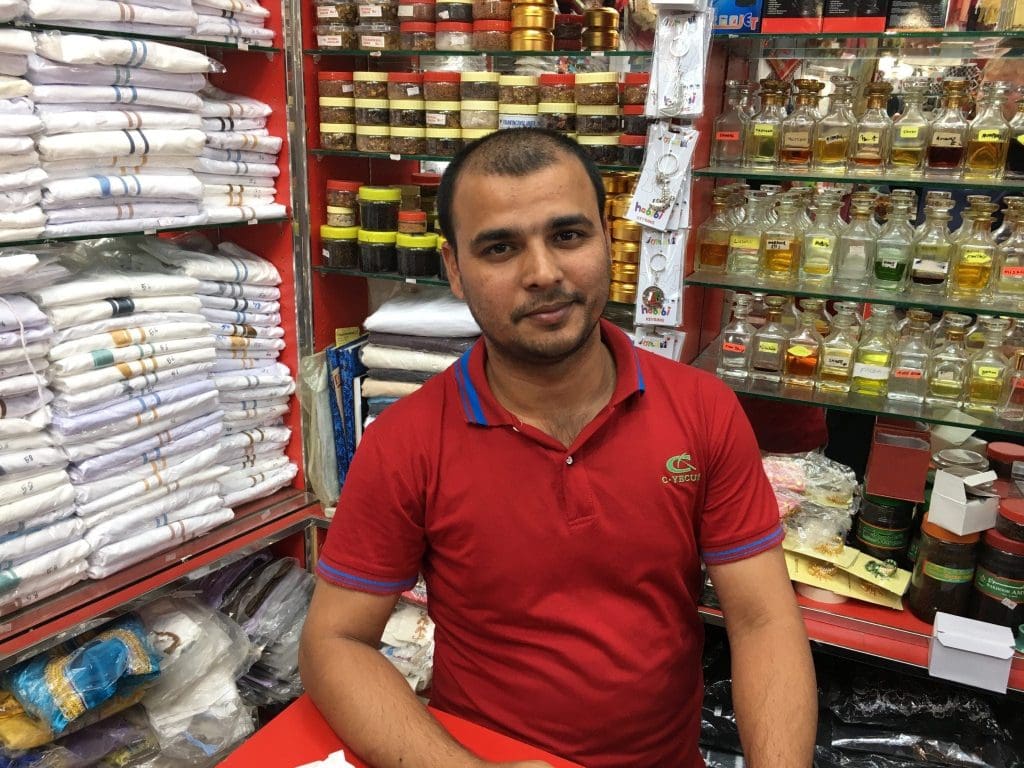 Further along I meet the Bangladeshi Abdullah, who invites me into his shop to see his impressive collection of notes. I leave a few moments later regretting that I have left all the weird currency I have picked up on the travels in a drawer back at home. Instead of the traditional hard sell, here there are plenty of smiles. But still I walk off having bought some Frankincense I have no idea what I will do with.
From the Al Dhalam souk it is a short taxi drive along the road that hugs the harbour to the sultan's former palace. The drive is spectacular with cliffs dropping into the sea, and small buildings crammed into what little space is left. At the end awaits the spectacular Ministry of Oman building, its design based on the Alhambra Palace in Granada.
Nearby is the Sultan's palace although it is night by the time I reach it and the imposing gates bar my entry. There's also an impressive opera house en route, but the stand out building is the Sultan Qaboos Grand Mosque in modern Muscat, which was inaugurated in 2001.
Non-Muslims – male and female – are permitted to enter the mosque in the morning, however you must leave by 11am for the commencement of daily prayers. And don't worry if you have turned up in your shorts and sleeveless tops, as you can hire a robe from the mosque shop, where there are also audio tours to hire.
On Fridays, the equivalent of the Christian Sunday, the mosque's huge chamber and surrounding grounds are filled with 4,000 people praying. Stepping inside the main chamber it's hard not to be impressed by the imposing chandelier and huge carpet which was imported from Iran. Interesting mosaics adorn the outer wall representing different styles of Islamic art. Women have a smaller separate mosque set in the grounds, which tourists can also visit.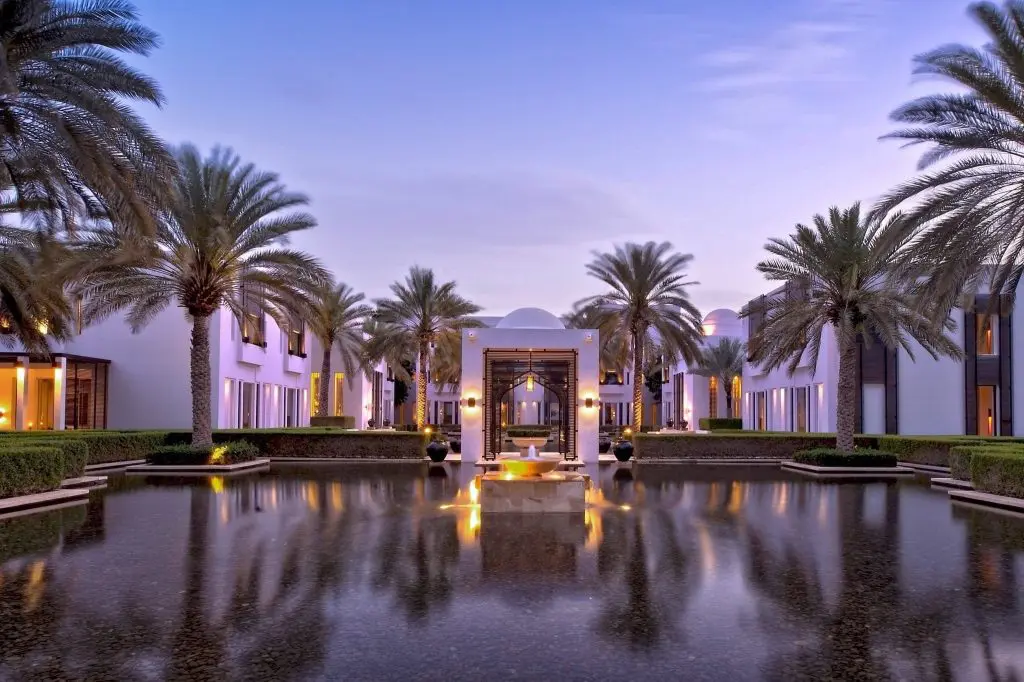 Oman Holidays: Chedi Oman
In Muscat, I stayed at the Chedi Muscat. Set in 21 acres of perfectly manicured gardens with only 158 rooms, I only really detected the presence of my other guests, even though it is running at 90 per cent occupancy, when I went for dinner or had a dip in one of the three pools.
On my resort tour it was explained to me how the resort has adopted a minimalistic colour scheme – the buildings are white, the flora is green and the large water collecting jugs and furniture are dark brown. Even the birds conform to the house rules, with small brown pigeons and green parrots blending in. More Asian than Arabic in design, the Chedi is the type of resort you might unearth in Thailand or the Maldives, with the occasional Arabic ornament or barren tuft of dry grass emerging from sand to remind you that we are still in the land of Lawrence.
A Feast Fit for the Sultan of Oman
The final night of my Oman travel is spent in the mountains. The temperature here is some 15C cooler than on the coast and I find myself putting on a jacket. My only regret to-date has been my lack of genuine Omani food apart from the dates. So far I have been served a pan-Middle East hybrid cuisine. Upon raising this with the management at the Anantara Al Jabal Al Akhdar, I am soon introduced to Chef Ibrahim, who promises to prepare me a traditional samaka hara – spicy fish stuffed with pickled dates, nuts and spices.
The fish arrives served on a huge platter in silver foil, set on a bed of saffron rice and surrounded by vegetables. On each side the foil has been raised and the oil inside lit to create the effect of two firing volcanoes. The wait has been worth it, for this is a dish fit for a sultan – or perhaps two sultans judging by the size of it. After my earlier cowardice at the climbing wall, I suspect I an undeserving of such a feast, but this in no way diminishes my enjoyment of it. After all, in travelling, as in life, we are constantly confronted with challenges. And this is one challenge I feel confident I can meet.
---
If you enjoyed Mark's Oman Holidays, why not read his adventures in Petra Jordan. 
---
Oman Weather / Best Time to Visit Oman
Oman has a typical dessert climate, with hot, dry summers from June to September and little rain. Temperatures are lower from October to April, which is the best time to visit. Temperatures can dip considerably at night, especially in dessert areas or at altitude.
Oman Currency
The currency is the rial. Each rial is worth approximately £2.
Oman Hotels
To book a hotel or resort in Oman on your Oman holidays, please click here.
Oman Airlines / Flights to Oman
Both British Airways and Oman Air have direct flights from London Heathrow to Muscat, the capital of Oman.
Oman Time
Oman is GMT / UTC + 4. There is no daylight saving.
Oman Visa
UK Citizens need a visa to visit Oman. If you are not a UK citizen, click here to find out if you require a visa. You can purchase an e-visa in advance from the same link.
---
For more Oman holidays tips
Click here.
Mark Bibby Jackson
Before setting up Travel Begins at 40, Mark was the publisher of AsiaLIFE Cambodia and a freelance travel writer. When he is not packing and unpacking his travelling bag, Mark writes novels, including To Cook A Spider and Peppered Justice. He loves walking, eating, beer, isolation and arthouse movies, as well as talking to strangers on planes, buses and trains.