The Long and the Short of It
Mark Bibby Jackson
Posted on 15th Nov 2017
As a child Jaws terrified me. The music, the title sequence and particularly the scene where a half-eaten head falls through the hull of a boat terrorised me. I had nightmares for months. So it was with much trepidation that I decided to go swimming with whale sharks.
"Don't worry, they are completely harmless," assured Allan Santos the general manager of Bopol Beach Club Resort who was hosting me on the proposed boat trip. "Gentle giants."
The Philippine town of Oslob is famed for the large fish who gather here each morning to feed on plankton thrown to them by local fisherman; whale sharks do not eat flesh, either fish or human apparently.
these jaws remind me more of Wilfrid Brambell in Steptoe and Son – sans false teeth
Still, as our flimsy catamaran joins the other vessels tied in a circle around the feeding animals – like cowboys waiting for rampaging Indians – I hesitate before plunging in. "After you," I say to my boat companions, a Dutch couple, as I intentionally fumble with my snorkel straps.
I jump in to confront the creature that had tormented my youth. Its vast gilled body – up to 12 metres long – is intensified by my flask. I bolt for the side of my boat as one whale shark veers its vast frame towards me.
Fortunately, these jaws remind me more of Wilfrid Brambell in Steptoe and Son – sans false teeth – than the blood-thirsty predator that did for Robert Shaw. More Gums than Jaws. Eventually I am able to relax in the waters, even managing to swim towards the creature to get a slightly closer look.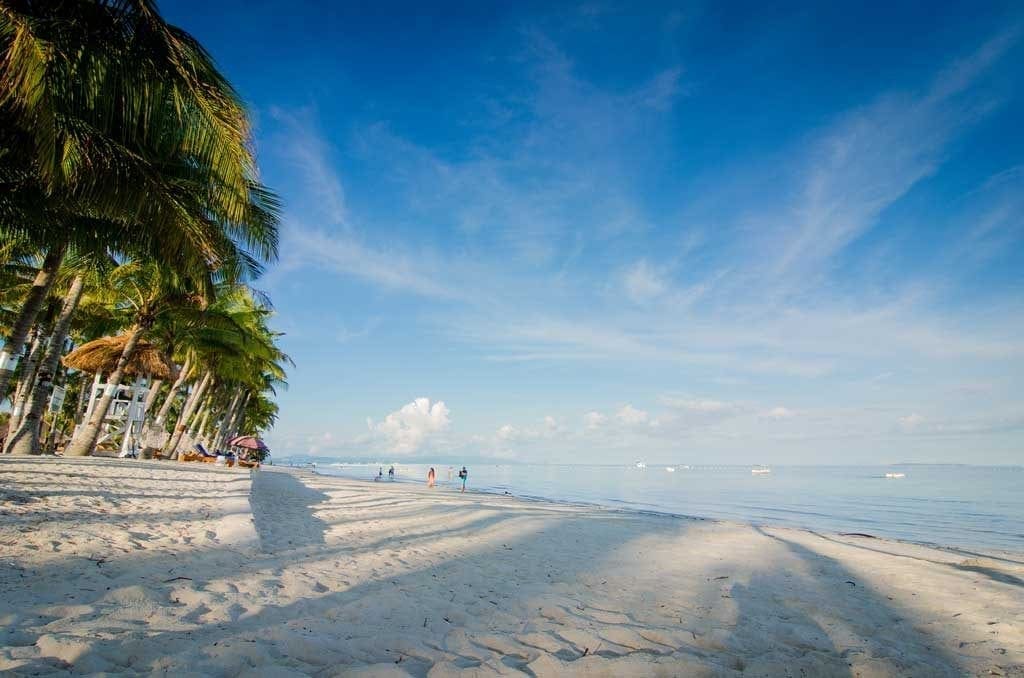 Oslob's fish feeding is not without its critics, who say it encourages whale sharks to associate humans with feeding, that it harms them and has led to a change in their migratory pattern and nutrition. On the other hand it does provide valuable tourist income for the locals. And at $20 for a 45-minute ride, that quickly mounts up.
Before setting sail, we are instructed not to approach within four metres of the whale sharks – despite being dropped off a metre or so from them – and to remove our sun lotion, which is harmful to them. Still, some around us swim right up to the animals within breathing distance of their mouths, and I am left wondering whether I should really be here.
Despite these reservations, I found the experience truly invigorating, as did my Dutch companions.
"It was great," Ben Gosman, one half of the Dutch couple, tells me once we have returned to our boat. "We were very happy and the experience exceeded our expectations. We especially bought a GoPro for recording the Whale Sharks, hopefully our videos are as good as the live experience."
Earlier that morning we had left our resort to the most glorious sunrise. Rounds of sandwiches and an esky full of soft drinks sustain us as we navigate the two-hour crossing of the Cebu Straits from Bohol to neighbouring Cebu.
Our captain, dressed like Jonny Depp in the Pirates of the Caribbean movies, helps us aboard, before steering our catamaran through the shallow waters. The passage is calm and I am able to catch up with my missed sleep.
On the return leg, we dive once more into the waters to swim with sea turtles. I follow a baby turtle for a hundred metres or so until it decides to put on a spurt leaving me alone to admire the glorious coral, sponges and colourful starfish. In the distance an adult pair of turtles are making their slow swim out to the ocean.
As we return to our vessel, storm clouds are gathering, and the trip back takes on the form of a nautical rodeo ride with our catamaran riding the waves. Water floods on to the deck each time we crash into one of the huge swirls.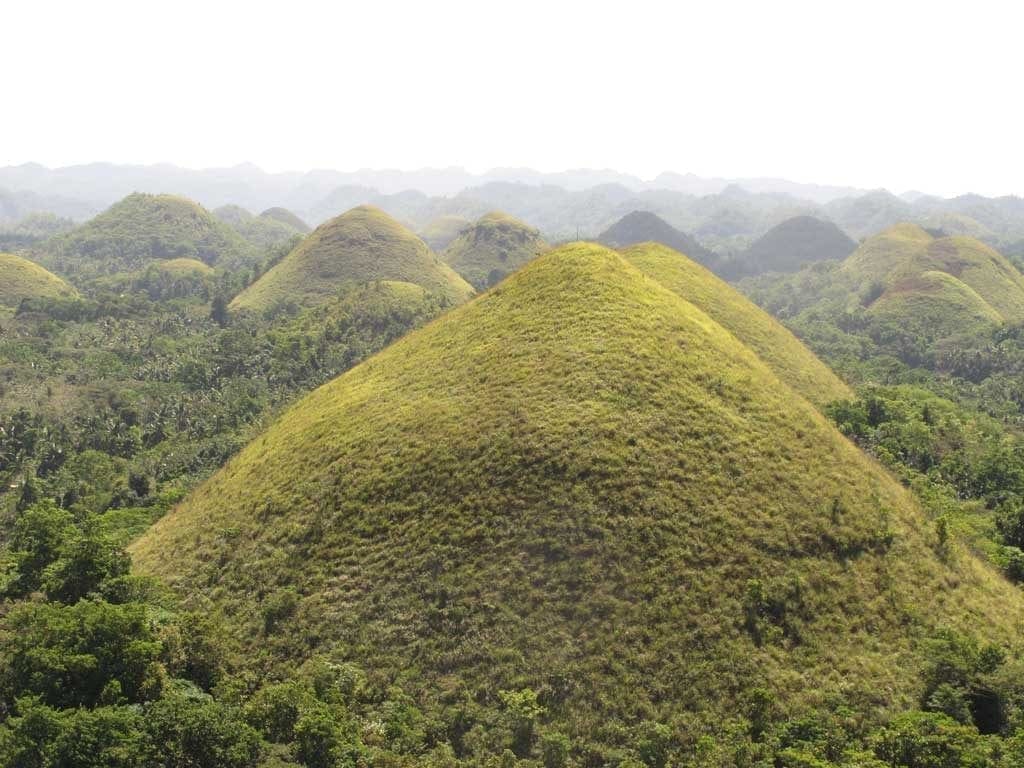 The previous day we had taken a trip around Bohol, an island renowned for its Chocolate Hills. Given this name – originally they were called the Carmen Hills – by an American professor after the Hershey bars they resemble, it's only in the dry season, as the vegetation dries, that the hills take on a chocolate brown hue. When we visit they are still relatively green.
Legend has it that the giant Arrogo created the hills when he fell in love with a mortal called Aluya. Sadly, she was already betrothed and Arrogo's forlorn tears created the 1,268 chocolate hills. Unfortunately we are not allowed to climb the hills, and although the view from the top of the 214 stairs at the visitor centre is pleasant enough, the overall experience is very touristy; certainly not one for the individual traveller or anyone wishing to get back to nature.
The visit to The Philippine Tarsier Sanctuary and Research Centre is much more impressive. Founded in 1997, to protect the small primates, which can also be found on Sumatra, Sulawesi and Borneo, the centre is very much the work of Carlito Pizarras, "the tarsier man", who has devoted his life to the preservation of the endangered primate.
"When we started the Philippine Tarsier Foundation [in 1996], there were less than 10 and now there are more or less 100," says Pizarras, adding that the animals are still endangered due to the destruction of their habitat, illegal hunting and the introduction of domestic cats.
"We need a big space for them," he says. "We have to protect them. I'm hoping that we can get some more land."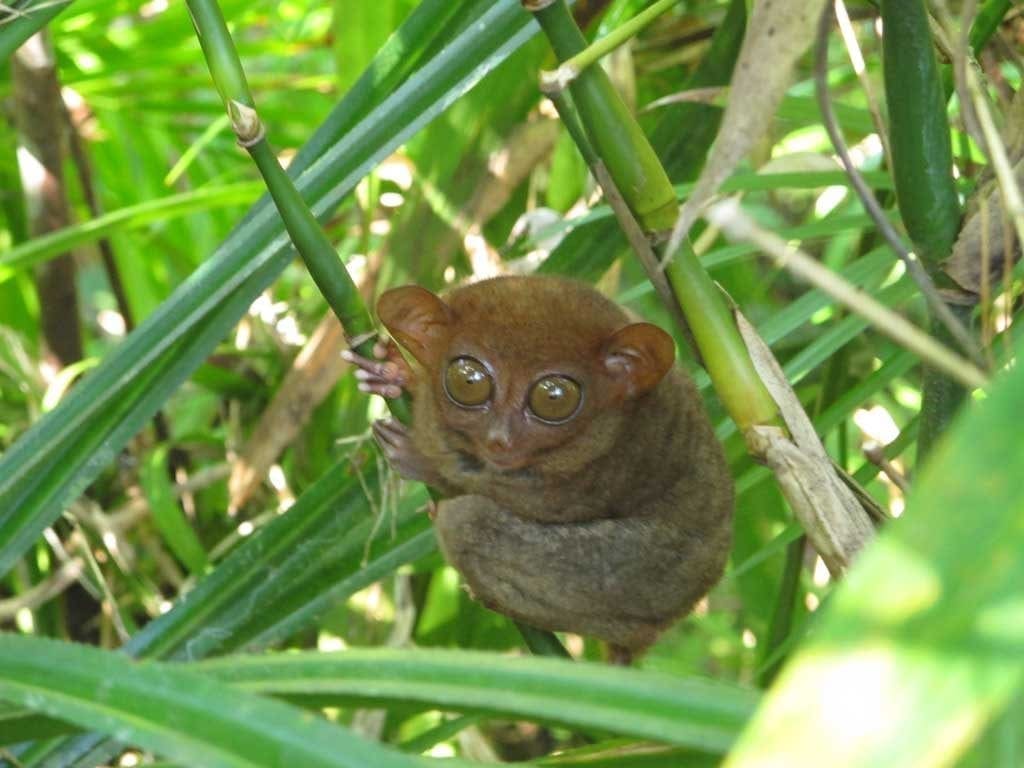 Quietly, we walk up close to the endangered nocturnal creatures, trying not to wake them, as they have been known to die when subjected to too much noise. At night they walk the kilometre or so through the trees to seek their prey before returning the following morning after a night out on the jungle.
One of the smallest primates in the world, the contrast with the bulk of the whale shark is all too apparent. But, at least here I have no misgivings as to my own presence. Pizarras is having success in preserving the much endangered creature, and as opposed to the fishermen of Oslob, his motives seem totally altruistic.
"I love animals," he explains. Long may his love continue.
Mark Bibby Jackson
Before setting up Travel Begins at 40, Mark was the publisher of AsiaLIFE Cambodia and a freelance travel writer. When he is not packing and unpacking his travelling bag, Mark writes novels, including To Cook A Spider and Peppered Justice. He loves walking, eating, beer, isolation and arthouse movies, as well as talking to strangers on planes, buses and trains.