Lisbon by Night – Europe's Coolest City
Travel Begins at 40 Editor
Posted on 18th Dec 2017
With its lively and vibrant nightlife scene, Lisbon fully justifies its reputation as a city that never sleeps. Lisboetas love going out and are always seeking out new places to unwind when the sun goes down. In 2018 you will find them mingling on the cobblestones in Bica, partying in Intendente – where the music fuses contemporary African and European influences – or sipping a cocktail at the riverfront Santo Amaro Docks, under the iconic 25 de Abril Bridge.
From the latest up-and-coming neighbourhoods to districts popular with the locals but little-known by tourists, Lisbon has plenty to offer the dedicated night owl.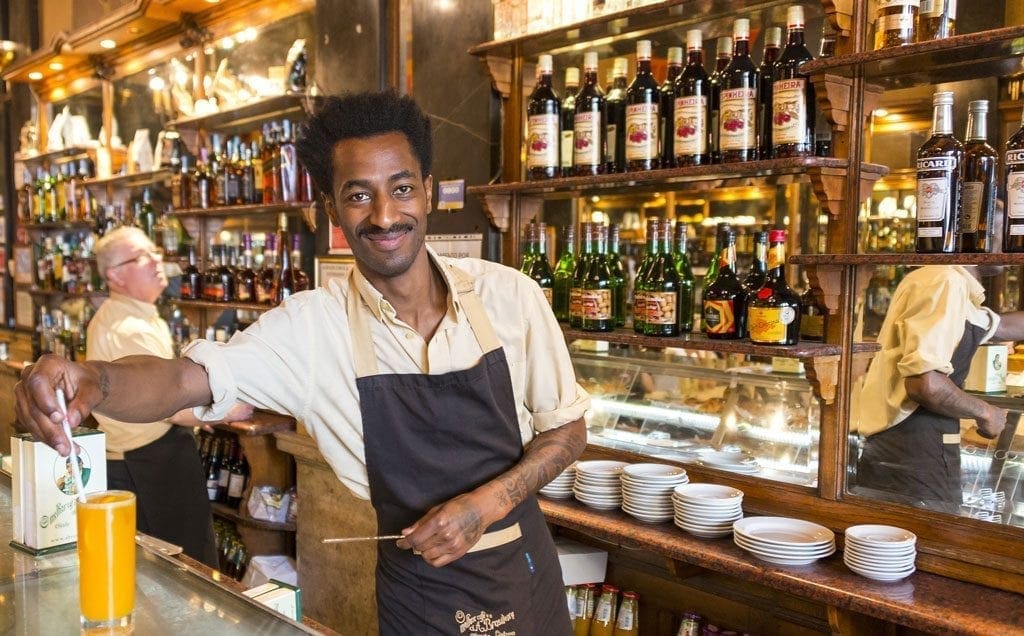 Marvila
To the east of the city, bordering the River Tagus, Marvila is becoming one of Lisbon's most happening districts.  Once home to factory workers, a process of gentrification is under way, with abandoned industrial buildings giving way to creative spaces and trendy cafes and bars. Visitors to the area can also look forward to gallery openings and cultural events, as well as artisanal craft beers on tap!
Bica
Tiny but incredibly picturesque, the neighbourhood of Bica is hidden in plain sight, between Bairro Alto and Cais do Sodré. With its cobblestoned lanes and stairways – and with Lisbon's postcard-perfect trams passing right through it – it is popular with locals, who are drawn in by its unassuming wine bars (one serving only port!), art-spaces-cum-bars and budget-friendly 'happy hours'. With space at a premium, you will often see people standing on the pavement, balancing against the streets' steep inclines while holding a drink in their hands!
The Shoreditch-inspired, Tetris-shaped Village Underground Lisboa is built out of abandoned shipping containers and double-decker buses
Alcântara
Visitors focused on ticking off the highlights of the city centre will rarely veer off Bairro Alto and Cais do Sodré.  However, Alcântara is one of the capital's most up-and-coming neighbourhoods – easily reached within a few minutes on the tram to Belém – and is home to two of the coolest places-to-be in Lisbon. LX Factory, a gloriously regenerated former factory, brims with contemporary art spaces, vintage shops, music venues and smart eateries, while the Shoreditch-inspired, Tetris-shaped Village Underground Lisboa is built out of abandoned shipping containers and double-decker buses.
Intendente
Intendente is emerging as one of the coolest neighbourhoods in Lisbon, a diverse mix of grand old buildings and an increasing number of designer shops, restaurants and bars. A few steps north of the city centre, this is the capital's latest area undergoing a radical transformation, slowly reinventing itself from a derelict district to a place to hang out and dance until the early hours. For visitors looking to discover what Lisboetas are swaying their hips to these days, Intendente is the place to go.
Santo Amaro Docks
More than 20 years after it was originally conceived, the lively marina at Santo Amaro Docks, under the iconic 25 de Abril Bridge, still escapes most visitors' itineraries in Lisbon! An ingenious conversion of the facilities previously occupied by Port of Lisbon, the old warehouses have shaken off their industrial pasts completely and nowadays house a number of fashionable restaurants, bars and night clubs. Popular for a morning coffee, a lazy lunch or a mid-afternoon ice-cream, the Docks are relatively tame during the day… but at night they buzz with life, particularly during the weekends.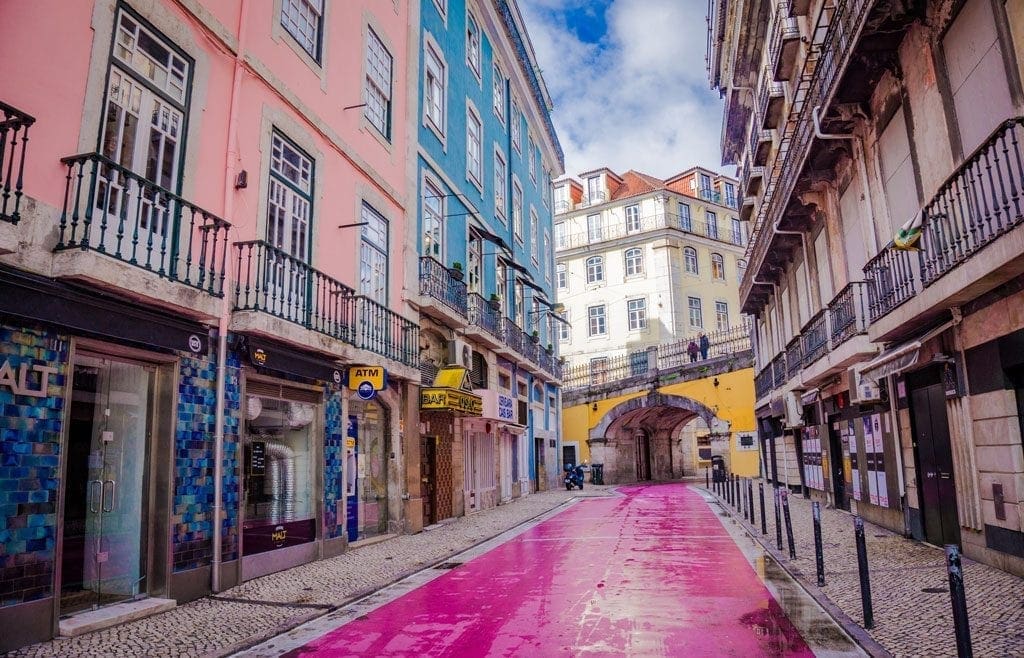 In addition to the newest and lesser-known nightlife hotspots, visitors to Lisbon should also check out what the more established neighbourhoods have to offer:
Cais do Sodre is one of these neighbourhoods. As one of Lisbon's trendiest districts, it was completely rejuvenated a few years ago and boasts a relaxed vibe that appeals to tourists. Cais do Sodre is known for the Ribeira das Naus waterfront promenade and Pink Street, which forms the epicentre of the area's nightlife and receives an eclectic mix of visitors from sunset to sunrise. From students to young professionals, visitors to Pink Street can expect parties all night long in an effortlessly cool and unpretentious atmosphere.
Principe Real is an upscale area known for its great food and shopping scene, beautiful 19th century mansions, art galleries and buzzing nightlife. Principe Real has it all, including a giant Cedar tree whose large canopy is famously shaped like an umbrella. The area is an extension of Bairro Alto and lies north of Miradouro de São Pedro de Alcantara and has a pretty and pleasant square, surrounded by cafes and colourful buildings. Not only does Principe Real make a good day trip, but the area is also a happening LGBT area with several gay bars and clubs.
---
For more information, ideas and inspiration on a visit to Lisbon please go to www.visitlisboa.com.
---
From the UK, direct flights to Lisbon operate from London, Manchester, Birmingham, Liverpool, Edinburgh and Bristol with TAP Portugal, British Airways, easyJet and Ryanair. From Ireland, direct flights to Lisbon operate from Dublin with Aer Lingus and Ryanair.
Travel Begins at 40 Editor
Travel articles, news, special offers, festivals and events from the Travel Begins at 40 Editorial team and our global network of travel industry contributors.