Myanmar Travel Off the Beaten Track
Marissa Carruthers
Posted on 29th Dec 2017
In the first of two instalments, Marissa Carruthers falls in love with the bounty of natural beauty that Myanmar travel and Kayin State have to offer.
My eyes devour my surroundings, desperate to record every last detail of the verdant scenery in my mind so I can pull it out and return to this place of peace when I'm stressed out in an urban environment.
It's day six of my Myanmar travel adventure and I'm literally left speechless as I lap up the views. Still water that reflects the lush green paddies it feeds, dense forest and the rise and fall of Kayin State's dramatic karst mountains.
Then there's the silence that adds to this unadulterated serenity. I sink into a seat overlooking the landscape, close my eyes and treasure the moment.
Outside the tourist hubs of Yangon, Bagan and Inle, the Myanmar travel industry is still in its infancy
The previous day, we'd taken a six-hour trip from Mawlamyine in Mon State, our boat cruising along the river Thanlwin, past islets full of vegetables and crops that dot the waterway, slender fishing boats and the occasional stilted wooden house on the banks.
As we entered Kayin State, which borders Thailand, the pancake landscape is replaced with the silhouette of rolling mountains jutting into the sky – the area's signature limestone escarpments.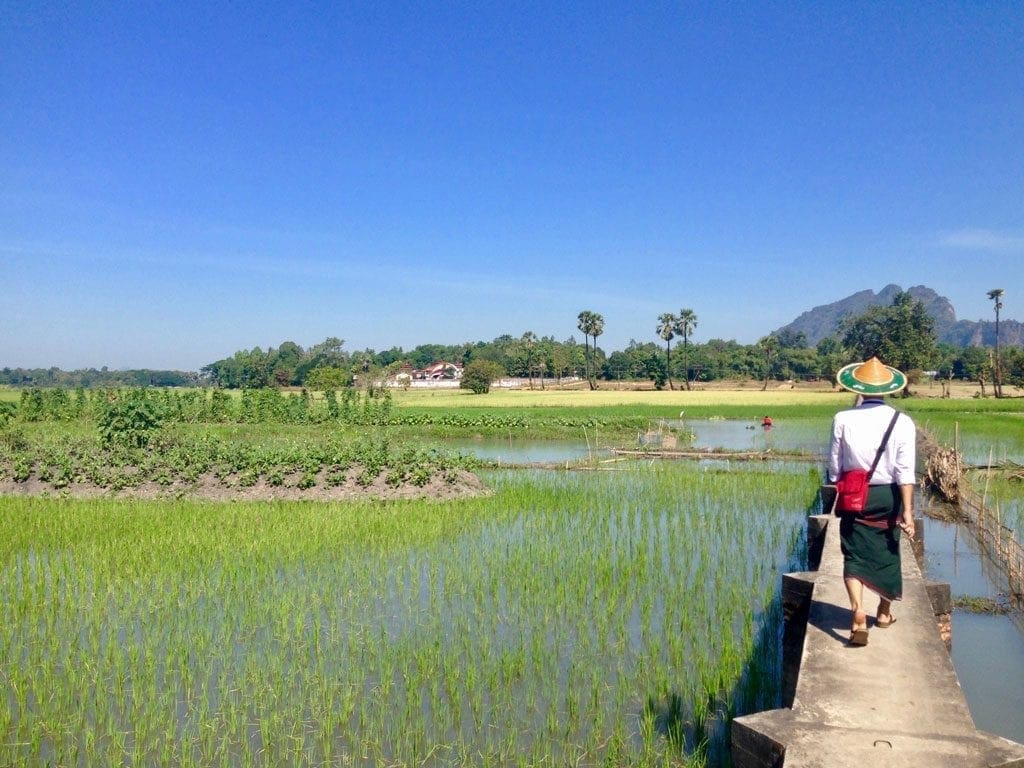 As the river widened, we docked at a dusty pier at the Kayin capital of Hpa An – home to Mount Zwegabin – for the next leg of our adventure, which was to become my firm favourite.
Outside the tourist hubs of Yangon, Bagan and Inle, the Myanmar travel industry is still in its infancy – a factor that makes this country and the experiences on offer so special. Nature is at its finest, attractions are yet to be overrun by foreigners, the pristine landscapes are unspoilt and natural beauty can be found everywhere.
And it is in areas such as these that community-based tourism is flourishing, equipping impoverished communities with a source of income to survive, while reassuring travellers who are nervous about the ethics of visiting Myanmar amid the Rohingya crisis, that they can ensure their tourist dollars are ploughed into the right places.
For the first time in my life I'm relieved to be drinking at 9am
Two men sit in the dappled shade laughing heartily as they cut up bamboo. They call out to us, my guide translating the barrage of questions they are firing my way – Where am I from? What is my name? What do I do? – as they intermittently swig out of a plastic bottle.
"They say it helps them work quicker," my guide Diamond tells me, adding they are slugging home-made rice wine – it's 9am.
At the family-run restaurant where I'd previously found my inner peace, we'd hired kayaks – my guide choosing to go solo, while I opted to pay a local to paddle us through flooded rice fields while I watched the shimmering paddies, green farm land stretching to the horizon and looming limestone formations, pass by.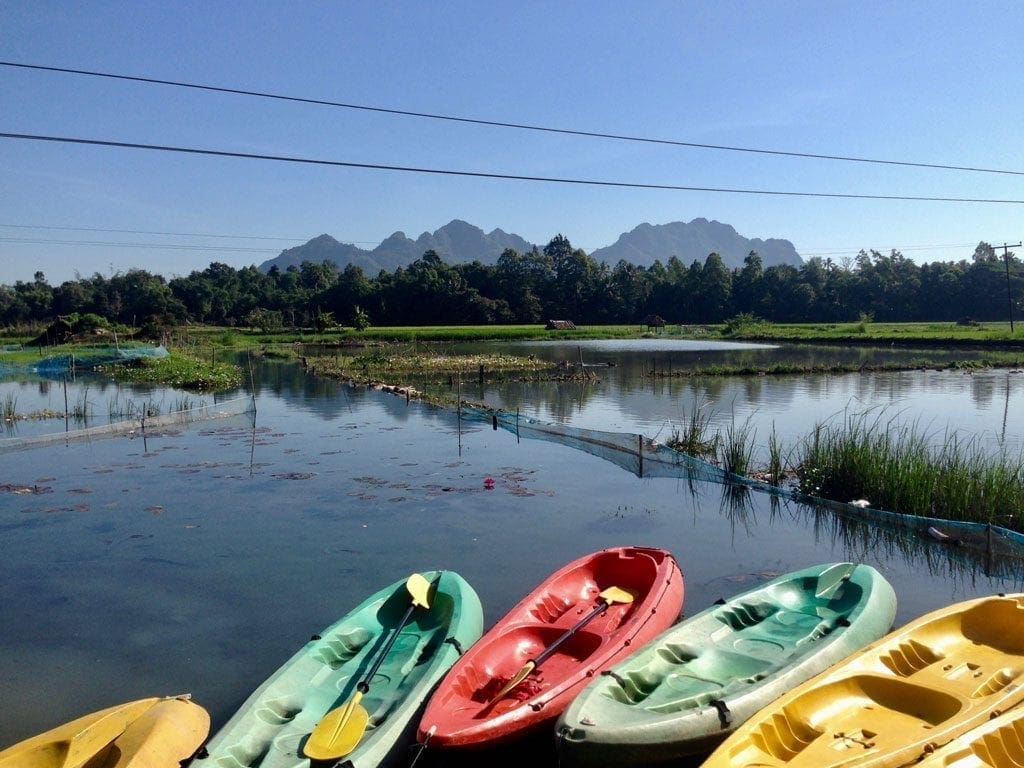 Again, the only noise was the soothing sound of the paddle pushing through the water, birdsong and my boatman singing traditional Kayin songs, occasionally calling out to a fisherman or farmer working the land.
After leaving our kayaks, we took a short walk through more stunning scenery to a small village, where agriculture forms the main form of income – rice, bamboo, fishing and growing vegetables. Here, I'm welcomed by the early-morning rice wine swigging men, who are eager to involve me in their activity.
I'm taken to a small wooden hut, where the village's rice wine supplies are brewed. A tin mug is filled with the alcohol and all eyes are on me as I take a sip, dreading the anticipated booze burn I expect to follow. Instead, the drink is mellow and sweet – I could have more.
"The alcohol gets stronger as the day passes," Diamond explains, as a boy who seems to be in charge of the brewing takes us through the process. For the first time in my life I'm relieved to be drinking at 9am.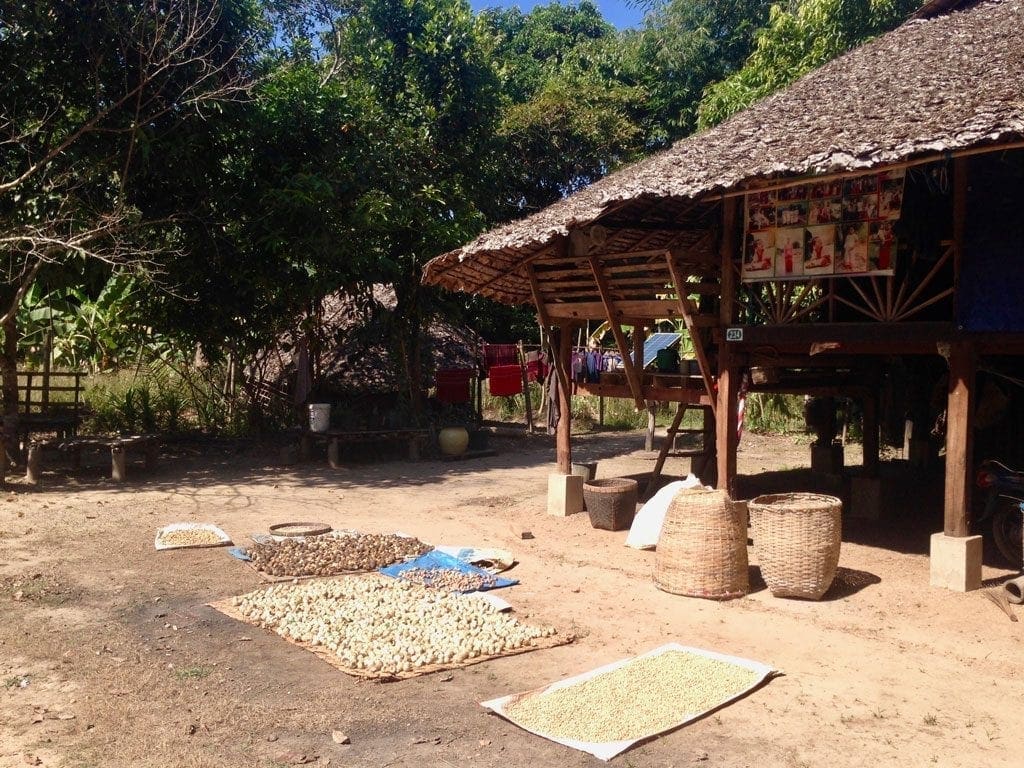 After tucking into a hearty lunch of traditional Karen food – flavoursome vegetable soups, spicy chicken curry and a fresh salad accompanied by chilli and fish paste – at Veranda Youth Community Café, we head to Kyauk Kalat Pagoda.
While I can almost hear the groans – please, not another temple – this one is well worth a visit. Set on a small isle surrounded by a large lake, a stupa sits atop a towering limestone pinnacle.
As an active monastery and meditation centre, the site is popular with locals, who travel from all corners of the country to this sacred spot. Visitors can climb to a shrine that sits half way up the rock formation to receive a blessing or simply take in the unparalleled views the spot affords. The upper level remains off limits.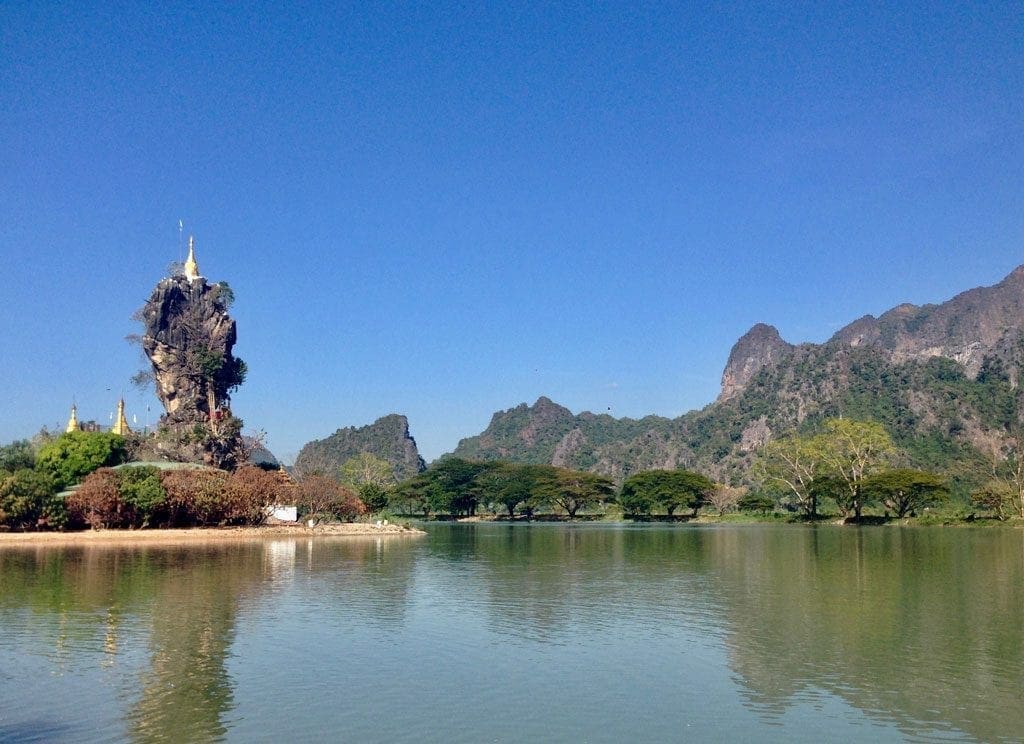 Another religious site that is worth a visit is Kawgun Cave, also known as the Cave of Ten Thousand Buddhas. Said to have been constructed by a king seeking sanctuary from his enemies, the site is filled with more than 2,000 small clay carvings of Buddha, which date back to the 7th Century and cover the cave's ceilings and walls – a simply unbelievable feat for its time.
---
If Marissa's Myanmar travel experience has piqued your interest in the Southeast Asian country, why not read her experience on the Road to Mandalay by motodup for more priceless travel insight.
---
As we emerge from the cave, it's a race against time to ensure we round off the day, and my time in Myanmar, in perfect style. We jump into a wooden fishing boat for a five-minute journey across Thanlwin River. From there, we take a 30-minute walk through villages and farmland until we reach the base of Phar Pu Mountain – more a hill – and begin our ascent in time for sunset.
Another 30 minutes later, out of breath, we reach a small stupa close to the peak, the perfect spot to sit and watch the sun melt into the horizon, leaving swirls of reds, oranges, yellows and pinks in its wake.
The sound of music wafts through the air, along with distant spirals of smoke from small fires being lit in the villages that sit below, and Mount Zwegabin and distant mountain ranges pierce the horizon. What an utterly tranquil way to end an equally tranquil trip.
---
Myanmar travel has become more accessible with many airlines now flying to the country. Skyscanner has a list of airlines currently flying to Myanmar.
Marissa Carruthers
Marissa inherited her love of travel from her parents, who would entertain her as a child with exotic tales of their adventures across the globe. Her first solo leap into foreign lands was an Inter-railing trip across Europe and North Africa during her first summer at university and, despite two muggings, several dices with death and a terrifying encounter with the monkey mafia, she was hooked.