Trekking the Wakhan Valley, Tajikistan
Johan Smits
4
11 min

read
Expecting nothing but the soaring mountains in the Pamir region of Tajikistan, Johan Smits gets far more than he bargained for when trekking the Wakhan Valley.
"Some of these petroglyphs date back to the Bronze Age," says Sharaf Saidrakhmonov, our Pamiri guide. My wife and I are into the first hour of a long day-trip to the base camp of Mount Engels, one of more than 50 peaks that soar to over 6,000 metres in Tajikistan's Gorno-Badakhshan Autonomous Oblast (GBAO) – more commonly known as the Pamirs. "They've found 10,000 of these rock carvings," Sharaf continues. I recognise mountain goats, hunting scenes and sun signs, with other carvings – such as the open palm of Ali, the Muslim prophet Mohammed's son-in-law – from more recent times.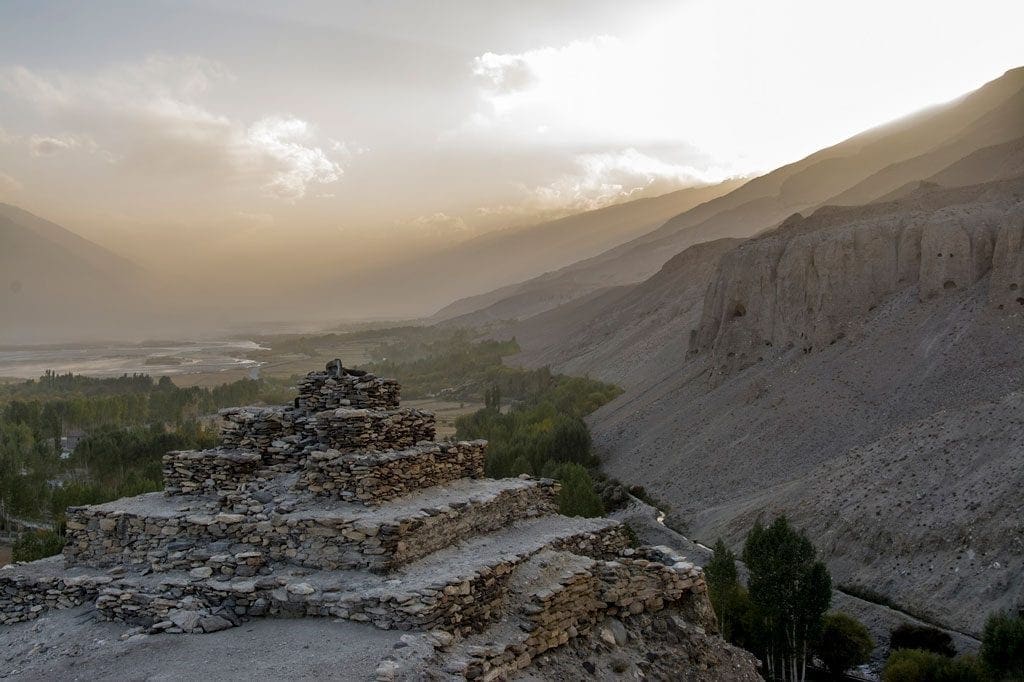 Mention the Pamirs and most travellers think of mountains. For a region that is on every mountaineer's bucket list, I did not expect to encounter millennia of history – moreover, just unattended in the open.
Only yesterday we had been wandering around the ruins of the Kakhkaha fortress. Named after the leader of a black-robed, fire-worshipping tribe who ruled the ancient Wakhan – a rugged area traversing Afghanistan and Tajikistan – it's 5,000 years old. The onomatopoeic name Kakhkaha apparently derives from the raucous laughter of the tribe's leader. The same day, near the village of Vrang, Sharaf had led us up a hill to a fourth-century Buddhist stupa – a reminder that, prior to the Arab invasion, the Wakhan had a thriving Buddhist population. Being up there all alone bar a herdsman and his sheep, the shadowy caves in the opposite mountainside, that once housed the monks, provided a touch of intrigue. The darkening sky and setting sun did the rest.
Holy shrines dot the entire Wakhan valley – spend enough time here and you'll just stumble upon them
For three days now, we've been driving along the Panj river – which forms most of the border between Tajikistan and Afghanistan – along the magnificent Wakhan Corridor. Once part of the Silk Road, the Corridor became a narrow strip of Afghan territory separating Tajikistan from Pakistan as the result of political wrangling and the redrawing of maps by the Russian and British empires. The often misunderstood term "The Great Game" – made popular in Rudyard Kipling's novel "Kim" – denotes this confrontation. And that's the real surprise about the Pamirs: its rich and uncurated history remains very much alive wherever you go. People worship in ancient shrines, farmers till the land as did generations before them, and even the Kakhkaha fortress continues to serve its original purpose – Tajik border guards have set up an observation post there.
Holy shrines dot the entire Wakhan valley – spend enough time here and you'll just stumble upon them. The one in Langar, Mazor-i Shoh Qambar-i Oftob, was stunning. The old, friendly caretaker showed us elegant calligraphy carved into the wooden doors, while the horns of ibex and Marco Polo sheep decorating the shrines are pre-Islamic symbols adopted from Aryan and Zoroastrian traditions that signify purity. His duties, he told us, had been passed on from father to son. Dedicated to Qambar-i Oftob ­– who introduced the Ismaili branch of Islam to the Pamirs – in this shrine Quranic verses, Persian sayings and ibex horns co-exist comfortably. "Our religion is not so institutionalised," Sharaf explained. "We don't have mosques. We have community houses where men and women mix, and when our Afghan neighbours visit they are surprised the women here wear trousers and don't cover themselves."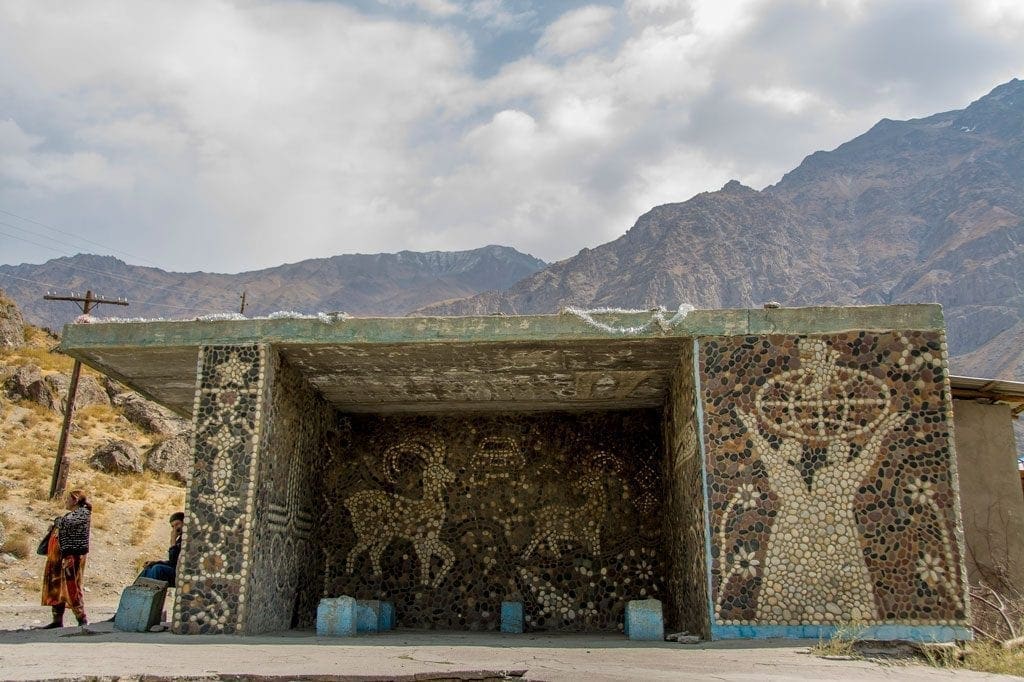 During the past three days, Afghanistan has been just across the river, yet both worlds feel centuries apart. Conditioned by years of negative media reporting, I have become fascinated by the sight of villagers still performing what seems like almost medieval routines. At several points brave Afghan workers were hacking and blasting a passage through rock while below villagers pulled donkeys loaded with goods through shallow waters. There hasn't been regular traffic in the Wakhan Corridor for over a century, but thanks to the Aga Khan Development Network and the Swiss Agency for Development and Cooperation, the Afghan settlements on the other bank have some access to Tajik electricity.
At some points the Panj became so narrow you could spit across it – if you've had practice. "At night locals often barter goods," Sharaf told us with a grin. "They'll throw a bottle of vodka across the river in exchange for some opium." Luckily there's a more legitimate way of trading at the Saturday cross-border bazaar in the town of Ishkashim, but when we passed, it was closed. The Taliban briefly seized nearby Zebak district during their so-called Spring Offensive in May this year, and the Afghan authorities have kept the bazaar shut since. Only the weekly border market in Khorog, on Tajik territory, remained open for business.
Travellers are offered apples and walnuts on the way and random people may invite you in for a meal
Saying that life in the Wakhan Valley is not without challenges would be an understatement. But its timeless pace is a relief from Tajikistan's capital Dushanbe that is changing at breakneck speed. It was only after the fall of the Soviet Union that the Pamirs opened up to tourism, and you still have to make an effort to reach this untamed area with its unforgiving roads, lack of much tourism infrastructure and regulated access – visitors need to buy a special permit.
Although tourism numbers are now on the rise, visitors are still a relatively rare sight – this year an estimated 4,000 for an area one and a half times the size of Switzerland. Travellers are offered apples and walnuts on the way and random people may invite you in for a meal. "It's a learning curve on both sides," Sharaf told us. "Local people are being taught that there's no shame in accepting some money for providing a warm bed and a hot meal, while tourists should factor in the high cost of transporting essential goods." If there's a place where your tourist dollar can make a real difference, it's here.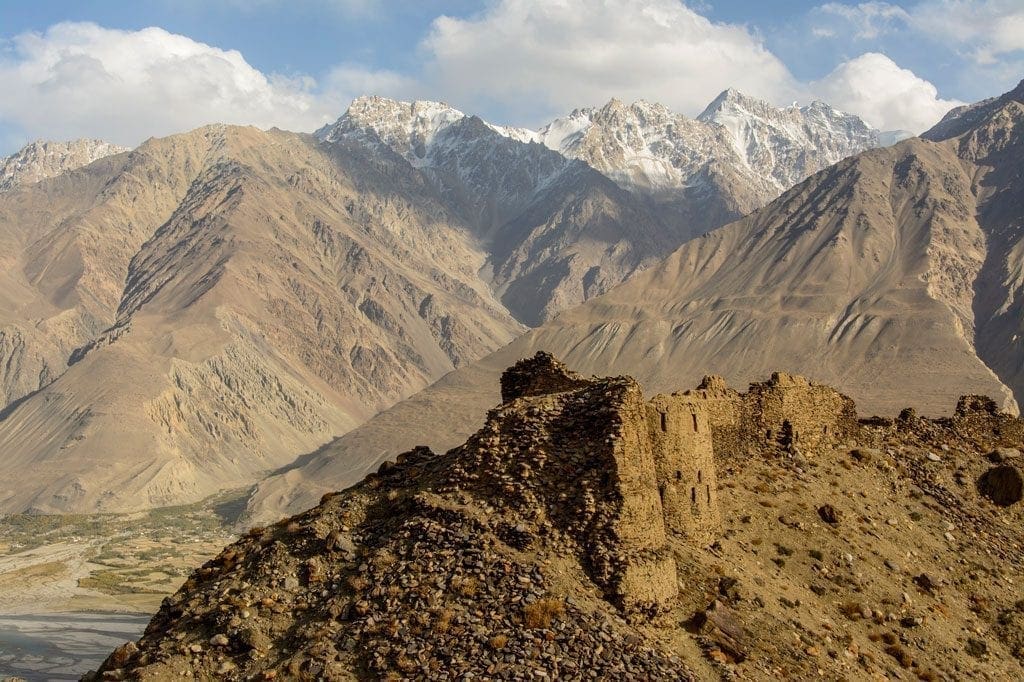 The most spectacular site in the Wakhan valley must be the Zamr-i atish parast, or Fortress of Fire Worshippers, at Yamshun. Before visiting it we decided to soak our sore muscles – a result not of hiking but of half a day's driving on a bumpy road – at the nearby hot spring of Bibi Fatima.
Men and women alternate bathing in the mineral-rich waters that gush directly out of rock and into the semi-open pool. My wife, who took her turn with a bunch of chatty local ladies, was told that women come here particularly in the hope of having children. The spring, it was said, boosts fertility – a claim I hoped was false, worried my wife might exit the waters miraculously pregnant.
It was only one day ago that we enjoyed another hot spring at the local Soviet-era sanatorium in Garmchashma. But while I happened to be all alone there wading naked through its sulphur waters like a little Lucifer in Hell, I was exposing my modesty at Bibi Fatima with three Pamiris. Under the eyes of God – or the Communist Party, take your pick – all men are equal here.
Pointing out sites of interest with quick whistles as if he's The Little Prince hosting two flabbergasted aliens who've just landed on his planet
When we finally visited the Yamshun fortress I felt re-energised, and the steep climb took no more than five minutes. The ruins stand on high rock walls that loom over the vastness of the valley with the magnificent, snow-covered Afghan mountain peaks soaring in the background. Some parts of the fortress date to the Greco-Bactrian and Kushan periods of the 3rd to 1st centuries BC; others to the early medieval period. "This was probably the only fortress at the time with hot, running water," Sharaf said while pointing out an ancient covered canal system through which the spring waters of Bibi Fatima flowed directly into the fortress.
As we finish exploring the petroglyphs, Sharaf twists his ankle, and for a moment our day-expedition to Engels Base Camp is put in jeopardy. Yet, after we persuade Sharaf, he reluctantly lets us continue with our ascent accompanied by Munir, the 14-year-old son of the owner of our homestay and now Chief Juvenile Guide. Speaking hardly any Russian, the energetic young boy patiently leads the way, pointing out sites of interest with quick whistles as if he's The Little Prince hosting two flabbergasted aliens who've just landed on his planet. Aside from two local men posing as herders but who really are digging up rubies, and one descending tourist couple, we encounter nobody.
The temperature drops and the sky is clouding up, but when we finally arrive at Base Camp, our efforts were worth it. The 4,200-metre-high meadows are completely deserted, animated only by the sound of melted ice-water murmuring in meandering streams. Steep, dark rock formations surround us as if we've stumbled onto a vast, ancient stage. When the clouds rise, a majestic snow-dusted Peak Engels slowly reveals itself. Little Munir and I high-five each other.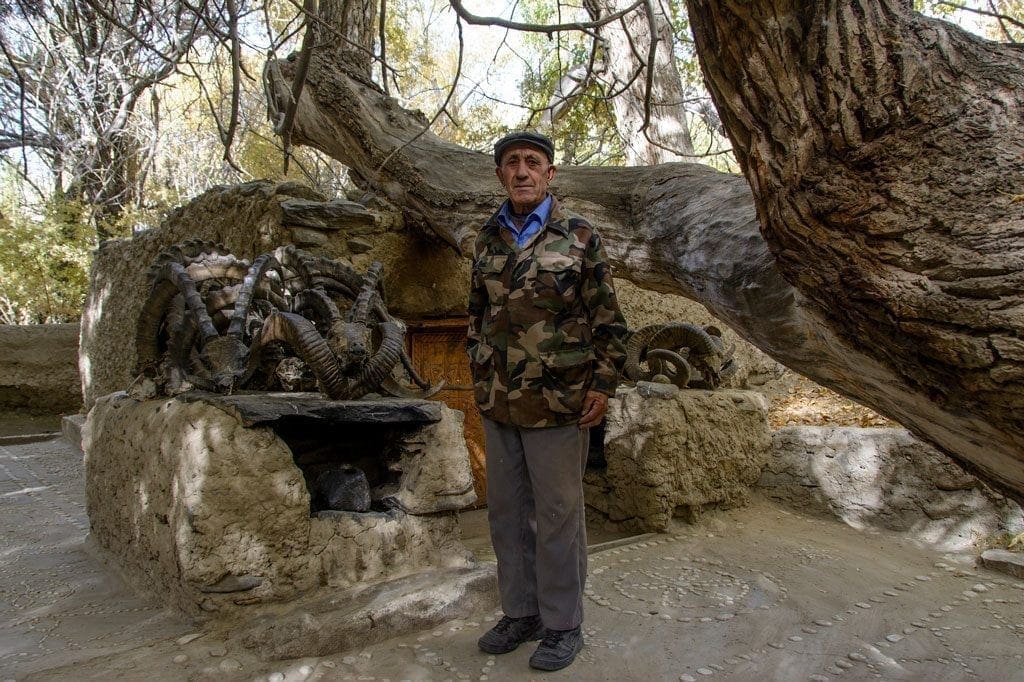 Darkness has fallen by the time we return to the valley. Sharaf, who's thankfully tracked us down by car to spare us the last hour's stretch on foot, is as relieved to see us as we are to see him. The fare in the homestay is simple but that night it tastes like a king's meal. The owner then takes one of the traditional string instruments hanging on his wall and starts singing. A moment later Sharaf joins him on a little drum called a tavlak. This is not a boutique guest house with deliberate décor and scheduled performances.
These are just two Pamiri men and their music.
---
If Johan's article has whetted your thirst for trekking in Central Asia, then why not read his adventures in the Fann Mountains.
---
Pamir Homestay in the Wakhan Valley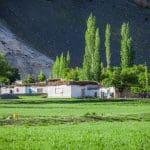 Many of the homestays in the Pamirs are traditional houses where age-old characteristics are present in all nooks and crannies. Your host is ever ready to explain their religious and philosophical symbolisms. The location of the entrance and fireplace, elevated platforms inside the rooms, the roof, and the position of the supporting beams all have their specific meaning, some dating back two-and-a-half thousand years to ancient Aryan philosophy. The most common space is probably the five-pillar chid, the winter room containing the fireplace and a light-and-smoke opening in the ceiling. Decorated with elaborate carvings, each pillar represents a member of the family of Ali while its origins correspond to the major guardians in Zoroastrian religion. Two pillars, the ones representing Ali's two sons – or the Zoroastrian guardians of earth and fire – are always linked with a crossbeam to symbolise the closeness of their relationship.
Nowadays, many rites and traditions take place near each of these five columns. The most impressive feature is the intricate ceiling with its skylight in the centre. Four rectangle frames made of heavy wood, each new one decreasing in size, are stacked upon one another, creating a funnel effect through which light comes in. They represent the four Zoroastrian elements of nature – air, water, fire and earth. It was believed that these elements would purify the incoming light, as well as the air and thoughts emanating from the house. The frames are often richly decorated with Aryan symbols, Quranic verses and wood carvings of Marco Polo sheep horn. As there's a lot of wood used in a Pamiri house, and since wood is rare in the region, the parents plant trees in the garden for the future houses of their sons.
---
How to get to the Wakhan Valley
From Dushanbe it's a long day-trip to Khorog, the administrative capital of GBAO by car, so we recommend splitting the journey into two days. There are also weekly flights from Dushanbe to Khorog in small aircraft or helicopter, said to be one of the most breathtaking flights in the world. However, since this is a difficult flight highly dependent on weather conditions, planes are often cancelled at the last minute. From Khorog, there are many possibilities for visiting the Wakhan valley and the wider Pamirs. Local travel companies can offer you journeys tailored to your needs.
Our knowledgeable and English-speaking guide Sharaf can be reached at [email protected] or +992931112533. He also has a website: www.pamirtrips.com. The Pamirs Eco-Cultural Tourism Association (PECTA) is also recommended: http://www.visitpamirs.com/. Both can organise bespoke trips.
---
Wakhan Valley Photo Gallery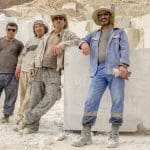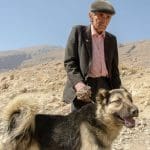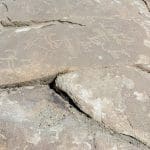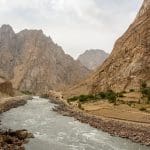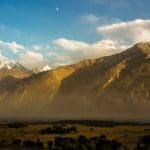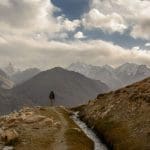 Johan Smits
Freelance writer, translator, web content developer, author of the novel Phnom Penh Express and Tommy, a short story. Loves trying out local brews, avoids noise. Chronically indecisive about where to lay down his hat. Shortlisted AITO Travel Writer of the Year 2018.
Upcoming Events

Subscribe to our newsletter