Luxury Greece Unspoilt for 50somethings
Travel Begins at 40 Editor
Posted on 17th Jan 2018
Can a five-star resort compete with the real Greece? Indie traveller Jason Wilkins loathes luxury but a 50something newish romance meant towing the line and buying a decent pair of trousers to discover luxury Greece, for more information headover to this page.
I'm looking out onto sandy Skafidia, one of the best beaches in Greece's Peloponnese peninsula. When I finish this beer, there's another one if I want it, and the wine too is free flowing. We've been at the five-star Aldermar Olympia for half an hour and though I'm not sold on the idea of resorts, I'm at least confident it won't be a bad week. To say I don't like resorts is an understatement. The bay stretches out in both directions surrounded by wilderness, olives trees and vineyards, not a skyscraper or ugly block in sight. And I won't be paying deluxe prices for alcohol because all-inclusive means exactly that.
I'm not impressed with stars other than what's in the sky, and I have no interest in luxury, whether it's luxury Greece or anywhere. I retired early to spend time travelling, in nature and in sunny climates. I can afford this lifestyle because I was a savvy businessman and I don't spend on frills. Then fate delivers love. With a writer who loves the city and has ridiculous spending habits.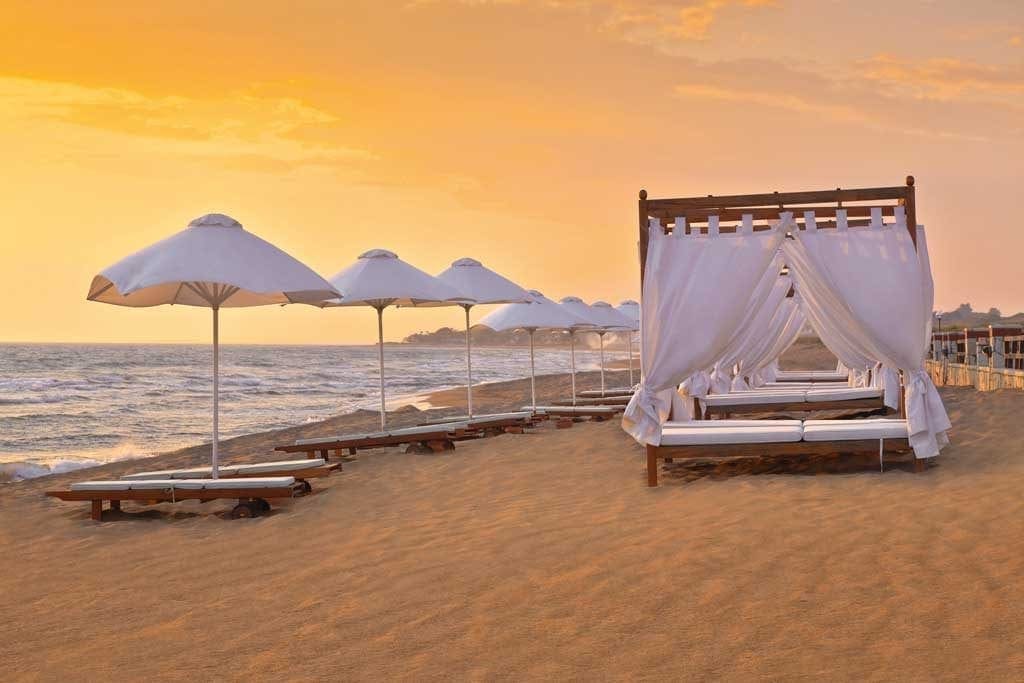 The thing about a 50something relatively new romance is that it has to accommodate managing cholesterol (mine) intolerances (hers) and that old chestnut of being set in one's ways. We make each other laugh about being at polar extremes, but when it comes to travelling it gets tricky. I'm just after the basics, and she's got 'standards'.
Would I try a five-star luxury Greek resort? Well, she sprung that one on me. No way. That's not the real Greece. A luxury snooty version of a sanitised holiday camp? Thanks, but no thanks, was my go-to reaction.
'I'm going to put my foot down,' she said.
'Darling not too hard, your bunions,' I replied.
---
Did you know that the world's best boutique hotel is in Greece?
---
Last year in late May/early June we explored the dramatic southern coast of the Peloponnese together and stayed in pretty Kardomyli where writer Sir Patrick Leigh Fermor lived. This time round I'd just spent two weeks off the beaten track in an idyllic spot an hour outside the bustling airport town of Kalamata. Out of season everything shuts down and that includes food shops, cafés and restaurants. The real Greece meant living off tins and whatever my landlords left outside my door. The truth is I was fed up with basics and it was hardly ideal for her to join me there.
Ok, I was keen to see the west, but would I be allowed in with my three scrunched up t-shirts, track pants, shorts and old swimming trunks? Yes she said. What could go wrong? (You might split up, warned my brother and a friend).
I headed to Kalamata which is a lovely old town, has a good beach, a lot of life – and shops. In H&M, I splashed out on linen trousers for €11. Well I didn't want to show her up.
"You'll be fine," cooed Darling confidently when we met at the airport for the hotel transfer.
Sparkling wine awaited us in the hotel reception when we arrived. Beware of Greek receptionists bearing plastic bangles attached to our wrists. Tagged we were. A jovial chap took us by buggy round the many houses – fitting 2000 people at the height of summer – to a cluster of villas. Darling had instructed me to shake his hand when I gave him a tip rather than just give it to him. Etiquette apparently.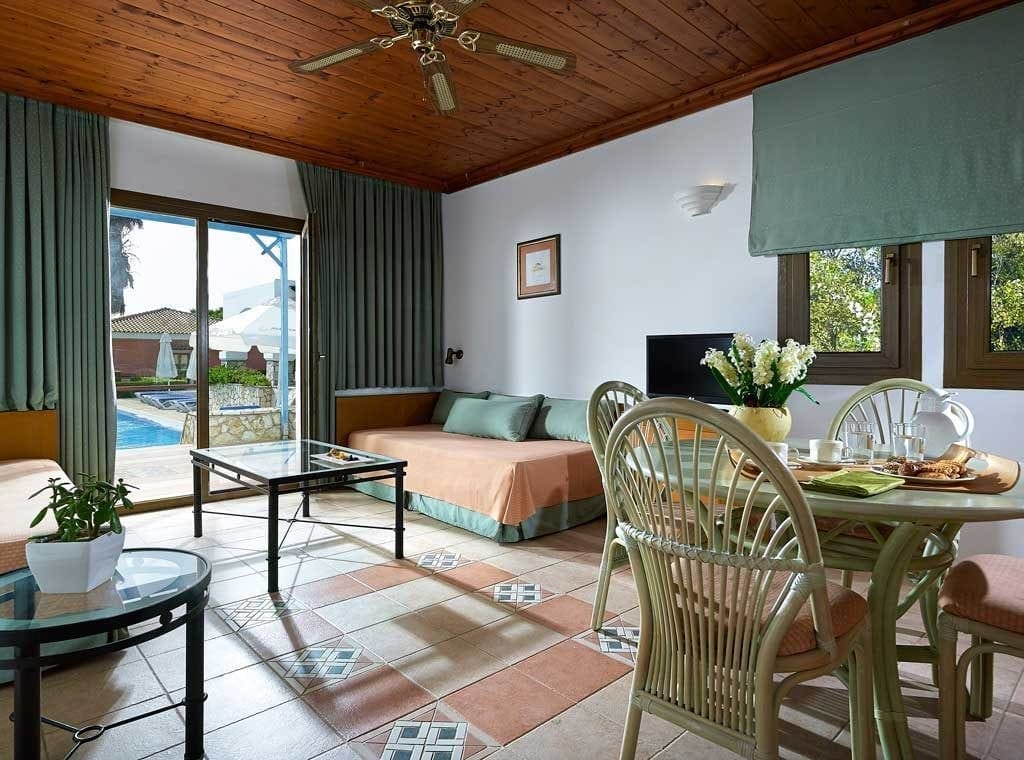 Our suite had two floors, each with a bathroom. Great I thought, one untidy one for me, a pretty one for her, his n hers zones, now that's luxury. There was a big platter of fruit and a bottle of red wine.
'Korres, they've got Korres,' she was shrieking with joy. No, that wasn't a brand of beer, but a natural – aka overpriced – Greek toiletries brand. I consider myself lucky if there's a half a bottle of washing up liquid that'll do as shower gel too.
Off we head to the lunch and I'm thinking, are these hotel guests who are walking along the beach path? It's all normal-informal.
For the first couple of days it feels most odd to be free to walk in any direction to explore nature without my usual traveller's mission: where is the nearest shop? Surely, there's something we need that's not on tap? Water? Tick. Bottles of them everywhere. (I'd prefer it if they had a system of filling up reusable bottles, but they did assure me they're committed to recycling.) Darling tells me I don't need my traveller's bag as we can leave valuables in the safe, but still I keep it on me. It's one that fits round the waist with compartments for water bottles which we do need, and then there's her phone and reading glasses.
Not only am I the only person with a larger than life bum-bag, I'm the only one out of 1,000 here not lying on a sun bed. It never feels like there are so many people except when we discover by accident the hall with the 700 Swiss Christian evangelists who come here every year – yes, really. I certainly get the appeal for families. Hard working alpha male – as I once was – can sit at the bar, whilst kids are at the nursery, and wives and partners in the female equivalent, known as a spa. There was even a beach bar colonised by teenagers. Everyone's happy.
The big thing I'll take away from my week in luxury Greece is discovering real Greek food
I could walk out to the wilderness for hours, whilst she lay on a sunbed. She came for short walks along the bay but stopped short of the rocky coves and went back to reading with her Greek iced frappe coffee. And we could have sunset strolls without worrying about her tripping over. Win win.
I hear myself think this would be great for the whole family – my brother and sister and their kids and partners, and ninety-year-old mum.
Early one morning my heart melts seeing a disabled woman race along the beach path in her wheel chair with her head high and a smile the size of the bay. I notice her later serving herself and her child from the buffet without needing help. Life should be like this for everyone everywhere.
In a country with high unemployment and a traumatic recession it's nice to see happy staff. They banter with each other and it's easy to have a laugh with them. On the one day we leave and go to ancient Olympia and the port of Katakolon we're pleased to get back from the tourist spots to staff who aren't surly and miserable.
The big thing I'll take away from my week in luxury Greece is discovering real Greek food. I usually loathe buffets as that means sub-standard dishes sitting around for hours, gloopy Chinese cuisine, and bland pub conveyor belts. Here it's all fresh, and some of it is even cooked on the spot (pancakes, omelettes, pizza, grilled meats). I can try anything without committing. Most of the dishes I wouldn't risk in a restaurant, so it's a joy to discover things like cuttlefish with fennel, mussels saganaki, herb stuffed rolled up veal, and I love them all. Then there's the sheer variety, with a different set of dishes every day.
I've always struggled to find much in Greek restaurants other than big slabs of meat or something drowning in a red sauce and the standard Greek salad which amounts to bland chunks of lettuce, tomato and pepper topped with a slab of feta, a sprinkling of oregano and a slice of onion if you're lucky, oh and some sad oil and vinegar. Even the olive oil is extraordinary here with a choice of umpteen bottles, produced by the hotel, and infused with herbs grown here too.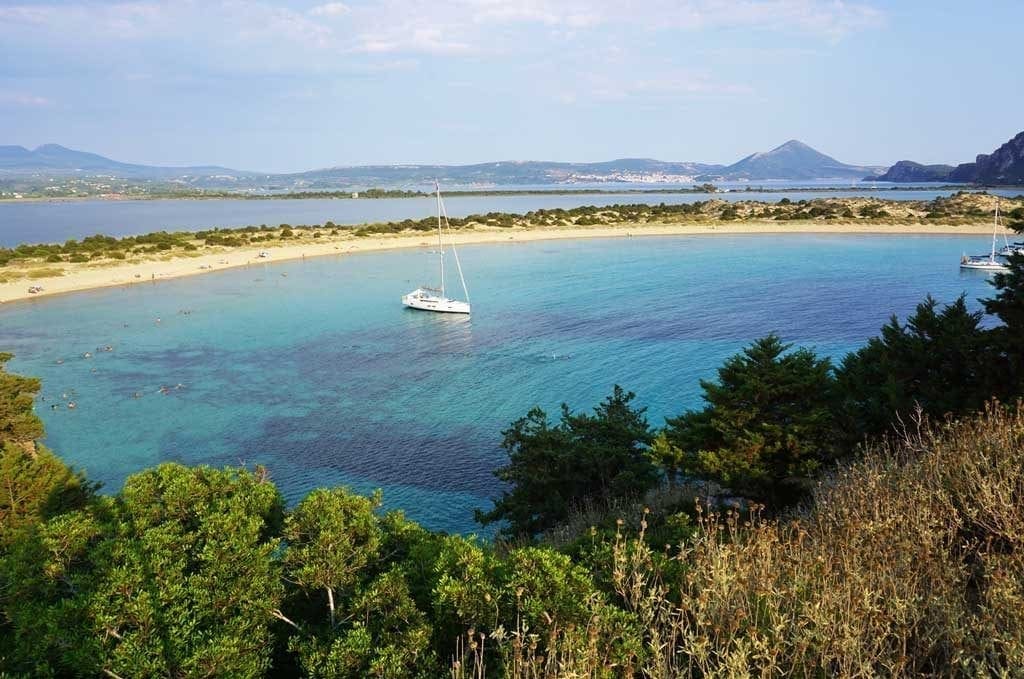 I turn into a foodie to notice dill in the fish, cinnamon in the sauce, thyme and rosemary. I get the lingo and really get into it: stewed, roasted, steamed, baked. I even agreed to an evening of fine dining at the flashy place which was a la carte. I was confused that it was Italian, with French music, and a range of gourmet Greek dishes but didn't care. The chef Ioannis said his wife too had a thing about luxury but he preferred my way of wanting to be with nature, and admired the simple life. Then he brought out dish after stunning tasty dish and we drank the resort's very own Dorima wine and yes, looked into each other's eyes like silly teenagers.
I was always in Darling's quarters in the suite, and she stepped down from her sunbed onto my towel. True love. I'm an Englishman rubbish at romantic gestures, but this place came with awesome sunsets over Zakynthos. That cynical divorcee committed to being a free spirit? Well, he was gone.
I text my brother and friend that no, I haven't shown her up, no I don't hate it, no I haven't drunk myself silly into a private pool, no she hasn't dumped me, no we haven't argued.
And I never wore the H&M linen trousers.
---
For more information and reservations visit www.aldemar-resorts.gr
Standard rooms at the Royal Olympian start from 62€ per person per night in low season on half board basis. All-inclusive dine around supplement is 65€ per person/per night in low season.
Fly to Kalamata with British Airways or EasyJet to Kalamata. Transfer by taxi or car hire approximately 1 hour 40 minutes.
---
For further ideas on luxury Greece, try Visit Greece.
Travel Begins at 40 Editor
Travel articles, news, special offers, festivals and events from the Travel Begins at 40 Editorial team and our global network of travel industry contributors.
Subscribe to our newsletter