Sabah Borneo Holidays: Mountains, Rainforest and Orangutan
Mark Bibby Jackson
Posted on 16th Apr 2018
Sabah Borneo Holidays can be rich, rewarding and varied as Mark Bibby Jackson realises as he encounters a wealth of wildlife in its natural environment and becomes re-acquainted with an orange friend.
I rise to see the most majestic view of Mount Kinabalu. The early morning Sabah sun shimmers off the metallic roofs of the base camp, a small trail of slurry distantly indicating where the 2015 earthquake had its most tragic impact, claiming 18 lives. It is the second time I have awoken to the highest point in Malaysia, and like 18 years previously I will not ascend its summit.
Not Climbing Mount Kinabalu
Back then I was exhausted after climbing the Pinnacles in neighbouring Sarawak. A pointless exercise that had taken five hours to climb and even longer to descend, a feat that my ex and myself completed on our own as our guide had complained of a stomach complaint. Reaching the summit, we discovered that dramatic as the limestone needles look from the air, when surrounded by them they are far less impressive and distinctly lacking in any vista. On the way down, we bumped into our guide, who had risen like Lazarus afraid that his charges had become lost in the mists of the rain forest and wandered off track. Fortunately, we had not. So, by the time we reached Mount Kinabalu a few days later we were weary of another fruitless trek and decided instead to feast ourselves upon the spectacular views.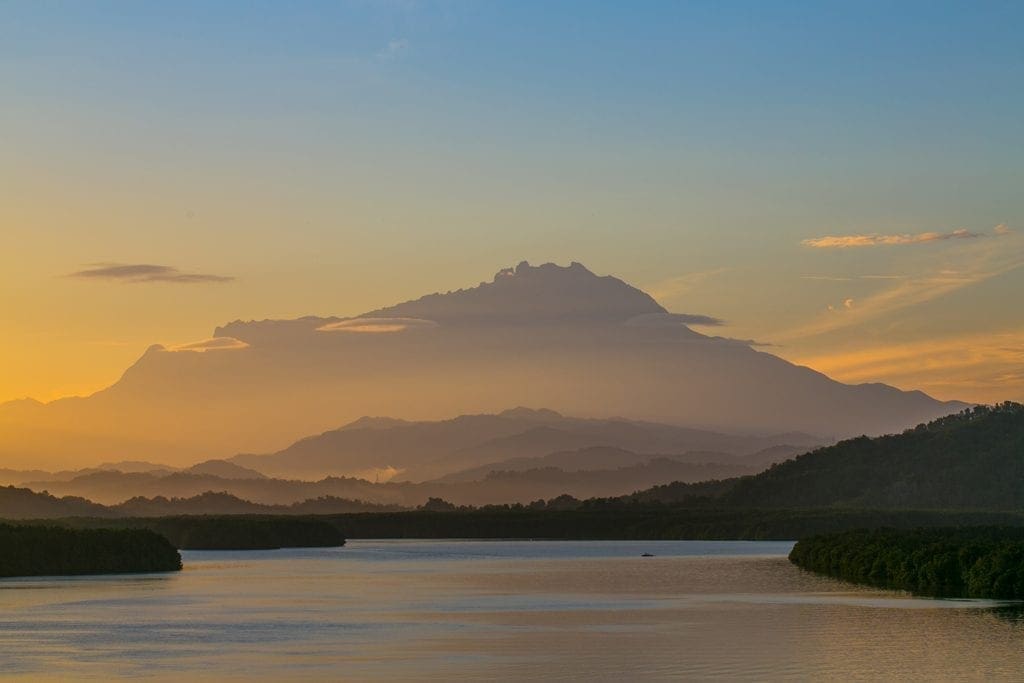 Others are less timid, taking two days to ascend to the 4,095-metre peak, resting the night at the base camp some 2.5 km from the summit, and then setting off at two the following morning to time their final push for sunrise. Since the earthquake the numbers have been restricted to some 135 per day, so it's advisable to ensure that all your permissions are in order before setting off. Naturally, I would join them, but this time I am travelling with my brother and sister-in-law on their first trip to Asia, and it would be rude to leave them behind while I take on Malaysia's Everest. It will have to wait for the next time.
Despite tales of spitting cobras and green vipers I am pleased to discover that the most unusual creature we encounter is a lantern bug
Sabah Borneo Holidays: Rasa Ria Shangri La Borneo
We are three days into our Sabah travel adventure around the smallest of Malaysia's two states on the island of Borneo. Our first night was spent at Shangri-La's glorious Rasa Ria Resort on the outskirts of the state capital of Kota Kinabalu. Arriving late and tired we went straight to bed, but the following morn we take the canopy walk and short trail through the resort's preserved forest to Pekan Nebalu, where we have beclouded views of Mount Kinabalu. Despite tales of spitting cobras and green vipers I am pleased to discover that the most unusual creature we encounter is a lantern bug, normally found in primary rather than the secondary rainforest through which we are trekking. Our early morning exertions make the breakfast all the more worthwhile.
Rasa Ria used to be known for its small sanctuary for orphaned orangutans. However, the last remaining primates were transferred to the rehabilitation centre at Sepilok – which will be our final port of call – in 2016. Instead of seeing this as a challenge, Lori-Jean Collins, its Director of Sales and Marketing, relishes the opportunity to diversify the resort's appeal.
With 400 acres of land and three kilometres of virtually private beach, it isn't difficult to get her point, especially as we share some cocktails while watching the dramatic sunset over the South China Sea, before enjoying dinner at the excellent Indian Naan restaurant. Plans to open a Discovery Centre in April along with the longest twin zip-line in Sabah later on in the year will only help to strengthen its appeal.
This is the type of resort you could easily reside for a week or two without tiring, something I can not often say in earnest, however, on our whistle-stop tour, arranged by Rustic Borneo Sabah travel experts, so we have no time to idle. We spend the next day exploring Kinabalu National Park, where we see Borneo black-banded squirrels, a Bornean forktail, white-throated fantails and Temminck's sunbird – all identified by our expert guide Roy, who unlike his Sarawak counterpart demonstrates a robust stomach throughout our trip.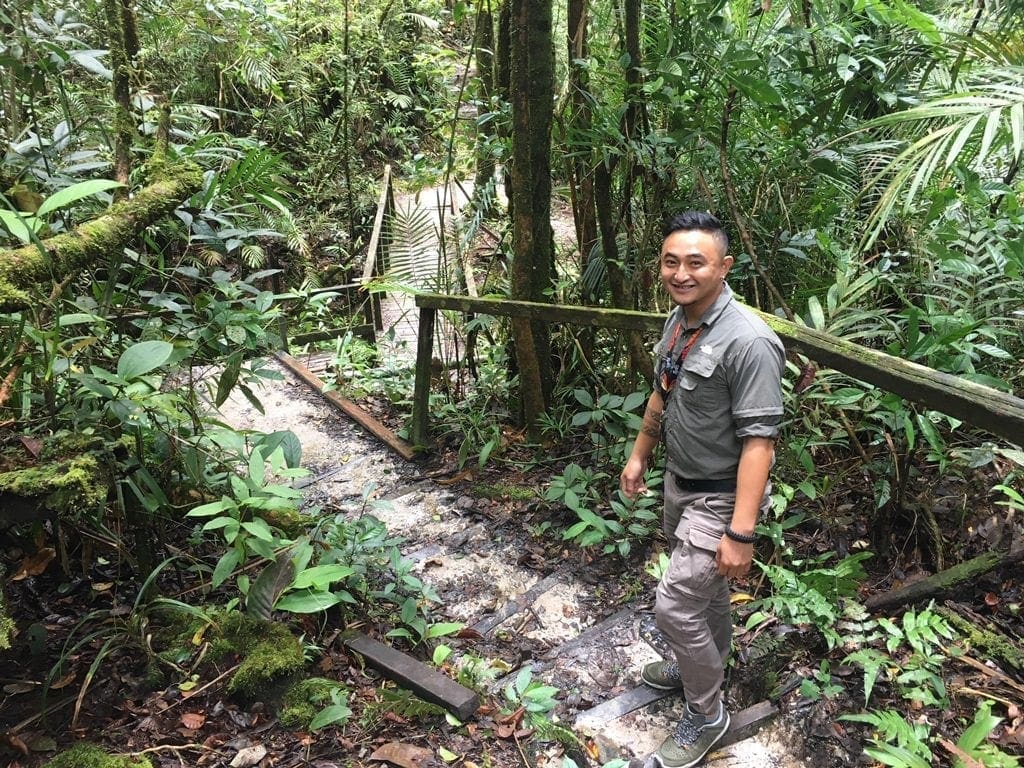 In the afternoon we make it to Poring Springs just before it closes and walk along the high canopy walkway to view the virgin forest from up high – a bit too high for my courageous yet vertiginous brother – and then return to the foothills of the mountain where we stay at the Alpine-like Kinabalu Pine Resort, from where we experience our glorious sunrise the following day.
Borneo Orangutan Sanctuary
All this was just a precursor to the main event of our Sabah Borneo Holidays. I have always had a soft spot for orangutans ever since watching Clint Eastowood strolling down the street with Clyde. Borneo is just one of the two islands – the other being Sumatra in Indonesia – where orangutans are found naturally in the wild. The rehabilitation centre at Sepilok was founded in 1964 by art historian and conservationist Barbara Harrisson to rehabilitate the endangered apes – it is also the main reason we came to Sabah.
---
If Mark's Sabah Borneo holidays have piqued your interest, why not read what he got up to in Nepal, in Poon Hill Trek without the Poon.
---
According to the World Wildlife Fund (WWF), there were around 230,000 orangutans a century ago. Numbers have dwindled so that the species is considered endangered, with some 104,700 Bornean orangutans remaining, in addition to 7,500 Sumatran orangutan, which is critically endangered. In November 2017, a third species the Tapanuli orangutan was announced, and this is the most endangered of all the great apes with only 800 recorded.
Sepilok supports some 60 to 80 orangutans – as well as sun bears and one elephant – in 43 sq km of protected land on the edge of Kabili Sepilok Forest Reserve with the aim of returning them to the wild. Although, the centre is open from 8.45am to 4pm, most people coincide their visit for either the 10am or 3.30pm feeding time. We opt for the latter.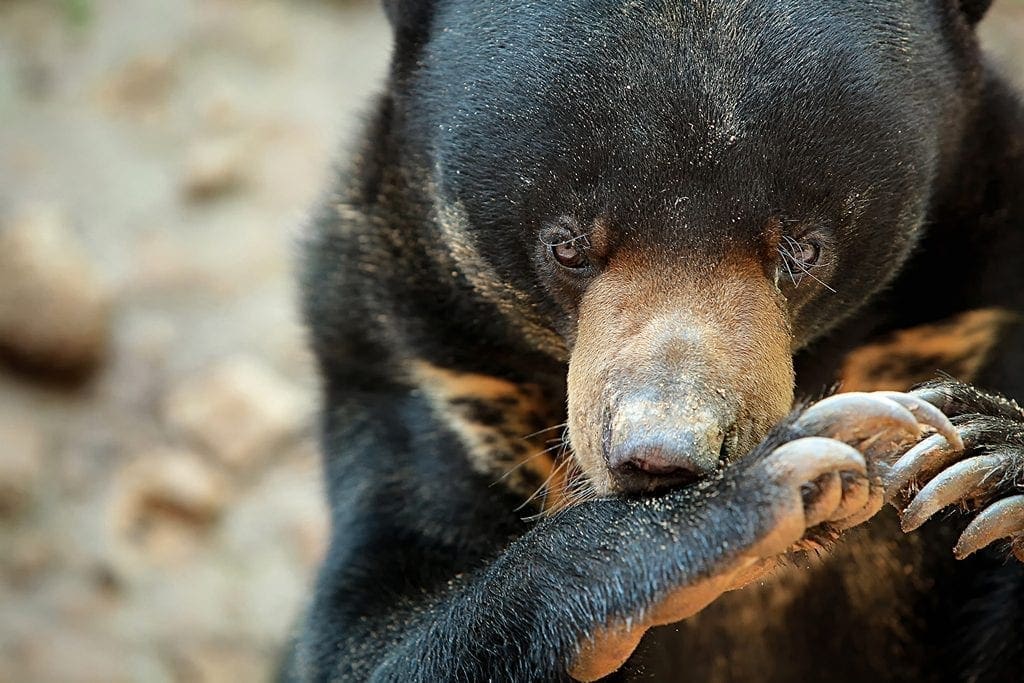 This is my third visit to the centre, which has greatly expanded since my initial trip – either that or my memory has dwindled. I recommend taking in the excellent video near the ticket office before joining the throng heading for the outdoor nursery where you can sit and watch the young orphan orangutans being trained in jungle survival techniques, such as climbing, from viewing galleries.
In the wild baby orangutan are reared and trained by their mothers for six years – fathers are most definitely estranged in the orangutan world. Sepilok replaces this with a buddy system pairing a young ape with an older one to foster the skills they will need to survive in Borneo's rainforest.
One of these skills is knowing when to fight and when to flight. As we approached the feeding platform a macaque is sat munching on bananas. Now, anyone who has encountered this ferocious monkey in the wild will know that fight is not the correct choice. I encountered one in a guest house in Phnom Penh once and swiftly sizing up the situation with a clarity I seldom exhibit, I exited with a fleetness of foot that would have left Usain Bolt in the blocks.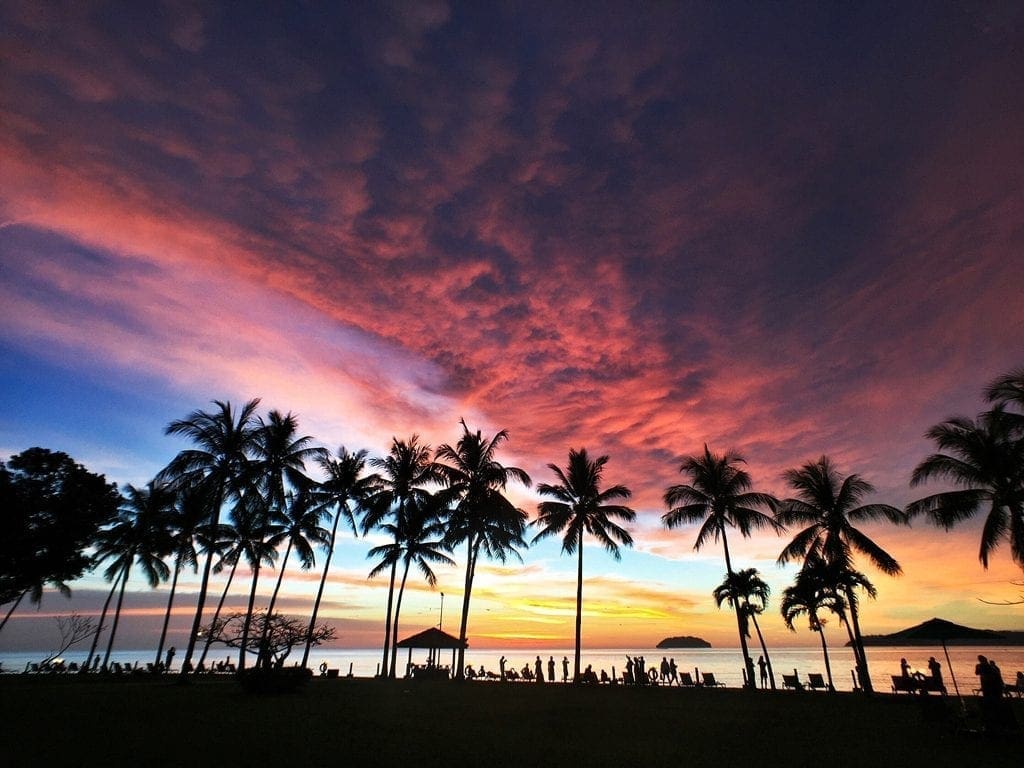 A male orangutan approaches stealthily weighing up the promise of the banana against the risk of the macaque's snarling teeth. Eventually, he realises the platform is big enough for both primates and picks up a bunch of bananas, his eyes' never leaving the macaque, who carries on munching imperviously.
Later on a female orangutan holding her little baby appears in the trees, but refuses to engage with the now emboldened male one – it is not uncommon for male orangutans to force themselves upon females, according to Roy – clearly there had been a bit of previous.
Borneo is still a natural paradise full of interesting creatures – some friendly and some less so – I reflect, as I watch some deer munching in the undergrowth in the setting sun from my balcony at Forest Edge, Sepilok, while mosquitoes take it in turn to draw my blood. But it is one peculiar orange primate that is the islands main draw. Let's hope it remains that way.
---
Borneo Weather / Best Time to Visit Borneo
Borneo has a typically tropical climate, which means that it is hot and humid all year round. Temperatures average between 27C and 32C, but the humidity tends to be 80%. March to October sees the driest weather making it the best time for your Sabah Borneo holidays.
Flights to Borneo
Budget airline Air Asia flies direct to Kuching, Sarawak and both Kota Kinabalu and Sandakan in Sabah from its terminal in Kuala Lumpur. Malaysia Airlines has flights to Kota Kinabalu from London Heathrow via the Malaysian capital. Royal Brunei, Korean Air and Emirates also have services to Kota Kinabalu.
Borneo Hotels
To find the perfect hotel for your Sabah Borneo Holidays, click here. We take a small commission from all bookings, but it does not affect the price you pay.
Time in Borneo
Both Sabah and Sarawak have the same time as mainland Malaysia, which is GMT / UTC + 8.
Borneo Currency
Sabah and Sarawak use the same currency as mainland Malaysia namely the ringgit.
---
Borneo Tours
Rustic Borneo specialises in tailor-made Sabah Borneo holidays for groups and independent travellers, as well as in peninsular Malaysia. Check their website for further details.
Photo of orangutans c. Heinz Rickers / Sabah Tourism Board, photo of paddy field c. Mohd Ussdek / Sabah Tourism Board
Mark Bibby Jackson
Before setting up Travel Begins at 40, Mark was the publisher of AsiaLIFE Cambodia and a freelance travel writer. When he is not packing and unpacking his travelling bag, Mark writes novels, including To Cook A Spider and Peppered Justice. He loves walking, eating, beer, isolation and arthouse movies, as well as talking to strangers on planes, buses and trains.