Things to Do in Cartagena: from Dawn to Dusk
Mike East
Posted on 11th Apr 2018
As a city rich in cultural and history, it's no surprise to find the choice of things to do in Cartagena Colombia is rich and varied. Mike East discovers great beaches, a colourful old town and a non-stop salsa beat.
Cartagena was one of the strongholds of the Spanish Empire – Cartagena de las Indias. From here convoys of galleons set sail with their loot for the Old World. Due to its importance in colonial rule, and its great natural harbour, Cartagena was heavily fortified and most of this has been so well preserved it can be visited today.
Cartagena is the kind of city that you can walk around for days; the cobbled streets and old houses are just so relentlessly interesting and full of charm. Many are lovingly preserved by the residents with their carved doors, bright colours and hanging plants. Walk slowly. Stop and enjoy the bakery on the corner of the Plaza del Estudiante, opposite the university, then stroll on. The hot Caribbean sun will beat down on you, so choose a family-run café by the side of the road and take a refreshment. Walking not for you? There are many horse and carriages that will give you a low-gear tour with very few cars to disturb your peace.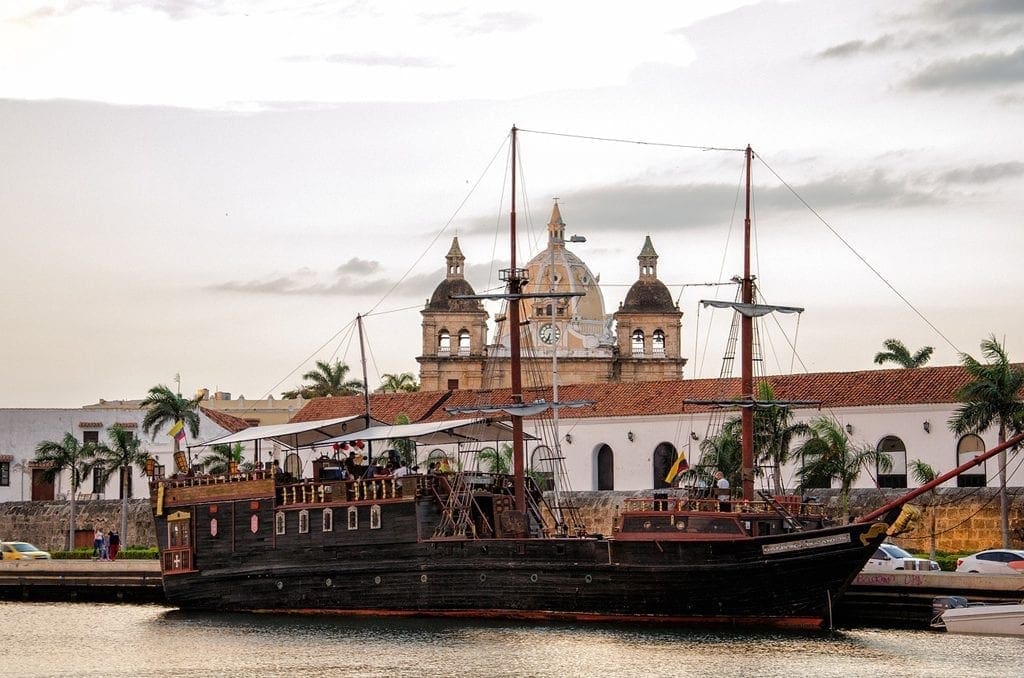 A modern, tourist-orientated part of the city is built on a spit of land to the south and is called Bocagrande or "big mouth". Here, there is a long beach – though Cartagena can offer better, but more of that later – beside high-rise hotels, such as the Hotel Estelar, as well as holiday apartments and modern city blocks. Frequent minibuses run around the city and the yellow cabs are cheap enough to use frequently.
---
Interested in Colombia travel? Visit the country's most important cultural event La Feria de Cali in December, or its famous Barranquilla Carnival in February.
---
However, my advice is to opt for a hotel in the walled city. There's the Bastion Luxury Hotel if you wish to splash out, but Cartagena offers a full range of options down to the clean and simple Hotel el Viajero. In this part of town, expect prices considerably higher than the rest of Colombia, similar to what you might pay back home, in fact.
It's worth it though.
---
Five things to do in Cartagena Colombia:
Walk the walls of the old city
Enjoy the Plaza of the Clock Tower at sunset
For a beach, visit the Rosario Islands
Explore the Castle de San Felipe
To enjoy sweeping views, visit Cerro La Popa
---
On one night you might try the Café Del Mar, located on the north wall. It sells a range of drinks and food. You have the sea on one side and tiled roofs on the other. For another sunset, go to the west end of the Plaza of the Clock Tower. As the shadows lengthen, the bar on the corner, Donde Fidel, starts playing salsa. They have many tables on the plaza where you can enjoy the music and watch people pass by. Traditional dance groups perform in the square.
Because of the numbers of tourists a wide range of international cuisines are available in the city, in addition to many Latin restaurants. As you continue to unwind, consider one of several plazas, such as Plaza Santo Domingo, where tables are placed in the centre of the square itself.
Castillo de San Felipe de Barajas was the core of Cartagena's defences. Its great moment of fame was in holding off a large British fleet in 1741 during the War of Jenkins' Ear. The attack failed with yellow fever killing off many of the British. Further out of the city is the Cerro La Popa, a convent built on a peak. Take a taxi for a view down to the old city, but try to avoid the afternoon haze.
Bocagrande and its tourist attractions are very safe, though if you are far off the track, you should take normal, reasonable precautions.
Now, I mentioned beaches. There is the one in Bocagrande, and there is another that trails eastwards that is also fine, though I would advise you take a day trip to the Islas de Rosario. Any travel agent in town can arrange this for you.
Back in the city, if you have walked the streets, there are always the walls, lined with cannons. Here and there, a vendor will offer you juice or bags of green mango in a spicy vinegar sauce. Another option is to rent a bike and explore the streets that way.
The city hosts many interesting museums, such as the Palace of the Inquisition where you can find out what those nice men would have had in store for you should you have chosen to argue theology with them. However, of one thing there can be no dispute – Cartagena is one of the most interesting and varied cities in South America and a must on anyone's bucket list for the continent.
---
KLM flies direct to Cartagena while British Airways has flights to Bogota that link to local carriers. There are direct flights from Miami and New York to Cartagena.
Mike East
Mike began his career in travel writing by going overseas during his holidays and writing his own guide. He then sent this manuscript off to a range of travel guide companies and got a range of rejection letters — all except one. Getting a contract to write for Roger Lascelles Publications on the Caribbean islands of Trinidad and Tobago and The Bahamas was how his career began. With this opportunity came other pieces for British magazines and The Sunday Telegraph.