Drink Clean Air at No 29 Power Station West
Robert Spellman
Posted on 11th May 2018
Looking for a cocktail with a difference then head for No 29 Power Station West that has air designed by NASA and vodka infusions to match.
My respiratory experience at No 29 Power Station West, Darwin & Wallace's fifth 'neighbourhood' bar, must surely rate as the finest yet for a cocktail hour. The new venture, situated on a narrow stretch of the Thames within the vast Battersea Power Station zone, has taken an air-freshening tip from NASA and installed plants with a special talent for zapping toxins from the atmosphere.
The clusters of verdancy, supplied by urban gardeners Patch, suit this riverside place which is light and roomy and features a big-window view of the water. Slightly to the west, a great chunk of Chelsea Bridge is seen extending to the north bank, while to the east, the Power Station is slowly turning residential. At Circus West Village where No 29 is located, village life moves at a leisurely pace. Even the yoghurt-coloured towers of Battersea's industrial landmark look playful against the blue evening sky.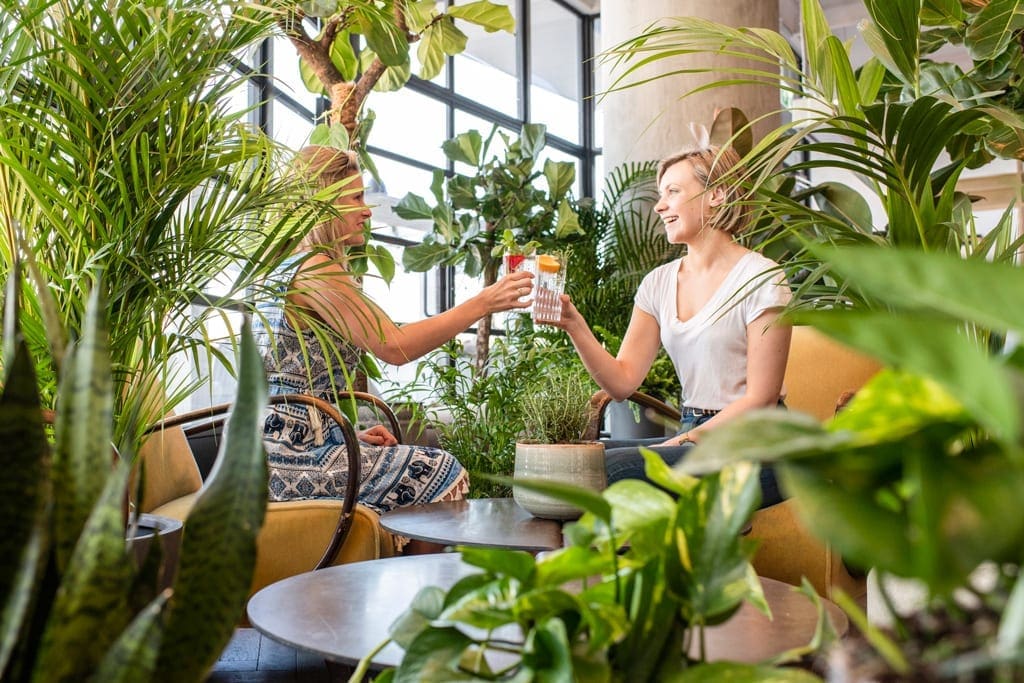 Inside, the 'Clean Air Bar' – and I am quite certain my inhalations tasted sweeter – has been devised as a month-long drinking experience by Patch, No 29 and Ketel One Vodka who have come together as the Ketel One Urban Garden Collective to promote cleaner living. The celebrated vodka, first launched in the States in the early 80s by the old Dutch distiller family Nolet, has now been paired with apple, cinnamon, strawberry, lime, ginger and cantaloupe to create a range of soda cocktails to be taken amid the good air of this venue. The drinks are clean, strong, and the richness and subtlety of this fabulous alcohol isn't overpowered by the mixers.
Masterchef finalists Billy and Jack are in on the act too, with five sharing dishes that include Ketel One Vodka cured sea trout, a dish that is far more tasty than it sounds. If you aren't convinced, the coronation potato fritters and curry mayo or lamb skewers with spiced date sauce might keep you quiet. One feature I missed at the busy launch was the Living Garnish Wall, which allows drinkers to tweak their vodka and soda serves with the likes of basil, mint or rosemary, so perhaps one final reccy is required.
And should the desire to grow your own urban garden become irrepressible after a visit to No 29, a couple of classes are being hosted by Patch and Ketel One brand ambassador Kate Jackson. The first falls on May 21st at sister bar No 11 Pimlico Road and the second at No 29 Power Station West on May 30th. Billy and Jack, meanwhile, throw a supper club on May 18th.
---
NO. 29 POWER STATION WEST
29 Circus West Village, Battersea Power Station, London, SW8 4NN.  T: 0203 857 9872. E: [email protected]
OPENING HOURS: Sunday to Thursday 8am – Midnight, Friday & Saturday 8am – 1am.
Subscribe to our newsletter