Lincoln Cathedral and Hidden England
Mark Bibby Jackson
Posted on 5th May 2018
Travelling around the lost counties of Hidden England, Mark Bibby Jackson discovers a land rich with history, the spectacular Lincoln Cathedral, a Tudor home and castles from the Norman conquest.
Lincolnshire has always been a county I would pass through on the way to more 'interesting' places further north, or south on the A1. The only time I stayed here was one near-fatal weekend when I somehow persuaded myself to drop out of a plane from a great height, a static-line parachute my only chance of salvation. I'm not sure if there is a word in English to describe my fear-paralysed exit from the plane, but I certainly did not leap. Young, fool-hardy and infatuated, I felt that proving my manhood in an act of senseless bravado would somehow impress the unwitting object of my infatuation, whose name now escapes me. It did not.
Fast-forward thirty or so years, and I find myself back in the county of my solitary jump, only this time in the county city of Lincoln rather than some draughty air force base, and my current ascent is as painfully slow as my previous descent had been precipitously fast.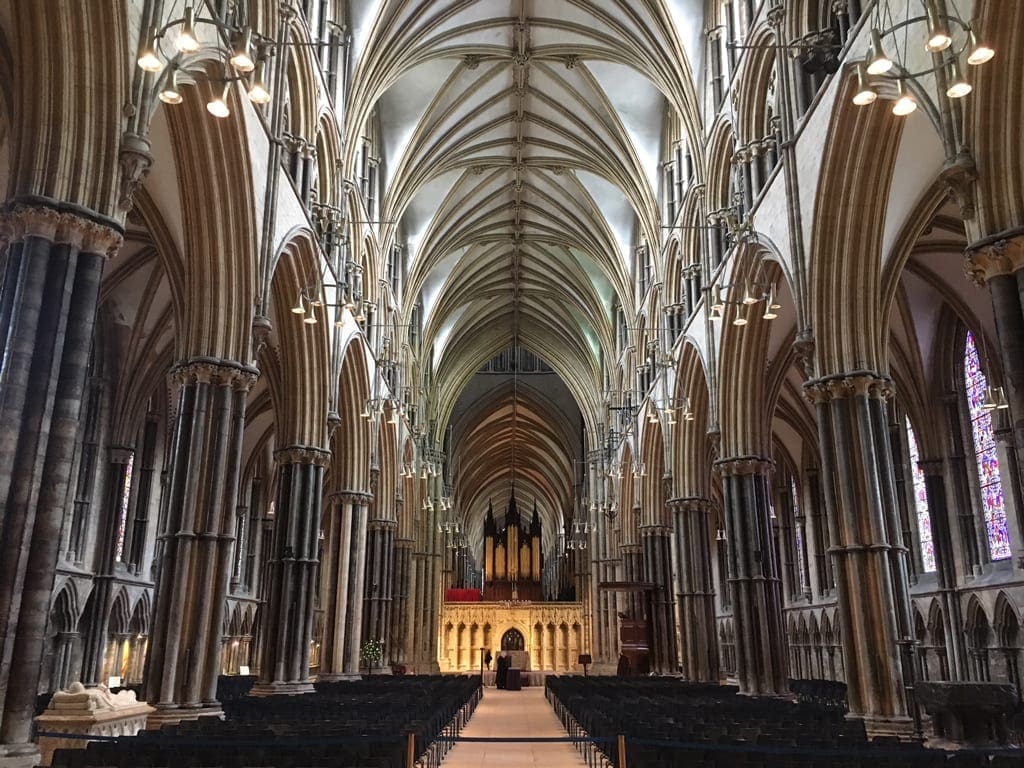 Lincoln Castle and Cathedral
Lincoln has one drawcard – and what a card that is. For 238 years (1311–1549) Lincoln Cathedral was the tallest building in the world, following in the footsteps of the Pyramids of Giza. Sadly, the three spires that used to rise from its roof have long gone – one was blown down in a storm in 1548, and the other two were removed in the 19th Century for safety reasons, but it remains a majestic building. Ruskin said, "I have always held… that the cathedral of Lincoln is out and out the most precious piece of architecture in the British Isles and roughly speaking worth any two other cathedrals we have." As I enter, my breath is stolen beneath an imperceptible gasp, I have to agree with the Victorian scribe. Lincoln Cathedral is spectacular.
Unfortunately, to get there you have to tackle the aptly named Steep Hill, which seems most out-of-place in a county noted for its flatness. As I climb my way to the summit of Lincoln's Matterhorn, passing a restaurant that calls itself, not without cause, the Base Camp along the way, I realise why both Lincoln Cathedral and the nearby castle were built here in the eleventh century, shortly after the Norman Conquest. It is well situated, especially to repel invaders.
Lincoln cathedral has had something of a chequered history, having been badly damaged by a great fire in 1141 and then an earthquake in 1181. However, what you can see now, has stood here since 1320. Unsurprisingly, it was a great centre of pilgrimage, although not one appreciated by Oliver Cromwell, who stabled his horses within the hallowed walls after the siege of Lincoln in 1643, during the English Civil War.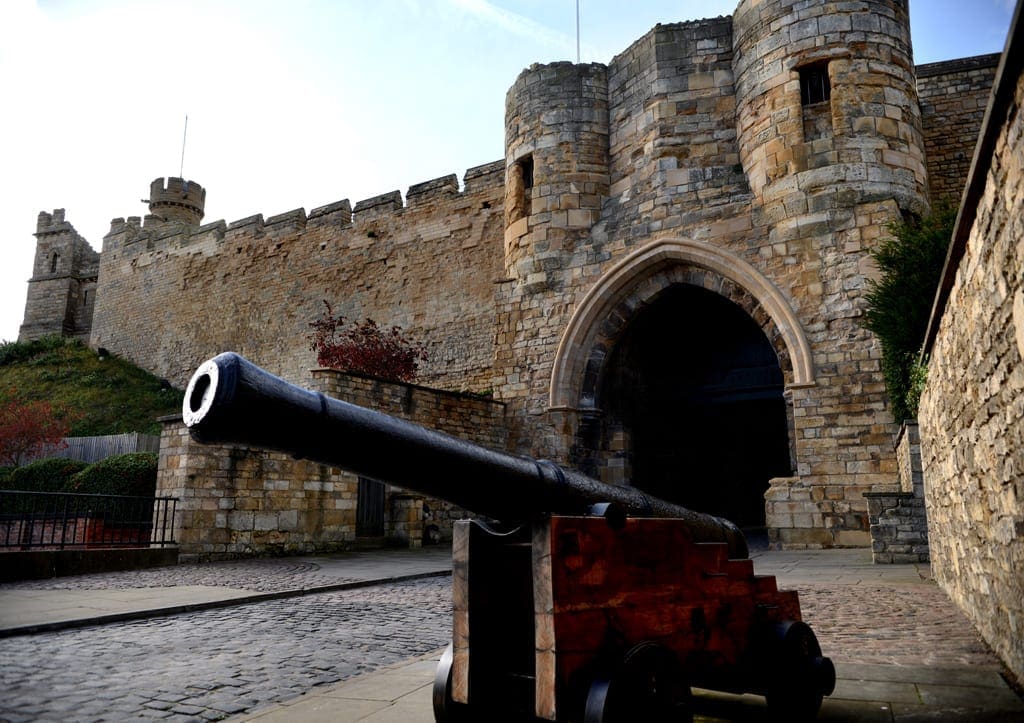 I know such facts due to my excellent guide Ivan Annibal, of Hidden Lincoln. However, perhaps of greater interest are the little anecdotes he provides, such as a gargoyle that is carved in the image of one of the stonemasons who worked here for 40 years, or the statue that reflects another mason's opposition to fox hunting – details that demonstrate how Lincoln Cathedral is part of the life of the city.
Next to the cathedral is the Norman castle, home to one of the three remaining copies of the Magna Carta that were sent to churches across the land in 1215. A small exhibition displays it. A further one depicts the castle's later incarnation as a Victorian jail, although I find the walls more impressive, and recommend a walk along their ramparts from where you can purvey the surrounding countryside.
After such exertions I return to my hotel much in need of rest, which the extremely comfortable Double Tree by Hilton, situated on Brayford Wharf, delivered.
My trip to Lincoln is part of a wider one to Hidden England, the name given to eight historic sites in this part of Middle England, although there is nothing hidden about Lincoln, which dates back to Roman times, nor its cathedral. Perhaps by-passed England would be more appropriate.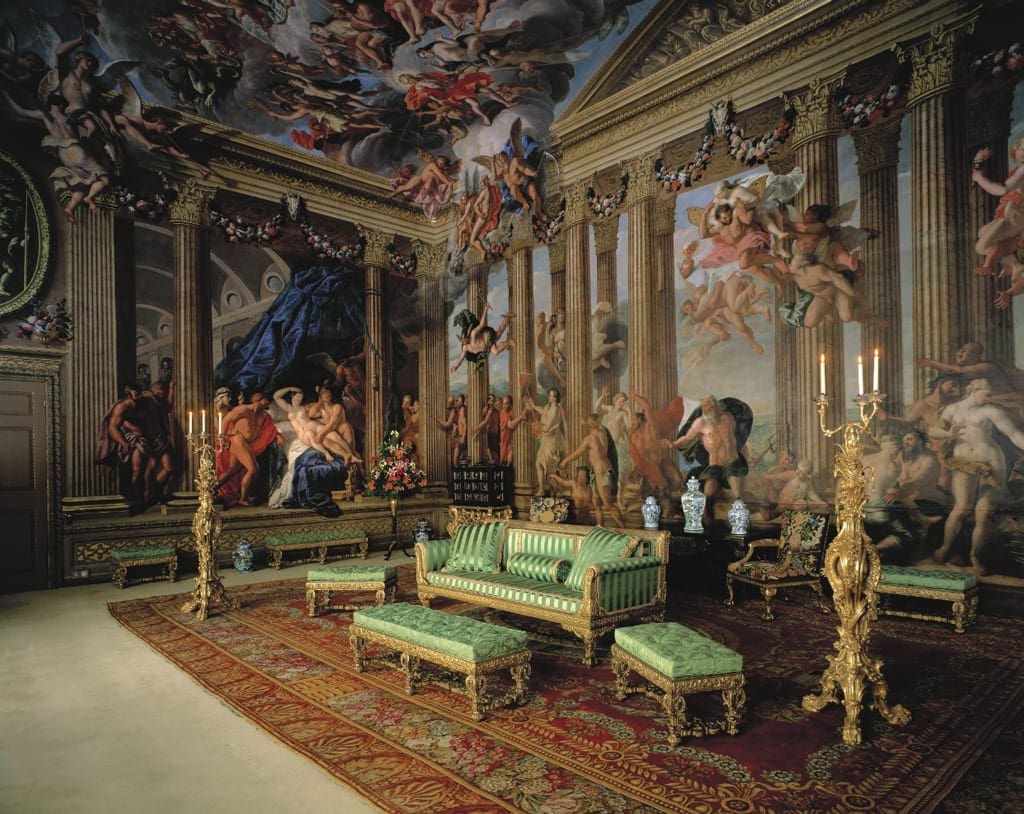 Burghley House and Norman Castles
Neither is my second port of call particularly well camouflaged. The grandiose entrance to Burghley House is like stepping back in time, or walking onto a set of Pride and Prejudice. Indeed, it was used as the set for Rosings, Lady Catherine de Bourgh's home, in the 2005 film adaptation of the Austen classic. Designed by William Cecil and built between 1555 and 1587, Burghley House predates Austen, and is understandably called England's Greatest Elizabethan House. The Virgin Queen didn't actually stay here on her visit in 1566, due to an outbreak of the smallpox, although one of the rooms is named after her, but the future Queen Victoria did as a girl in 1835, her small bed still remains.
A tour takes you around many of the colourful and painstakingly restored rooms, replete with antiques furnishings and amazing Italian-inspired frescos, on the ground and first floor, although others remain off-limits as descendants of Elizabeth I's right-hand man still live here. I find myself drawn to the wonderful Old Kitchen with its cast-iron furnishings and 18th and 19th century copper pots, and the row of bells above one of the doors in the adjoining Hogg's Hall – instinctively I know my place is more downstairs than upstairs in this Downtown Abbey.
Look out for the full-scale replica model of a Star Wars TIE Silencer, although I suspect it's not the Elizabethan original
The grounds were landscaped by Capability Brown, who also created the 22-acre lake and the Lion Bridge in 1775. Although a large part is closed to the public, except on special occasions such as the Burghley Film Festival in July, you can visit the Garden of Surprises and the Sculpture Garden, which are modelled on Elizabethan Gardens and its element of surprise – look out for the full-scale replica model of a Star Wars TIE Silencer, although I suspect it's not the Elizabethan original.
With noon fast approaching I settle down in the gardens of the Orangery for a fantastic spinach and feta spelt risotto lunch on what was the first decent day of a very disappointing English Spring.
Soon, I discover that one of the pleasures of driving through this neglected part of middle England is precisely that – the drive. The previous day, Ivan had explained to me that Lincoln is on a limestone ridge that cuts a swathe through England to Exeter, roughly following the old Roman Fosse Way. This explains why throughout our journey back north to Leicestershire, and our next snapshot of history – Rockingham Castle – we pass through villages that would not look out of place in the Cotswolds, through which the ridge passes. Only here you do not encounter hordes of marauding American tourists commenting upon how quaint everything is.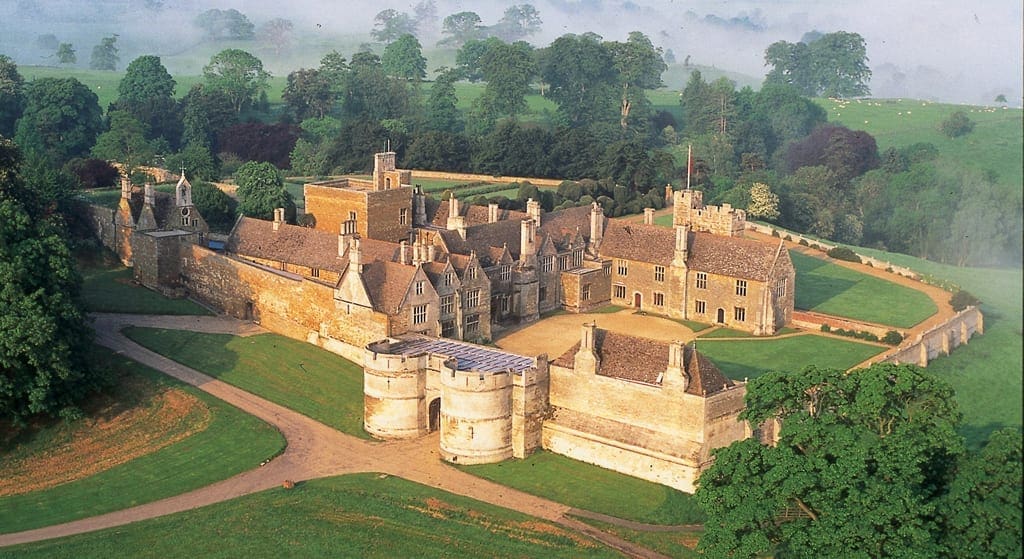 Like Burghley House, Rockingham is a family home, as the Watson family still live here, as they have for the past 450 years. The castle is much older, with the original motte and bailey, which you can still detect, dating back to 1070. The Great Hall was built following the instructions of William the Conqueror, and there are records of a grand council being held in there in 1095, although what now remains was largely rebuilt in 1270 by Edward I.
Used by kings for hunting, there is a record of a certain Robin Hood being imprisoned in Rockingham in 1354, although those of you with a historical head will know that this could not be the same man who tormented the Sheriff of Nottingham during the reign of King John, who died in 1216. Apparently, the legend had already spread by the mid-fourteenth century, and many a man adopted the name of England's favourite bandit.
The castle became so neglected in the Middle Ages that Henry VIII, shocked by its state of disrepair, leased the estate to Edward Watson in 1544, who turned it into a family home. The Great Hall was much reduced, though it still has remnants of the period including armour and a portrait of Elizabeth I. Passing through Rockingham Castle is like walking through history, concluding in the Long Gallery where Charles Dickens used to perform on his frequent visits here. Indeed, Rockingham Castle is thought to be the basis for Chesney Wolds in Bleak House.
Rockingham also has great views from its impressive grounds, and a relaxing garden within the preserved Norman walls. An annual joust is held here each year.
---
If you have liked Mark's travel through Hidden England, perhaps you would also like his journey to Hull: a Surprising City of Culture.
---
Grimsthorpe Castle is anything but grim – nor is it really a castle, if truth be told, rather a grandiose stately home – but it is the fourth and final castle on my trip, and I visit it the following morning.
At least there was once a castle at Grimsthorpe, or at least a tower that dates back to the 11th Century, but what stands now was built for a visit by Henry VIII in 1541. The much-married monarch gave the land to the Willoughbys – descendants of whom still live here – as a wedding present in 1516. Made from stone collected from the relics of a nearby Cistercian monastery, collateral damage in Henry's marital discord and battle with Rome, the rear of the building is Tudor though the front is more modern, with the entrance hall commenced by Sir John Vanbrugh and completed by Nicholas Hawksmoor, in the mid-18th Century. Conceived as a Games Room, it reflects the period, with portraits of various kings and Roman busts, as well as Wellington and Napoleon.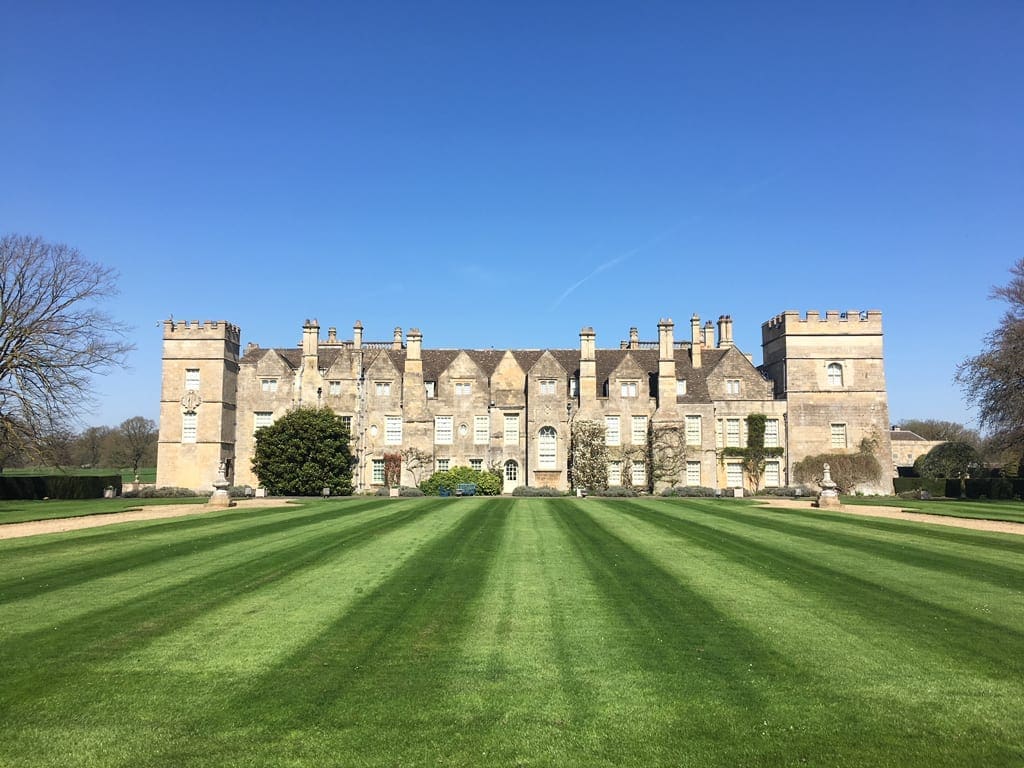 By now, I find myself surfeit with beautiful rooms, Italian friezes and tales of Lady Astor, who donated several chandeliers from her London home, and yearn to escape to the gardens. These, in my opinion and with respect to Mr Brown, surpass those of Burghley House, combining the ornamental with the wild to perfection. The next hour or so is spent in pleasant surroundings chatting with Ray Biggs, Grimsthorpe Castle's Access Manager, who is opening the grounds to local villagers to make it more a part of the community. If only, he could change the name to something more welcoming – apparently a Viking called Grim settled here and built a farm on the grounds – and dispose of the misleading castle moniker, for Grimsthorpe really is a wonderful and peaceful home – a true hidden England gem.
Reluctantly, I drag myself away, missing the opportunity to delve deeper into the extensive 3,000-acre woodlands and the 50-acre lake, around which Ray has recently launched 20 miles of cycle and waking trails. We have one last place to visit.
As seems to be the tradition in this neck of the woods, Easton Estate has been kept in the family since Tudor times, owned by the Cholmeley family since 1561. At the beginning of the last century, future US President Franklin D. Roosevelt described it as "a dream of Nirvana … almost too good to be true". Sadly, the estate did not fare well in the war for which Roosevelt is best remembered, being requisitioned by the army and demolished shortly afterwards.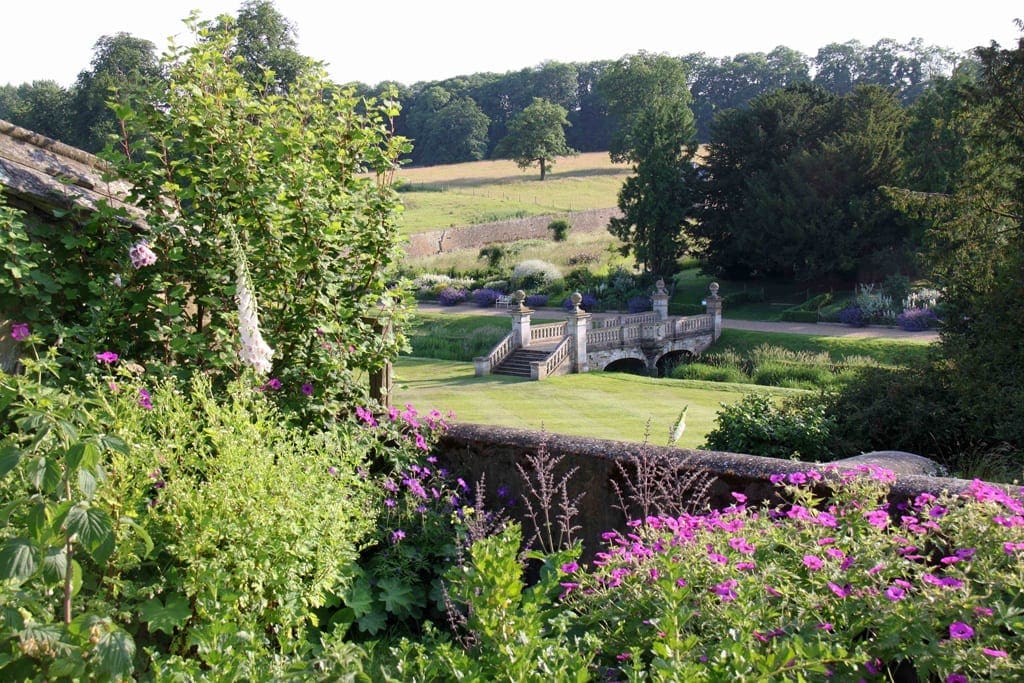 Since 2001, current owner and keen gardener, Ursula Cholmeley, has worked to restore the gardens. Easton Walled Gardens is an oasis of peace and tranquillity ideal for taking some time out, with the sound of birdsong, despite the distant rumbling of the A1, and a pleasant woodland walk, wild meadows, rose garden and a wonderful row of Yew trees. There is also a plant nursery if you want to take a little part of Hidden England with you.
Heading back to the A1, I reflect on my trip. Lincolnshire, Rutland and Leicestershire are no longer places on the map through which I will pass blindly, but counties full of a very English sense of history – although one dominated by kings and queens of French and German extraction, and entitled families. I doubt it will be a further 30 years before I return, and then I will not be dropping out of an airplane when I arrive.
Where to Stay in Hidden England
The wonderful Barnsdale Lodge Hotel, close to the banks of Rutland Water makes for a perfect lodge in Hidden England. Although the main lodge is steeped in 250 years of history – a mere whipper-snapper compared with the other buildings we visit – we stayed in one of their modern, private retreats, which resembled a Scandinavian lodge, only lacking the sauna and reindeer. The ideal base for your trip around Hidden England, we would have willingly stayed longer than our solitary night – apparently one (un)lucky couple have lived here since November 2017, courtesy of their insurance company, after their house was damaged by fire. The respite did allow us to try out the excellent and imaginative local fare served by head chef, David Bukowicki, in the hotel's restaurant – as well as a couple of pints in one of the local pubs where we were engulfed by schoolchildren encouraged by a laissez-faire attitude to the legal drinking age. Try the hotel's trout, you won't forget it.
---
Lincoln Cathedral and Hidden England Photo Gallery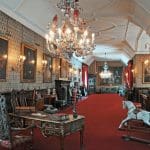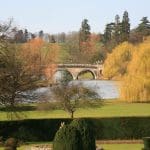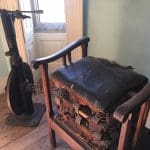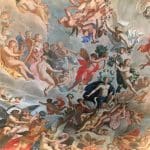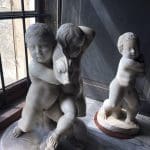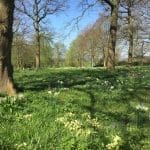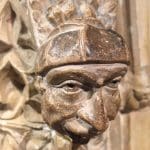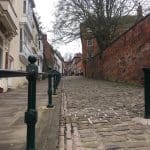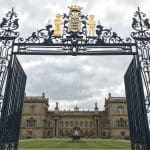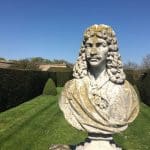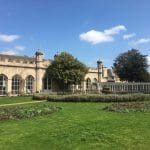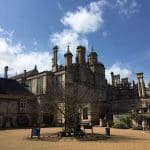 ---
Further Information on  Lincoln Cathedral and Hidden England
Hidden England consists of Lincoln Cathedral, Doddington Hall, Belvoir Castle, Easton Walled Gardens, Grimsthorpe Castle, Burghley House, Peterborough Cathedral and Rockingham Castle. Individuals visiting Hidden England can save up to 50% on admission by purchasing a multi-visit ticket. For more information, visit the Hidden England website.
Lincoln History
Hidden Lincoln provides a great tour of Lincoln Cathedral and Castle as well as the adjoining Roman settlement. For further information, click here.
Visit Lincoln Tourist Information
The Visit Lincoln website is an excellent font of knowledge on all things to do with the city.
Mark Bibby Jackson
Before setting up Travel Begins at 40, Mark was the publisher of AsiaLIFE Cambodia and a freelance travel writer. When he is not packing and unpacking his travelling bag, Mark writes novels, including To Cook A Spider and Peppered Justice. He loves walking, eating, beer, isolation and arthouse movies, as well as talking to strangers on planes, buses and trains.