Sedona Yangon: Too Little Time
Marissa Carruthers
Posted on 24th May 2018
On a travel business trip to the former Myanmar capital of Yangon, Marissa Carruthers finds herself at the Sedona Yangon with too little time to enjoy all its multifarious attractions.
I cursed my packed agenda – three days of back-to-back meetings in Myanmar's mushrooming city of Yangon – as I was shown into my suite at the prestigious Sedona Yangon.
A spacious room was home to a large bed with fluffy, cloud-like pillows, a cosy corner seating area with sofa and table, a working desk, floor-to-ceiling windows affording sweeping views of neighbouring Inya Lake and the sprawling city beyond, and an insanely large bathroom housing a standalone shower and deep bath with a glass window looking out across the bedroom to those outdoor views.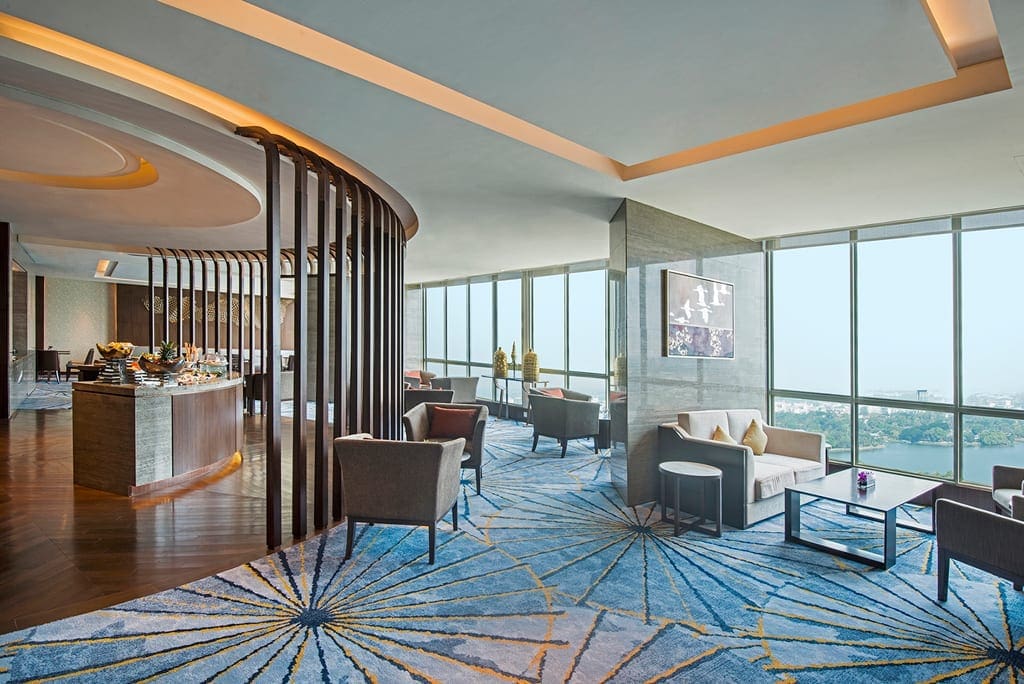 "You have free access to the minibar, which is topped up daily," I'm informed, before being shown to a bowl of fruit, mini cakes and tempting complimentary bottle of red wine that is waiting for me on the table. Sadly, it's 3pm and my first meeting is scheduled an hour later, meaning the wine and minibar will have to wait.
Having checked into the Prestige Suite in the Inya Wing of the Sedona Yangon, which opened in 2016, I was handed a swathe of extras. On top of the free minibar and welcome bottle of wine, I was given access to the executive lounge. The quiet haven that sits on the 25th floor is the perfect place to unwind, nibble on the snacks available from 10.30am to 6pm, enjoy complementary evening cocktails from 6pm to 8pm, or – if you're there on business – make use of the intimate meeting room.
Standing as one of Yangon's most iconic hotels, the five-star Sedona sits on a sprawling eight-acre spot that is home to perfectly manicured gardens. Comprised of two wings, the Garden Wing is home to 366 rooms, while the 29-story Inya Wing houses 431 rooms and suites.
---
Read what Marissa got up to on her trip in 48 Hours in Yangon.
---
Sophisticated elegance runs throughout, with a stylish touch of the contemporary added in the attention to detail that shines throughout. The wings are connected by a fancy walkway dotted with high-end boutiques, a 24-hour convenience store and banking facilities.
The seemingly endless facilities take in a spa, impressively-equipped gym, tennis courts and the city's largest swimming pool. While dining options range from fine Italian fare at Orzo, oriental cuisine at Du Fu or an international buffet at D'Cuisine. The Lobby Lounge serves cocktails and other drinks.
And the hotel is well situated, mid-way between Yangon International Airport and downtown, close to iconic Shwedagon Pagoda and next to the city's first international shopping centre, Myanmar Plaza.
While I may not have been able to indulge in the swathe of facilities available at Sedona, I certainly made the time each evening to sink into a deep bubble bath, glass of wine in hand, and watch the city twinkling below before slipping into the soft bed and enjoying two of the best night's sleep I've had in a long time.
---
Sedona Yangon
1 Kaba Aye Pagoda Road, Yankin Township, Yangon.
Tel. +95 1 860 5377 
Web. sedonahotels.com.sg/yangon
Marissa Carruthers
Marissa inherited her love of travel from her parents, who would entertain her as a child with exotic tales of their adventures across the globe. Her first solo leap into foreign lands was an Inter-railing trip across Europe and North Africa during her first summer at university and, despite two muggings, several dices with death and a terrifying encounter with the monkey mafia, she was hooked.