6 Undiscovered Things to Do in Bangkok
Johan Smits
Posted on 26th Jun 2018
In the first of this two-part series on things to do in Bangkok, Johan Smits brings us to six of his favourite creative and green spots that Bangkok is hiding from the unsuspecting tourist.
If you're a first-time visitor to the Thai city of angels (and sin), plenty of obvious sites will cater to anyone's taste – from palaces, temples and river cruises to markets, shopping malls and nightlife. But scratch a little below the surface and find a city that has more up its sleeve than you imagined. In this first of two parts I've selected my favourite creative spots – and a very large green one.
Erawan Museum
We kick off with one that is hardest to put into words. The Erawan Museum defies not only words but also belief. The first of many things that hit you is the 44-metre-high structure of a gigantic, multi-headed elephant cast in copper, one of Hindu mythology's divine figures. Inside it is probably the closest you come to experiencing LSD without consuming it. The elephant's pedestal is a psychedelic hall housing pink, winding staircases; wonderful statues of mythological creatures and deities; four intricately carved massive pillars depicting scenes from world religions; a stunning stained-glass dome with a map of the world where, for a nice change, Africa lies in the middle – all elaborately decorated with world-class skill and craftsmanship.
Once you think you arrived at the top, you can climb 66 steps up a narrow, winding staircase inside one of the elephant's legs – or take a small elevator in another one. The beast's belly is the inner sanctuary. Strangely abstract frescoes depicting the solar system combine with stunning 8th to 17th century wooden and bronze Buddha statues in temperature-controlled glass cases – a collection rivalling that of any reputable museum. This eccentric but magnificent place is literally the dream of Khun Lek Viriyahbhun, a late business tycoon, who wanted to showcase the foundation of Eastern civilisation through art and religion. Jung and Freud would have a field day in here.
Just as you think you are stepping back into reality, peaceful surrounding gardens populated with rare flora, statues of fantastical creatures, murmuring water and motion-censored golden elephants that trumpete when you pass underneath them, await. The contrast with the neighbouring motorways and grey overpasses couldn't be starker and might make you want to linger a bit longer inside Khun Lek's dream. Its very informative website provides further details including location and entry fees.
ChangChui creative space
More down to earth is the barely one-year-old ChangChui creative space in the suburbs of Bangkok. With its recycling-inspired motto "nothing is useless", ChangChui encourages you to transform throwaway goods into pieces of art, design and fashion. The Sunday afternoon my wife and I visited it, we were at first greeted by a scattering of vintage design shops and art galleries alongside a decent number of Thai food trucks and stalls. But ChangChui, which means "sloppy artisan" in Thai, is more than that. There's a small private museum housing a collection of curios and an English-style garden; a tea house with elegant, rust-coloured recycled chandeliers; an auditorium for seminars and performances; Thai artisanal products nowhere else to be found; evening live music and much more.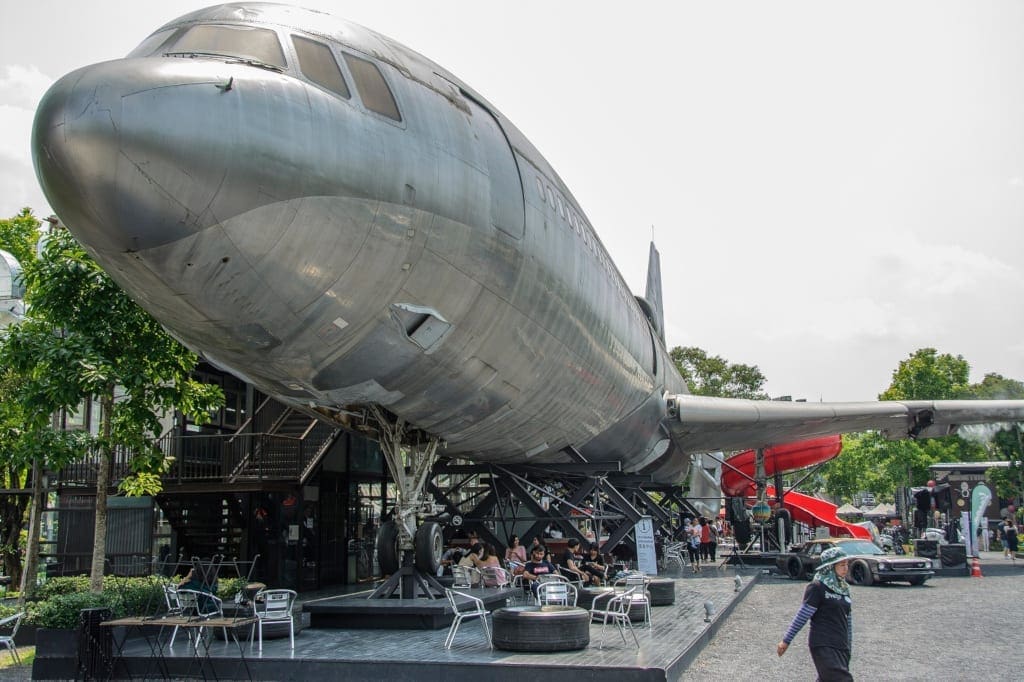 The centrepiece of the 27,000 sqm relaxing grounds is an imposing, decommissioned Lockheed L-1011 aircraft – soon to house a gourmet restaurant – while underneath draft beer is served in the open-air. Life-sized statues of free-roaming rhinos, a giant skull and a pink squid provide a touch of surrealism. Best time to start is around 4pm to experience ChangChui both at day and night – two very different looks and feel. Visit its website for details.
Rot Fai Market
Rot Fai Market – or Srinakarin Train Market – is more famous but deserves a spot for its sheer size and the delightful oddities on display. Unlike ChangChui, it's huge, crowded and only open at night, but also great fun to hang out. Expect confessional boxes from European churches, American vintage cars, delightful Chinese kitsch and countless more cool collectibles you never dreamed existed. This wouldn't be a Thai market if there weren't plenty of food stalls, restaurants and bars – and what better place to keep a barbershop than in the middle of a crowded open-air bazaar? The night I visited a small street band was livening up the already bustling place with local tunes.
This memorabilia market started originally beside train tracks but moved in 2013 to its present spot behind Seacon Square shopping Mall on Srinakarin Road Soi 51. A bit out of the way it's best to go by taxi – but avoid Friday and Saturday nights as traffic can be heavy. Recently, a second branch opened into a much easier to reach area directly behind MRT metro station "Cultural Centre". However, I find the first location more impressive and well worth the effort. Open Thursday to Sunday, 5pm – midnight.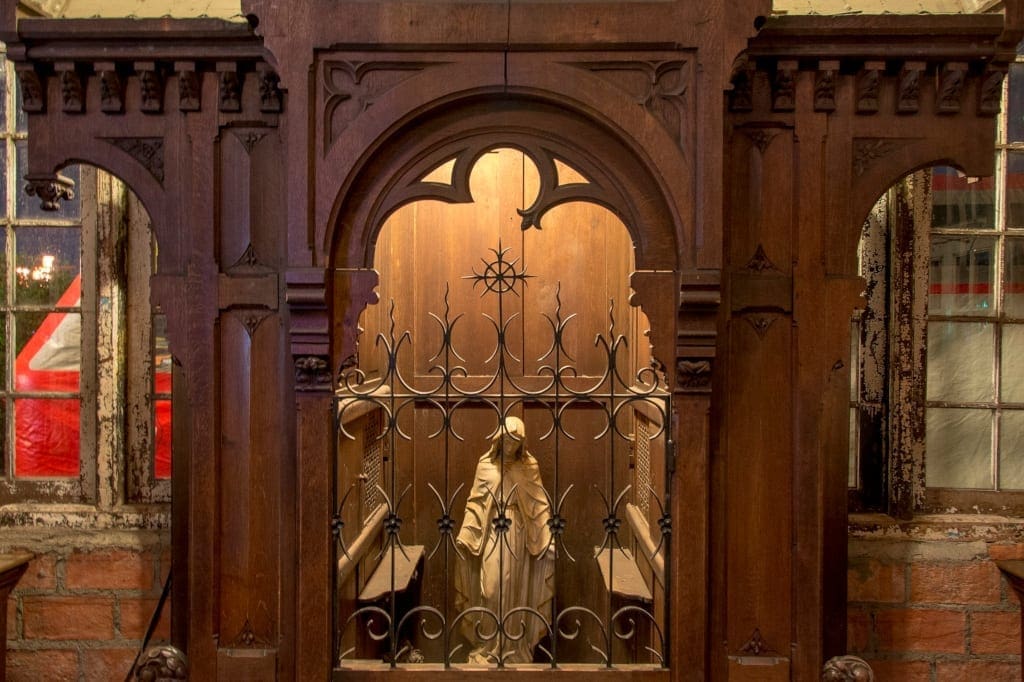 Bangkok Arts and Culture Centre
Next one up is the Bangkok Arts and Culture Centre (BACC), a venue I never fail calling on when passing through Bangkok. When I first visited the BACC six months after its opening, now a decade ago, there were hardly any people while half of its 25,000 sqm space spread out over ten floors was unoccupied. But the BACC has come a long way since then. The first few floors from the ground up now mostly house art-themed commercial units – the museum shop, art galleries, handicrafts, art supplies and design shops – while the top floors are dedicated to exhibitions of local and international artists. But not only visual art – the BACC also embraces music, film, performance and literature, and houses an art library and a people's gallery for public art.
The building has Thai-themed designs incorporated into its architecture while the interior space is developed around a central, circular atrium acting as a unifier of all the happening activities. Located centrally, just across from MBK shopping mall, I always find the BACC a welcoming and instant oasis of creativity and calm. Next time you want a reprieve from the frantic neurosis inside the malls, go and enjoy some art. Full details on their website.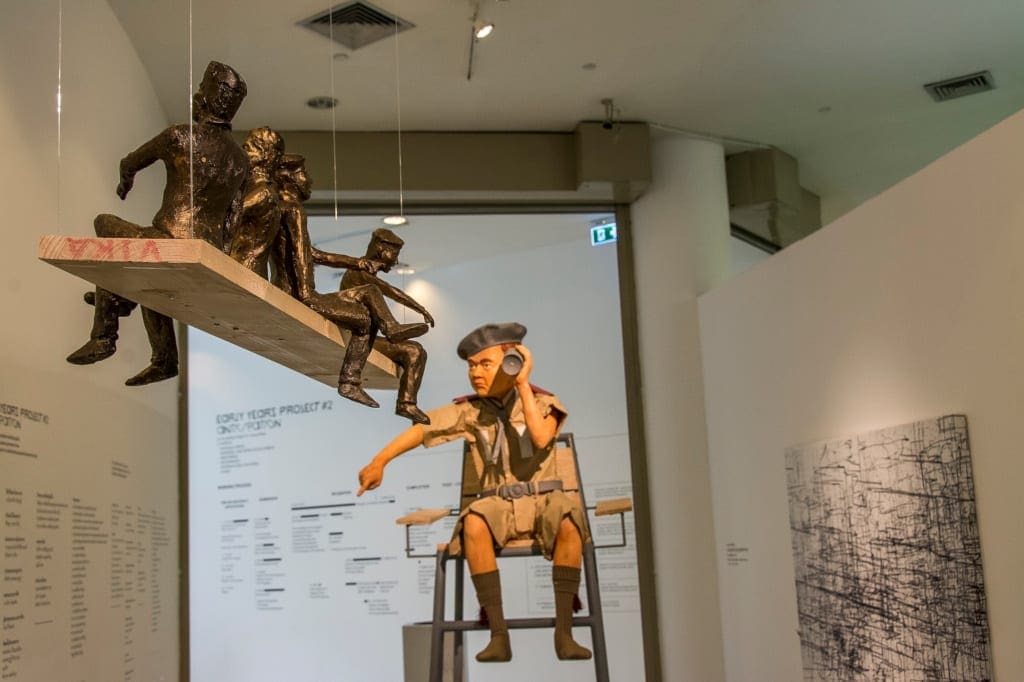 Chulalongkorn University campus
At walking distance from the BACC is the campus of Chulalongkorn University which ticks off both boxes for "creative" and "green". Celebrating 101 years, Chu is Thailand's oldest institute of higher learning. The campus, with its gardens and over 80 rain trees, is a green haven from downtown Bangkok's concrete jungle. What also make this place stand out are its buildings. The 1915 Maha Chulalongkorn structure is the university's oldest and has gables and bas-reliefs reminiscent of Thai temples while its layout and upper windows are European-inspired. Other styles on the campus include neo-classical, colonial, Thai Sukothai, Bauhaus and Art Deco. But my favourite is the 1966 modernist Sala Phra Kieo auditorium with its multi-gabled roofs and windows.
Besides faculties, schools, colleges and universities, Chu also houses a couple of museums free to explore. The new Chualongkorn University Museum houses rotating exhibitions of student artwork as well as a permanent one about the university's history. For enthusiasts of the macabre, the Museum of Human Body inside the Faculty of Dentistry displays skeletons and dissected human bodies. The campus is open daily 8am – 9pm and the museums and other exhibitions 9am – 4:30pm. Visit their website for details.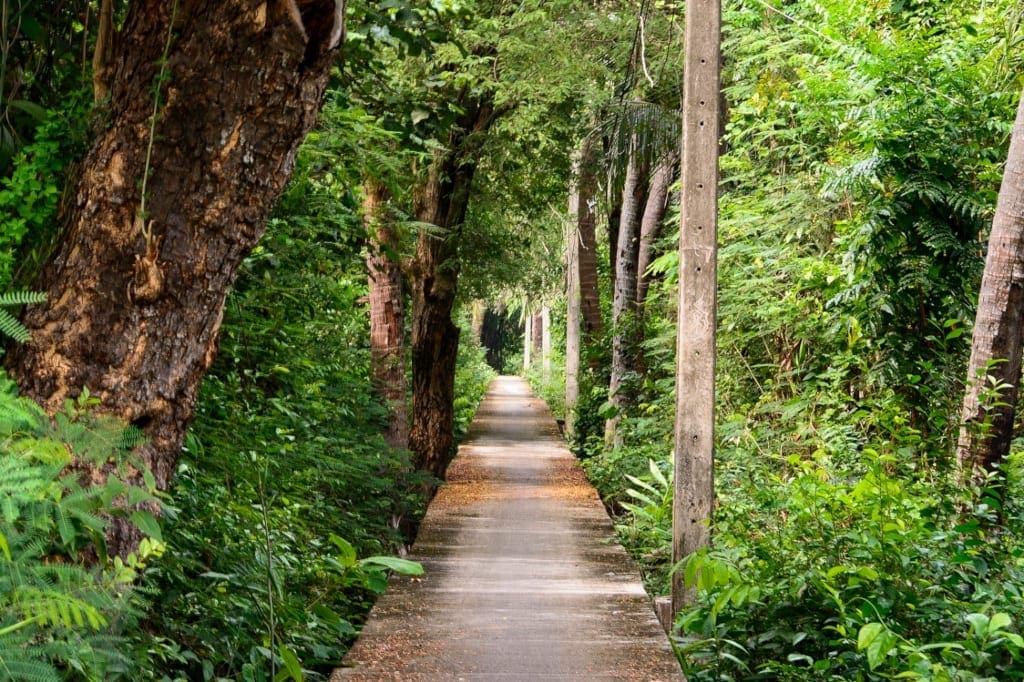 Bang Kachao
Finally, if you need a real injection of (retired) Rambo-style green, then Bang Kachao is your place. Nicknamed Bangkok's green lung, it's administratively speaking not part of the capital, yet it lies smack in the heart of it. TIME magazine once called it "the best urban oasis" in Asia, and it's easy to see why. This is 200 hectares of forest, villages, orchards and farmland where high rises and factories are banned. Located inside a huge meander of the Chao Phraya River, a small canal cuts the area off from "the mainland" which means there are very few cars while the small roads and paths are geared to bicycles and scooters. You can find a telling satellite image of it here.
I love cruising around there on a rented bicycle and enjoy the chilled villages, forests and temples. It's otherworldly being lost in a little jungle while Bangkok's high rises, peeping from behind tree tops, seem just a stone's throw or two away. One of the highlights in Bang Kachao is definitely Sri Nakhon Khuenkhan Park. Full of lakes, pavilions, mangroves, bicycle paths and walking trails, this is a real treat if you long for some quiet and green. And in the weekend there's also a floating market called Nam Pheung.
One way to get there is to take the MRT metro to Khlong Toei station, take the short taxi ride to Khlong Toei Pier (at Wat Khlong Toei Nok) and then cross the river by ferry (5 mins.). Once there you can rent cheap bicycles. Bring sunscreen, a hat and some mosquito repellent.
---
In the second of this two-part series on things to do in Bangkok Johan looks at five nostalgic Bangkok attractions.
---
Bangkok weather
Bangkok weather consists of three main seasons – March to June is hot, July to October is rainy, and November to February is cool. The hot season is probably the least pleasant as daytime temperatures soar as high as 40C while nights offer little respite. Between December and February is often considered to be the best time to visit as there's very little rain, blue skies and cool nights – but this is also the busiest time of the year. A good alternative is to consider visiting during the rainy season. Much less tourists translate into much lower hotel prices, and although Bangkok weather at this time is wet and humid, the spells of torrential rain rarely last longer than half an hour – always a good excuse to pop into one of Bangkok's many coffee shops or restaurants. Bangkok's tropical climate means that getting wet doesn't mean getting cold. Just pick up a cheap 20 Baht raincoat in one of the ubiquitous 7/Eleven convenience shops and join the Bangkokians joyfully ignoring their weather gods.
Flights to Bangkok from Europe
Plenty of major airlines offer flights to Bangkok. British Airways, Thai Airways, Qantas and Eva Air fly directly from London while direct flights from Europe include KLM, Lufthansa, SAS, Thai Airways and Air Berlin. If you're budget-conscious, then a short stopover may help you make considerable savings. Several of the Middle Eastern airlines, including Emirates, Gulf Air and Qatar Airways, offer competitive fares for indirect flights to Bangkok.
---
Things to do in Bangkok photo gallery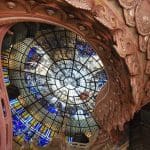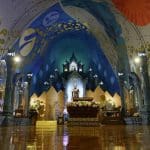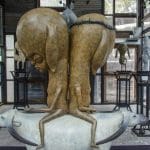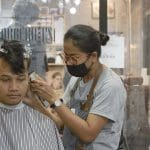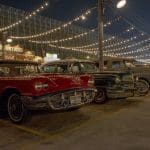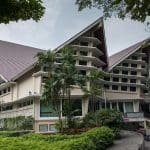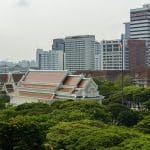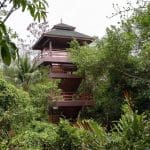 Johan Smits
Freelance writer, translator, web content developer, author of the novel Phnom Penh Express and Tommy, a short story. Loves trying out local brews, avoids noise. Chronically indecisive about where to lay down his hat. Shortlisted AITO Travel Writer of the Year 2018.
Latest Travel News
Upcoming Events

Subscribe to our newsletter