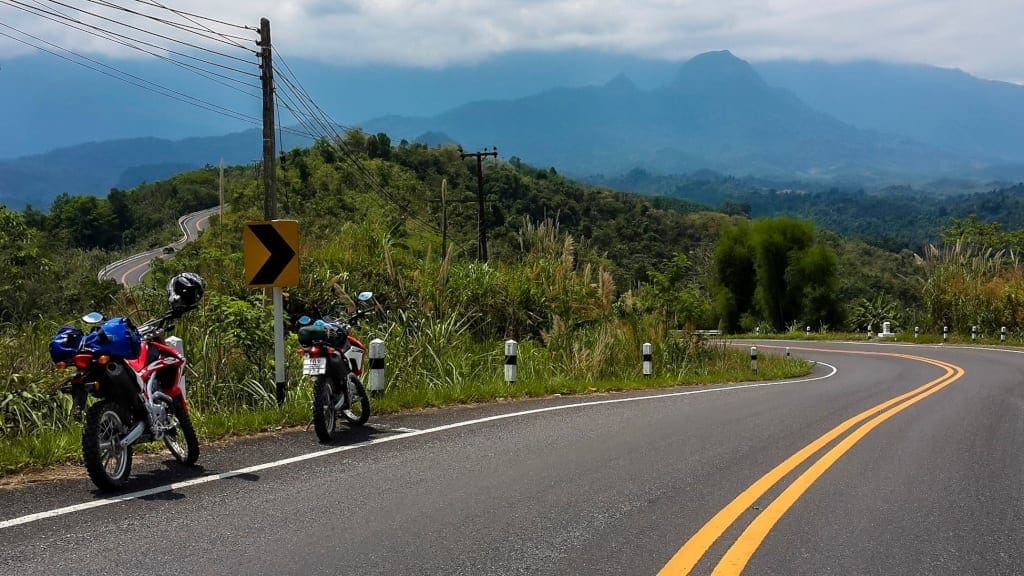 Five-Day Northern Thailand Motorcycle Trip
Johan Smits
Posted on 12th Jun 2018
In search of the legendary Route 1148 in northern Thailand on the back of a metal steed, Johan Smits encounters welcoming villagers, five-year-old coffee and a temple in the sky on his Northern Thailand motorcycle trip.
Route 1148, a winding mountain road that links the northern Thai provinces of Nan and Phayao, is crowned as the ultimate Thailand motorcycle trip in the country – and one of the most scenic. Many bloggers rank it in the top ten riding roads worldwide. Quite a claim but surely, someone must have ridden all the roads on the planet, right?
A favourite motorcycle route of mine in Thailand is driving from Mae Sot, a town smack on the border with Myanmar, northwards along the Moei river to Mae Sariang and Mae Hong Son, and then turn east to Chiang Mai via Pai. It's part of the Mae Hong Song Loop, 600 km containing 4,000 bends and curves – immensely popular with motorcyclists and a perfect introduction to the real northern Thailand. Finding anything better than that was going to be hard. But when my Belgian friend Jan decided to join me on a five-day biking trip during the Songkran holidays – the start of the new Thai lunar year – we were going to ride that fabled road 1148 and check out what all the fuss was about.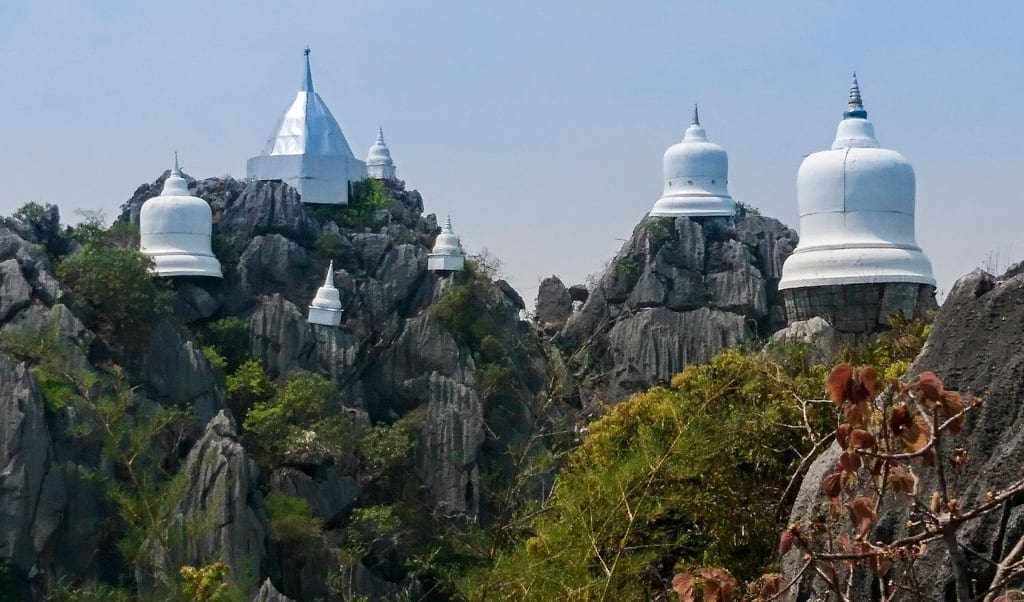 "Don't do this during Songkran, it's suicide!" was the warning we received from anyone who remotely cared about us. Thailand, and especially the north, is notorious for its enthusiastic interpretation of what originally is the gentle act of water sprinkled onto your head by way of blessing for the new year. Nowadays, water guns, buckets with ice water and even hoses are the preferred tools young and old employ to make sure you're blessed properly. So it was with some trepidation that we set off from Chiang Mai, each riding a 250CC Honda CRF – ideal for combining tarmac with off-road.
---
To discover more about Thailand, read Travel Begins as 40's 'Essential Thailand travel Guide for the Over 40s'.
---
When at the end of day two we entered Phayao, the capital of the Thai province bearing the same name, we considered ourselves lucky – the Songkran splashes that hit us on our way so far were, if anything, a welcome relief from the scorching heat. Mid-April is the close of the dry season and temperatures can soar into the lower 40s. It had been a challenging day. An encounter the previous night with two Australians at a little roadside restaurant turned out both a blessing and a curse. The tip-off about a temple complex in a stunning mountain location was a hit, but the price we had to pay for this insider information was climbing several hundred steps under lashing sunrays with an Australian hangover.
This is where you realise how much more Thailand has to offer than beaches and temples
Wat Phra Bat Pupha Daeng is located in Cha Son National Park. The only way we could reach it was by surrendering our bikes in favour of an obligatory songthaew – a converted pick-up truck used for public transport – up a fanatically steep, narrow road where only alternating one-way traffic is allowed, followed by the aforementioned steps to the top. There, perched on mountain peaks were bright, white stupas that looked as if they had been carefully placed by a giant Buddha hand from out of the sky. Add to that an award-winning panorama of the stupas and wide open plains below and you get the gist. Although popular with locals, a total of nine reviews on TripAdvisor indicates this temple is still safely unexplored territory for foreigners.
Driving the main road out of Chiang Mai towards the town of San Kamphaeng had been a little dull but fast – and thus practical for late risers like us who needed to make time. But in northern Thailand you don't need to go far before hitting interesting terrain. The approach to Chae Son National Park was a pleasant main road that really felt like a minor one – meandering through forest, past villages and with enough cascading waterfalls on the way to let you to skip half of them without regret. All of this with little traffic. A stop at the 1,517-metre-high viewpoint threw in a wide open mountain vista of dense jungle while the presence of pine trees reminded me of my Belgian home. This is where you realise how much more Thailand has to offer than beaches and temples.
---
If a Northern Thailand motorcycle trip is not for you, then why not try driving your very own tuk tuk around these wonderful roads? Read Mark Bibby Jackson's Tuk Tuk Travels.
---
But even with its generous supply of national parks, what really sets northern Thailand apart is its people, from waving farmers and local mechanics refusing money to service our bikes, to the crazy but welcoming crowd of Songkran partygoers. Just as we had patted ourselves on the back for arriving dry in Phayao, our walk towards the restaurants along its lake – the third-largest in Thailand – promptly came to a soaking wet conclusion.
This being Thailand, we always found something decent to eat along the way which made for comfortable riding. One of our culinary highlights was Poomsit Coffee in Chae Son. Khun Poomsit creates his homemade brew through two processes – germination and ageing – and uses an artisanal roasting contraption invented by his uncle eight years ago. The result is a sublime five-year-old germinated coffee, unique in Thailand – and an effective exorcist against that Australian hangover.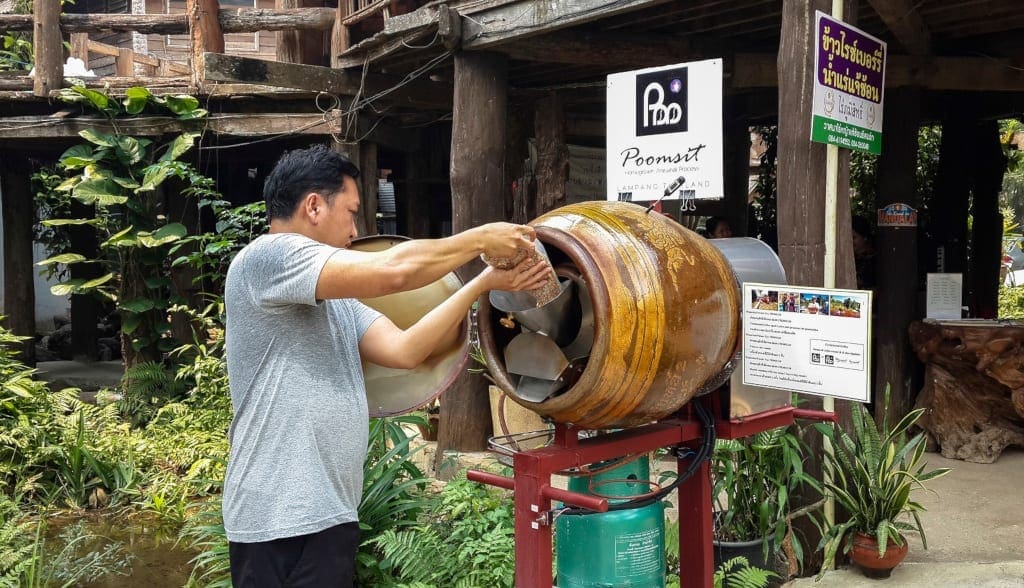 Day three finally confronted us with some serious off-roading. I was supposed to have sketched out a rough itinerary with a mix of tarmac and dirt roads using the excellent MAPS.ME application. But to my intense embarrassment it appeared I had mistaken the grey dotted line marking provincial boundaries for off-road tracks, nipping my nascent reputation as a skilled off-roader in the bud.
When driving from Phayao to the town of Pua we took a turnoff near Santisuk village, the dirt road quickly degenerated into a nearly impassable track with deep killer trenches and inclines that invited both feelings of excitement and a fair amount of cursing. My experience in northern Thailand is that once you go off-road, you have to be prepared for anything, including turning back. In the rain, steep muddy slopes would have made the track impassable, but with the weather gods as our sponsors we pushed through what felt like an endless two hours. The reward was a middle-aged smugness and welcoming locals bemused at seeing sweat-soaked foreigners entering their village from the wrong side.
You quickly understand why northern Thailand is one of the best biker destinations in the world
That evening, admiring the sun setting behind the forested mountains from the terrace of our lodge, we felt that for once we had truly earned the two cold Leo beers sitting in front of us. Excellent Thai food, friendly locals, live music and a game of pool at a roadside establishment in Pua – there really isn't anything else to do in this little town – concluded a biker's night. The next day we'd finally be heading onto road 1148 all the way to Chiang Kham, and further north to the city of Chiang Rai.
It's hard to put into words the feeling of exhilaration and intense concentration that riding the 160km of route 1148 generated. The smooth tarmac, the perfectly cambered curves and their apexes, the climbs and descends – it was a festival of turns and dives, swoops and twists, with bends so sharp they rival u-turns making you suspect its designers must have felt inspired by watching an epileptic snake on speed. Add to that a background of lush valleys, rolling hills and limestone karst, and you quickly understand why northern Thailand is one of the best biker destinations in the world. The only fault with this road is that it's so perfect you're too tempted to race through it and forget to slow down to admire the landscape along the border with Laos. Which is a good enough reason to come back.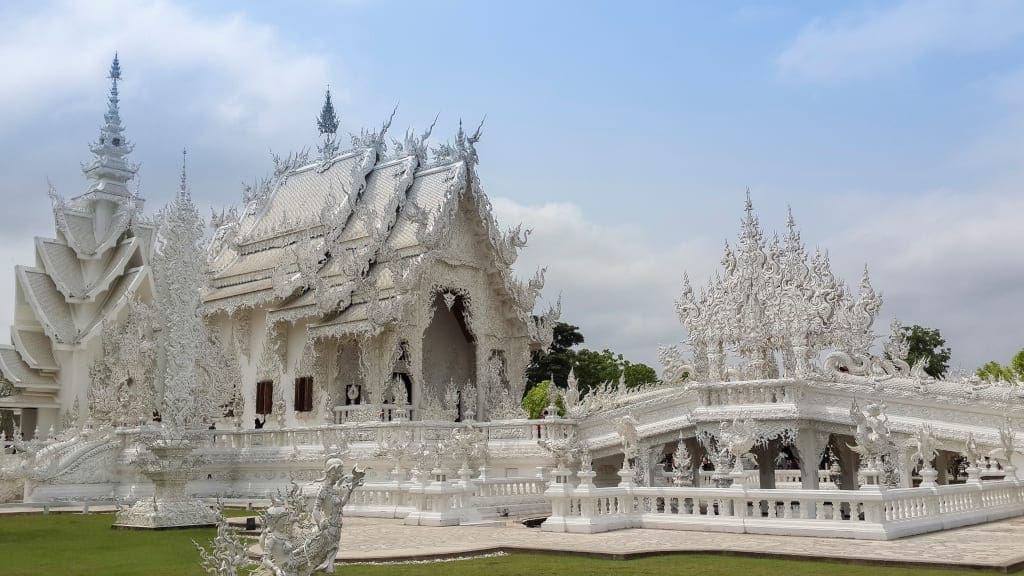 The next day, our last one, began with a visit to the famous White Temple near Chiang Rai. An impressive achievement of intricate architecture by someone who must have been very patient, the White Temple used to be a local curiosity that has since turned into a hotspot for selfie-obsessed tourists. Although certainly worth a stop, I was more taken by the rural stretches of rice fields we cruised through and the tourist-shy villages full of wooden houses with Lanna architecture so distinctive of northern Thailand.
What was supposed to be a straightforward final drive on our Thailand motorcycle trip from Chiang Rai to Chiang Mai did not take into account our lack of off-road reading skills on MAPS.ME. A long and unexpected but fun stretch of challenging off-road through dense forest and small rivers, slowed us down enough to finally throw in the towel and cover the last part of Wang Nua to Chiang Mai via the 118 highway. The siren call of a large bottle of ice-cold Leo beer did the rest.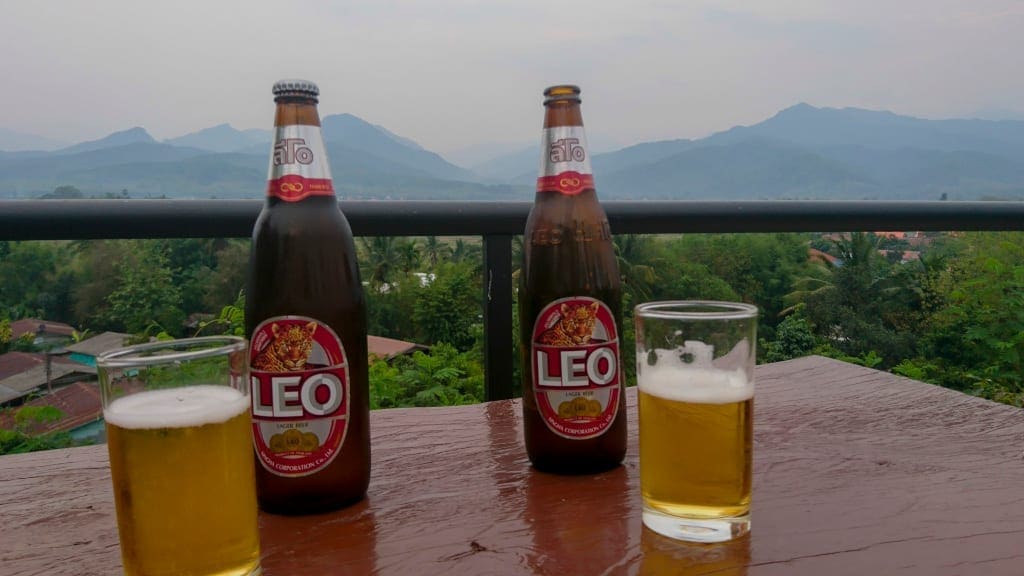 Thailand Motorcycle Trip photo gallery:
---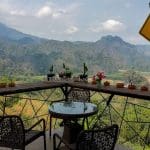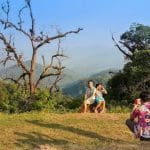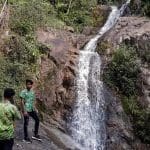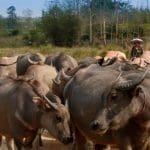 ---
For tips on Thailand motorcycle trip rental, click here.
Johan Smits
Freelance writer, translator, web content developer, author of the novel Phnom Penh Express and Tommy, a short story. Loves trying out local brews, avoids noise. Chronically indecisive about where to lay down his hat. Shortlisted AITO Travel Writer of the Year 2018.