London Weekend Breaks: Haymarket Hotel
Roger Hermiston Eileen Wise
Posted on 20th Sep 2018
On one of their infrequent London weekend breaks, Roger Hermiston and Eileen Wise discover the lure of the capital undiminished while staying at the Haymarket and visiting the West End.
It's a saying repeated ad infinitum, but here it is once more – in full, mind you. Dr Samuel Johnson, musing about his adopted city, told his faithful chronicler Boswell: 'Why sir, you find no man, at all intellectual, who is willing to leave London. No, sir, when a man is tired of London, he is tired of life, for there is in London all that life can afford.'
Nearly a decade ago we gave up our busy jobs in the capital – and half a lifetime's association – and opted for a more bucolic existence in deepest Suffolk. It's not a move we've ever regretted, but just now and then – as prescribed by the good doctor – we feel we need an injection of the cultural and physical pleasures that the capital offers.
The perfect opportunity arose recently when we had the chance to stay in a London hotel at the same time as watching one of the West End's most highly acclaimed plays. Comfort, pleasure and intellectual stimulation all rolled into one hectic twenty-four package.
Haymarket Hotel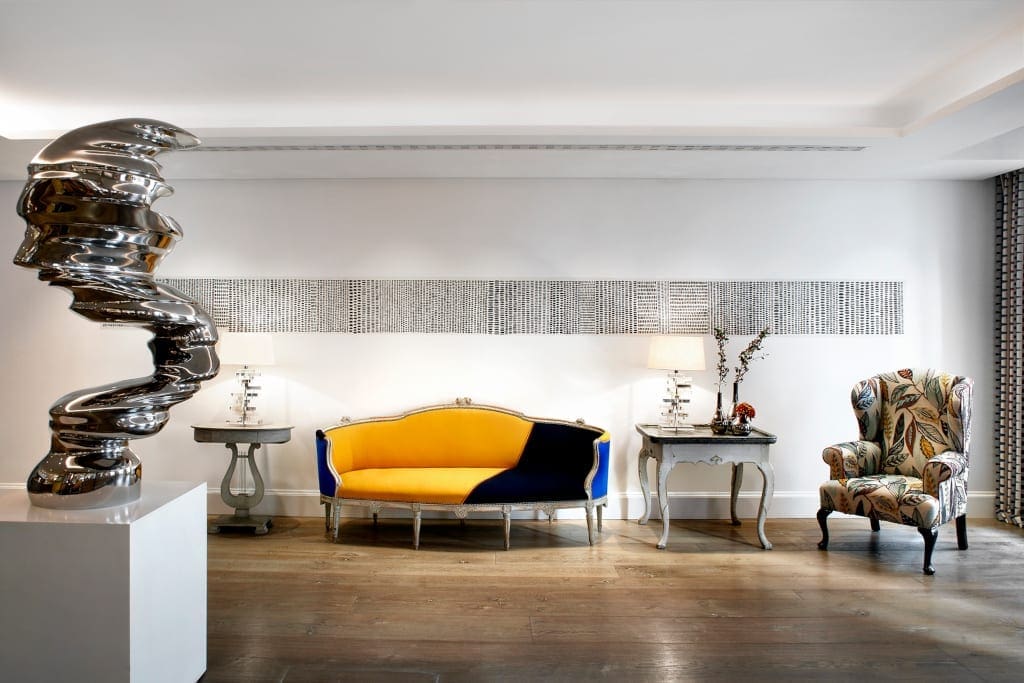 Driving into town via Docklands, we observed how the cityscape has changed over the decade since we have been away, a multitude of offices and homes of varying architectural worth filling the gaps in former deserted brownfield sites. If our mood was slightly irritable after we hit a series of roadworks and detours after Tower Bridge, it lifted immediately once we had parked the car off Trafalgar Square and strolled to our destination, with its comforting address of 1 Suffolk Place.
The quality of the welcome you receive at a hotel reception colours the whole perception of your visit. Here, at The Haymarket Hotel, we were greeted like old friends and our spirits soared accordingly. Indeed, friendliness, enthusiasm and attention to detail were the characteristics of all the staff at this boutique hotel throughout our stay.
---
If you are planning on visiting the UK then consider reading our Essential Travel Guide to UK Holidays for the Over 40s?
---
The Haymarket is one of the Firmdale group of high-quality hotels owned by husband and wife team Tim and Kit Kemp, comprising eight establishments in London and two in New York. The Soho, with its state-of-the-art screening rooms showing BAFTA films, and Ham Yard, with its 190-seat theatre and bowling alley, are perhaps the two best-known here.
But the Haymarket is as exquisite as any of them. Situated in the heart of the theatre district, with the Theatre Royal just around the corner, it's a short walk from the likes of the National Gallery, Royal Academy, St James's Park, and the quality shops of Piccadilly and Jermyn Street.
With its fifty beautifully designed bedrooms and suites, together with an exclusive five-bedroomed townhouse The Haymarket bears the stamp of that master Regency builder John Nash, who was responsible for so many magnificent buildings in this part of town.
We were allocated a delightful, spacious one-bedroom Suffolk suite, cloaked principally in the contemporary English style but with the odd exotic, mainly African/Caribbean flourish. However, the stylish drawing room was a throwback to a different age with a splendid old record player and an eclectic range of vinyl offerings, including albums by Frank Sinatra, The Platters, Miles Davis and Bob Dylan inspiring us to have a romantic slow dance around the room.
The Swimming Pool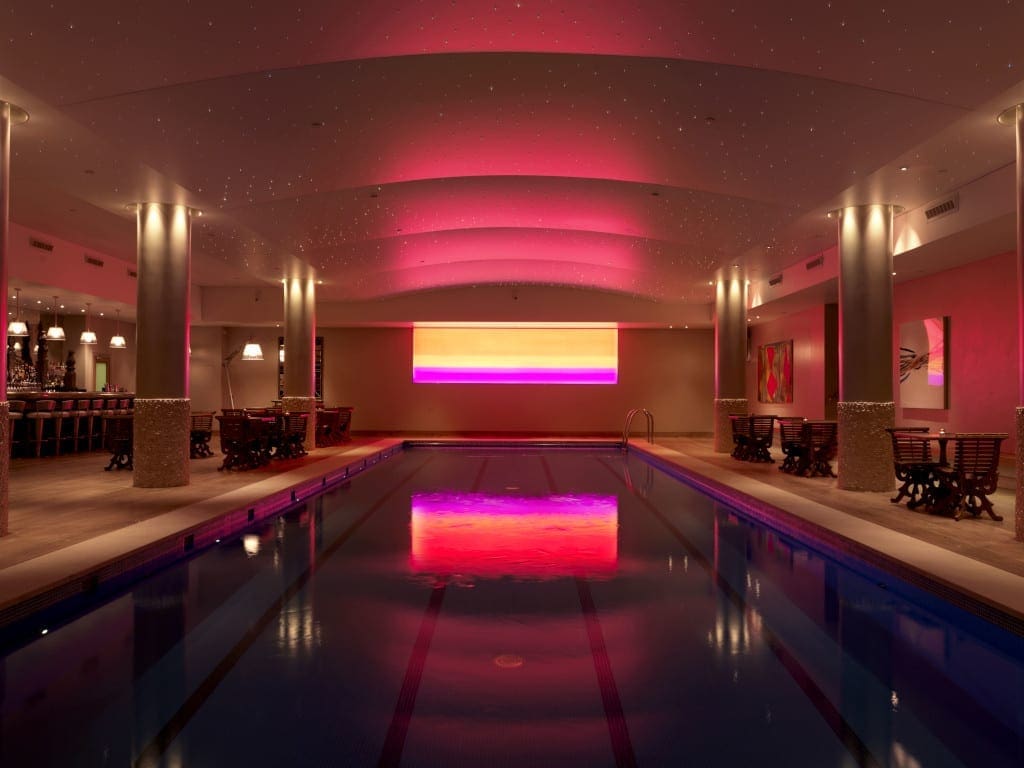 But more energetic pursuits awaited elsewhere – namely down in the basement, where we discovered the most magnificent swimming pool. If you were drawing up a list of London's best pools the RAC Club's vast Romanesque bath, with its spectacular cluster of mosaic clad columns and pilasters, would be hard to beat. So atmospheric is its setting that the novelist Alan Hollinghurst set a thrilling, somewhat steamy – in more ways than one – scene there in his book The Swimming-Pool Library.
But the Haymarket's spectacular 18-metre pool gives the RAC a run for its money. Edged in stone, it is surrounded by acres of grey oak and features a ceiling covered in hundreds of fibre-optic lights. Losing yourself in dreamy colours of purple, blue, orange, yellow and pink on the ceiling and walls makes a forty-lap workout completely relaxing. And if you're a sports fan, while you plough your lengths you can watch Tiger Woods rolling in a putt or Joe Root striking a boundary on the vast TV screen situated at one end of the pool.
Before we headed out on our theatre date we stopped to admire the Shooting Gallery, the most stunning of all the Haymarket's rooms, the centerpiece of the hotel. A vast space – sixty-foot-long with eighteen-foot high ceilings – it is nowadays primarily a private dining or events room. But it takes its name from the more dissolute Regency period when country men visiting town loaded their revolvers and practiced their shooting, before settling down no doubt to a lavish dinner – presumably in an adjoining room, rather than amongst the smoke and debris they had created.
The room certainly has a Georgian feel to it, with huge, ornate chandeliers, elegant chairs and carpets, but the dramatic wallpaper features jungle landscapes and the paintings depict African men and women from a bygone era. Just to add to the mix, the room's furniture includes 1970s lucite tables and lamps.
The Pressure of the West End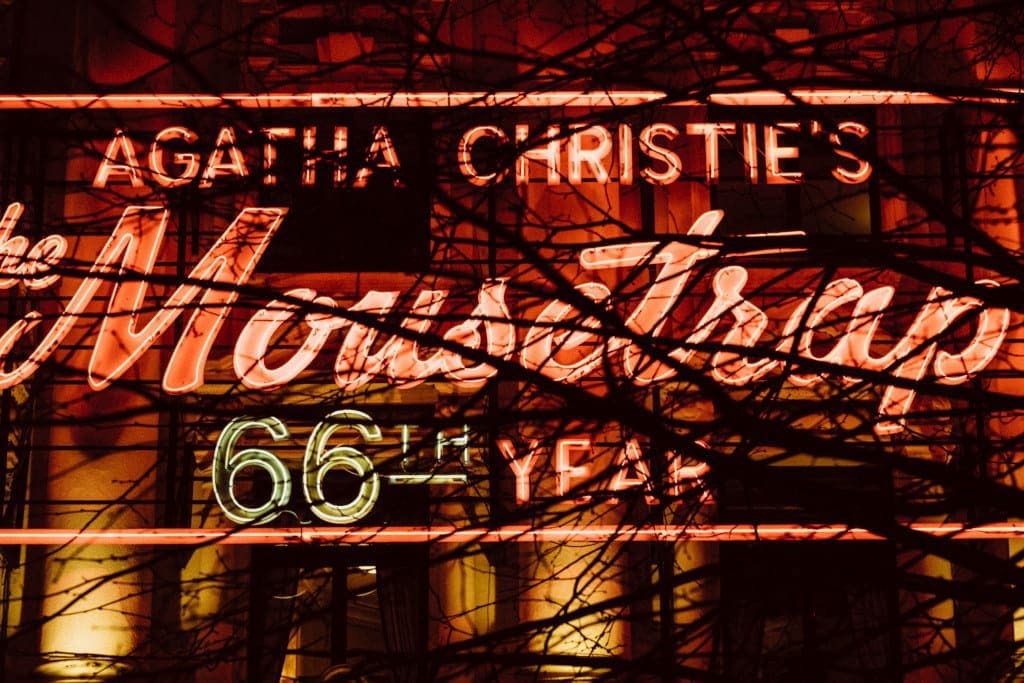 But we had to tear ourselves away from our funky, quirky hotel and take a ten-minute walk across Leicester Square, up St Martin's Lane and to West Street, just off Shaftesbury Avenue. West Street is the site of The Ivy restaurant, haunt of celebrities and politicians, and also of St Martin's Theatre, which currently hosts – and has done for many years – The Mousetrap, Agatha Christie's whodunnit, now in its 66th year.
In fact The Mousetrap started its run in 1952 next door in The Ambassadors Theatre, where we were now headed. The Ambassadors' other great claim to fame is that this is where the great Vivien Leigh made her West End debut in The Mask of Virtue in 1935 – also the first time an enraptured Laurence Olivier saw her perform.
The Ambassadors is one of the smaller West End theatres, ensuring an intimate atmosphere as you feel close to the actors. On this day it was packed out for the matinee, with a substantial crowd waiting outside in case of returns.
Within minutes of the performance starting, it was clear why there was so much interest. We had come to see Pressure, a play about the dramatic events in the forty-eight hours leading up to D-Day in 1944, featuring the efforts of the Scottish meteorologist Dr James Stagg to persuade his military masters – primarily General Dwight Eisenhower – to postpone the biggest seaborne invasion in history because of his fears of adverse weather.
At the heart of this magnificent play is a clash of personalities and methods between Stagg, a tenacious, taciturn professional meteorologist, and Colonel Irving P Krick, Eisenhower's more flamboyant personal weatherman who had a Hollywood background – one of his jobs was to advise the producers of Gone With The Wind about the best night to shoot the burning of Atlanta. These two men battle tooth and nail to convince Eisenhower – Stagg urges delay as he believes a storm is coming, Krick is adamant the weather in the Channel on June 5 will be glorious.
Ultimately this is a thriller about the weather, with the lives of 300,000 men – and the future of the world – at stake if the meteorologists get it wrong and send the army across the Channel in storm-tossed seas.
David Haig – Four Weddings and a Funeral and The Thick of It –, who wrote the play, is quite brilliant as the stubborn Stagg, while Philip Cairns captures the smooth, at times arrogant, Colonel Krick. General Eisenhower, anxious, impatient yet ultimately fair-minded and far-sighted, is played by Malcolm Sinclair, while Laura Rogers is excellent as his determined yet sensitive driver/secretary and 'very close' companion Kate Summersby.
We all know the ending of the story, of course, but the road to get there in this telling is fractious, hilarious and at times deeply moving.
Dinner at the Haymarket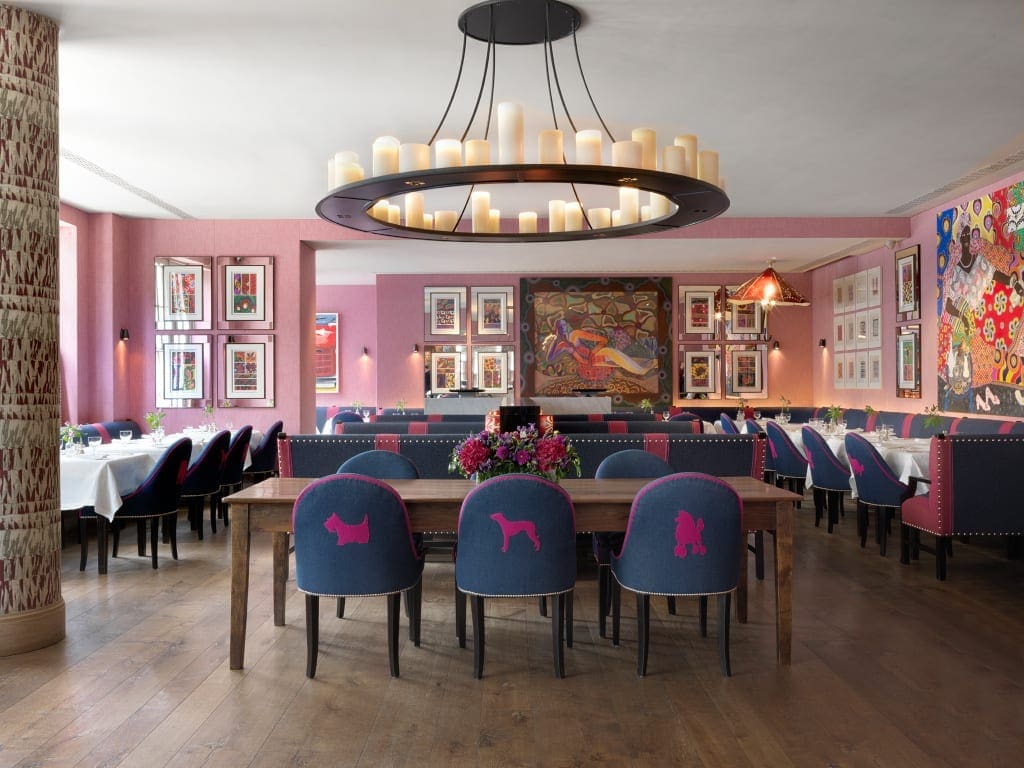 Spirits high after an afternoon of thrilling entertainment, we returned to the Haymarket and enjoyed another energetic swim before heading to the hotel's colourful Brumus restaurant. First, champagne and cocktails in the bar to the sound of the live Leon Garner Trio, one of the capital's most sought-after jazz and swing acts. Then to the dining-room, with lemon sole and chocolate pudding washed down with a crisp, dry white wine – the perfect end to the day.
In the morning there was time for a swift visit to our favourite bookshop, Hatchard's, and to then to Fortnum and Mason's to buy the obligatory box of chocolates. We beat the traffic and were home in a couple of hours, slipping back into our quieter life. But Dr Johnson clearly has a point, and we'll be back before too long for another slice of exciting West End life.
---
London Weekend Breaks at the Haymarket Hotel
Rates at Haymarket Hotel start at £330 per room per night inclusive of VAT and breakfast, for more information, visit: www.firmdalehotels.com.
Roger Hermiston Eileen Wise
Roger was Assistant Editor of Today on BBC Radio 4, while Eileen headed up the global PR for The Economist and Reuters. When not travelling near and far, Roger writes narrative 20th century history books such as 'The Greatest Traitor' and 'All Behind You, Winston', and Eileen now works as a counsellor from their Suffolk cottage. They have a remarkable menagerie including a pony, two donkeys, three cats, two peacocks and a guinea fowl.