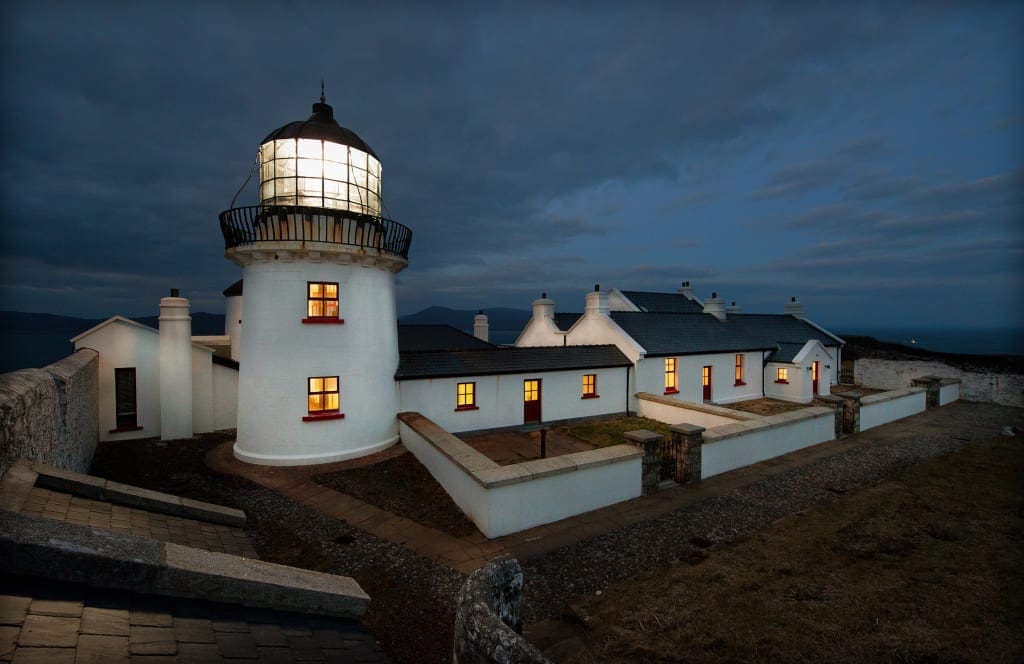 Luxury Hotels in Ireland: Lighthouses to Ice Houses
Roger Hermiston Eileen Wise
Posted on 1st Nov 2018
On their second trip in a year to the Emerald Isle Roger Hermiston and Eileen Wise visit three luxury hotels in Ireland, learn about falconry, stay in a lighthouse, dine on the Orient Express and sleep in an Ice House.  
I was fed up – and I looked haggard. I'd waited with bated breath all day, but now I was certain I'd been hoodwinked. In one fell swoop I was under his thumb, wrapped around his finger. I was at the end of my tether, all I could do was cadge a lift and head off down the pub.
It might be the opening sentences of a hackneyed novel, but in fact all these phrases are plucked from the ancient practice of falconry – and there are many more – that have taken their place in colloquial English. "Fed up" is when a hawk has eaten its fill. "Hoodwinked" refers to the leather hood that falconers use to cover a hawk's eyes and keep it calm. And "haggard" is the thin, tired-looking migrating falcon at the end of its journey.
---
When in Ireland, why not try out the capital? Read Irene Caswell's Things to do in Dublin: the Perfect Short Break. Or pop in on the Dublin Book Festival in November.
---
This resonant language, found in many of Shakespeare's plays, is just one element in the story of one of the world's oldest hunting and sporting pursuits, recounted to with great aplomb by Jason Creasy, the skilled Master Falconer at Glenlo Abbey Hotel, just outside Galway in Ireland. But, of course, the real thrill was getting close up and personal with his magnificent birds.
The Falconer's Tale
It was a truly enchanting, thrilling experience to spend an hour in the company of Seamus the Harris Hawk, Pandora the Peregrine Falcon, Amber the Indian Eagle Owl and Ghost the Barn Owl. Watching these wonderful predators swoop down towards you, land their taloned feet on your gloved hand and then stare you in the eye with their laser-like vision, brings you in touch with nature's finest creatures in a way few other experiences will.
The lesson from Jason – resplendent in the traditional tweed uniform of the Master Falconer – was the perfect way to start our tour round Ireland. Stimulating outdoors activities abound aplenty at and around the splendid luxury Glenlo Abbey Hotel, situated on a stunning 138-acre estate by the shore of Ireland's second largest lake, Lough Corrib.
With archery and fishing available, Roger chose to take on the hotel's challenging nine-hole golf course, designed by Ryder Cup legend Christy O'Connor, while Eileen headed off to the nearby Moycullen Riding Centre to enjoy a scenic ride with guide Tommy on a steady sweet mare named Sheba.
Dinner on the Orient Express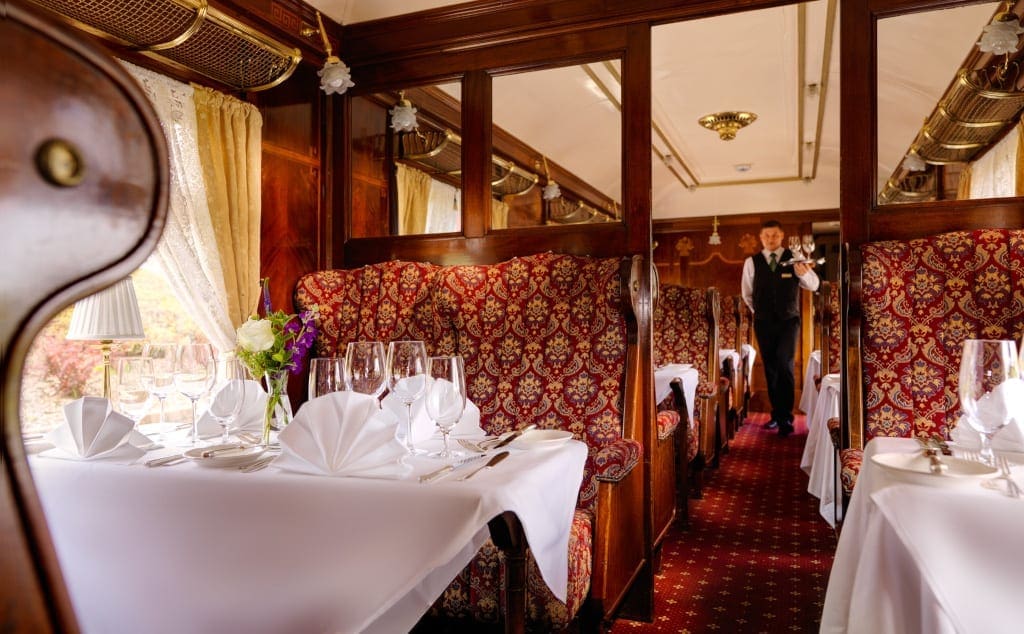 After the day's exertions, superb food and entertainment awaited in the most original of surroundings. We were welcomed 'on board' the Pullman Restaurant in the hotel grounds, which comprised two parked, converted railway carriages which had seen service on the Oriental Express – and whose final journey had been as part of Winston Churchill's funeral cortege in 1965.
Being served in our own private compartment was a real event – the atmosphere heightened by an accompanying discreet soundtrack of chugging wheels, hissing brakes, bells and whistles. These Pullman carriages had once graced the silver screen, taking their place in Sidney Lumet's 1974 version of Agatha Christie's Murder on the Orient Express.
All of which leads on to the second of the Glenlo's major attractions – its very own cinema. The Abbey Movie Theatre, an intimate room dressed in rich fabric and surrounded by dark mahogany panelling, seats fifteen and often has two showings a day. On our first night we enjoyed You've Got Mail with Tom Hanks and Meg Ryan, followed on the second by a real classic treat – Casablanca.
To the Lighthouse
Leave Glenlo Abbey and within minutes you're in the city of Galway, with its eclectic array of restaurants and bars and its vibrant arts culture. Having enjoyed this on a previous trip, we decided to explore the much underrated and varied territory of County Mayo, with its high cliffs on the Wild Atlantic Way, lonely mountains, crystal clear lakes, wild boggy areas and bright fuschia hedges.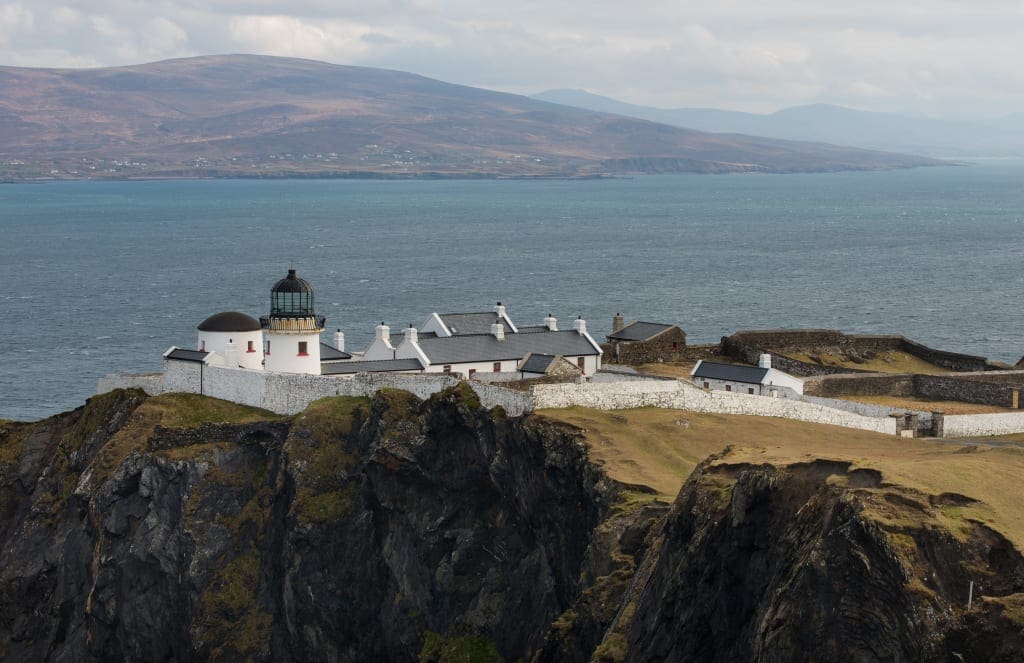 First, we left the mainland to sample the second gem from Ireland's Blue Book the luxury hotel and country house guide to Ireland and Northern Ireland; the 200-year-old Clare Island Lighthouse hotel, standing proudly 120 metres above sea level at the northernmost height of the island with spectacular views of the Atlantic Ocean.
Decommissioned in 1965, and bought and renovated in 2008 into an extremely comfortable hotel with six characterful suites, the lighthouse has maintained many of its original features, including the original tower. Its all-round quality and special ambience were what persuaded the judges to vote it Europe's Best Boutique Coastal Hotel in 2016.
If you decide to hunker down during the day here at The Lighthouse, you can enjoy your tranquillity and get stuck into a good novel in front of a blazing fire. It can be, especially when the weather is rough, an exciting, elemental experience. At night, however, you must embrace conviviality while dining with your fellow guests, kindred spirits who have wound their way here, under the expert stewardship of manager and 'mistress of ceremonies' Roie McCann.
The tempestuous Irishwoman so impressed her enemy that Elizabeth released Grace's son from prison
We worked off The Lighthouse's excellent home cooking by taking a walking tour of Clare Island, which is only fifteen or so square miles. Hundreds of sheep watched unconcerned, and a couple of pretty black ponies let us stroke them as we wended our way up and down the hills. Dipping down the centre of the island, past a tiny lake – Lough Merrignagh – and an area uncomfortably named Kill, we reached the coast and a 12th century abbey.
The Cistercian abbey has the most remarkable wall and ceiling frescoes, mainly hunting scenes in beautiful red colours. In the graveyard lie the tombstones of many O'Malley's – for the island is famed, above all, as the stronghold of Grace O'Malley, the 'Pirate Queen', whose castle is a few kilometres along the coast at the quay. A thorn in the flesh of the English throne, Grace met the equally redoubtable Queen Elizabeth 1 in a famous 'summit' meeting in July 1593. The tempestuous Irishwoman so impressed her enemy that Elizabeth released Grace's son from prison and allowed him to return to Clare Island.
Luxury hotels in Ireland: Enniscoe House
One of the joys of this trip through Ireland, lay in the contrast of our Blue Book luxury Ireland hotels. From the rugged environment of Clare Island we returned by ferry to the mainland, leaving the coast behind for the gentler landscape of woodlands and meadows that surround Enniscoe House, an elegant country house on the banks of Lough Conn.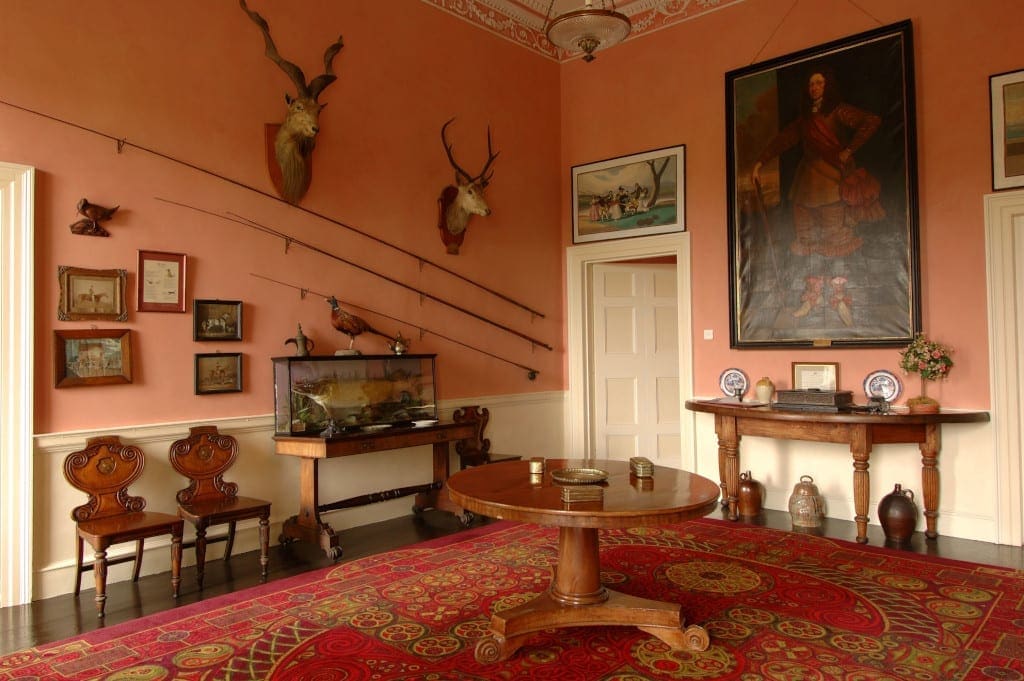 Originally built as a substantial farmhouse around 1740, Enniscoe House eventually became a classic Irish Georgian country house, and it retains the look and the feel of that time.
Current owner Susan Kellett took over the property from her brother in 1984 and now runs the house with her son DJ. She is more than happy to regale you with vivid stories about the politicians, soldiers and their wives whose many portraits gaze down on you from the vast walls, or open up the old hunting and shooting books laid out on the tables for the interest of guests.
A favourite tale dates from 1798 when General Humbert's invading French army entered the grounds of Enniscoe – the farm lane they marched down is still known as 'The French Avenue' – and the soldiers chopped up wood for their bivouac fires while the officers raided the house's wine cellar. A few days later, this rebellion against British rule was summarily put down. Colonel Jackson, the then owner, was able to claim significant damages for the French looting.
Enniscoe is a living, breathing country house, certainly not one set in aspic
Walking around Enniscoe House's beautifully proportioned and decorated rooms, allowed us to admire the paintings of Susan's mother, Patita Nicholson. A student of art at the Royal Hibernian Academy in Dublin in the 1930s, she painted people and landscapes, including scenes in and around Enniscoe, in a wonderful pastoral style, as well as some family portraits.
But Enniscoe House is not simply an elegant, aristocratic country house hotel, replete with antiques and period furnishings in the various sitting rooms, and luxurious four-poster beds and deep baths in the huge bedrooms, for it takes pride in its splendid Victorian walled garden, and pleasure gardens and woods that extend to the shore of Lough Conn. Enniscoe has become the latest habitat for the endangered red squirrel, which has made the journey from nearby Belleek Woods having been reintroduced to the area in 2007.
On the morning we departed we joined a nature walk, hosted by Bird Watch Ireland as part of Enniscoe's new Biodiversity Weekend which also featured lectures and demonstrations of apple pressing and willow weaving, and other country pursuits. Sadly, we failed a catch a glimpse of the – admittedly – very shy red squirrel. But we came away with the conclusion that Enniscoe is a living, breathing country house, certainly not one set in aspic.
Spa Hotels Ireland: The Ice House on the River Moy
A twenty-minute journey east took us to the outskirts of the handsome town of Ballina and our final Blue Book destination, a very modern hotel called The Ice House on the banks of the River Moy. It, too, has a fascinating backstory. For in the 19th century industrial quantities of salmon were being caught in the Moy and shipped to Dublin for export to great cities, such as Liverpool. These perishable goods needed storing in great blocks of ice – in the vast cellars of a substantial neo-Tudor house that was then called Iceland Cottage or Iceland House.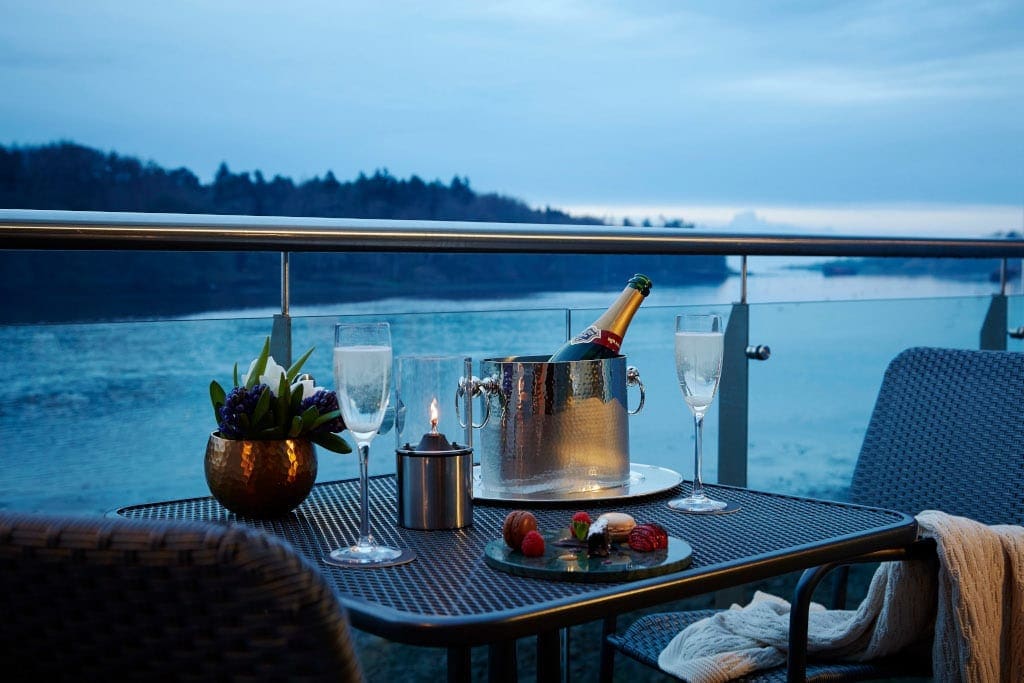 Today, both house and cellars have been converted into a chic boutique hotel and lively restaurant with a real buzz. We stayed in one of the Riverside suites, the Bronze, with the most magnificent, panoramic views across the Moy. Much time was spent on our private balcony watching the wildlife on the river, the highlight of which was a stately heron stalking through the water in search of her lunch.
Underfloor heating, a king size bed with soft goose down pillows and duvet, and a separate sitting room in tasteful contemporary décor made leaving the room a chore. But we made it down the corridor as far as the welcoming Chill Spa, to enjoy excellent, soothing massages before stepping out onto its terrace and into a cedar hot tub, with equally glorious views over the river, for a blast of warm water jets to further complete the rejuvenation of body, and mind.
---
If reading Eileen and Roger's experience of luxury hotels in Ireland, has piqued your interest, why not discover more about their first adventure in Ireland, read Ireland Travel by the History Book.
---
Despite the Ice House's constant allure, we managed to make it back to our car and headed for the Wild Atlantic Way for a final journey to a dramatic destination, through the town of Killala to Downpatrick Head.
Tourists in this part of the West coast of Ireland tend to head in their hordes to the Cliffs of Moher for the most dramatic view over the rocky, rugged coast. But we were able to appreciate Downpatrick Head, with its majestic sea stack Dun Briste – the eroded column reaches fifty metres into the sky – in almost complete quiet. A walk along these precarious cliffs brought us to a statue of St Patrick, he founded a church here, and a plaque commemorating the 'father' of Irish Republicanism Wolf Tone and his ill-fated 1789 rebellion against the British crown, as well as a World War Two lookout post.
Sadly, it was all too soon to return to the West of Ireland airport at Knock and the flight home. No time to call in on Knock's world-famous shrine at the parish church, where the 'miracle' of 1879 took place, involving the visitation of the Blessaced Virgin Mary, St Joseph and St John the Evangelist. But our imagination and our senses had been stirred enough by the many earthly delights of County Mayo.
---
Luxury Hotels in Ireland Photo Gallery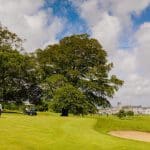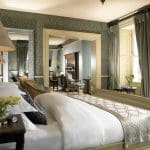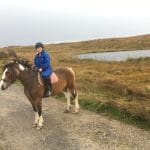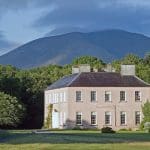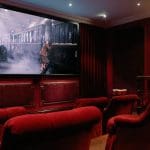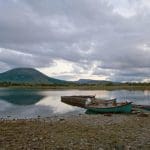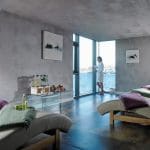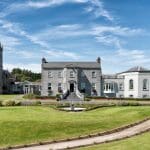 ---
Booking Luxury Hotels in Ireland
If you are considering booking one of these luxury hotels in Ireland, or another hotel, please consider using our hotels' booking portal. It will not cost you anything extra, but the small commission we make on each booking helps with the running of this site.
---
For more information on Luxury Hotels in Ireland
Visit: www.irelandsbluebook.com
Flights from Stansted to Knock Airport
Visit: www.ryanair.com
Roger Hermiston Eileen Wise
Roger was Assistant Editor of Today on BBC Radio 4, while Eileen headed up the global PR for The Economist and Reuters. When not travelling near and far, Roger writes narrative 20th century history books such as 'The Greatest Traitor' and 'All Behind You, Winston', and Eileen now works as a counsellor from their Suffolk cottage. They have a remarkable menagerie including a pony, two donkeys, three cats, two peacocks and a guinea fowl.