Windrush: A Celebration at the Barbican
Robert Spellman
Posted on 20th Nov 2018
Writer and musician Anthony Joseph has said of his project Windrush: A Celebration, 'How do we look at 70 years of musical and cultural impact?' Indeed, so deeply entwined are Caribbean and British culture, that the question can't help sounding rhetorical.
As an aspect of such a task, the November 17 show, marking the 70th anniversary of the arrival of HMT Empire Windrush at Tilbury Dock in Essex from Jamaica, and itself a part of wider celebrations throughout London this year, works brilliantly. The performances are superb and it is visually arresting. The word celebration, however, isn't quite enough to describe an event that references Black Lives Matter protests or details British police brutality against black Britons. Joseph himself uses sobering quotes from West Indian novelists Sam Selvon and Earl Lovelace during performance poem Caribbean Roots early in the evening. Nevertheless, an atmosphere of entertainment somehow survives.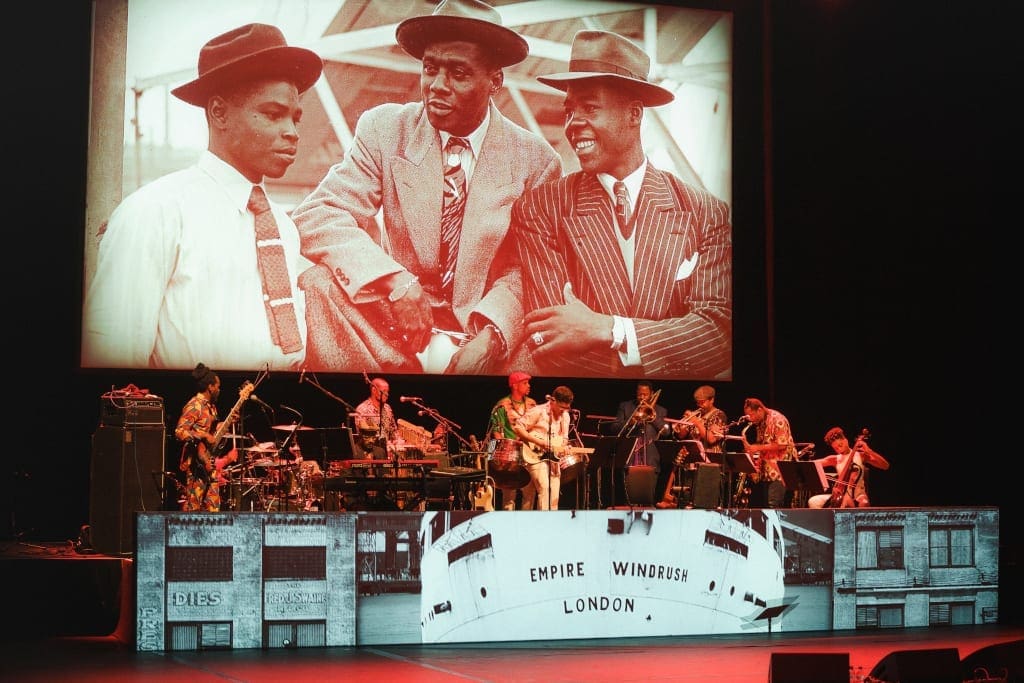 The night opens with Harry J All-star's reggae anthem The Liquidator and an instrumental version of the late Lord Kitchener's calypso classic London Is The Place For Me (Kitchener himself was on the 1948 Windrush voyage). Composer Jason Yarde, Joseph's project collaborator, leads a killer 11-piece band who switch between jazz, reggae and afro-beat all evening, and above the musicians a large screen plays Pathe-style photographs of young men and women docking at Tilbury, swaying palm trees, yellowing polaroids of Buckingham Palace and the Changing of the Guard.
Trinidad veteran Calyspo Rose (see photo below) continues the breezy mood with her ranking anthem Calypso Queen, flipping up her shirt and gyrating her pelvis to audience approval and fellow calypsonian, Mighty Sparrow, now 83, sings his Congo Man, about two white women eaten by cannibals in the African bush. Later, he performs London Bridge Is Falling Down.
---
Windrush: A Celebration is part of the EFG London Jazz Festival 2018, which continues until November 25. For more details, read here.
---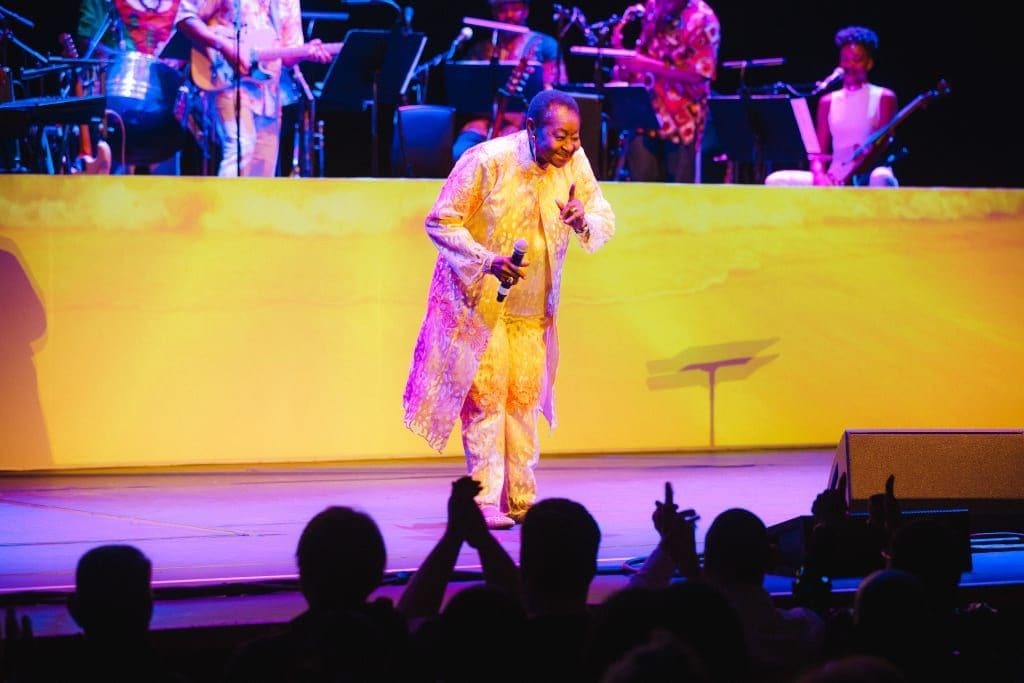 While it is difficult to dismiss such moments as straight ribaldry, Cleveland Watkiss' reggae cover of Syl Johnson's Is It Because I'm Black is unambiguously militant, as is Brother Resistance's fantastic 'rapso' groove Ring De Bell. Another stunning moment is cellist Ayanna Witter-Johnson's stripped down rendition of The Police hit Roxanne which she sings to odd plucks of her instrument. In a similar vein, Joseph's daughter Meena completely inverts the mood of London Is the Place For Me with a downbeat version of it.
But as a statement of raw protest, the show peaks with Watkiss' Precious, a jungle-ish shuffle to which he raps, as the names and faces of 36 black Britons who have died in police custody since 1971 are projected. Familiar areas like Stoke Newington and Tottenham flash up, there is no other detail, and it is very eerie.
It might have been an idea to end on this note, but the band then embark on Windrush Suite, a 22-minute song-cycle, that is perhaps too much to take in. But still, this has been an exhilarating two-and-a-half hours of music and artistry and it was a privilege to have been there.
---
Windrush: A Celebration
Barbican Hall, London
November 17, 2018.