Chrissie Hynde: Adding The Blue
Robert Spellman
Posted on 5th Dec 2018
Chrissie Hynde is best known as the lead singer of The Pretenders, but her latest book, Adding The Blue, demonstrates her talent as an oil painter. Words by Robert Spellman.  
You could be forgiven for raising an eyebrow at Chrissie Hynde's description of her predicament as an artist.
In her introduction to Adding The Blue, the first book to detail her oil paintings, she casts herself as a bit of an outsider, stating: "I wasn't part of the modern world of art, so I wasn't comparing my technique or what I was doing to what anyone else was doing. I didn't have any contemporaries to compare with, I just went off and started doing it on my own, and I chose oils and fell in love with them."
However, leafing through, it soon becomes clear that this is a serious business for The Pretenders singer. Apart from an early, fruitless spell at Kent State University to study art ("I didn't go to classes"), her painting began in earnest in November 2015, and this book catalogues an impressive 200 oils from that point. And for Chrissie Hynde, it has to be oil paint. Of it, she says: "Everything about oil is just so interesting. The texture of it, the way it dries. The way canvas bounces; you can feel it with the brush and oil. It's a real turn-on."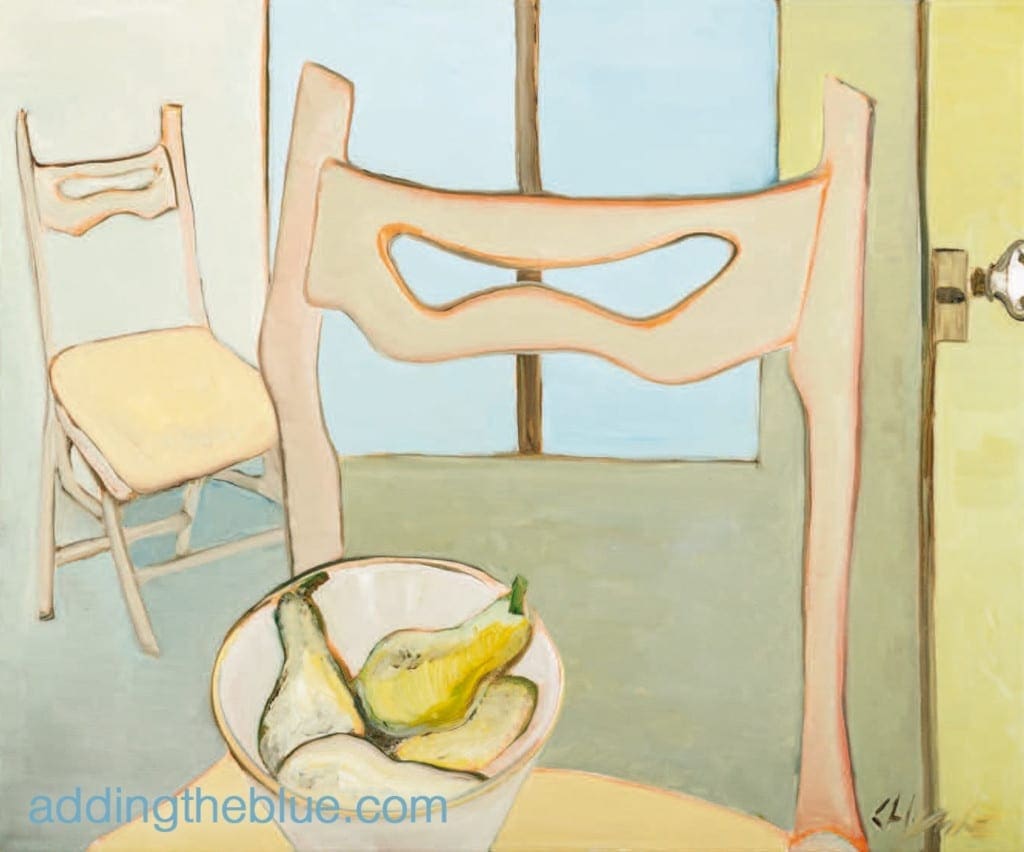 At a glance they look like the very competent results of a night school attendee. The subjects: portraits of friends, 'abstracts' and flowers – jars of flowers seem to be an obsession – are executed, in the main, with resolve and the paintings look thoroughly worked. The use of colour is original and well controlled. She certainly isn't dabbing away nervously like some late-life hobbyist. That Chrissie Hynde knocks out such bright, clean works in two to three hours is again remarkable, given her lack of training and the horrible trickiness of oil paint where all can be murk.
In the preface, the Royal Academy's Tim Marlow points out that Van Gogh, Picasso and Gauguin are clearly influences – he's right, the flowers can be particularly Goghian, one wooden chair with fruit bowl painfully so – and the movement from one 'style' to the next can feel a bit random. The same goes for the portraits, some are excellent; the paint thickly and skilfully applied or used graphically to draw, or are impressionistic and radiate strong emotions. But others seem confused, indecisive. The tattooed arms and hands of her guitar tech Dave are great, they look so raw and alive. She paints hands beautifully.
Old friends Sandra Bernhard and Miranda Richardson are happy to sit for her, in fact Richardson ("such perfect features") is painted twice, the second time from memory straight after leaving the studio. Marlow also reveals that the singer keeps a basket of plectrums beneath a table stacked with paint tubes and brushes. "Performing and painting for her are full on – and essentially hands on," he says. He also states Chrissie might not be a great artist, but that she is an authentic one. The second of those points is inarguable.
Chrissie writes that she always thought she would get into painting, but rock'n'roll and having children got in the way. "Once the girls were out of the house and I had a room I could use as a studio, I thought, 'Now's the time.' I could be alone and paint and I just couldn't stop."
Well, it's a passion for her and a pleasure for us.
---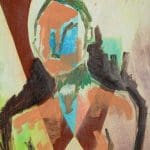 Adding The Blue by Chrissie Hynde
Trade edition is out now at £35. The signed, limited edition is also out now at £265.
For more information and to order: www.addingtheblue.com
Also available at: www.chrissiehyndebook.com