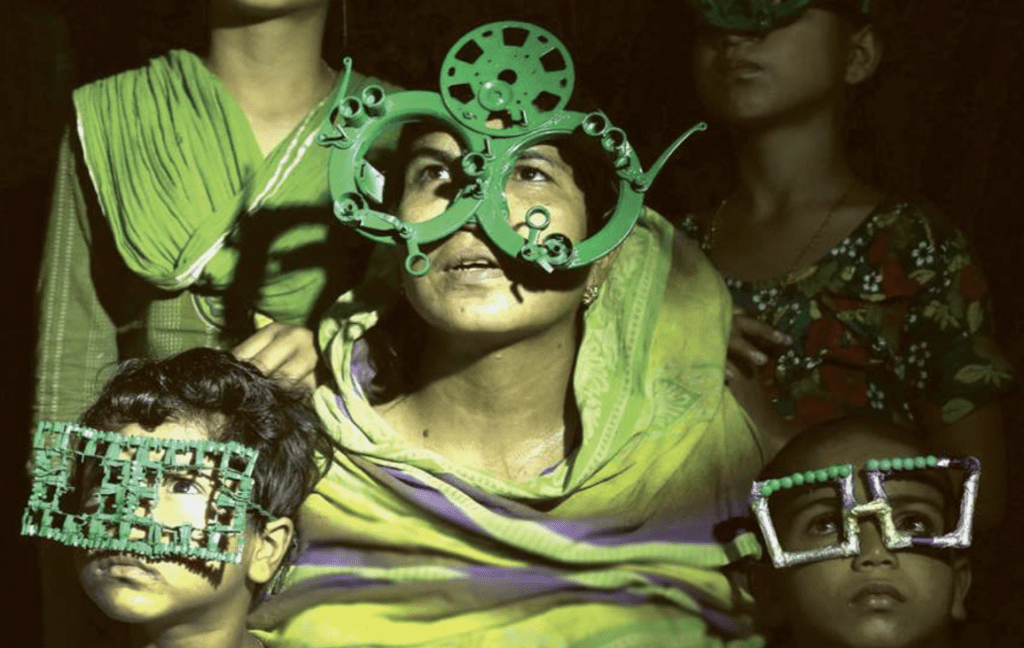 Groundbreaking Bangkok Art Biennale 2018
Johan Smits
Posted on 6th Dec 2018
Thailand's first ever Bangkok Art Biennale 2018, the biggest contemporary art event in the country's history, is still ongoing until 3 February next year and has so far received overwhelmingly positive coverage in the international media.
Despite being last year's most visited city in the world, Bangkok is the new kid on the block in Southeast Asia for hosting big international art events and you may be forgiven for expecting a largely sterile affair due to the political restrictions of the kingdom's current regime. Yet, the Bangkok Art Biennale 2018 turns out to be just the opposite – it's exciting, surprising and, especially for Thailand, groundbreaking.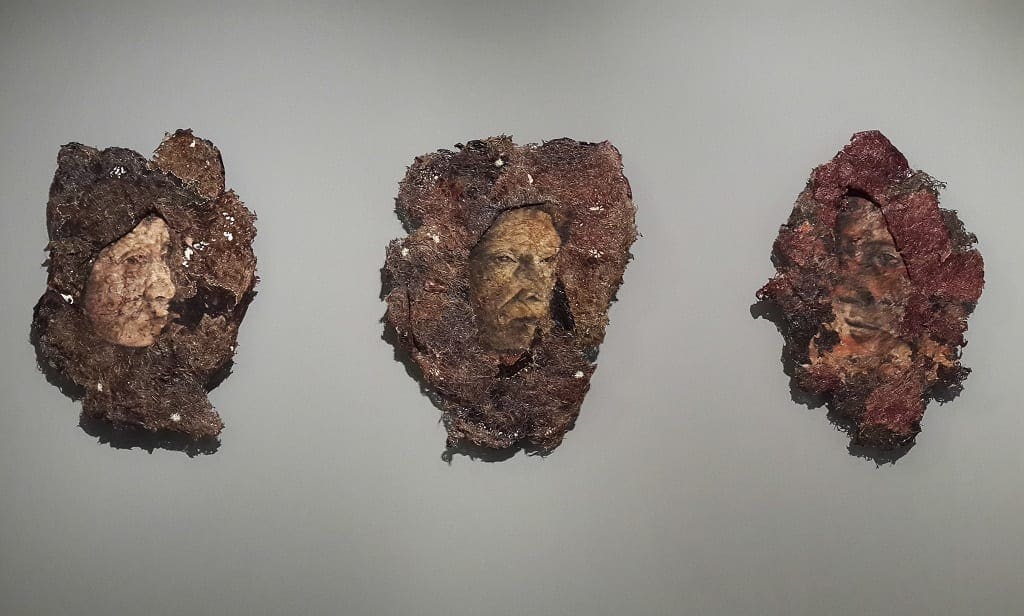 With a budget of less than US$6 million – considered little compared to other biennales – the organisers have taken a humble but creative approach. The over 200 artworks coming from 33 countries all over the world, are exhibited across 20 significant landmarks in Bangkok.
They include heritage sites such as the 19th century Venetian-style East Asiatic Company building along the edge of the Chao Phraya River, historical hotels such as the Mandarin Oriental, Bangkok's top shopping centres and the capital's most visited and sacred temples such as the Temple of the Reclining Buddha (Wat Pho) and the Temple of Dawn (Wat Arun). Hosting contemporary multimedia installations in age-old venerated sites such as Wat Pho and Wat Arun is also a first for Thailand where identity and faith remain sensitive issues.
Half-human uniformed creatures in Indonesia's Heri Dono's humorous work 'Genetic Manipulation'.
By encouraging people to travel across Bangkok – mostly by boat – the City of Angels itself with its mixture of ultra modern structures, centuries-old relics and vibrant society thus becomes a befitting, contextualised backdrop for the contemporary art pieces on display.
---
Download our free Thailand Destination Guide to get up to date with all the basics before travelling to the kingdom.
---
Amongst the 75 international and Thai participating artists are the doyenne of performance art Marina Abramovic from Serbia, 89-year-old art superstar Yayoi Kusama from Japan, Danish-Norwegian installation art duo Elmgreen & Dragset, and the Korean artist-designer Choi Jeong Hwa. While some of the world's biggest art names surely add star power to the Bangkok Art Biennale, the actual powerhouse of this event are the Thai artists who are pushing the envelope in their censorship-prone country.
Defying one of Thailand's biggest taboos, in Chumpon Apisuk's video installation 'I have Dreams', sex workers from Chiang Mai are directly addressing the viewer, forcing Thai society to accept that they exist at all.
In a series of stunning works ranging from drawings on dried hay to bas relief prints and stitched cloth and batik, four Muslim women called Muslimah Collective address the politically sensitive and violent ongoing conflict in Thailand's deep south from where they're hailing.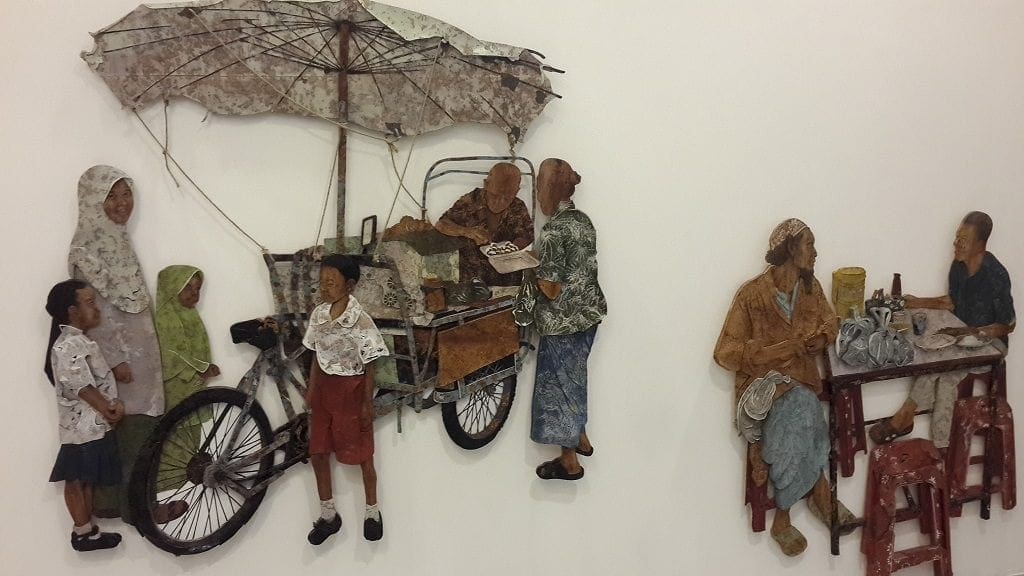 Sornchai Phongsa, who was born from illegal migrant labourers, explores the plight of the more than three million, largely ignored immigrant workers in Thailand through his art work "Alien Capital", a construction site container in which videos, photos and personal documents such as forged employment papers illustrate the labourers' daily challenges.
Jakkai Siributr's 'Outlaw's Flag', a series of invented flags made from Burmese Buddhist monk robes, highlights the massive Rohingya persecution and displacement by pointing out the maliciousness of nationalism with its imposed exclusions and boundaries.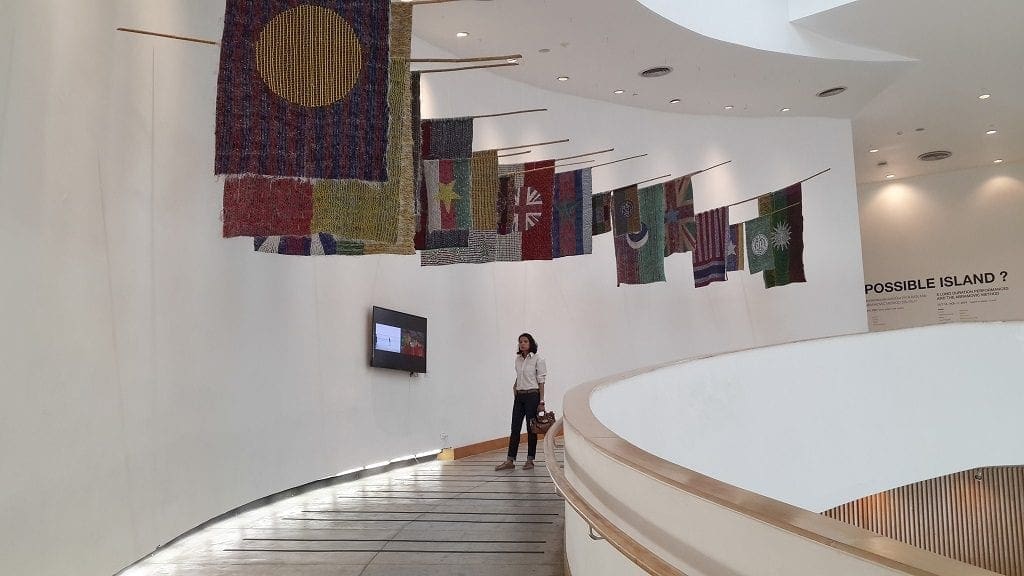 And this is the real and surprising triumph of the Bangkok Art Biennale 2018: boldly giving a public platform to the voiceless and the ignored while challenging Southeast Asia's social stigmas. Add to that a politically sensitive time in Thailand where long-anticipating elections have been promised for February, and a drastic cut in government funding of the Bangkok Art and Culture Centre (BACC) – one of the main sites of the Biennale – it becomes clear that both the content and execution of the Bangkok Art Biennale 2018 are quite remarkable feats.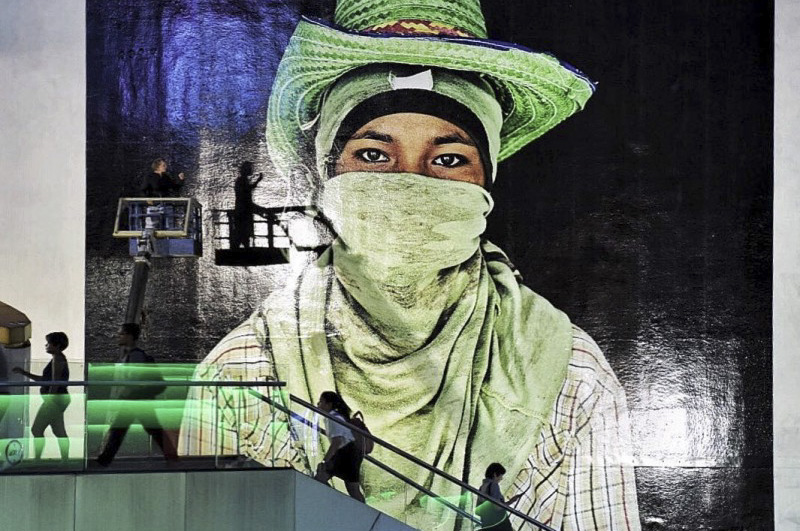 That many artists have chosen with their work to reflect on things like social taboos, persecuted people and environmental concerns may be an echo of the precarious times we live in, but they may as well have been inspired by the Biennale's theme "Beyond Bliss".
---
To discover more about Thailand, read Travel Begins as 40's 'Essential Travel Guide to Thailand Holidays for the Over 40s'.
---
As the Biennale's artistic director Apinan Poshyananda points out, Bangkok thrives on migrant workers while the sex industry in Thailand is big business, brings in tourists and helps the sex workers support their families. Yet, migrant workers are invisible and exploited, and sex workers are stigmatised and dehumanised, thus becoming collateral damage in the pursuit of happiness.
Each of the 75 artists currently on display at the Bangkok Art Biennale interprets this question – how to find bliss and how to go beyond this – in her or his unique way. Perhaps one of them may inspire you to find your own answer.
---
Hotels in Bangkok during the Bangkok Art Biennale 2018
Find the best hotel deal in Bangkok via our hotel booking portal. It doesn't cost you an extra penny, but the small commission we earn helps to keep this site running.
---
For more information on the Bangkok Art Biennale 2018:
Visit the official website including an overview of the artists and their works, the different venues and a downloadable Bangkok Art Biennale guidebook.
Visit also the Biennale's Facebook page for news updates.
The sponsors of this first edition of the Bangkok Art Biennale 2018 have pledged their support for at least two more editions to be held in 2020 and 2022. Something to look forward to.
---
Cover picture: "Migrational Craving [Exodus 1=1 bMt]" by Bangladesh's Firoz Mahmud.
Johan Smits
Freelance writer, translator, web content developer, author of the novel Phnom Penh Express and Tommy, a short story. Loves trying out local brews, avoids noise. Chronically indecisive about where to lay down his hat. Shortlisted AITO Travel Writer of the Year 2018.