Luang Prabang: Laos Past or Future?
Johan Smits
Posted on 24th Dec 2018
Searching for peace, quiet and beauty, Johan Smits finds in Luang Prabang a stunning little town at a crossroads.
One tropical evening we find ourselves sitting in the nearly empty garden of the Victoria Hotel overlooking the Mekong River in Luang Prabang, Laos. We're here to take advantage of their nightly free screening of the 1925 silent film Chang, the first one about life in the Southeast Asian jungle. Presented with a recorded music score composed by local musicians, this poetic documentary follows a Laotian family's struggle against all the pitfalls of trying to carve out a life for themselves in the wilderness.
Not for the faint of heart – we wince at the slaughter of big cats and the trapping of a baby elephant – this black and white masterpiece offers an incredible snapshot of 1925 jungle life not far from where we are. I would soon realise that the film's cautionary tale of humans transforming their surroundings would reverberate in my exploration of what Luang Prabang was, is and may become.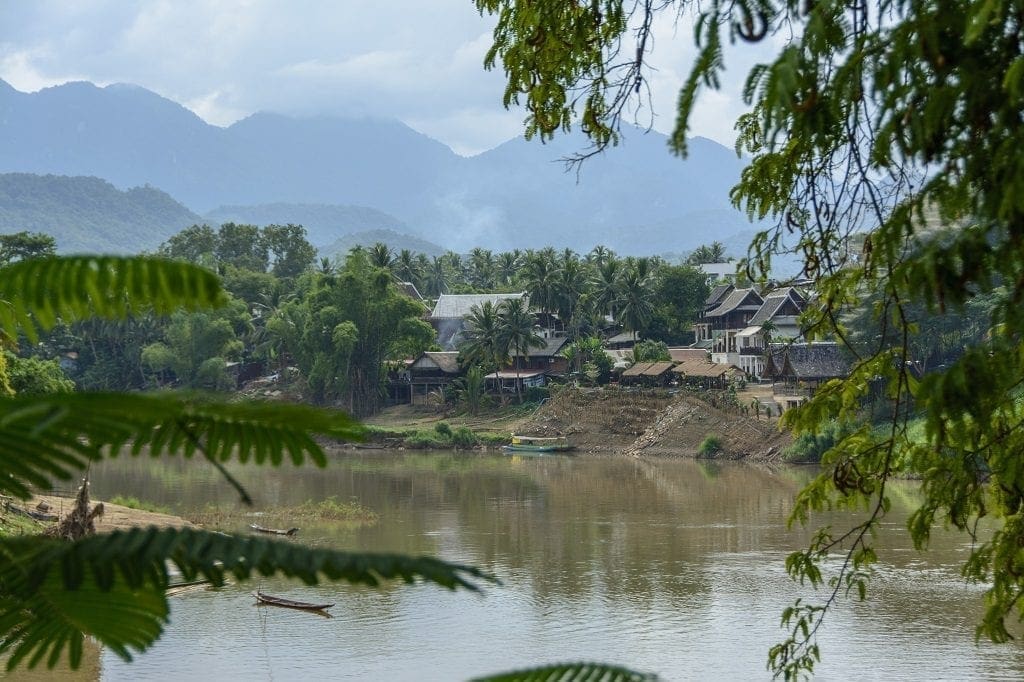 When the nineteenth-century French explorer Henri Mouhot wrote about "a delightful little town", he was describing what used to be back in the 14th century the spiritual, political and administrative powerhouse of the first united Laos. Perched on a narrow peninsula between two rivers, historical Luang Prabang is just one kilometre long and 250 metres wide.
My wife and I have come to this quiet place with no higher ambition but to rest and relax. If we have any priorities, they'd be indulging in Laotian food and hanging out at the riverside sipping local coffee or a cold Beer Lao – not delving into architecture.
But you don't need to be an architecture buff to quickly become seduced by Luang Prabang's exquisitely preserved historical buildings – today, Mouhot's delightful little town attracts over half a million foreign visitors every year who come here to admire its exceptional architecture and experience its living cultural and spiritual heritage.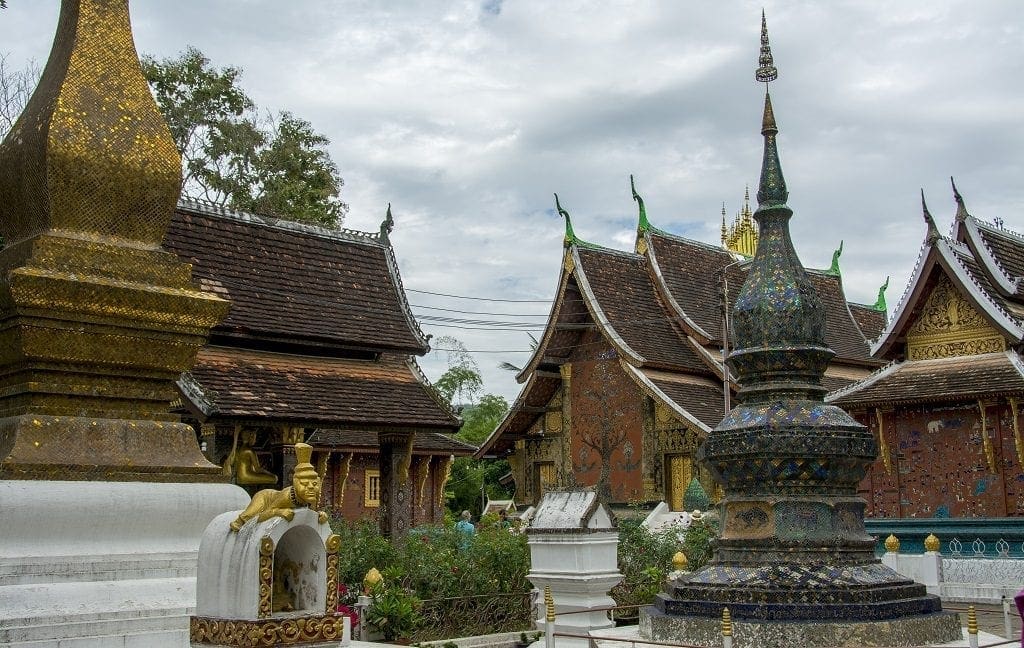 "Yes, this is a protected building," confirms the French proprietor of the recently opened Popolo restaurant. He explains that the most precious buildings in town are coded 'red' and cannot be changed at all, whereas others, like his restaurant, are coded 'black' meaning certain amendments are possible but only with the approval of Heritage House, the body issuing or refusing building permits.
It's late at Popolo's bar and the bottle of Lao Lao – the ubiquitous local rice wine – is getting emptier shot after shot. 'Late' has a relative meaning here. An officially imposed curfew that everyone seems to respect means we're expected back 'home' before midnight. "It's not a bad thing," says our French host, "we don't want to turn this into a loud bar street à la Siem Reap." When we sneak back to our hotel well beyond curfew, walking through the town's deserted lanes past French colonial houses and closed shutters, I feel like a member of the résistance in wartime France – albeit a slightly drunk one.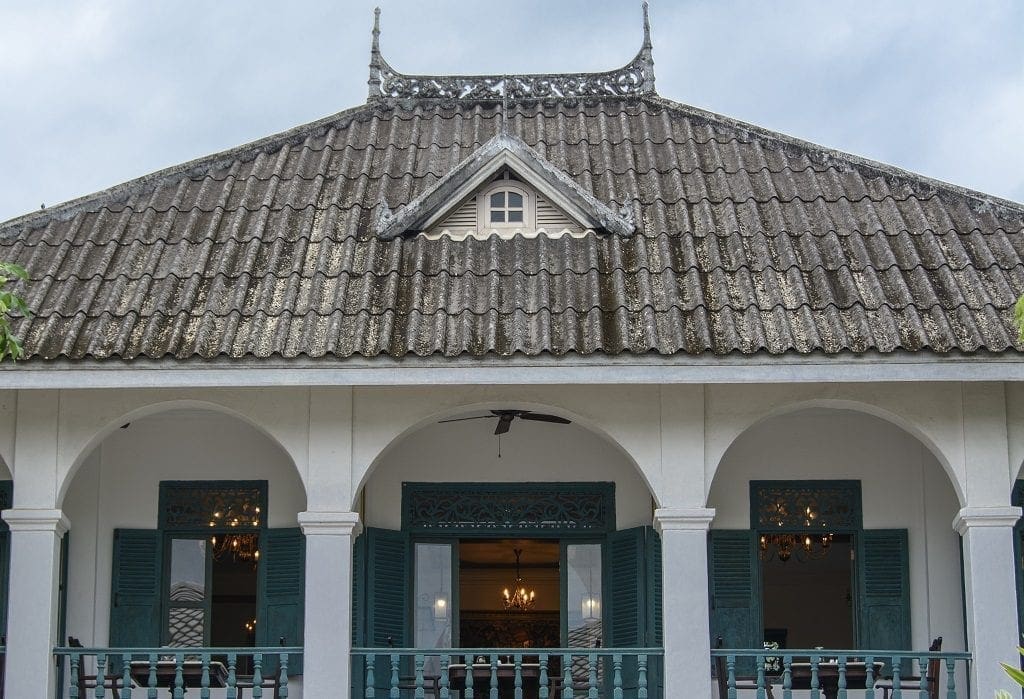 "Luang Prabang is what Chiang Mai used to be when I was little," says our Thai friend Winny, comparing the Laotian town with her country's northern city. The comparison is not without merit – both towns used to be capitals and share a connected culture, history and similar language. When in the 16th century the Laotian King Pothisarat married a princess of the Lanna kingdom – now northern Thailand and home of Chiang Mai – his army defended Lanna against aggressors from the south. His son Setthathirath was subsequently made king of Lanna and appropriated important building styles of Chiang Mai. Today, Thai tourists account for the second-largest group of foreign visitors, after Chinese.
---
If you are enjoying Johan's article on Luang Prabang, read about his Things to Do in Ubud, Bali.
---
Those Thai visitors we encounter seem to be mostly of an older generation, and it's easy to speculate what attracts them to Luang Prabang. Where Chiang Mai has long ago succumbed to a development boom, the preservation of Luang Prabang's rich architectural endowment must give them a nostalgia boost.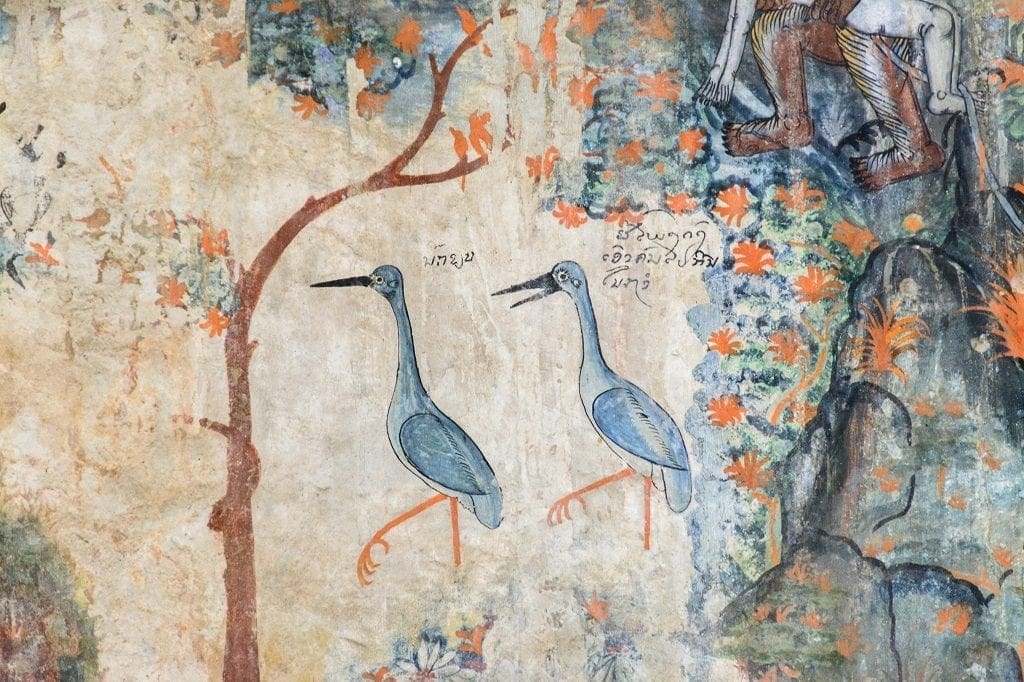 Wandering around town we're struck by the number of traditional teak houses that have survived. They are in a pristine state and stand on stilts side to side with stately mansions from the French colonial period. Heavy clay tiles adorn the roofs above elaborately carved wooden door frames, railings and staircases, all without the pockmarks of air-conditioning units and dish antennas common in any other Southeast Asian city.
But the town's most significant architectural heritage is its temples and monasteries. Glittering with multi-coloured glass mosaics and lacquer work, their embellished tiered roofs emerge from behind a house or wall every other street corner.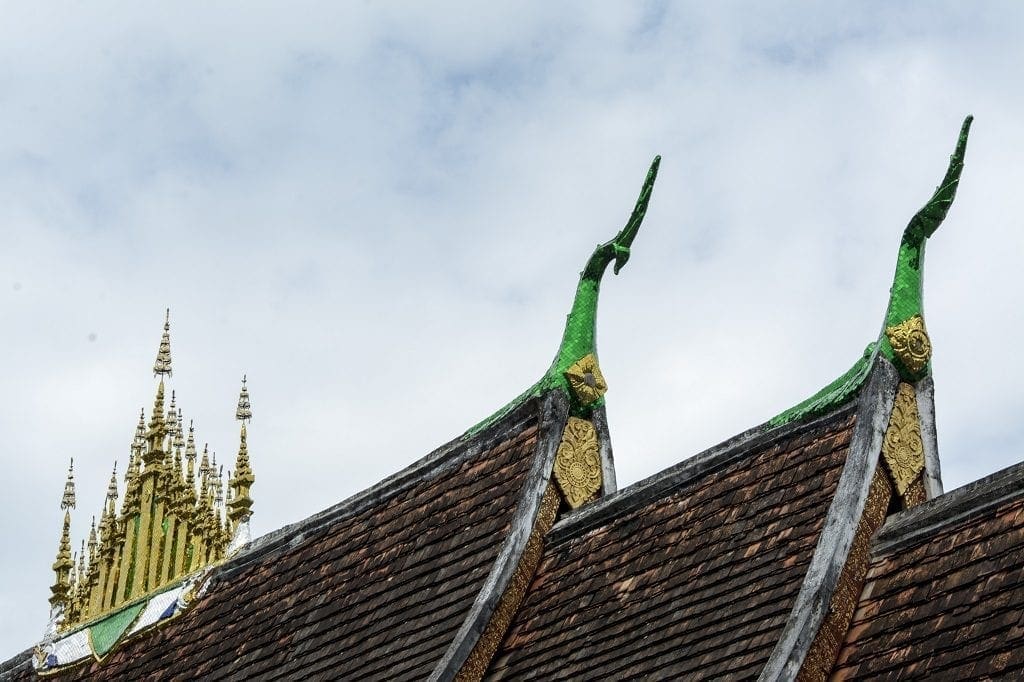 It's with the help of a book on Luang Prabang's architecture that we start to discover some incredible details on our self-organised tour of the town. My wife is taken by the gilded Zodiac animals in plasterwork mouldings on the roof's ledge of a stately 1930 Chinese house. As for me, I'm impressed by the stunning murals inside the 1861 Vat Pha Houak chapel at the foot of Mount Phousi, the 150-metre-high sacred hill that dominates the peninsula and is home to several Buddhist shrines. Another favourite of mine are the decorated vents on the gables of roofs and the infinite variety of their intricate designs.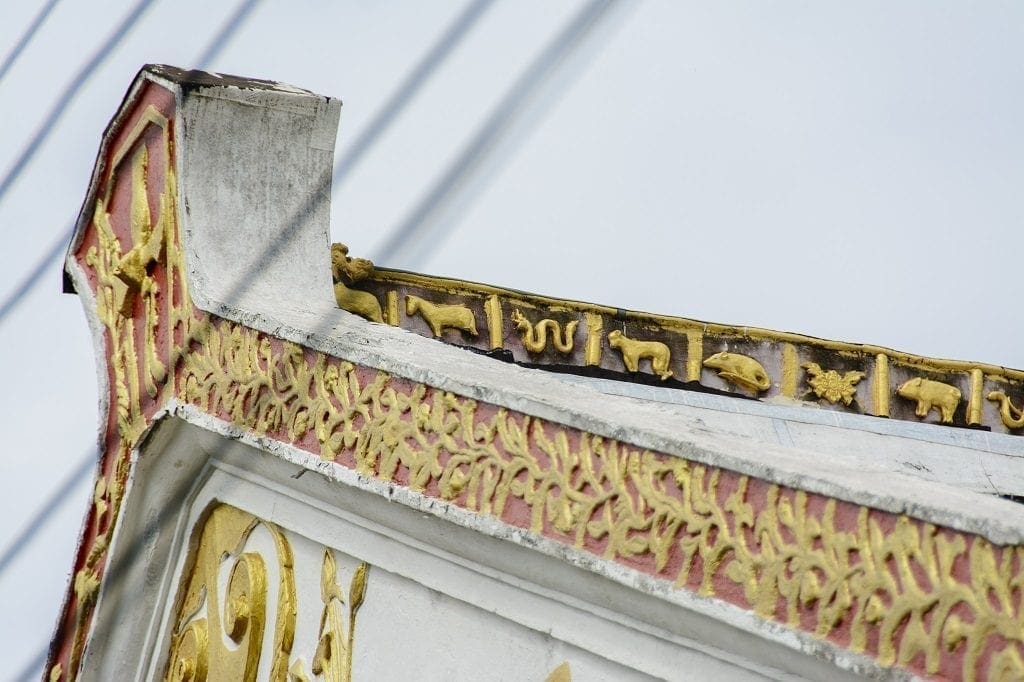 From our book we learn that the exceptional value of Luang Prabang's architecture lies in its unique urban blend of wooden stilted houses, brick and mortar colonial edifices, street front shophouses and no less than 33 historical Buddhist temples. It was during the colonial period that the town developed its original architectural style fusing Lao, French, Chinese and Vietnamese influences. And it surprises us that, for such a small place, we still keep discovering new buildings and details day after day.
That morning I learned that our hotel too, The Belle Rive with its view over the Mekong, is a World Heritage building. In any other place this would be exceptional, but since in 1995 UNESCO granted Luang Prabang World Heritage status, hundreds of its buildings are now officially protected.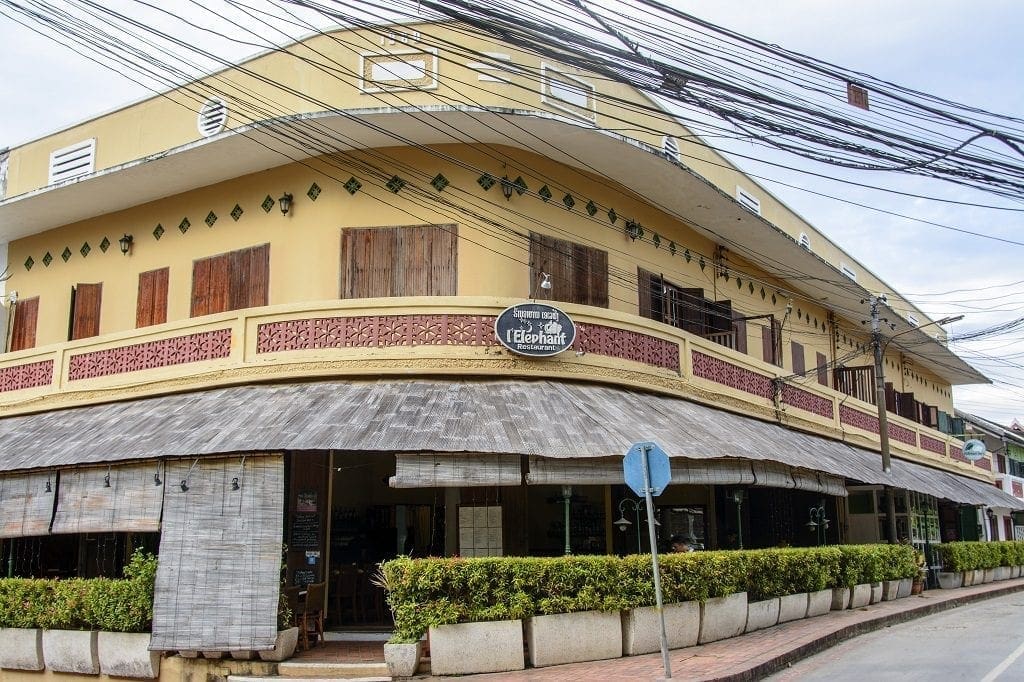 Yet, I cannot help feeling that under this veneer Luang Prabang is in danger of turning into a tourist landscape at risk of losing its local soul. Public buildings such as the colonial-era primary school and the Fine Arts School have so far been shielded from commercialisation and retain their original function, but every other house lining the main streets is a hotel, restaurant, coffee shop or another tourist-related business – often owned by foreigners.
At the night market I notice that most wares for sale are the same kind of tourist trinkets to be found all over the region. Meanwhile, public notices in the streets pleading with visitors to respect etiquette during the binthabat rituals – rows of monks carrying alms bowls to receive food offerings at dawn, popular with tourists competing for the best social media pictures – puts me off observing this highlight. That, and, well, the unholy hour of this spiritual event.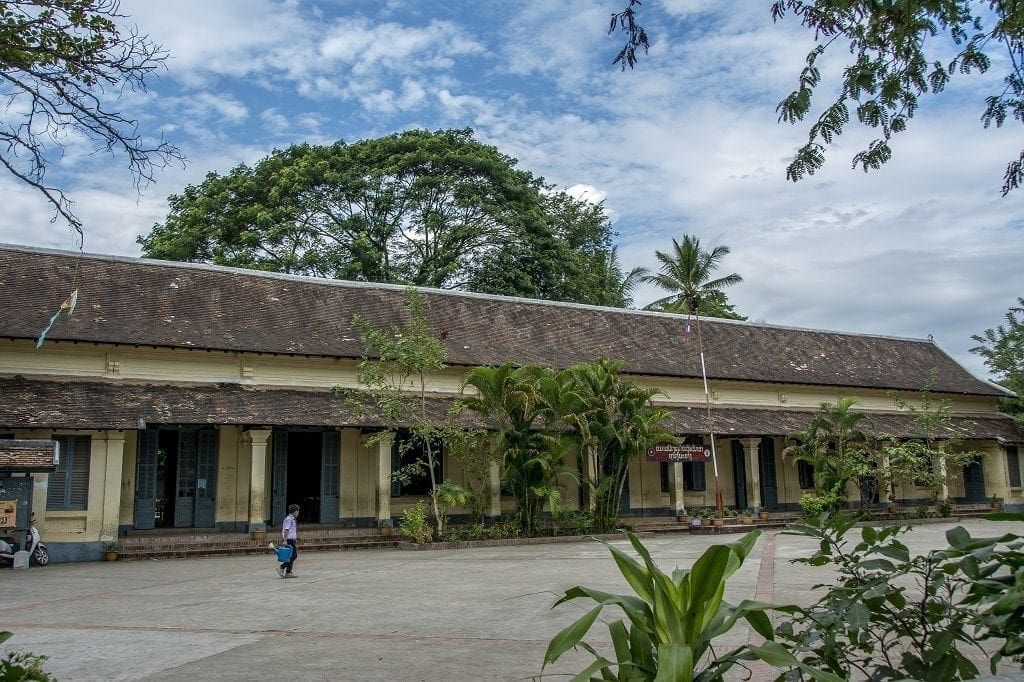 Still, old Luang Prabang has not been hermetically sealed for tourists and bloggers. It has living communities – rural, religious and royal as well as urban and secular. During our exploration of town it's clear to us the protected temples are active places of worship, the monasteries house real monk communities, and old cultural traditions and practices such as weaving, wood carving, embroidery, silver work, mulberry paper making and other crafts are still alive.
Later I learn that it was the presence of such diversity within a small geographical area that became a main justification for inscription by the World Heritage Committee.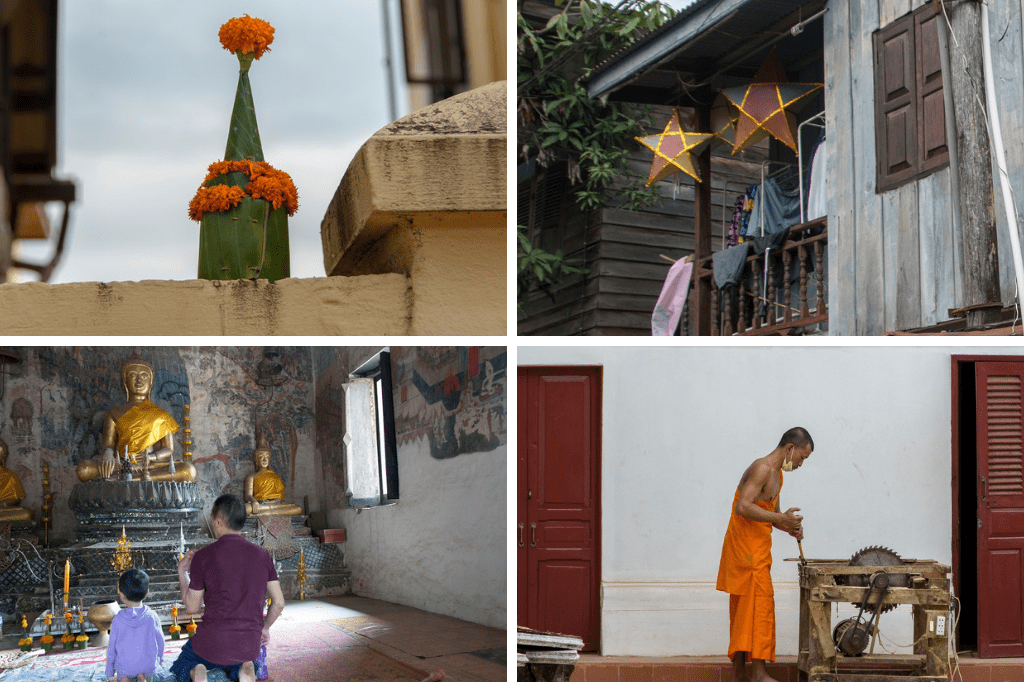 Clockwise from top left: Wrapped banana leaf and flower offering on a private home's wall; Luang Prabang is famous for its paper lantern-making tradition; Real monk communities populate the monasteries; Father and son worshipping inside the 1861 Vat Pha Houak chapel.

In 21st-century norms, Luang Prabang still feels like a "delightful little town". But to me there's no doubt it also finds itself at a precarious crossroads. As ever more visitors are charmed by the architectural and cultural heritage of one of Southeast Asia's most attractive towns, global tourism brings along increasing money and income – and more pressure. I wonder if that same heritage will be able to resist this and stay true to itself or if, just like in the film Chang, Luang Prabang will kill the goose that lays the golden egg.
As we finish our last breakfast watching the Mekong river float peacefully by, I realise it's short of a miracle that Luang Prabang hasn't already transformed into either a booming town with high-rises or an artificial open air museum. Perhaps, then, this is Luang Prabang's chance to show Southeast Asia how living cultural treasures can be promoted sustainably in the pursuit of the benefits of tourism.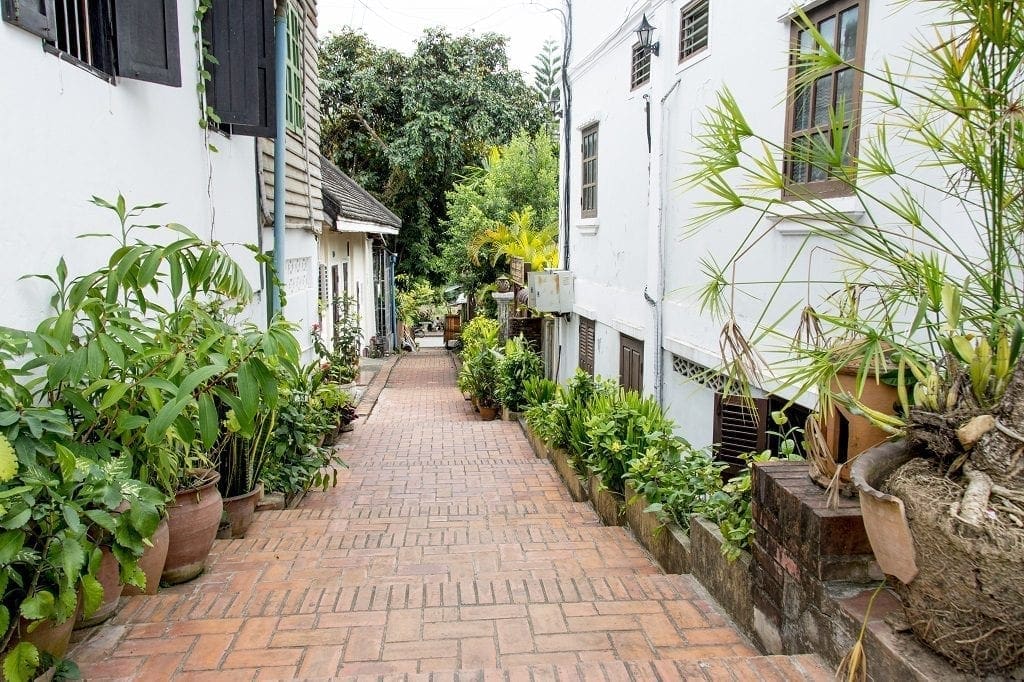 ---
Hotels in Luang Prabang
Read our review of Luang Prabang's former-prison-turned-luxury-hotel, the Hotel de la Paix. Alternatively, find your perfect Luang Prabang accommodation via our hotel booking portal which compares all major booking sites to find you the best deal without it costing you an extra penny:
---
Waterfalls in Luang Prabang
Another of Luang Prabang's highlights is its stunning setting of lush jungle, rivers and mountains. For this, read Mark Bibby Jackson's adventure Nong Khiaw and a Hundred Waterfalls.
---
For more information on Luang Prabang:
Visit the official website of the Luang Prabang Provincial Department of Information, Culture and Tourism: http://tourismluangprabang.org/
Johan Smits
Freelance writer, translator, web content developer, author of the novel Phnom Penh Express and Tommy, a short story. Loves trying out local brews, avoids noise. Chronically indecisive about where to lay down his hat. Shortlisted AITO Travel Writer of the Year 2018.