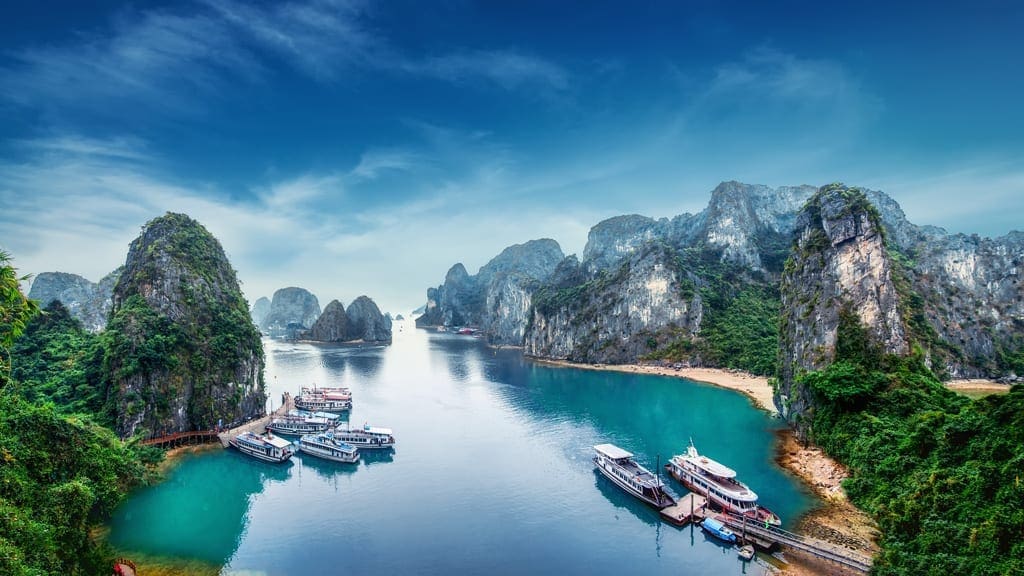 Halong Bay Cruise Avoiding the Crowds
Marissa Carruthers
Posted on 18th Feb 2019
Escaping a tourism conference in Halong City, Marissa Carruthers jumps on board a Halong Bay cruise to spend 24 hours exploring Vietnam's UNESCO World Heritage site and its amazing karst islets.
The scene resembles something out of Ridley Scott's chilling TV series, The Terror. The colour has almost been sucked out of the landscape, which is painted in hues of black and white. The sharp rise and fall of limestone karsts are a shadowy blur on the horizon, barely visible beneath the billows of mist that hover inches above the sea.
As the boat trundles slowly across the bay, I half expect the presence that features in the doomed tale to rise out of the water and eliminate our crew and passengers. Except, there's one major difference between my story and that of the fictional account of a doomed 1845 expedition – I'm on a Halong Bay cruise and while the weather is far from tropical in mid-January, it's nowhere close to Arctic climes.
At 12.30pm the previous day, we'd boarded our transport for the next 24 hours in the form of boutique boat, Bhaya Classic. The collective call of "xin chào" from the crew coupled with a shower of rose petals as we stepped onboard the three-deck boat set the tone for our trip.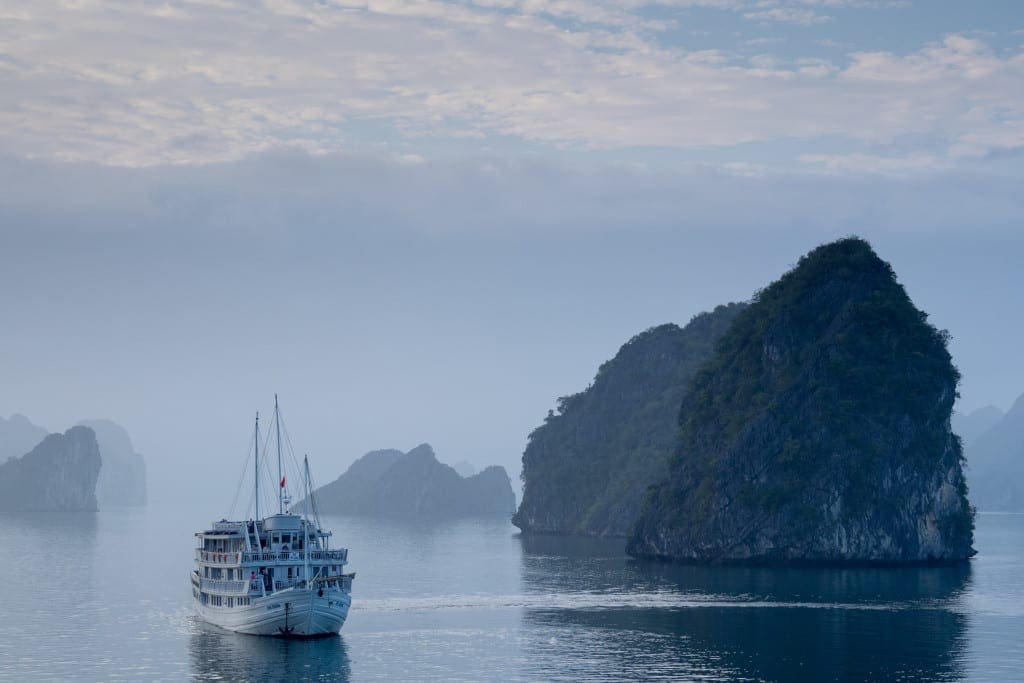 A classic yet casual vibe shines through in all the details, from the dark wooden cabin design that evokes traditional Vietnam laced with contemporary chic, to the itinerary that aims to offer guests the best of Halong Bay, away from the increasing crowds.
Halong Bay from Hanoi
The majority of cruisers transit directly from Hanoi. During my previous visit to Halong Bay a few years ago I stayed in the Vietnamese capital, waking ahead of dawn to take the 4.5-hour trip to Halong. We spent a few hurried hours on the water, catching a brief snapshot of the bay's iconic limestone karsts before heading back to Hanoi arriving exhausted and way after dark.
If you spend longer you can also go kayaking in Halong Bay. There are many types of kayak you can hire, or alternatively it might be included in the cost of your boat trip.
After this experience, I'd highly recommend spending a minimum of one-night on the water to experience the UNESCO World Heritage site in all its glory. This also enables passengers to sail further away from the day-trip junks that can jam parts of the bay.
Most cruise operators include, or can arrange for an additional fee, return transport from Hanoi hotels – an option that most choose. Thankfully, the Ha Long-Hai Phong expressway officially opened in September, cutting transport time from the Vietnamese capital with Halong from 4.5 hours to about 2.5. This further lessens the need for a pre- or post-cruise night in Halong City, a destination on the cusp of becoming a booming tourist town or dismal ghost city within the next few years.
---
If you enjoy Marissa's Halong Bay cruise, read her Things to Do in Hanoi in 48 Hours.
---
Halong Bay Cruise
The disappointment over the city evaporated with each minute of sailing, the mainland and its clutter of buildings melting into the horizon as we entered the magical maze of limestone towers and islets that form Halong Bay.
Designated a UNESCO World Heritage site in 1994, the prized bay is nature at her finest. The 1,553 km2 area is home to about 2,000 clusters of limestone towers and islets battered into a collection of intriguing shapes and sizes by five million years of whipping winds, beating seas and merciless monsoons.
After refreshing in our cabin – snug yet well-designed to optimise every inch of space, with two single beds and separate bathroom and standalone shower – and a few spare minutes soaking up the scenery from our small balcony, we headed to the top deck for lunch.
---
Is Halong Bay overrun by too many tourists? Read Johan Smits' Beyond Ecotourism: Our Responsibility.
---
It was here that we met the man who would spend the next 24 hours steering our experience in the right direction. "Hello everyone, I'm Tom Cruise Manager," gushed the charismatic Vietnamese general manager, pointing to his name tag. He went on to introduce key crew members – the captain, the chef, head waitress, receptionist and the spa manager. Yes, there's a spa onboard – before running through our itinerary and safety rules.
As we cruised southwest of Halong Bay, we tucked into a hearty buffet lunch of crab cakes, noodles, succulent stir-fried beef and papaya salad with a kick, alongside a host of other tasty treats. After lunch, we found a seat on the sundeck and slumped into silence as the giant slabs of stone rose dramatically out of the ocean and the boats surrounding us become fewer.
Cua Van Fishing Village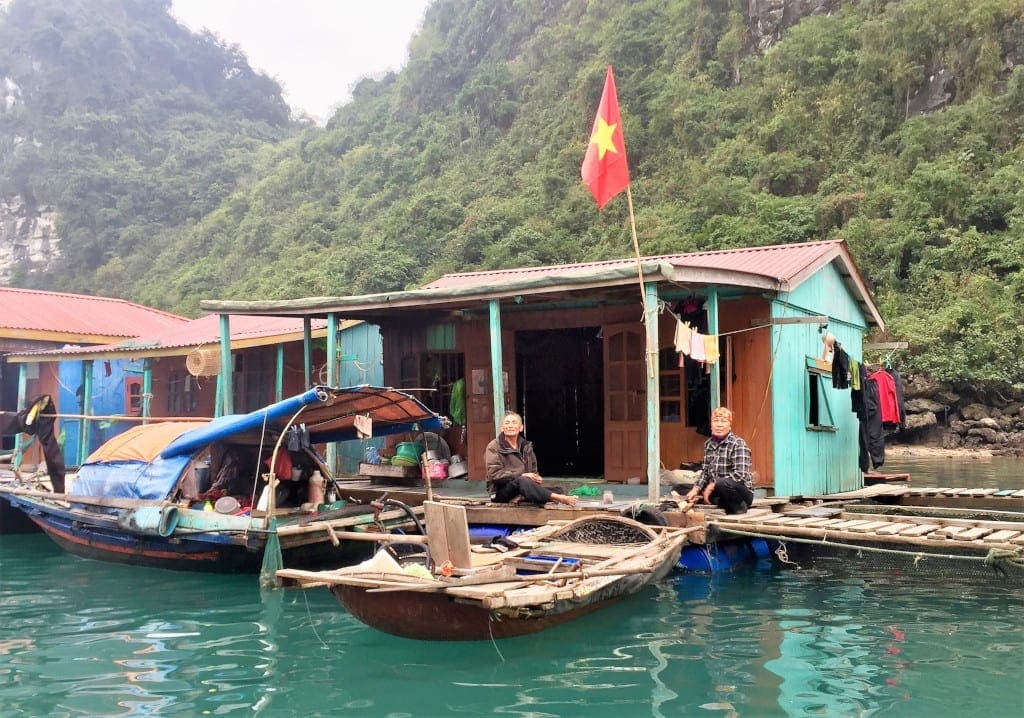 About an hour later, we boarded a smaller boat to ferry us to Cua Van fishing village. Nestled in a calm bay protected from the elements by a natural barrier of grey karsts capped with tufts of green, the village is home to 200 people living in neat rows of tiny wooden houses that gently bob on the water.
As we mounted the large wooden platform that is home to a small information centre and seating area, we split into groups having previously been given the option of kayaking or boarding a bamboo boat with a local oarsperson.
Wanting to support the local community and not at all out of sheer laziness – in our defence, we were warned we'd get wet kayaking and it was a tad too cold for that – we opted for the bamboo boat and joined four fellow cruisers for a gentle jaunt around the village.
Sitting in stark contrast to the many floating villages I've visited in Cambodia, these Vietnamese versions have been tarted up for tourists. Brightly-painted square wooden homes sit atop large plastic drums and tyres, connected by wooden planks. Colourful flowers spill out of pots that sit on the doorsteps of homes and dogs challenge each other from across the water.
In front of each of the houses sit rows of small fish farms, where prize hauls are bred for sale. Here, the main way of life is fishing – and fishing is tough. This is where tourism has thrown villagers a slight reprieve. There's a small entrance fee of VND30,000 (about US$1.30), which includes use of a kayak or a trip on the bamboo boat. We'd previously been told that while tipping wasn't essential, a dollar or two goes a long way.
After our 40-minute jaunt through the village, we had about 20 minutes to browse the information centre. Inside photos and storyboards inform visitors about life in Cua Van, the hardships of working out at sea and the sheer endurance of villagers. A couple of elderly teens from the village are also inside, eager to practise their English and answer the barrage of questions from visitors.
For me, the most pertinent question of them all was why did each house have one – or in some cases, several – dogs? It turns out they're there to do what dogs do best – guard. Many parents spend their days out at sea and leave their children at home with the pet pooches serving as their devoted protectors.
Evening Activities on a Halong Bay Cruise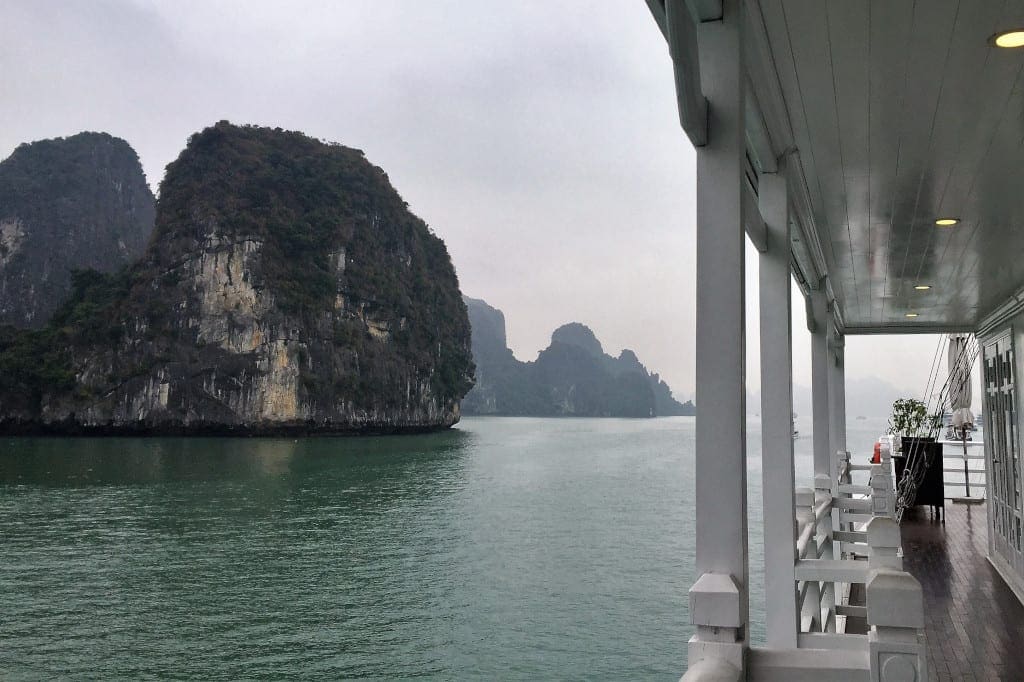 After being tendered back to where our boat was to anchor for the night, we were told we had spare time to dive off the boat for a swim in the cool waters. Again, the slight bite in the air deterred me, but several of my fellow passengers jumped at the chance. Instead, I took advantage of happy hour and sat on the deck, watching the light slowly being sucked out of the sky – any chance of a stunning sunset hampered by the heavy clouds.
One of many beauties of our boat was its size. With 18 rooms and a maximum capacity of 36, the whole experience had an intimate feel. The well-planned itinerary was another bonus, with activities planned out at a pace that made you feel you still had time to kick back and enjoy the surroundings while keeping us entertained.
The evening was perfectly planned, with the chef giving us a demonstration on how to make nem, or Vietnamese spring rolls, followed by a fruit carving session. Here, we were shown how to craft the delicate floral patterns carved from tomatoes, melon and other fruits that are commonly found on the Vietnamese plates.
This took us right up to dinner, a lavish five-course affair that included a creamy mushroom soup, meaty crab cakes and fried local fish with vegetables. Sufficiently stuffed and exhausted we skipped the chance to squid fish from the stern of the boat, opting for an early night so we could rise at the crack of dawn to start the day with a Tai Chi session on the sundeck.
Exploring Caves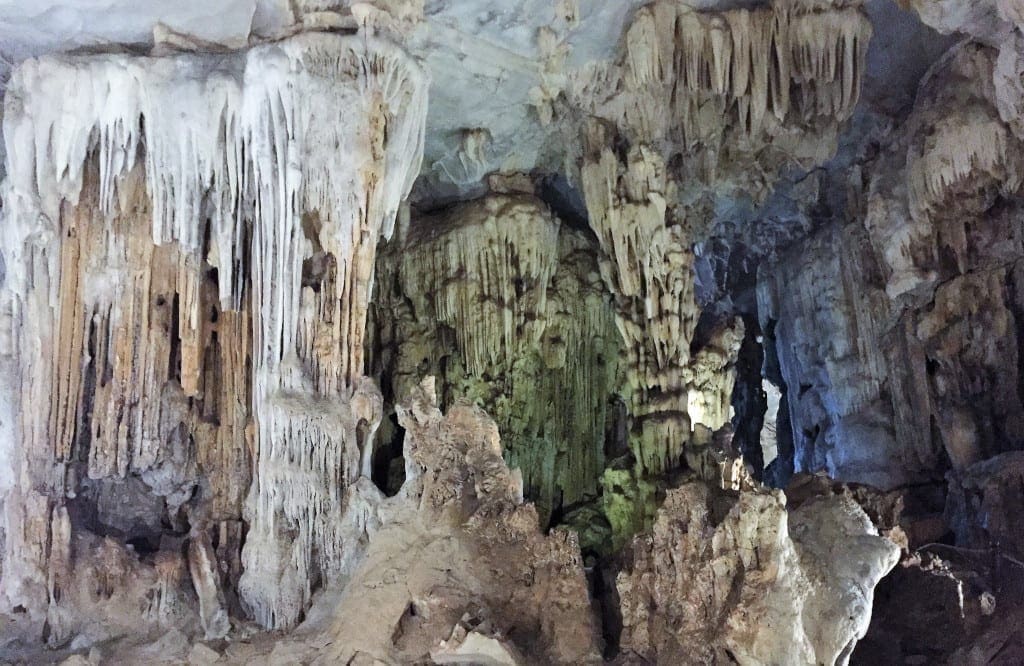 The early night made no difference when my alarm clock stunned me from deep sleep at 5.45am, the comfort of my bed taking precedence over a 6.15am Thai Chi lesson. Instead, I opted for some snoozing, a long hot shower and a coffee on my balcony lapping up the morphing landscape.
Thick fog had settled, creating the ominous scenes straight out of The Terror; the karsts that had dominated the landscape the previous day reduced to hazy shadows that took on their own life, disappearing only to re-emerge moments later through the patchy mist.
During breakfast, the mist lifted as the sun pierced through the grey, shifting the atmosphere from foreboding back to the realms of magical kingdom just in time for our 7.45am visit to Tien Ong cave. During my last trip to Halong, I remember clamouring for space in Surprise cave. Its location close to the mainland makes it a popular spot with day cruisers and the volume of people inside made it a close to claustrophobic experience.
One of the other bonuses to Bhaya's cruises is they try to meander slightly off-the-beaten-track, steering their boats away from the ever-increasing numbers – daily, about 1,000 passengers board 500 boats, of which 280 are day cruisers. At Tien Ong, our group is one of two small boat tours with the cave to ourselves.
Steeped in history, the cave pays testament to the true power of nature. Inside, giant stalactites and stalagmites drip from the ceilings and rise from the ground, thanks to millions of years of work. We're told it takes a century for it to grow a mere 1cm.
In 2007, a team of Vietnamese architects carried out extensive research in the bay's network of caves. In Tieng Ong, human bones and artefacts that date back to 10,000BC, fossils, ancient pottery and tools were discovered in the deep 1,000sqm cavern that started welcoming visitors officially in 2010. Many of these items are on display in a display area inside.
Once back on board, we headed towards the mainland, spending a couple of hours soaking up the remainder of the scenery as we grazed on a delightful brunch spread. I'd been slightly apprehensive ahead of the trip, having heard stories of the bay becoming increasingly congested and polluted. Maybe it was the cool weather that put people off, or Bhaya's innovative itinerary, or a combination of the two.
Either way, we found tranquillity during an informative and compact jaunt into the jewel that is Halong Bay.
---
For information on Bhaya Halong Bay Cruises
Marissa Carruthers
Marissa inherited her love of travel from her parents, who would entertain her as a child with exotic tales of their adventures across the globe. Her first solo leap into foreign lands was an Inter-railing trip across Europe and North Africa during her first summer at university and, despite two muggings, several dices with death and a terrifying encounter with the monkey mafia, she was hooked.