Cool Places: From Horse Boxes to Windmills
Coral Glennie
Posted on 14th Mar 2019
Whether you are looking to take a coastal break or a pad in town, from glamping in a horse box, to staying in your own windmill, Cool Places lists the most wonderful place to wine, dine and sleep across Britain, writes Coral Glennie.
With excellent photography and meticulous detail, the reader is taken on a trip across the UK from coast to countryside and on some delightful city breaks. The choice of accommodation ranges from country house hotels and mansions to glamping. Drinking, eating or exploring, you will not be disappointed by the selection on offer at Cool Places. You can find unique places to stay with cozycozy.com.
Easily Accessible
The introduction is sub-divided into various geographical areas, from Cornwall and the Isles of Scilly, to Norfolk and Suffolk, Wales and Scotland for ease of reference. Then you are then offered layered sections of "cool places" to stay from the Boutique to the Unusual and Coastal Cottages to Lodges & Cabins, often with distinctive décor, architectural merit or stunning views; some in remote parts of Britain others in a busy metropolis.
If your preference is for a boutique hotel or B&B, there is a great selection. You could try The Old Rectory Hotel with its stunning Exmoor views or the more quirky Number One Porthill in Hertfordshire with its attractive Georgian interior. There are so many more boutique places to stay you will be spoilt for choice.
Fancy a city break? Try The Artist Residence in Central London, Brooks Hotel in Edinburgh or The University Rooms in Cambridge, all of which offer excellent locations for exploring these historic cities.
Bored with the more conventional and have a craving for the unusual? Cool Places has that covered. Choose from remote castles, to glamping in a horse box or a railway carriage. There are great views of The Solent on the picturesque Isle of Wight if you stay in The Solent Forts.
The Weird and the Wonderful
If spending time in a windmill takes your fancy try choose Cley Windmill (see cover photo) on the dramatic and largely unspoilt North Norfolk Coast. Set on the edge of Cley Marshes, forget your car and just walk in this beautiful part of Britain. Or visit Holkham Bay, less than a dozen miles away from Cley, with its huge sweeping expanse of sandy beach and miles of walking fringed by trees and shrubs. This vast bay is a nature reserve especially famous for the winter arrival of the Pink Footed Goose, one of the most spectacular bird watching events in Europe.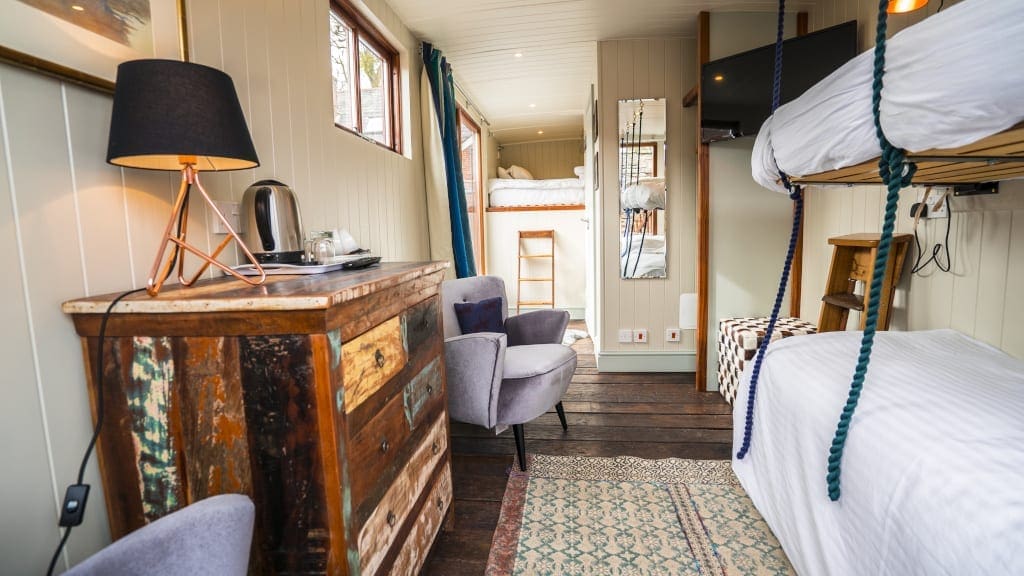 You can't go far wrong in trying some of the pubs, inns and restaurants dotted about Britain. Quintessentially British, Cool Places lists old village pubs, coaching inns and taverns. Try the Sun Inn in Constable country, or Maison Talbooth with its twelve boutique rooms and its country house setting with pool and famed restaurant, Le Talbooth.
---
Read of Eileen Wise and Roger Hermiston's stay at The Maison Talbooth in Le Talbooth, Dedham and Friends.
---
Another restaurant of note is Rick Stein's The Seafood Restaurant in Padstow, Cornwall. You could be forgiven for feeling that you are in France when the plateau de fruit de mer is presented. Accommodation in the pretty part of Cornwall is also available at Rick Stein's with décor in keeping with the local seafood traditions of Padstow.
Coastal Britain
Cool Places offers you a choice between busy seaside towns and quiet, scenic parts of Britain's two thousand miles of coastline, from Cornwall to the islands of Scotland and Pembrokeshire to Scarborough. Stay at Blue Hayes in St Ives, Cornwall with its breath-taking views and Mediterranean atmosphere or venture to the other end of Britain and book rooms at Greystones in Oban with views of the Island of Mull.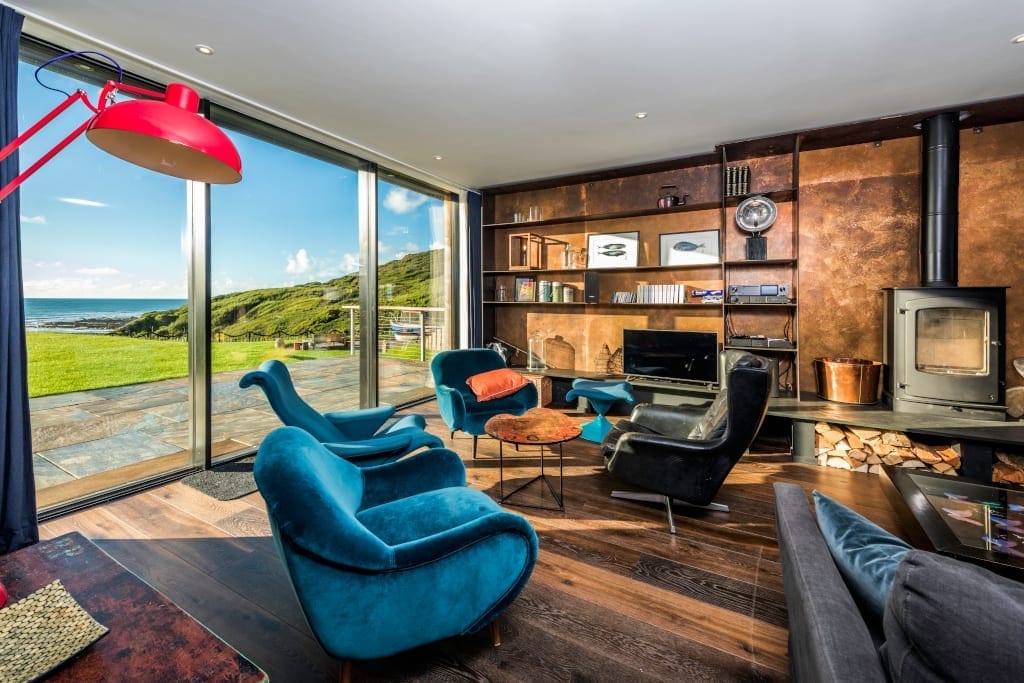 The final pages of Cool Places devote space to accommodation in cottages, lodges, barns and farmhouses where there is excellent walking or you could just relax with a good book.
Try Henfaes Isaf, a Welsh farmhouse on the edge of Snowdonia, or Green Farm in Kent with its self-catering barn and spa with yoga. Or a log cabin near Loch Awe in Scotland? They're all covered in Cool Places.
In the section on coastal cottages, you will find Barford Beach House, with its access to picturesque Cornish bays and the interesting town of Bude, and a short walk from the dramatic Widemouth Bay with its pubs and restaurants.
With a handy index that makes it easy to access all the places listed, local areas of interest to visit, as well as the wide variety of interesting places to stay, Cool Places is a great aid for any travel around Britain. The only problem in reading the colourful and comprehensive travel book is that you will want to stay in all the B&Bs, pubs and hotels listed in it.
---
Cool Places Photo Gallery
---
Cool Places
Published by Punk Publishing
Cost £18.99