Things To Do in Berlin: Wine, Art, Fine Food & Beer
Mark Bibby Jackson
Posted on 4th Mar 2019
Mark Bibby Jackson travels to the German capital to discover a city thriving as it approaches the 30th anniversary of the fall of the Berlin Wall. Discover things to do in Berlin in Winter.
A man wrapped up for the cold, his face well protected from the driving wind, the lapels of his coat turned upwards towards the steadily falling snow, paces up and down the street. A few yards away lies Checkpoint Charlie. He hesitates for a moment before making his way towards the symbol of the divide between East and West Berlin. Then, noticing some guards, he turns on his heels and walks back along the street. This time he halts outside a building and looks inside. He appears confused. Eventually, he presses a button.
A woman dressed in a compact red dress answers. "Come in, come in," she says, hastening him inside. Unlike him, she is not dressed for the cold of Berlin's winter. "Let me take your coat."
WiFi-free, phone-free and right-wing-party free
I am the man. And this is no Cold War espionage thriller, for the soldiers are actors performing for the selfie-clicking tourists. This is modern post-Cold War Berlin.
Once inside the plot thickens. Mein host appears and gently reprimands me as I ask for the WiFi code.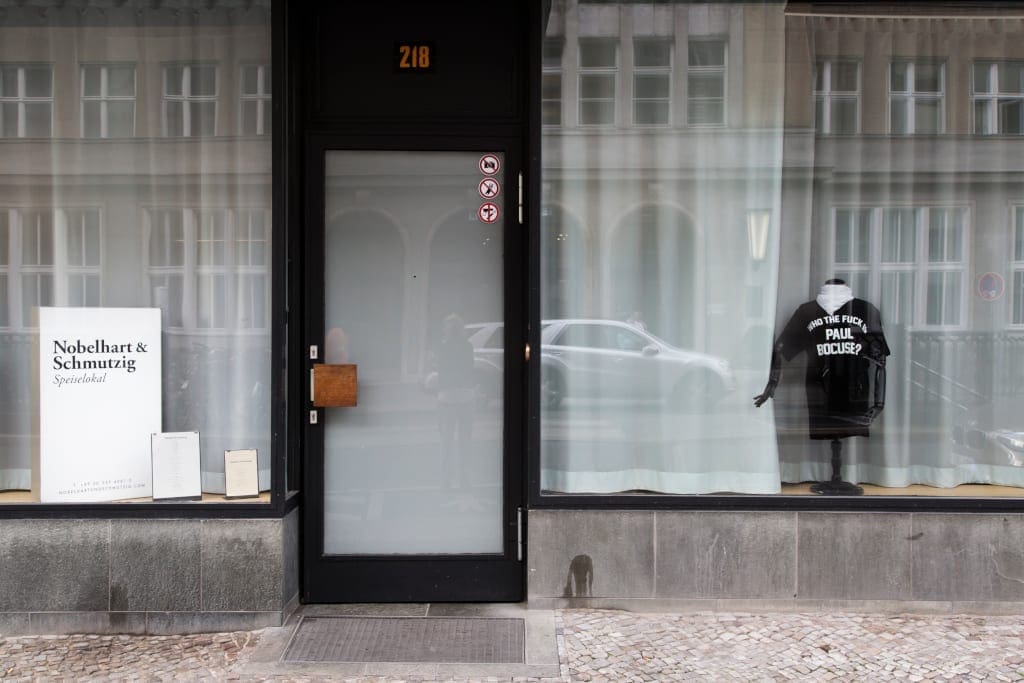 "WiFi-free, phone-free and right-wing-party free," Billy Wagner, the owner of Nobelhart & Schmutzig announces. "And no photos," he adds, as if an after-thought.
Hiding my phone beneath a napkin, I wait for my friend to arrive, and take in the Berlin-chic ambience of one of Berlin's most acclaimed restaurants.
I am sitting at a counter that wraps itself around the open kitchen, as if I were in a Japanese restaurant, only without the sushi chefs slicing up raw fish. A cool soundtrack is being played by the Berlin-based singer Dillon.
Nobelhart & Schmutzig
Dining at Nobelhart & Schmutzig is like watching a performance, with chefs taking it in turns to bring each of the dozen dishes (if you include the parting gift), delivered to us. There is no doubt who is cast in the role of leading man and director; Billy dressed in his floral waistcoat.
He explains that all the food is locally produced, even to the extent that they do not use olive oil in their cooking.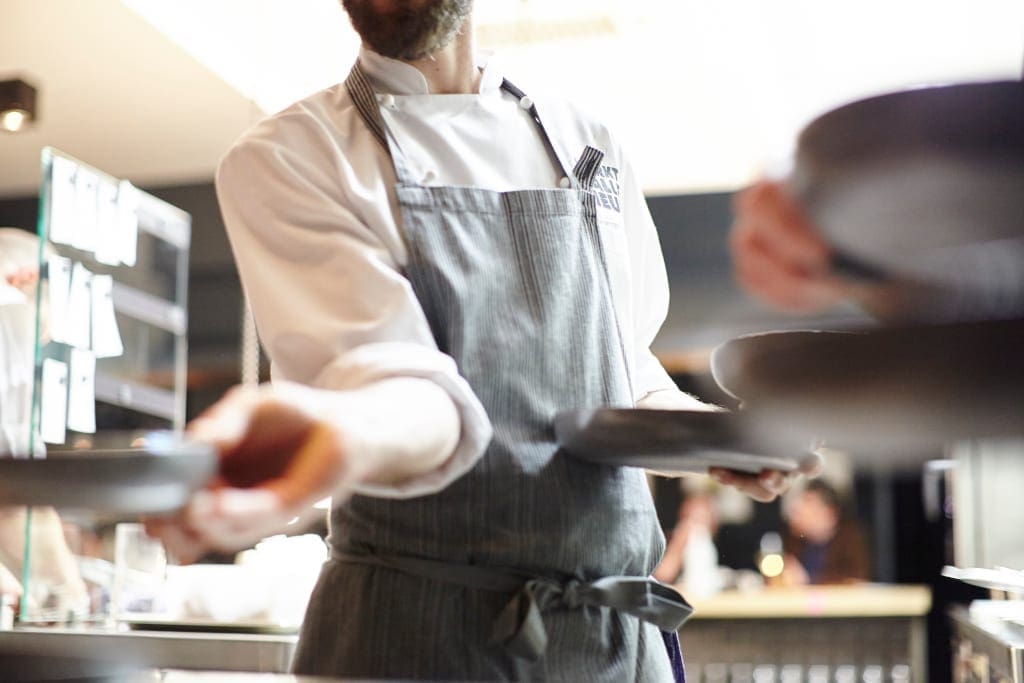 This attention to detail is apparent from the outset as some of the freshest bread appears, accompanied by the restaurant's own butter served from its wooden churn – the staff even know how old it is. A glass of sparkling wine is poured for us, as the amuse bouche, a fried Jerusalem artichoke heart that is surprisingly light yet crunchy, appears. I know that I am in for a treat.
Pan fried chicory, is followed by a fillet of pike perch served in a leak and onion sauce, with the sophistication of a consommé.
Egg with potato is a standard Berlin dish, but at Nobelhart & Schmutzig the egg is served with mustard and some raw potatoes thinly sliced on top. Washed down with a cold beer it is simply amazing; the crunchiness of the potato juxtaposing the tang of the mustard. However, the standout dish was the celeriac baked in the oven to leave the skin with a nutty flavour. I could have dined on this alone.
Noble and Lazy Wine Tasting
One of the best aspects of dining at Nobelhart & Schmutzig is the wonderful pairings of wine (or beer and cider) with the food. And it is with this very much at the forefront of my mind that I arrive at Edel & Faul, on Veteranenstrasse, the next day for a blind wine tasting.
I am greeted by Peter Schimanek, who together with Frank Krüger and Jürgen Stumpf established Edel & Faul. Although a lawyer by trade, Peter, like his colleagues, who have understandably decided to take a break from Berlin's winter in Tenerife, has a diploma in wines and spirits. Peter explains that the name Edel & Faul translates as "nobel and rotten", a play on sweet wines such as Sauternes, Beerenauslese that are made of noblerot grapes, although it can additionally be translated as "nobel and lazy", which suits me fine.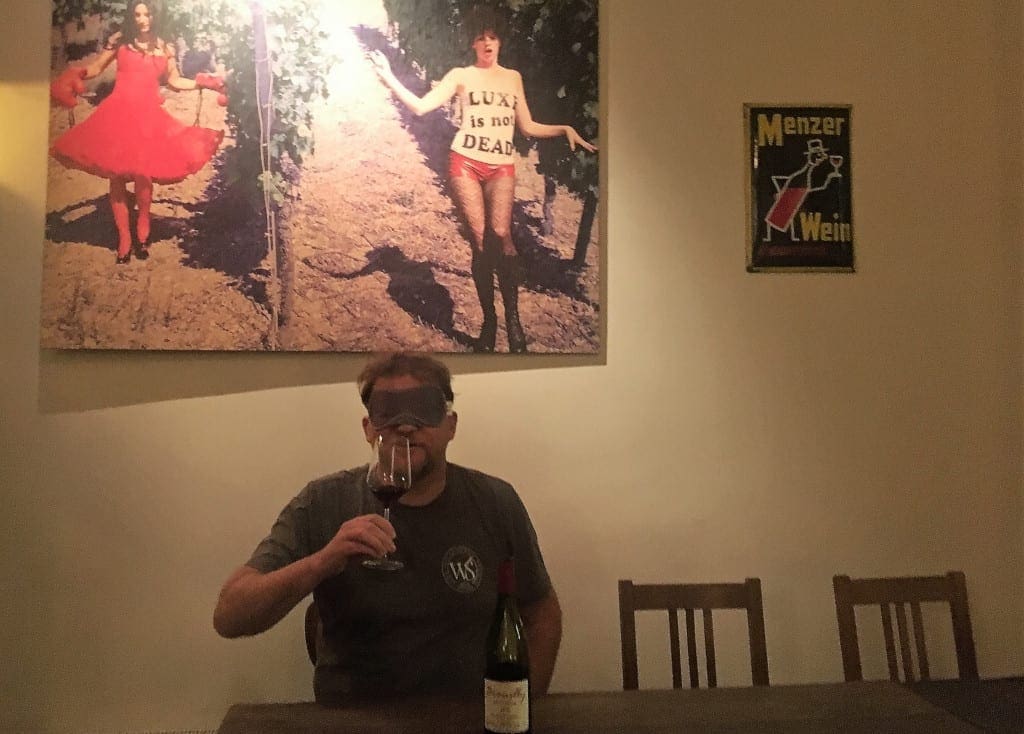 Part off-licence, part tasting room, Edel & Faul specialises in what Peter describes as niche wines, such as Georgian and Portuguese wines grown in sand, and some special bottles from Sicily.
The wine tastings attract a wide mix of people, partially due to their affordability, from €30, and partially due to the intimacy of the space that can hold up to 30. However, tonight it is just the two of us donning our blindfold to explore the wines.
We start with a Cremant de Limoux Brut, a dry sparkling wine which is a mix of chardonnay and pinot, before the serious blind wine tasting commences.
I confess I would probably have fared no better even if I had not been blindfolded, which at least provided me with some excuse for the inadequacy of my palate; although the experience was great fun, and more relaxed than my previous wine tasting when I created my own blend in Tri-Valley, California.
Edel & Faul hold prosecco art nights, where you are taught how to paint while drinking prosecco – half of which I have already mastered
For the record, we had an Austrian white (2015 Darscho, Weingut Heinz Velich), which had a strong oak nose and a pink grapefruit or gooseberry flavour, or at least that is what Frank suggested as I nodded appropriately. This was followed by a Beaujolais Cru (2015 Brouilly, G. Descombes, Villié-Morgon) that was anything other than nouveau, and a robust Sicilian red (2015 1435 I Vigneri, Vigneri di Salvo Foti) that was grown in the volcanic ash of Mount Etna; one of the special bottles that Frank had promised earlier.
On other occasions, Edel & Faul hold prosecco art nights, where you are taught how to paint while drinking prosecco – half of which I have already mastered – or opera and tango nights. They also have private dinner parties with special wine pairings. Given the compact nature of the space I would imagine the opera nights in particular, would be most special.
Post-Bohemian Auguststrasse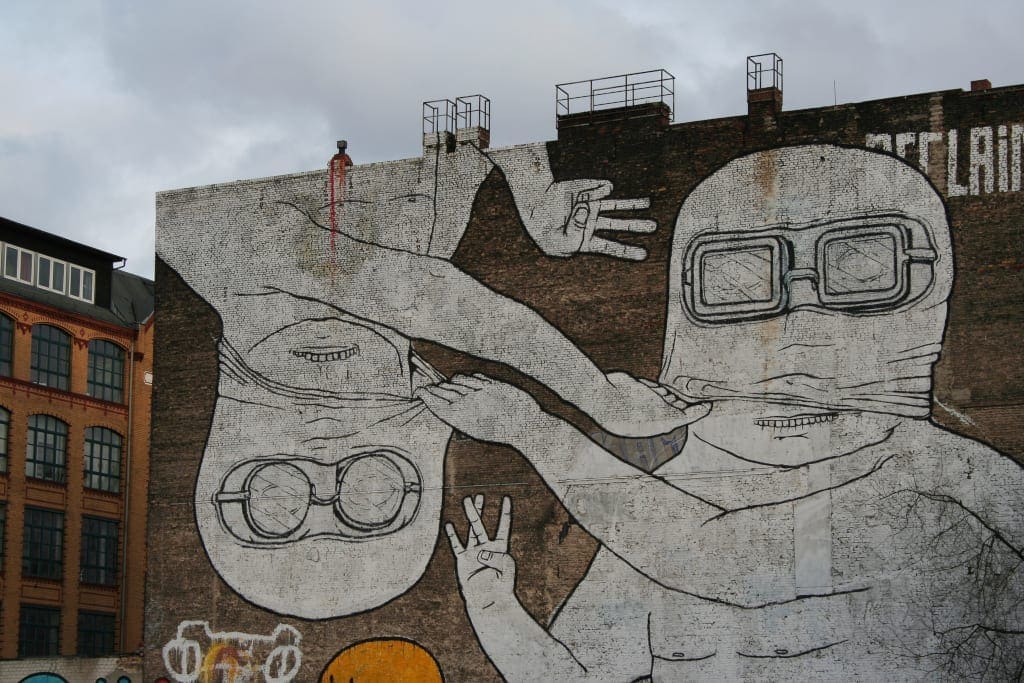 Edel & Faul is just around the corner from one of the more interesting streets in Berlin. Auguststrasse stretches from Oranienburger Strasse to Kleine Rosenthaler Strasse in the central Mitte district of Berlin.
Known as a predominantly Jewish area in the mid-19th century, it became neglected post-War when many houses were left derelict. However, once the Berlin Wall was torn down in 1989, artists and musicians moved into the area, creating squats in what became known as a "playground for those with free minds across the world".
Now the area has become gentrified with the squats replaced by contemporary art galleries, including the impressive KW (Kunst-Werke) Gallery, cafés and boutiques, as artists have moved to other areas around the city, such as Kreuzberg; a trend familiar in many cities around the world. One of the more famous, and larger squats has now become the Gipsy Restaurant.
Wondering along the street provides a snapshot of how the city is constantly evolving, although we end up dining in Strandbad restaurant that feels as though it has not changed much over the years, where I enjoyed some more pike perch, though not quite served as Billy would have, which was washed down with a bottle of red I doubt Frank would have served.
Lazy Sunday Afternoon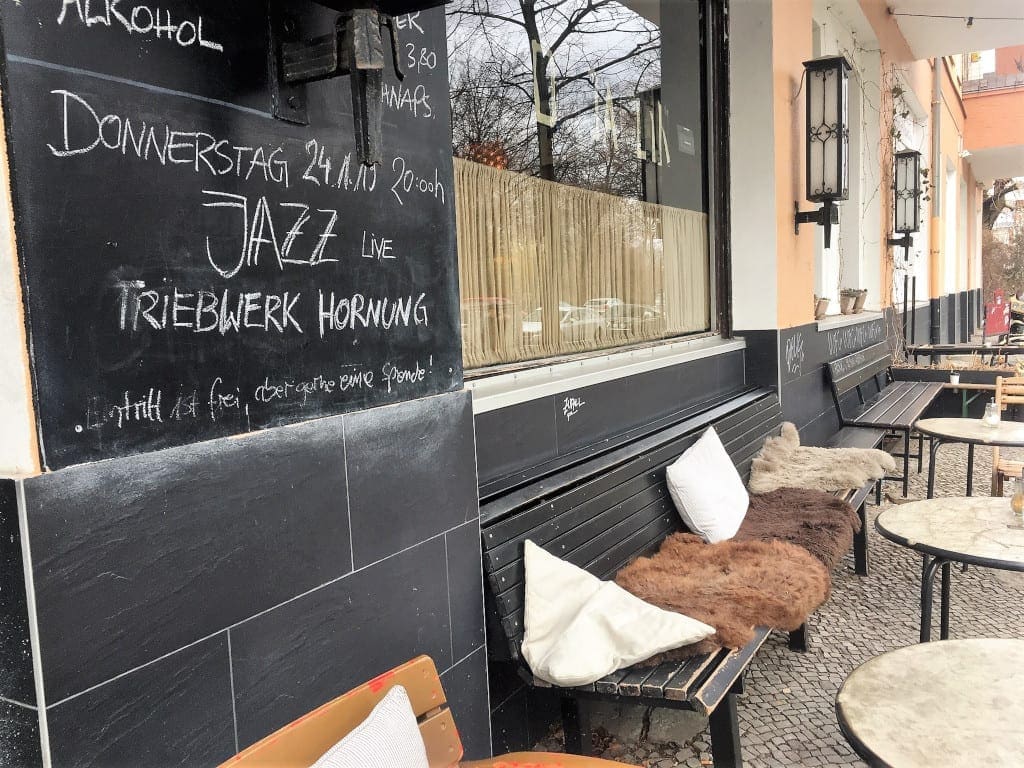 Part of the appeal of Berlin is its sense of timelessness. Restaurants proclaim "no cards" as staff greet you with old wallets falling apart with euro notes seeping out of the cracks. Certain bars still allow smoking, although you had better check the terms of your holiday insurance before you enter.
Especially in the former eastern parts of the city, you can still laze around all day in cafés with a cup of coffee or beer, and listen to the chatter around you. In other words, it's a perfect place to while away a Sunday.
Starting with a very slow and late brunch in Dujardin, in the Wedding district, we wandered around the city, bouncing into art galleries, strolling through street markets, sliding up to the remnants of the Wall, and ending up at Volksbühne, in Rosa-Luxembourg-Platz where we saw Coming Society, a very contemporary performance by Susanne Kennedy, which involved the audience ascending the stage to interact with our future society.
Having wandered aimlessly for most of the day, I'm afraid I had neither energy nor inclination to take an active part in the performance and instead took my customary place in the auditorium.
Of Modern Art and Beer
The Berlinsche Gallery, Museum of Modern Art adopts a more structured approach to contemporary art, and it is to here that we set off the following day.
Set in the most wonderful gallery space, the museum had two interesting exhibitions. Downstairs was Freedom, about the November Group of artists that flourished in Berlin during the period immediately following the end of the First World War and the November Revolution. It ends on 11 March, 2019.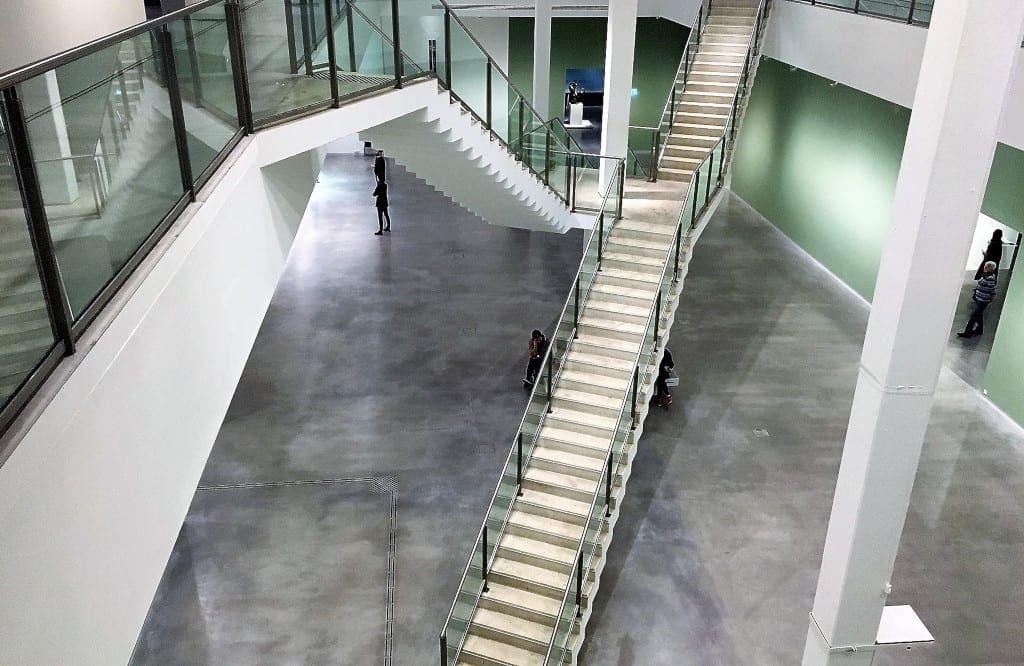 While upstairs was a permanent exhibition on Art in Berlin from 1880-1980. The latter is well worth the visit, as it traces the history of the city, with no holds barred. There are even photographs of Goebbels taking his summer holidays. It makes for a most interesting historical timeline through the history of the city, especially how the Bohemian 20s descended into the Third Reich. Also, many of the exhibitions have an accompanying panel for the blind, allowing the visually impaired to feel at least some of the works on display.
Now replete with culture, there was one more place we had to visit on our trip. While at Edel & Faul, Frank had suggested we go to a modern beer hall that had a wide range of German beers. Expecting a large, cavernous place, I was surprised to discover that Foersters Fine Beer was a compact and contemporary space. There were no buxom waitresses yielding steins of lager, though if our visit was anything to go by, craft ale in Berlin is something that attracts a more female than male clientele.
A couple of dunkel beers later, balanced with cheese, bread and some really great gherkins and I felt that my trip to Berlin had come to its natural conclusion.
Modern Berlin might not quite have the mystique of a Le Carré novel, but even in the depths of winter, some 30 years on from the fall of the wall, it has a gastronomic and cultural appeal that is no work of fiction.
---
Berlin Flights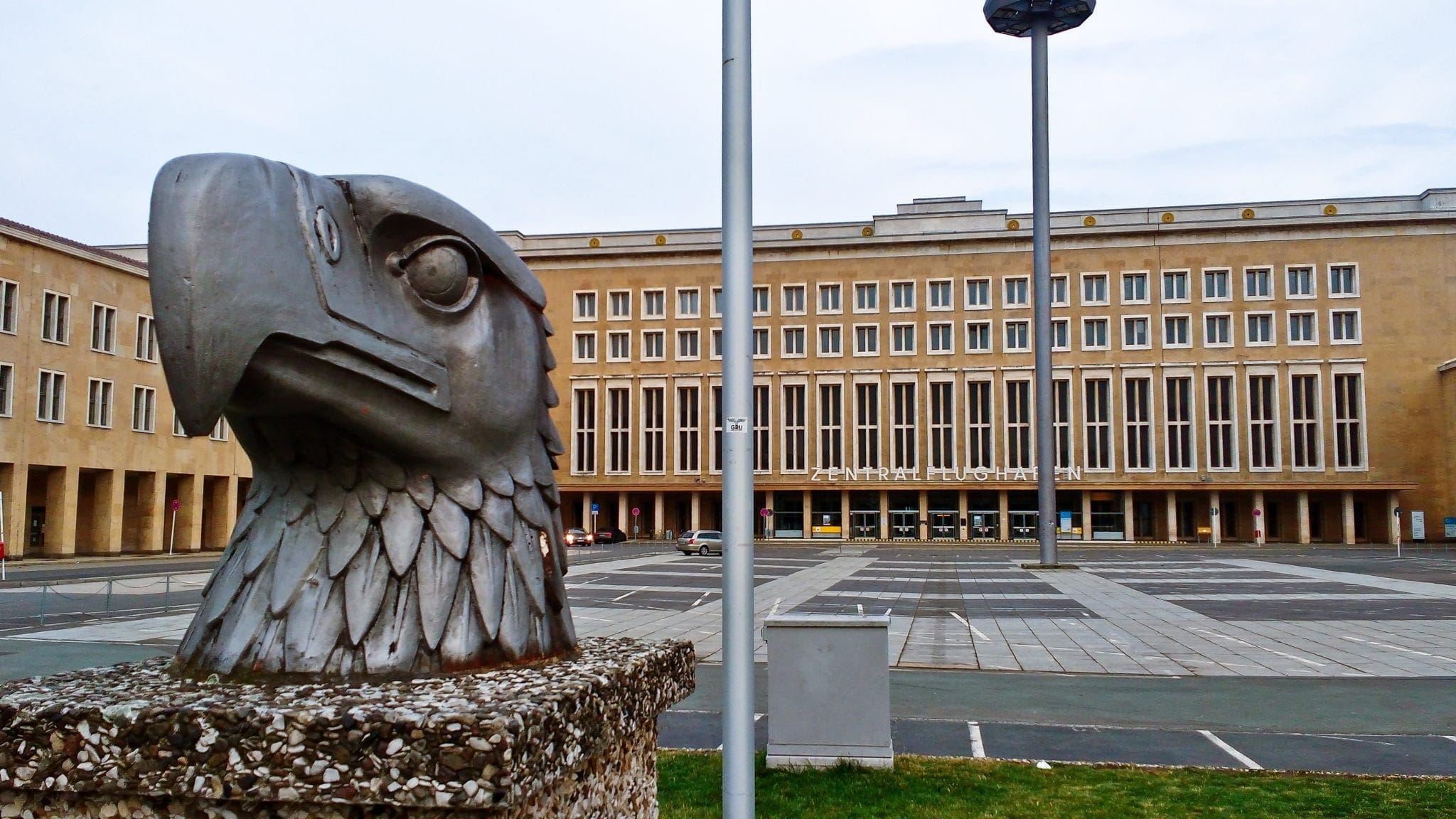 Berlin has three international airports – Tegel, Schönefeld and Templehoff, although a new airport Berlin Brandenburg close to Schönefeld is due to open in 2020. Ryanair has cheap flights from Stansted to Schönefeld.
Berlin Hotels
If you are looking to book accommodation on your trip to Berlin, why not use our Hotel Booking Portal.
Anniversary of the Fall of the Berlin Wall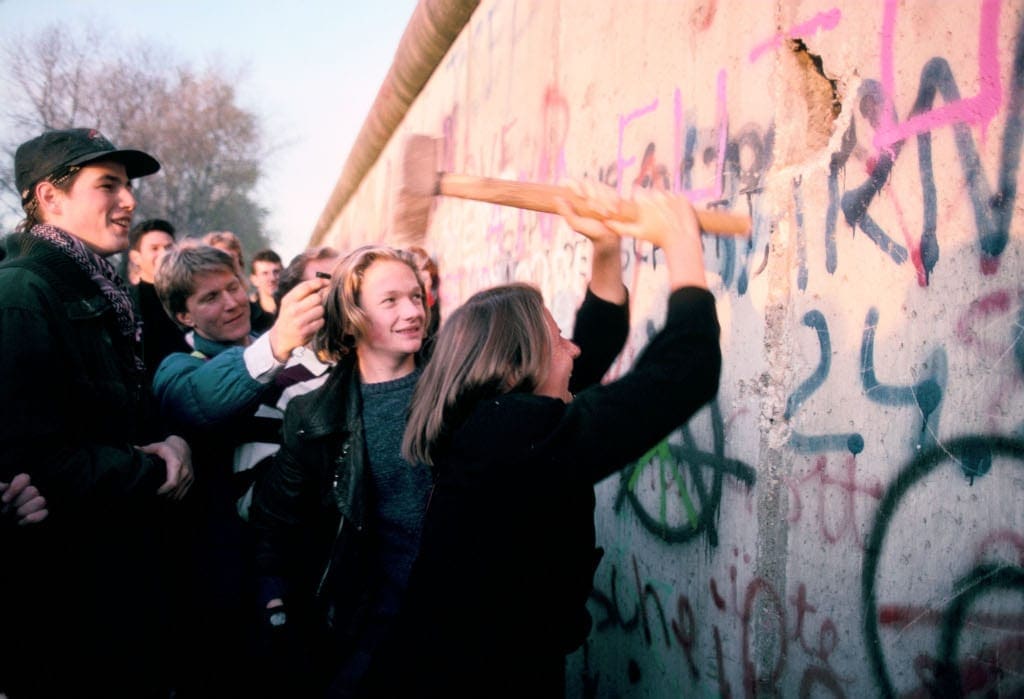 The Berlin Wall, that 155km barrier that physically divided the city and metaphorically the post-war world, fell on 9 November 1989. It was arguably the most significant political event in the second half of the 20th Century. A 1.4 km stretch of the wall is preserved as the Berlin Wall Memorial, as well as the East Side Gallery, which is the longest open air gallery anywhere in the world. Entrance to the latter is free. As this year marks the 30th anniversary of the fall of the Wall, expect plenty of media attention and activity as we approach 9 November.
Berlin Welcome Card
One of the great things about Berlin is its transport system with U- and S-Bahns, trams and buses running everywhere across the city. Purchasing a Berlin Welcome Card upon arrival is well recommended. In addition to providing free travel on public transport, including the S-Bahn from Schönefeld Airport, you can get discounts on many places across the city, including the Berlinsche Gallery, Museum of Modern Art. You can purchase a Berlin Welcome Card from 48 hours to six days at airports and tourist information centres. For more information click here.
---
More things to do in Berlin
For more information and ideas on things to do in Berlin, try the Visit Berlin website. Cover photos of Alexanderplatz and Brandenburg Gate, courtesy of Visit Berlin.
Mark Bibby Jackson
Before setting up Travel Begins at 40, Mark was the publisher of AsiaLIFE Cambodia and a freelance travel writer. When he is not packing and unpacking his travelling bag, Mark writes novels, including To Cook A Spider and Peppered Justice. He loves walking, eating, beer, isolation and arthouse movies, as well as talking to strangers on planes, buses and trains.