13 Unusual Fitness Experiences from around the World
Travel Begins at 40 Editor
Posted on 26th Apr 2019
From goat yoga and ice climbing, to swimming with sharks and samurai training, mix up your regular exercise routine with one of these unusual fitness experiences from around the world.
Whether you're into intense endurance training, or would rather a relaxed fitness session, why not incorporate one of these transformative wellness experiences on your next holiday to change your lifestyle for the better.
Mermaid Fitness at the Hotel del Coronado in San Diego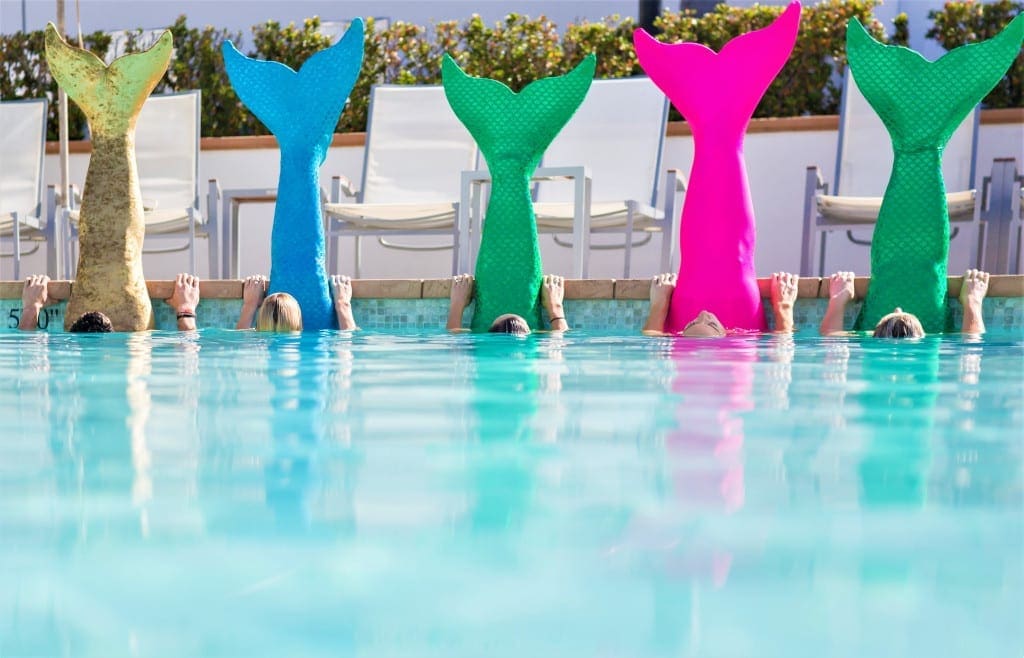 Channel your inner Ariel with the Mermaid Fitness class at the Hotel del Coronado, where participates wear a colourful mermaid tail for an aqua-aerobics class. The 45-minute session combines swimming, core, cardio and strength training to the sound of upbeat music. Taking place at 8am on Fridays and Saturdays from April until October, it's the best way to start the day.
Urban Sweat Lodge in West Hollywood
Live the true L.A. lifestyle by joining one of West Hollywood's alternative sweat sessions at the Shape House, offering a sweating experience whilst wrapped in a heated blanket watching Netflix. During the sweat session, the heart receives a workout similar to that of a ten-mile run, resulting in an intense, detoxifying, health-boosting sweat, burning 800-1,600 calories. Individual sweat sessions cost £38.
Abseil into Moaning Cavern in Yosemite's Tuolumne County
Just 20 minutes north of Columbia in the heart of the Gold Country of Tuolumne County, Moaning Caverns Adventure Park offers thrill seekers the opportunity to abseil a 165ft drop into the largest single cave chamber in California. The Expedition Tour invites visitors to explore the caverns intricate maze of chambers by climbing and crawling on their belly with only helmets to guide the way. This is a physically challenging task as most areas are undeveloped and dimly lit. Tours start from £73.
---
Read about Mark Bibby Jackson's adventures in Tuolumne in Yosemite Park and Beyond: Tuolumne County.
---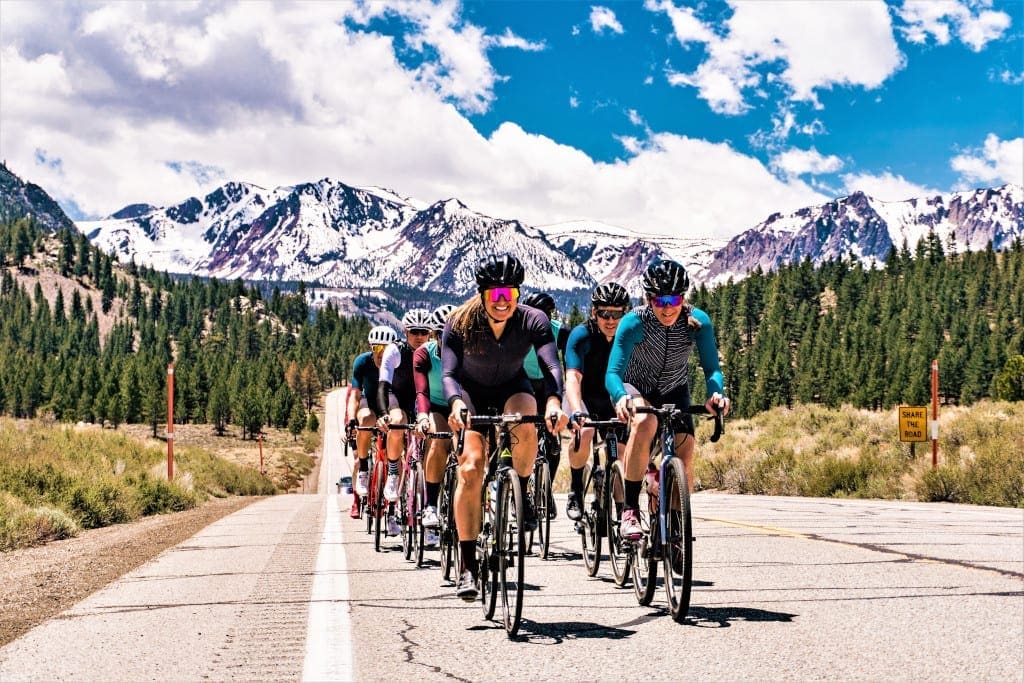 One of the official training grounds for US and worldwide alpine athletes – the American Ski Team calls it home during training season – Mammoth Lakes remains one of America's best-kept-secrets for year-round-adventure destination. Avid cyclists do not have to give up their favourite sport just because there's a bit of ice on the ground. Fat bikes (or snow bikes) are the latest rage in the biking industry. The drastically larger tires allow riders to ride snow without sinking or slipping as much and Mammoth Lakes provides the most scenic spot for an epic snow biking adventure.
Beach Yoga & Mimosa Sundays in Huntington Beach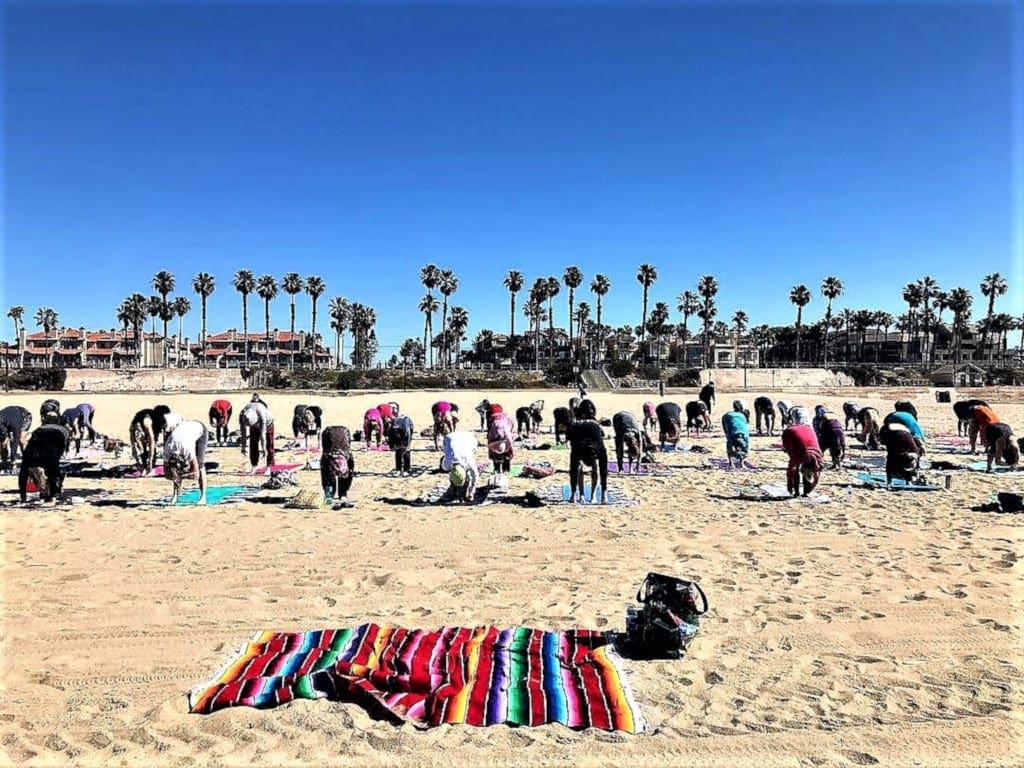 Taking place every Sunday at SeaLegs at the Beach, visitors staying in Huntington Beach can take part in a one-hour vinyasa class on the sand, followed by a recovery mimosa, live music and access to local vendors. The event series will benefit Forest Nation with a percentage of proceeds donated to this non-profit charity to plant trees in countries worldwide. Tickets cost £11.50 and include yoga and one mimosa.
Biking through Redwoods in Santa Cruz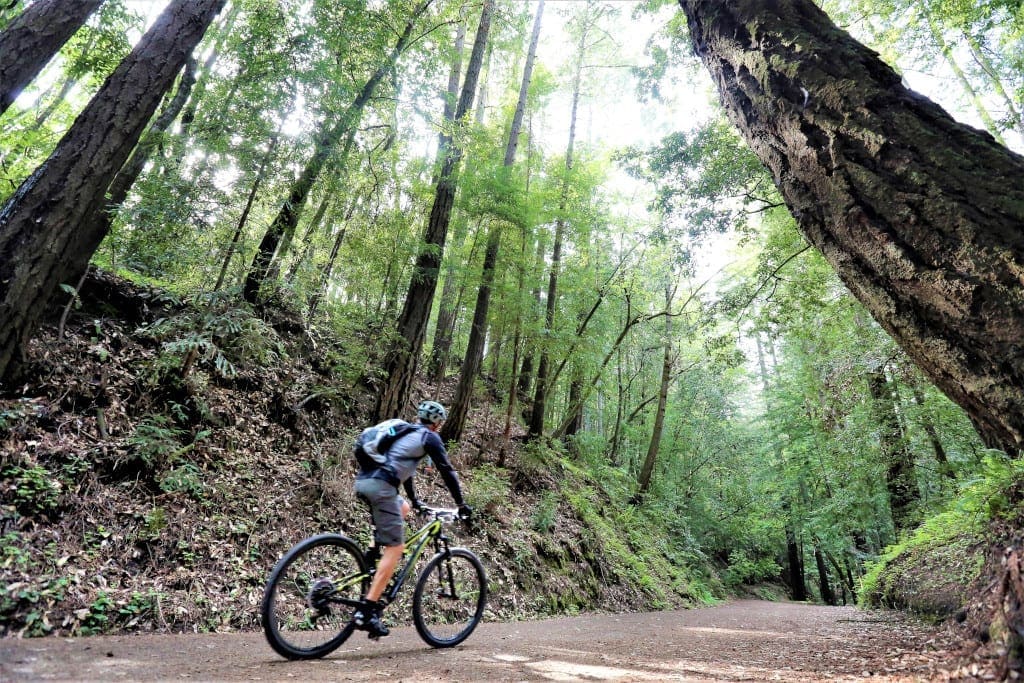 From mellow rollers beside the ocean to technical single tracks through the redwoods, Santa Cruz is a mountain bike Mecca with spectacular terrain and views to match. In Nisene Marks State Park located just south of Santa Cruz, there is over 30 miles of trails with shimmering shades of green and nature to enjoy along the routes at every turn. Shuttle Smith Adventures offers daily bike rides to the top of the forest and when you finish the ridge ride there is 15 glorious miles of uninterrupted downhill, through the towering Redwoods and looping back into Aptos Village.
Ice Climbing at Ouray Ice Park in Ouray, Colorado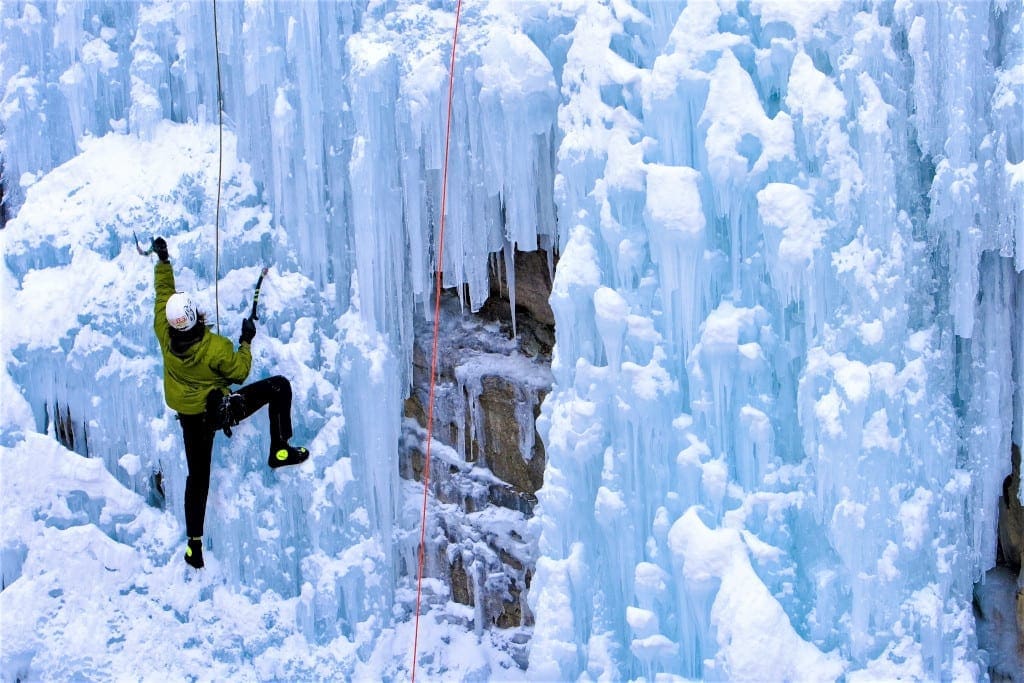 During the winter season, many Colorado rock climbers turn to ice climbing, where they use sharp picks and footwear to ascend frozen waterfalls. The sport is particularly popular in Ouray, which is home to Ouray Ice Park, the world's first official ice park, offering over 200 ice and mixed climbs. Ice climbing requires training and endurance but those up for the challenge will scale surfaces that few are brave enough to tackle.
Uphill skiing in Aspen Snowmass, Colorado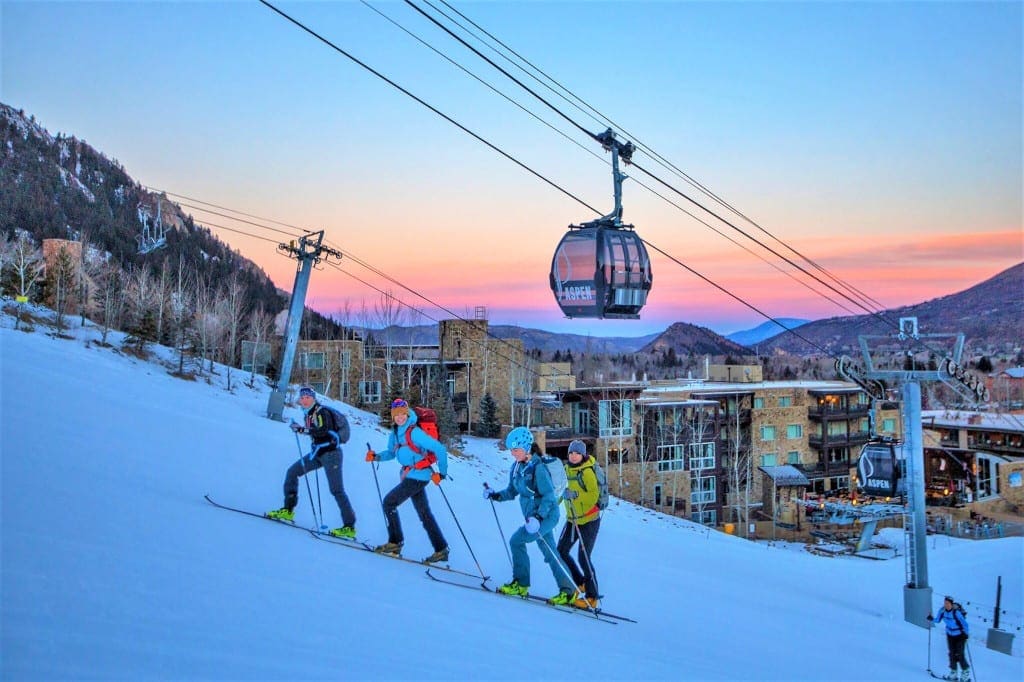 Often referred to as "skinning", uphill skiing is the practice of climbing up a mountain on skis fitted with special bindings and adhesive skins that grip the snow. Aspen Snowmass is one of North America's leading uphill skiing destinations, encouraging uphill traffic at its four mountains, with designated uphill trails and dedicated private lessons. Every year, Aspen Snowmass is host to The Power of Four Ski Mountaineering Race, which tests athlete's endurance on a gruelling course that covers 24-miles and more than 10,000 feet of vertical climb.
Goat yoga at The Wobbly Ranch in Snohomish, Washington State
One of the cutest fitness trends in the world, goat yoga involves yogis channelling their inner Zen whilst adorable goats run around and play beside them. The two-hour experience at The Wobbly Ranch involves a one-hour yoga class followed by an hour spent playing with the goats and taking photos.
Whistler Sky Walk in Whistler, BC, Canada
During the summer, visitors can hike up to and along the edge of Whistler Mountain whilst channelling their inner adrenaline junkie. After a 25-minute journey in the Whistler Village Gondola, hikers are safely clipped into cables in order to cross small, suspended bridges and cliff-edge features during the two-hour hike, with spectacular mountain views as far as the eye can see. Guided tours are available for £76 for a child and £91 for an adult.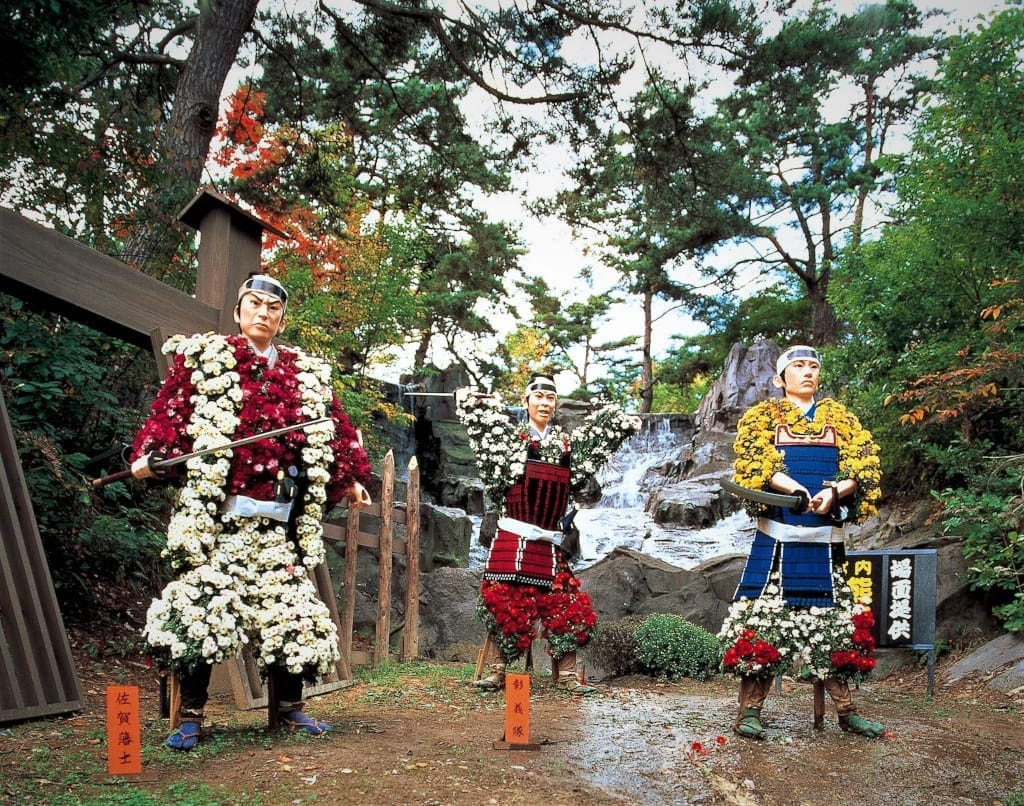 Incorporating wooden swords and kendo-style moves, Adidas Shindo is a fun way to lose weight and relieve stress. Available in Tokyo's Renaissance gyms, the class is equipped with bokuto wooden swords and feels more like martial arts than a typical workout. Beginning with a minute of meditative contemplation, the class is thirty minutes of sword slicing, squatting and combat training.
---
Discover what Mark Bibby Jackson felt like dressing up as a samurai in Japan Travel: Glamping, Zip-cords and Samurai.
---
Hike to the entrance of hell in Aomori prefecture
Japan is 72% mountain, but only one is believed to be the "entrance to hell". Featuring geographical elements similar to descriptions of the Buddhist afterlife, a hike to Aomori prefecture's Mount Osorezan features various monuments, mausoleums and statues that mark this mystical location. A nearby Buddhist temple allows the dedicated to worship at the 'gates of hell'.
Swim with sharks in The Islands of Tahiti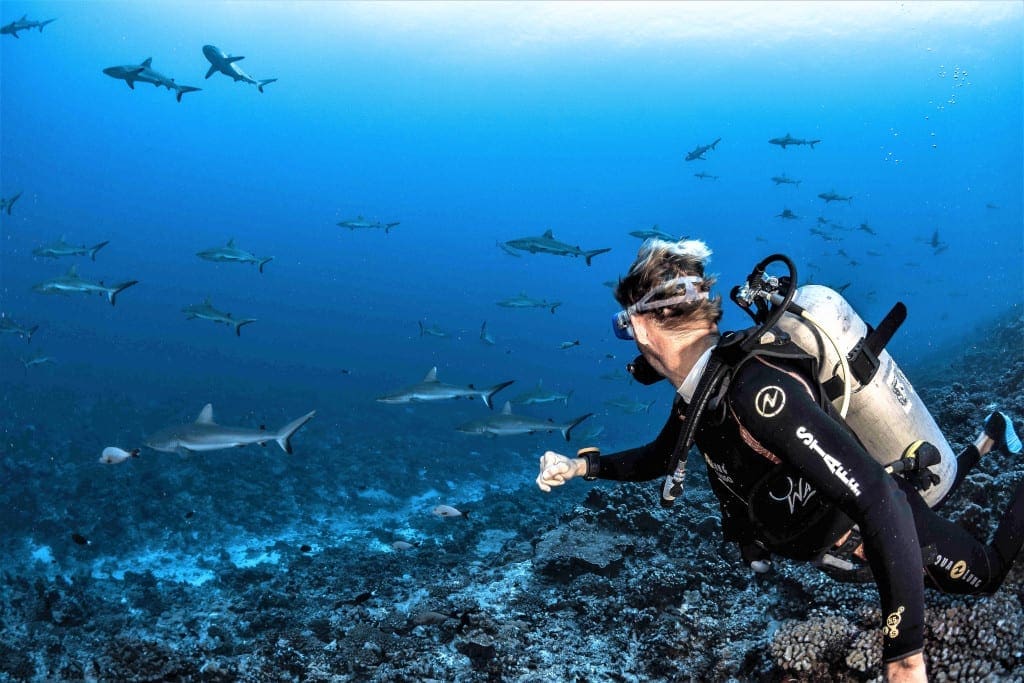 Swimming is a great cardio and the sharks are a sure way to get your blood pumping. Head to Shark Bay, a popular spot for peacefully interacting with the ocean's fiercest creatures. The water is shallow, no more than chest high and full of black tip reef sharks and sting rays. Visit The Islands of Tahiti between October and December for a chance to see these beautiful creatures up close. For the faint of heart, remember that you're more likely to be killed by a toaster than a shark.
---
Hotels and Flights
Find the best deals on flights and hotels using our comparison engine, which scans all the major booking sites.
Travel Begins at 40 Editor
Travel articles, news, special offers, festivals and events from the Travel Begins at 40 Editorial team and our global network of travel industry contributors.