Dhaka, Bangladesh – the World's Most Crowded City
Johan Smits
Posted on 23rd Apr 2019
Johan Smits takes a deep breath before plunging into the world's most crowded city, Bangladesh's capital Dhaka.
I'm a fan of Sci-Fi films. And often it's the atmospheric, non-tech parts of them that I like most. Grimy streets crowded with hawkers selling unidentifiable food items, such as in Cloud Atlas; or chaotic night scenes distorted by the dirty colours of old neon lights in Blade Runner; the unlikely presence of hopelessly antiquated things, such as the dingy Chinese junk in The Fifth Element. And then there's the smoke, those ubiquitous plumes obscuring everything in a diaphanous haze. But no Sci-Fi film can compete with the dystopian vision of the future evoked in present-day Dhaka.
It's my first night in Bangladesh's capital and I'm drinking tea with Abdul, my timeless rickshaw driver who could be anything between 45 and 65, and a couple of labourers. The rickety stall – three corrugated iron sheets and a wooden bench – is one of half a dozen in a ship-repairing yard on the other bank of the Buriganga River that borders the city in the south. We're sitting in the darkening shadow of a massive ship's hull, the banging of metal on metal reverberating through the dusty air while young men haul steel sheets from one place to another. I'm like an extra in a Dickensian film taking a tea break.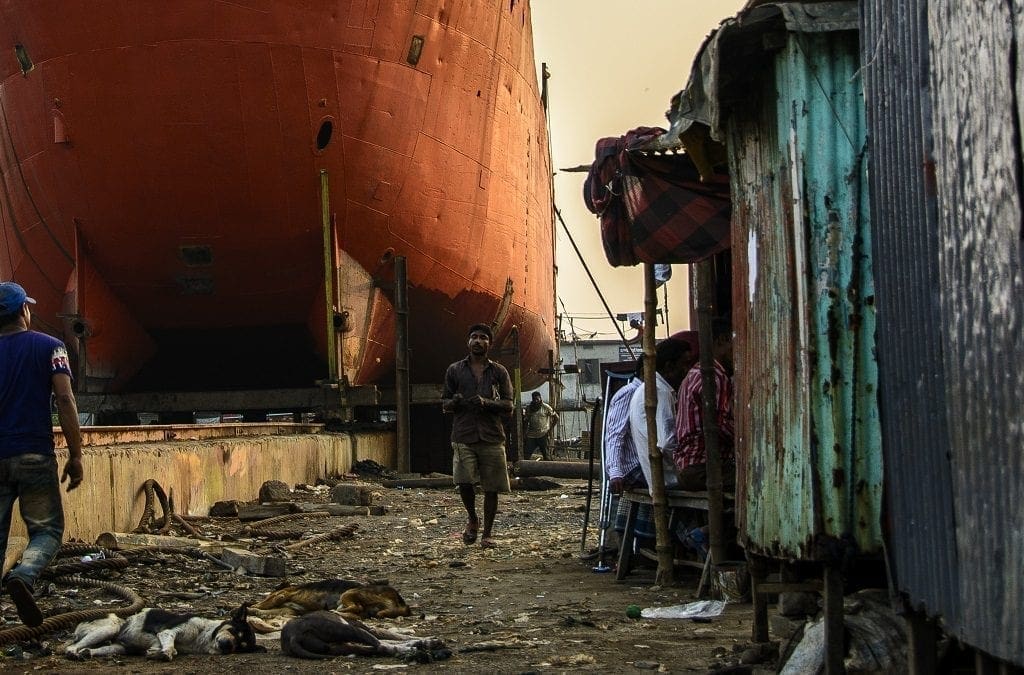 It's Abdul who has brought me to these dockyards. I know his proposed itinerary is taking much longer than my original plan of visiting the 17th-century Lalbagh fort, and that he's overcharging me, but I like Abdul's entrepreneurial spirit, and his job of pedalling humans through Dhaka's heavily polluted and eternally congested traffic – which he does with remarkable cheer – is a thankless one.
Dhaka is a continuous time warp between past, future and present
The workers demand I take selfies with them on my phone, which makes for a festive mood in surreal contrast with our grim surroundings. But one young guy with whom I'm sharing my wooden bench remains quiet. Through Abdul's translating I learn that his name is Russell and he's 25. "He transports stuff by carrying," answers Abdul when I ask about Russell's job. He earns up to 1,000 taka on a good day, which is about $12. When I take Russell's photo I notice how handsome he is – in another world, he could be a model – but his forlorn eyes will haunt me for days.
When we leave I'm not allowed to pay for my tea. It is this juxtaposition that will come to summarise my entire Bangladesh visit of the next two weeks: indescribable destitution and improbable hospitality.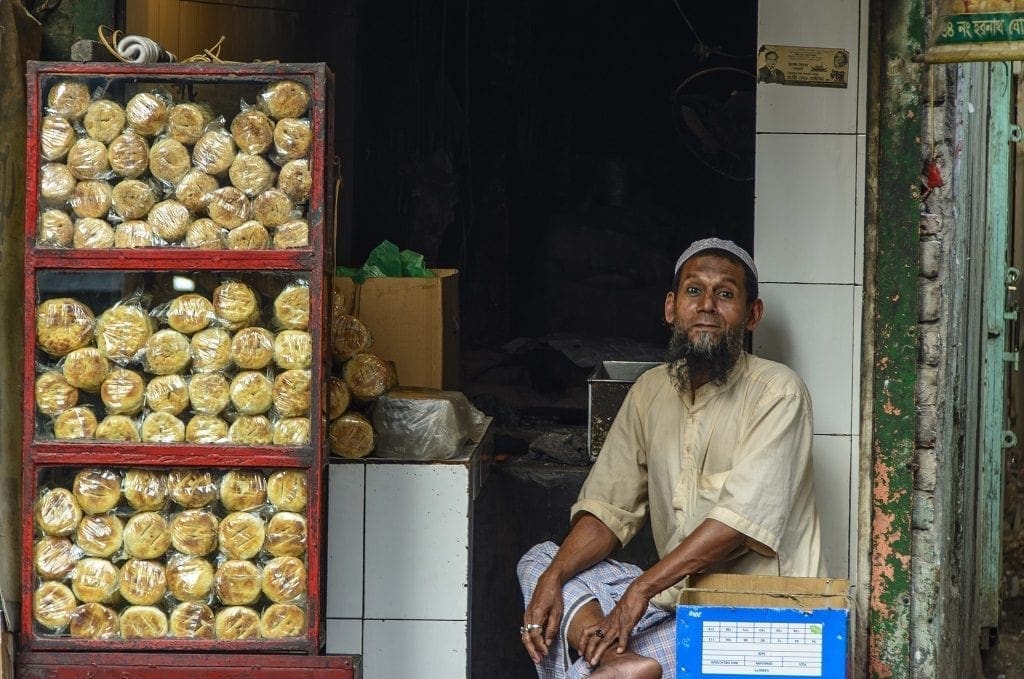 Old Dhaka: ancient forts, mosques and churches
After 48 hours I realise that the capital of Bangladesh is the opposite of timelessness. Professions that have gone extinct elsewhere, crumbling monuments from bygone eras and ancient customs mix here with some of the largest shopping malls in Asia, acute climate change problems and apocalyptic scenes of pollution projecting a future environmental meltdown. Dhaka is a continuous time warp between past, future and present. Already hosting a population of 20 million, it's the fastest growing mega city on the planet. Extremely noisy, full of bright, primary colours with lots of dark patches, around-the-clock movement, dirty, alive, home of the poor and the corrupt but rich in character. It's like a massive heart burst out of its body, beating frenetically to stay alive. With a constant influx of climate refugees and other rural migrants, Dhaka is bursting at the seams – and the sewers, which overflow every rainy season. Never since staying in Kinshasa seven years ago have I experienced such a dysfunctional city.
A stay in Dhaka is not a holiday but an impressionable experience that will leave you feeling richer. Not only because of its curious locals who welcome you as family, but also because of the city's colossal and tumultuous history. Once dubbed the 'Venice of the East' when merchants from across Eurasia called it their home, Dhaka's golden ages in the 17th and 18th centuries have left it with ancient mosques, forts, palaces and tombs. But there are also remnants of British colonial buildings as well as more recent monuments and buildings such as its celebrated National Parliament House, designed by the world-renowned American architect Louis Kahn.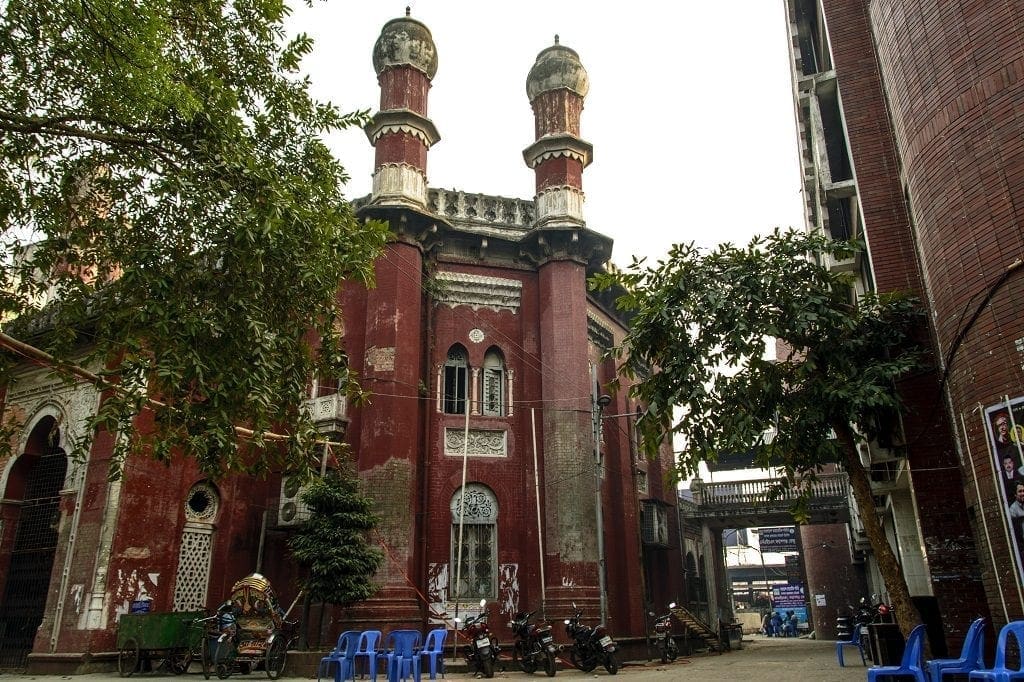 Don't expect its monuments polished and its museums tranquil. When I do make it to the Lalbagh Fort, a half-finished Mughal structure from 1678, the street with the entrance is congested with a bustling humanity. The fort, it seems, is immensely popular with local visitors, perhaps partly because the large, open grounds provide a rare respite from the city's incessant noise and traffic. The complex contains several impressive monuments including the mausoleum of Pari Bibi, the beloved daughter of Shaista Khan, a governor of Bengal and general in the Mughal army. Khan never completed building the fort as he thought his daughter's untimely death was a bad omen.
---
If you are enjoying Johan's account of Dhaka then read also about his experiences in Almaty: the Coolest City in Central Asia.
---
Today the gardens serve as a romantic getaway for young couples while families have festive picnics on the grass and groups of kids laze about the grounds. And everybody is taking hundreds of selfies. The small but interesting museum inside the Diwan or Hall of Audience – a collection of miniature paintings, armaments, coins and calligraphy all from the Mughal period – is buzzing with an excitement you would expect at an amusement park, not a museum. Before long, I find myself observing the crowds as much as the monuments.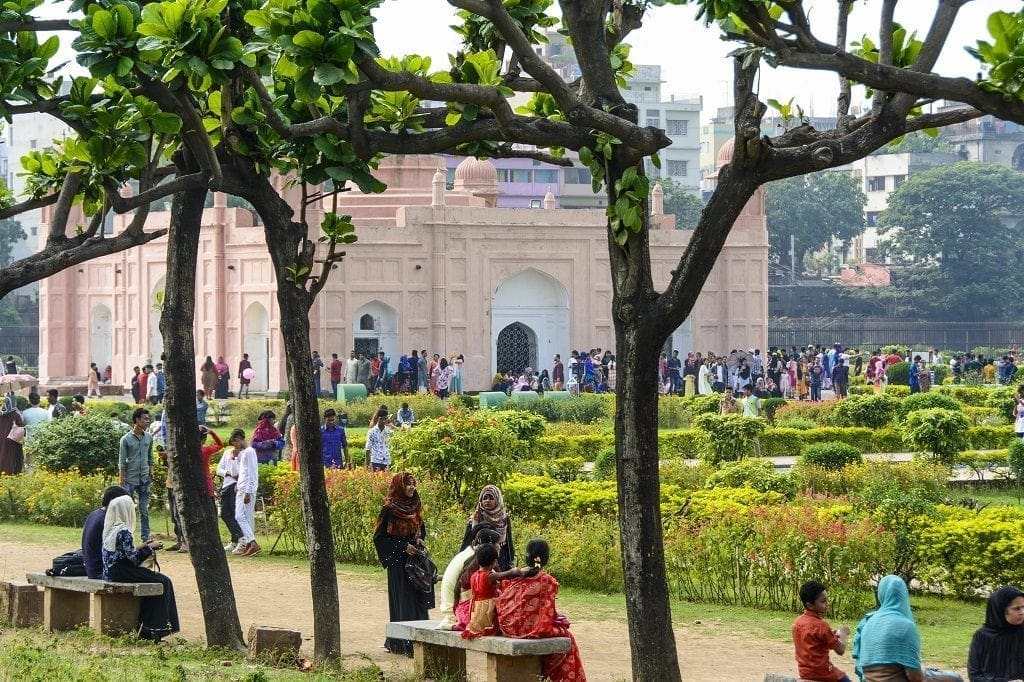 My favourite building is not a fort but the more secluded 18th century Armenian Church of the Holy Resurrection on a small street hidden in Old Dhaka's crowded Armanitola mahalla, or neighbourhood. The gates are locked when I arrive, but an armed guard lets me in. Moments later I'm walking amongst old graves with inscriptions in both Armenian and English. The church's cemetery is a scattered history book of what was once a small but thriving community who contributed significantly to the city's commercial life, trading in textiles, jute and spices. One tombstone stands out – it has a beautiful white marble statue of a young lady and is "a fond wife's tribute to her deeply mourned and best of husbands", marking the 1877 death of a certain Catchick Avietick Thomas.
The modest but interesting church consists of two floors and houses two large, beautiful paintings above the altar. They depict The Crucifixion and The Last Supper. I find it surprising the church still stands – surrounding it are towering residential constructions on what must be prime property. When I meet the old, friendly caretaker it turns out he's Hindu. The last Armenian caretaker, Mikel Housep Martirossian, recently moved to Canada to retire with his family. He used to be a jute trader and is believed to have been Bangladesh's sole remaining Armenian.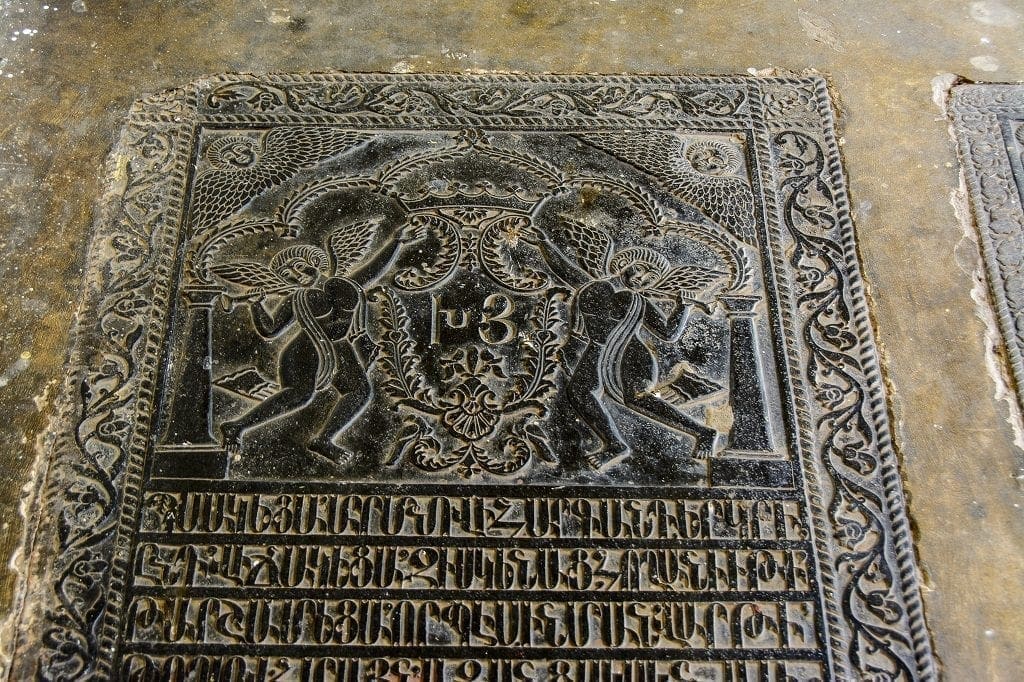 Just a few narrow streets away from the Armenian Church stands the Sitara Masjid or Star Mosque, a Mughal style structure from the early 18th century whose ornate tiles, mosaics and motifs of blue stars keep me mesmerised for a good while. Upon finally leaving, I spot an unusual glazed tile portraying Mount Fuji, one of the Japanese and English decorated clay tiles imported for the mosque's extensive renovation in 1926.
Sensory overload, old-school hotels and a ghost city
By now I understand that visiting the most densely populated city on the planet is best done in bite-sized chunks. My senses are constantly overwhelmed. Outside I wear ear plugs against the stupefying noise of traffic and construction, and a face mask which I hope filters out the carcinogenic particles of its chronically polluted air. I don't dare to imagine what the health problems are of the street workers – an estimated one million rickshaws circulate in Dhaka. Yet, the resilience of its residents seems close to superhuman. Even in the midst of improbable traffic chaos, exhausted rickshaw drivers turn with a smile to have their picture taken while other locals stop me every 50 metres to shake my hand with the inevitable question, "Your country?"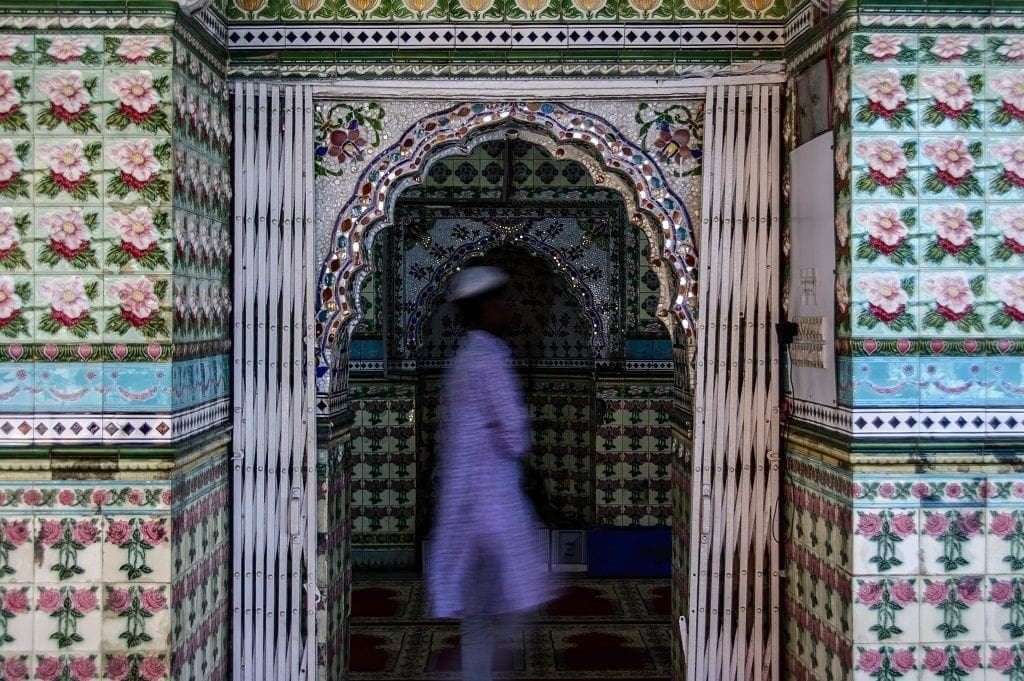 But every coin has its other side. The stunning colours at sunset – from ladies' saris to the fantastic rickshaw art on the streets; the cooling water of freshly cut up coconuts at every other street corner and the divine aroma of baked roti, slow-cooked curries and grilled kebabs; the Bangla music coming out of little hole-in-the-wall shops. All of this helps to re-balance the senses after they have received another battering.
So, even if you're on a budget, you would do well to choose a comfortable hotel to re-calibrate after an intense day. Hotel 71 – the number a reference to the year (1971) East Pakistan became Bangladesh after a bloody independence war that saw three million people killed – is where I'm staying. I chose it because of its strategic location in Old Dhaka. It's a cheap and worn affair but clean and the kind of old school hotel I find disarming: I'm given real, sturdy slippers, a newspaper under the door every morning and whenever I step into the elevator a uniformed liftboy pushes the buttons for me.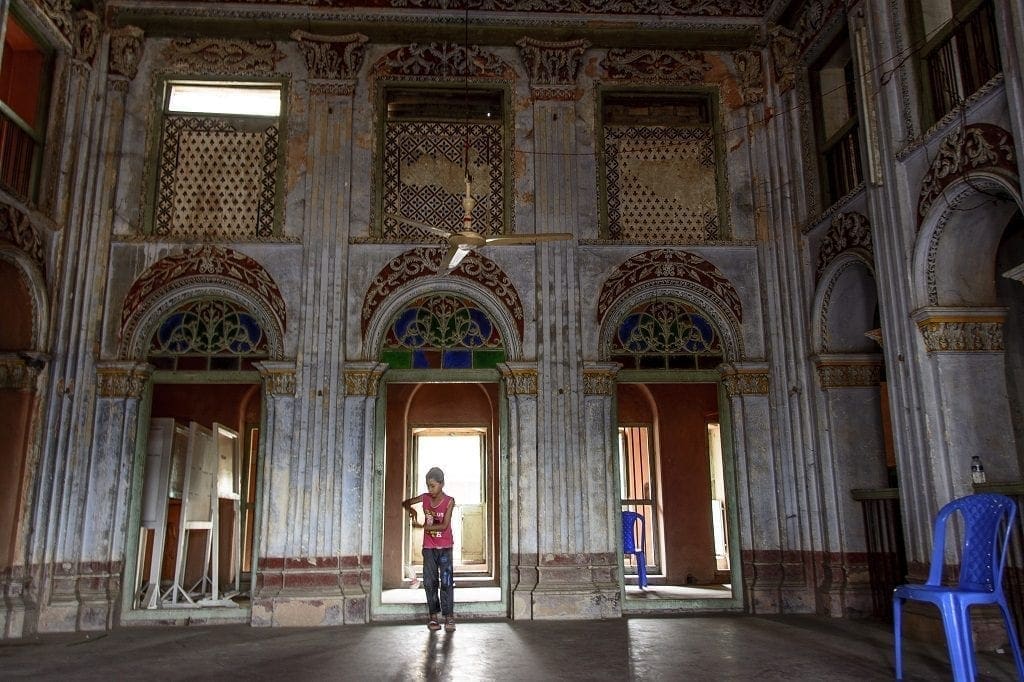 The nights at Hotel 71 are quiet enough to re-energise me for a day trip to Panam Nagor, an ancient historical site 27 kilometres southeast of Dhaka. What is supposed to be a 40-minute ride on a local bus becomes a two-hour-long traffic nightmare, but once I arrive I'm enchanted. A small fee gets me onto a narrow road flanked with 52 crumbling mansions built by Hindu cloth merchants between 1895 and 1905. At the time of the Partition in 1947, most of the original owners fled to India and the remaining ones followed suit during anti-Hindu riots in 1964 which culminated the following year in the Indo-Pakistan War.
…the presence of these residents gives this ghost city a surreal edge
Years of neglect have transformed Panam Nagor (or "golden village") into an astonishing place. Although most of the buildings are abandoned, a few are still occupied and the presence of these residents gives this ghost city a surreal edge. The two-storied mansions are built in a mix of European colonial and Mughal styles, with plenty of surviving stuccoed edifices, intricate mosaics made of broken china – an art called Chini Tikri that has gone extinct in Bangladesh – and cast iron railings in elaborate motives.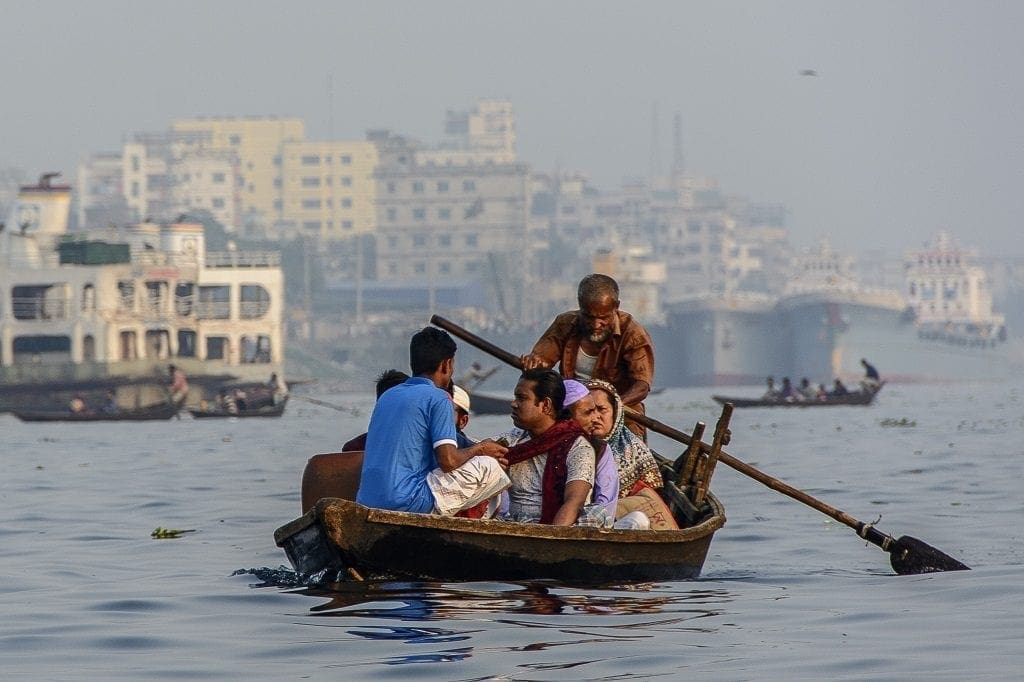 When I meet Jahangir, the site manager, he shows me inside one of the few mansions that are locked. The stained-glass windows, wide open spaces and courtyard leave little to the imagination of what life must have been for these wealthy merchant families. When after my little private tour I thank Jahangir with a small tip and give him my card, he departs with the memorable promise to "fornicate with you on Facebook".
Panam Nagor is part of the town of Sonargaon, which was one of the original and oldest capitals of Bengal, and the nearby 1519 Goaldi Mosque is a surviving example of Sonargaon's past grandeur. With a small detour to admire its beautiful arabesque designs on the mosque's ancient red bricks, I conclude what turns out to be a very successful day trip.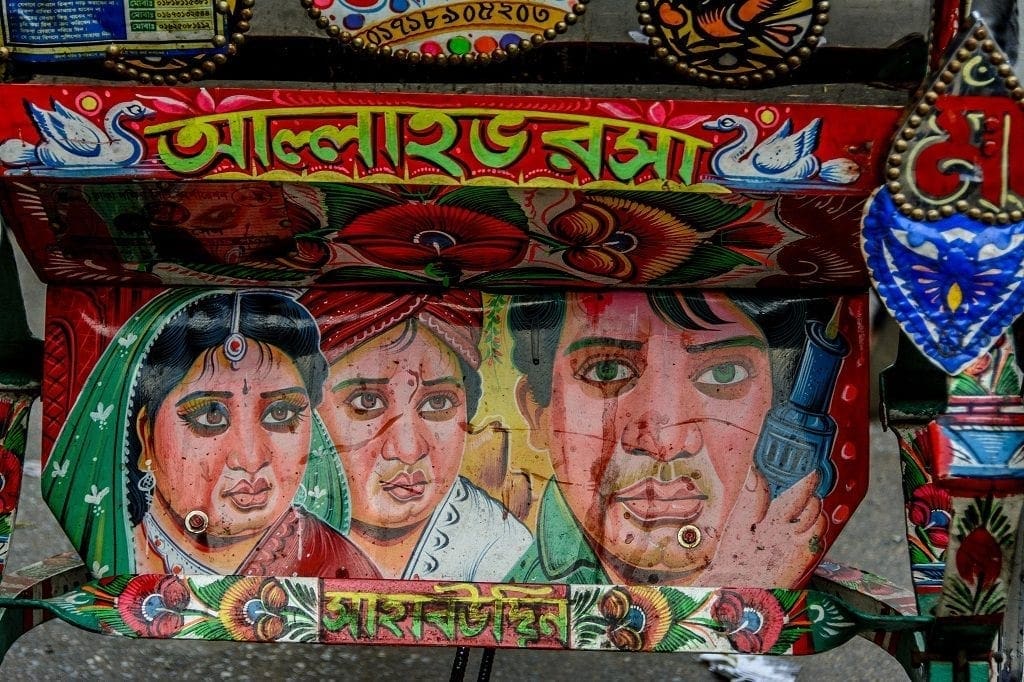 After four days in Dhaka I'm ready to move on, despite that there's still much to see and do. I have hardly explored Dhaka's rich art and music scene, or the upmarket Dhaka North with its wider streets, modern office buildings and parks. Instead, it's Dhaka South, home to Old Dhaka and the river port, to where I often find myself gravitating. And it is also here, amongst the chaotic hustle and bustle of traders and vendors, I will take that night the paddlewheel steamer 'Rocket'. Reminiscent of the dingy Chinese Junk in The Fifth Element, this old, creaking steamer from the early 20th century will take me on the next leg of my journey, southwards down the Meghna River towards Bangladesh's vast Sundarbans mangrove forest. I'm looking forward to some tranquil days ahead. I need them.
---
How to visit Dhaka
Taking a local guided tour will probably make for a more comfortable and informed visit. On the other hand, exploring the city on your own will lead to unexpected and rich encounters both with people and sites. Whatever suits you best, don't rush and provide for at least two to three days as this is a city that requires time as much as energy. Local tour companies that are often recommended include Nijhoom Tours, Royal Bengal Tours, and Bengal Tours.
Accommodation in and flights to Dhaka
To find the best accommodation in and flights to Dhaka, please try our booking portal which searches and compares multiple websites to find you the best deals on hotels and flights:
---
For more on Bangladesh, read "Bangladesh Travel: Rivers, Relics and Wrecks".
---
Dhaka photo gallery: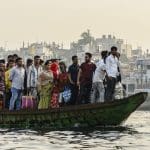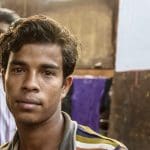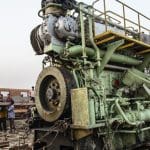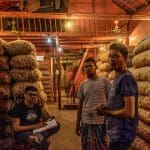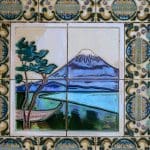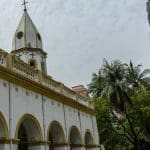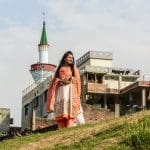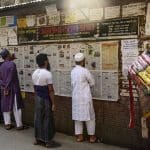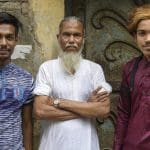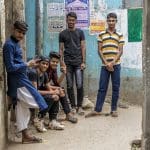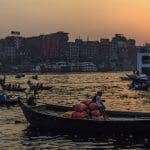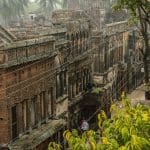 Johan Smits
Freelance writer, translator, web content developer, author of the novel Phnom Penh Express and Tommy, a short story. Loves trying out local brews, avoids noise. Chronically indecisive about where to lay down his hat. Shortlisted AITO Travel Writer of the Year 2018.