Lord Howe Island; Australia's Paradise Found
Travel Begins at 40 Editor
Posted on 1st May 2019
Set in the Tasman Sea between Australia and New Zealand UNESCO-listed Lord Howe Island truly is an island paradise a short flight from Sydney.
Excellent diving, walking and biking awaits the intrepid traveller on Lord Howe Island, part of a small archipelago of 28 islands and islets, some 490 miles northeast of Sydney that was recorded as a World Heritage Site of global natural significance by UNESCO.
Diving and Fishing in Lord Howe Island
Tropical and cooler waters collide in the ocean around Lord Howe, resulting in the world's southernmost reef, rare corals, green and hawksbill turtles and 500 species of fish – perfect for scuba diving and snorkelling. More than 60 dive sites lure divers of all skill levels; local operators offer PADI diving courses, while glass-bottom boat tours are another option. Take a boat trip to Balls Pyramid, a rocky stack rising 552m from the ocean that's a wonder of geology and natural history.
Neds Beach is known for the colourful fish and occasional turtles that inhabit the crystal clear waters. Just wade in and hand-feed mullet, butterfly fish and stingrays or snorkel the shallow reef to see giant clams and corals. Blinky Beach is a great spot for swimming, fishing, snorkelling, and surfing. At Old Settlement Beach, swim with turtles as they come in on the high tide to feed on seagrass.
Lord Howe is a top destination for big-game fishing for yellow-fin tuna, wahoo, marlin and more. The island's abundant waters are home to more fish – whiting, trevally, bonefish, Australian salmon, spangled emperor, bluefish and wrasse.
Walking, Birdwatching and Cycling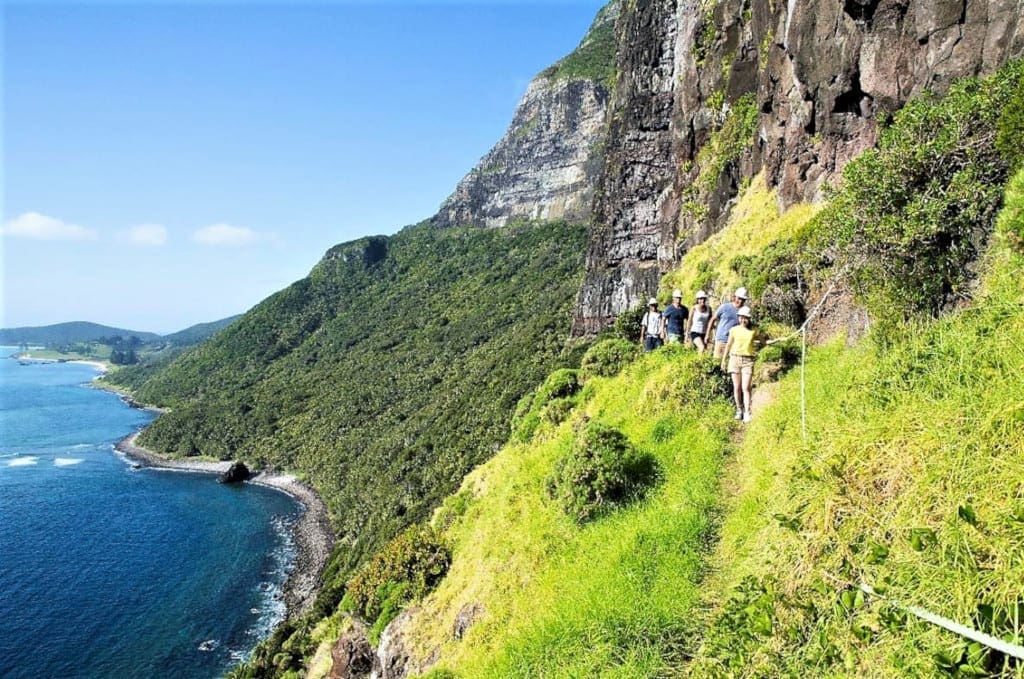 Lord Howe Island's famous twin peaks, breathtaking views and natural forest make it ideal for walkers and hikers. Popular walks include Muttonbird Track – the only place to see ground-nesting masked boobies – and the scenic Max Nicholls Track to secluded North Bay. Kims Lookout is famous for its panoramic views of the lagoon, reefs, mountains and plunging cliffs. The ascent of Mount Gower, one of the country's toughest climbs, is a guide-only day walk.
With 14 species of seabird breeding on the island, Lord Howe is Australia's premier bird-watching destination. They come in their hundreds of thousands – petrels, shearwaters, tropic-birds, terns, noddys and masked boobies.
Lord Howe has more than 130 permanent and migratory bird species, among them the woodhen, unique to the island. See boobies, terns, noddies and shearwaters at Clear Place, Muttonbird Point, Malabar Hill and Mount Eliza. The island is the winter breeding ground for providence petrels that wheel in the sky in huge numbers.
Cycling is the main form of transport on Lord Howe Island, with few cars to bother you along the way. Most visitors head straight from the airport to the bike shop.
---
If planning to visit Sydney on your trip, why not consider taking in the Vivid Sydney 2019 Festival?
---
Dining on Lord Howe Island
Luxury resort Arajilla has sophisticated dining with an emphasis on the island's freshly caught fish. While meals are included in the tariff for guests, visitors can also enjoy the likes of yellow-fin tuna, snapper or kingfish in the beautiful setting.
Pinetrees Lodge also welcomes visitors, especially to the occasional food and wine weeks that feature celebrity chefs. Three-course dinners generally feature the best of the island's ocean produce and Pinetrees' executive chef Paul Brown works his magic with dishes such as wild mushroom and asparagus risotto or rosemary lamb with confit beetroots.
Other dining options include Beach House On The Moon serving its famous Friday fried fish buffet, the simple and healthy options of Greenback Eatery, and Anchorage Restaurant with an in-house bakery and BBQ packs that can be delivered to the beach.
Lord Howe Island Accommodation
Pinetrees Lodge is one of Australia's oldest family-run businesses; its owners have lived on Lord Howe since 1848, and the lodge is now run by the family's sixth generation. It's the only traditional-style lodge that still offers all-inclusive accommodation and dining packages.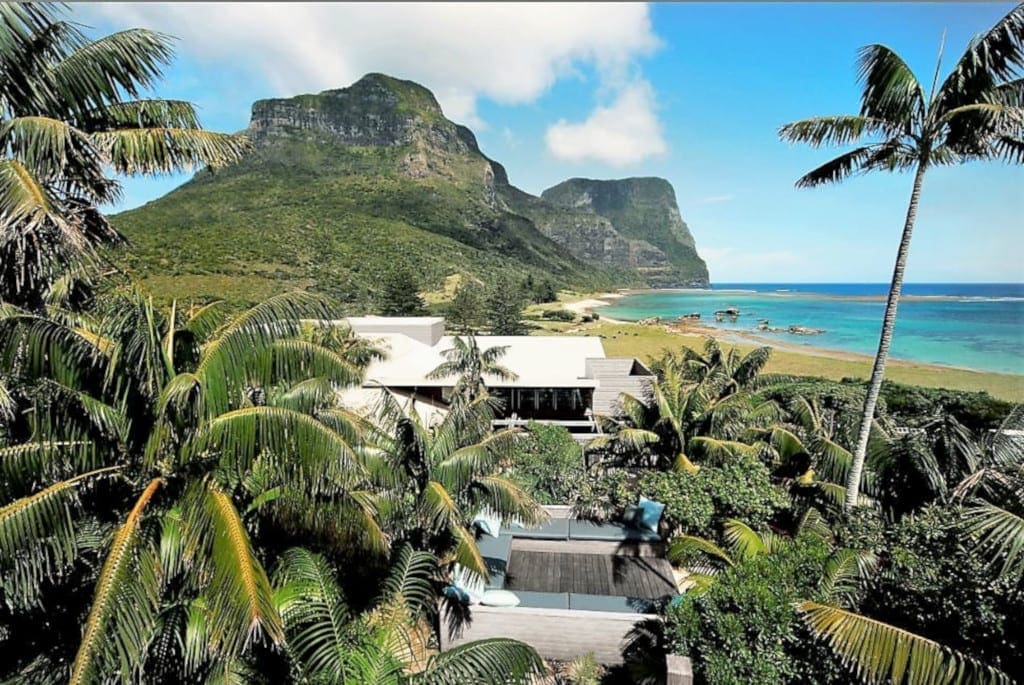 Capella Lodge provides luxury accommodation in which designer chic meets laidback beach-house style. The property underwent a £2 million renovation in 2018 and its nine suites have stunning views towards Mount Gower, as does the expansive lounge and gourmet restaurant. To further enliven your senses, enjoy soothing and restorative body and beauty treatments at Capella Spa.
At the other end of the island, Arajilla Retreat is a luxury property near Old Settlement Beach with 12 suites, its own restaurant and an Ayurvedic wellness spa, where visitors can enjoy soothing treatments.
Centrally-located Blue Lagoon Lodge provides choice studios and one-and two-bedroom apartments. There's a convenient on-site general store and bakery, as well as tennis courts.
The Treehouse is a great spot for couples looking to rejuvenate. The self-contained, free-standing bungalows are surrounded by lush, native vegetation.
Bowker Beach House offers contemporary and convenient accommodation, tucked away in a secluded tropical forest by the lagoon.
Howeana Apartments, provides classic beach-house style living at Neds Beach, and adults-only Broken Banyan, where one-bedroom apartments have private verandas.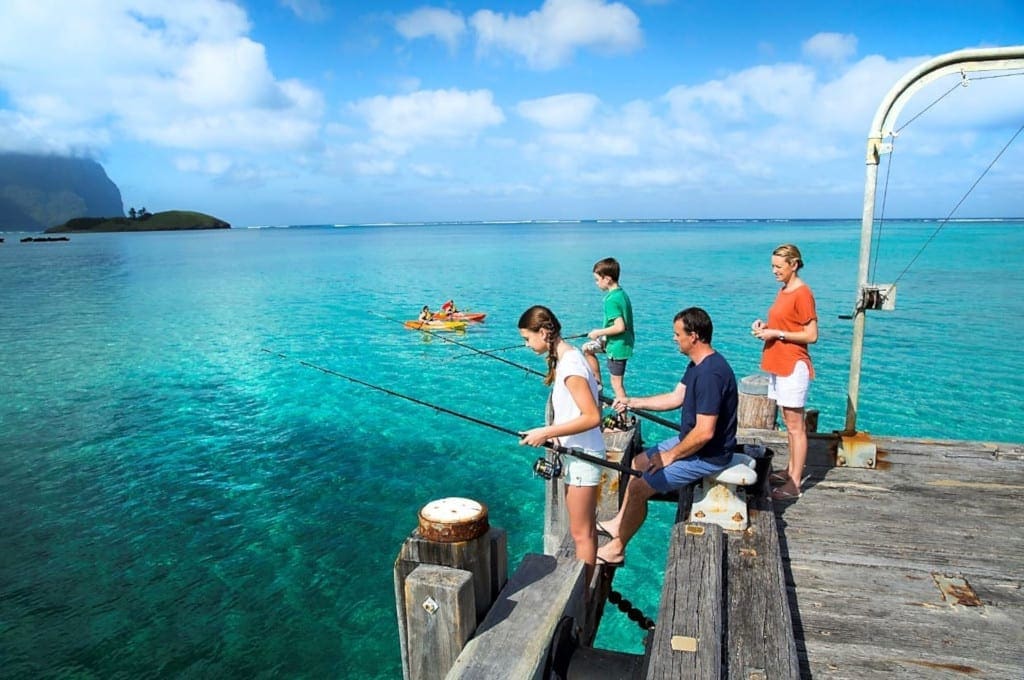 Lord Howe Island Flights
The island is approximately an hour-and-a-half flight from Sydney.
Find the best deals on flights and hotels on Lord Howe Island using our comparison engine, which scans all the major booking sites.
---
For more information on Lord Howe Island
Travel Begins at 40 Editor
Travel articles, news, special offers, festivals and events from the Travel Begins at 40 Editorial team and our global network of travel industry contributors.