Things to Do in Yangon on a Short City Break
Joe Ogden
Posted on 8th May 2019
From sampling the local cuisine to visiting the amazing Shwedagon Pagoda, Joe Ogden discovers there are many things to do in Yangon on a short break to Myanmar's largest city.
After a short flight from Bangkok, we arrived in Yangon to a thunderstorm at the tail end of the monsoon season. Formerly known as Rangoon during the British colonial era, Yangon is the commercial capital and largest city in Myanmar. Like many Southeast Asian cities, it's currently undergoing widespread changes due to rapid development, so now is a great time to visit for an interesting weekend away.
Sorting the essentials – money, sim cards, and Myanmar visas.
I was travelling with my Cambodian partner, Amber. Myanmar is one of very few countries in the world where a Cambodian passport grants higher privilege than a British one. For my own Myanmar visa I had ordered an eVisa online a few days before for US$50, while as a citizen of ASEAN you can just rock up and are granted visa free entry with no hassle at all.
Once outside the airport it was easy to change some money to the local Myanmar currency, the kyat. I was handed a huge wad of 10,000 kyat notes in exchange for my US Dollars that I'd kept crisp and flat for the journey so far. A SIM card with data was easily procured at the counter next to the exchange, a very affordable 4,500 kyat for a new sim and 2GB, which was plenty to last me a weekend of studying Google Maps and browsing TripAdvisor looking for restaurants.
First day of Yangon sightseeing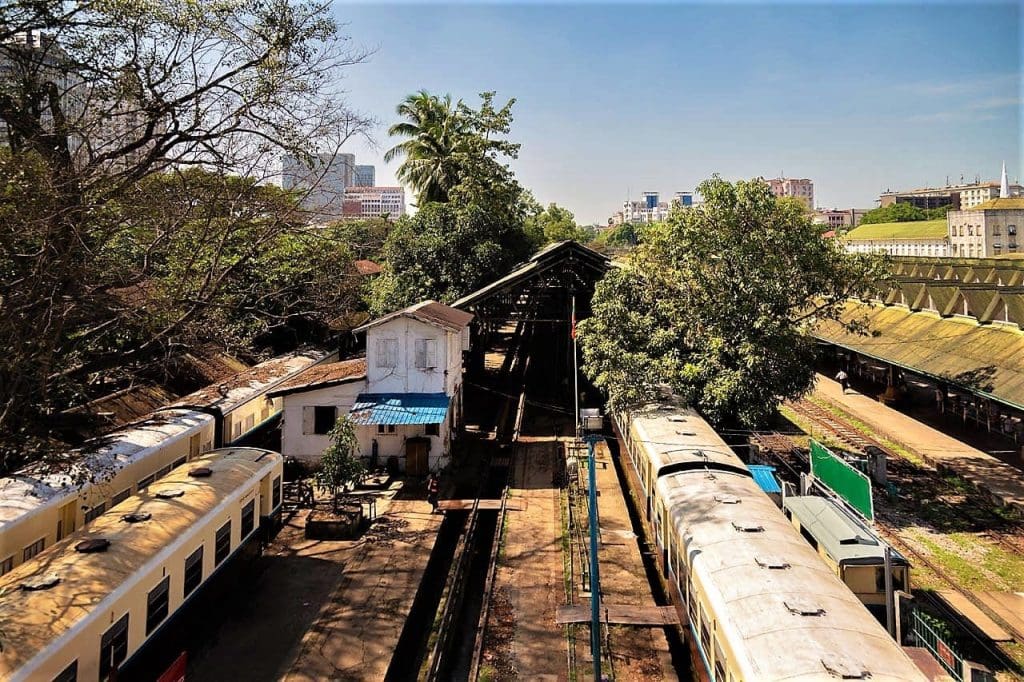 The sun came out in force the following morning, bringing temperatures up to the mid-30s. Despite the heat I had planned to explore the city on foot, so without a cloud in the sky we grabbed our umbrella and headed out.
First, passing the decaying colonial era train station, then down over a covered bridge with some much-appreciated shade and interesting views of the train tracks below. Once over the bridge we stumbled upon an impressive cathedral before stopping for a quick biryani lunch and looping back towards Sule pagoda – a temple in the middle of a busy roundabout.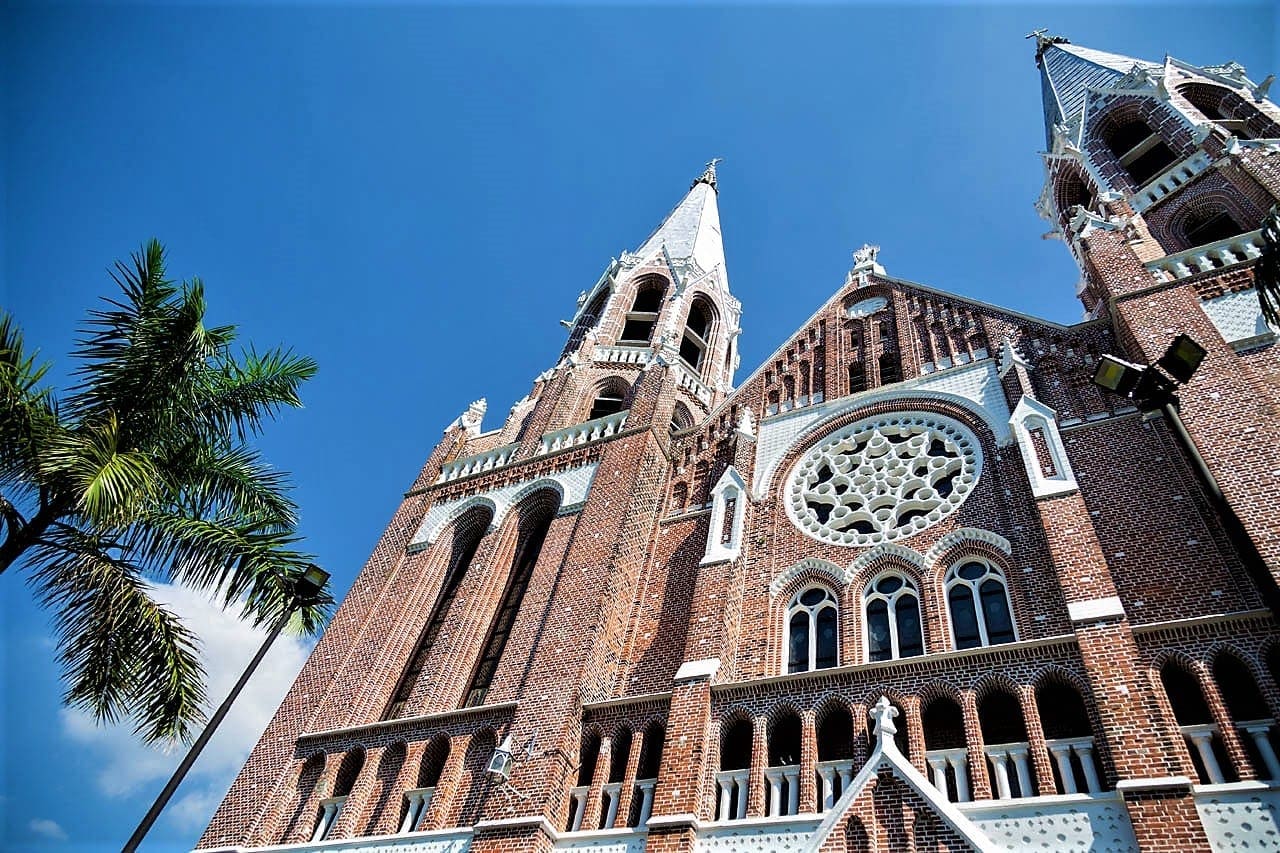 At pagodas, the Burmese had their own unique take on Buddhist rituals compared to their Thai, Cambodian and Lao cousins. I watched as people poured cups of water over the head of buddhas labelled with days of the week. I had not seen that before in my travels around neighbouring countries.
Shwedagon Pagoda (see main photo) is the main attraction in Yangon, and we picked what must have been the busiest time to visit – 6pm on a Saturday, just as the sun was setting.
A quick trip in a glass lift brought us to a hive of activity surrounding the central stupa – it was still more a place of worship than a tourist attraction. Gold surrounded us on all sides as the sky beyond changed from light blue through black while we walked barefoot on the hard stone floors.
After circling the pagoda a couple of times, I realised I wasn't sure which way we had come in – and that was where our shoes were stashed. Another circuit around the stupa, checking the east and south entrances, I reluctantly declared myself lost and handed over navigation duties. Seconds later, I was marched off down a random passageway in the southeast corner, which I was amazed to discover was the right direction. Amber had recognised a tree – I'll never hear the end of that.
Further things to do in Yangon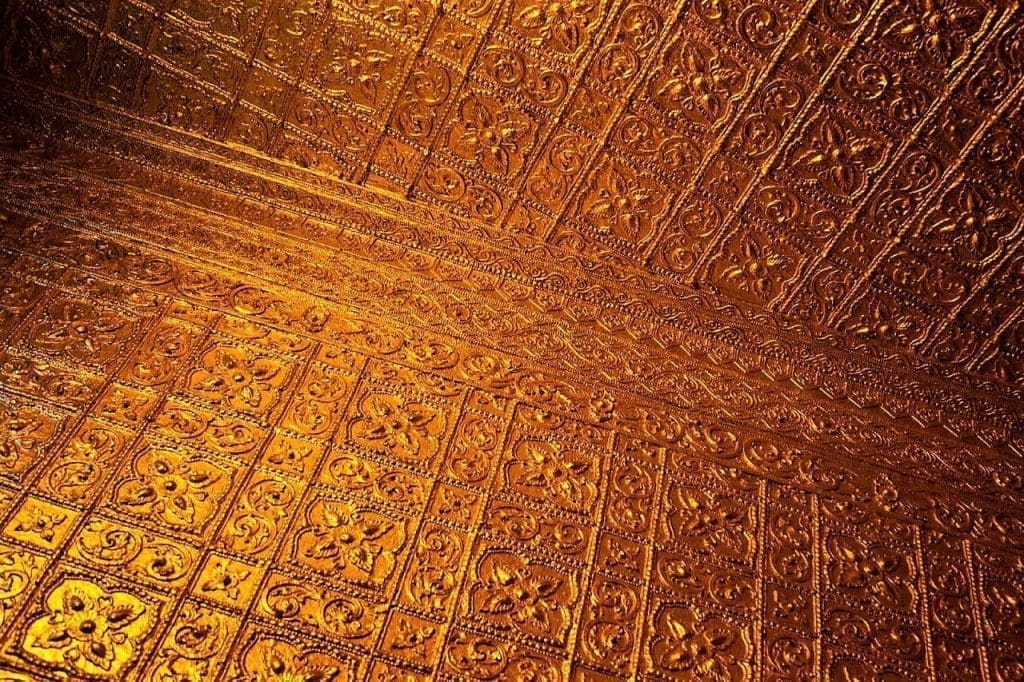 There's no shortage of golden pagodas in Myanmar. The Botataung Pagoda along the river houses a single hair of the Buddha in a temple where the walls and ceiling are covered with gold.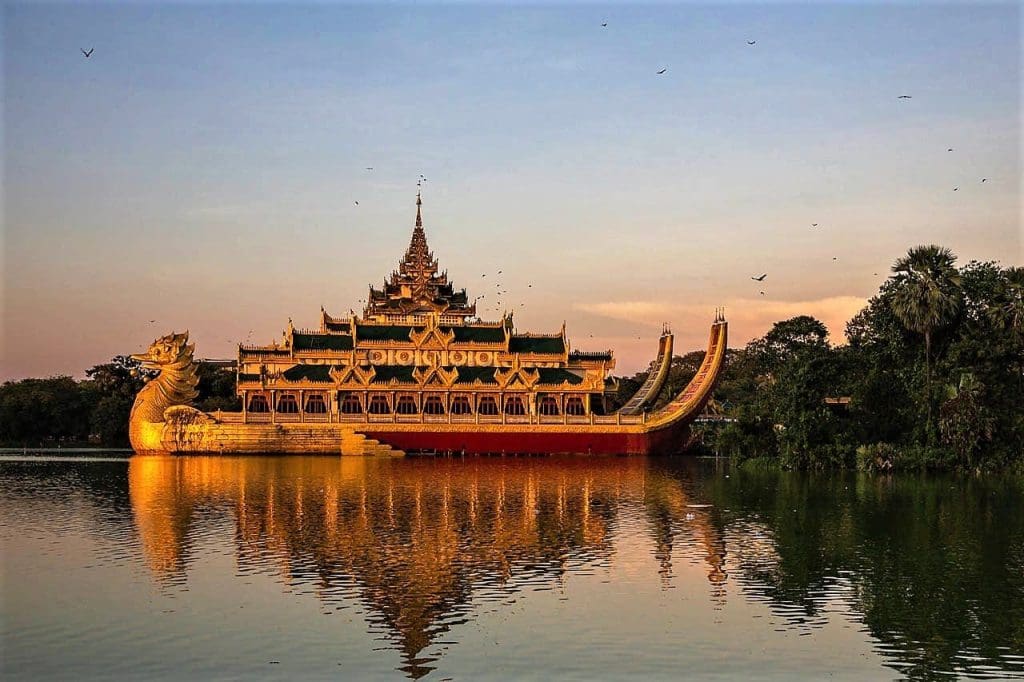 Take an early evening stroll on the wooden boardwalks around Kandawgyi lake – actually a man-made reservoir from the colonial era. Watch the sun set with a view over Shwedagon Pagoda.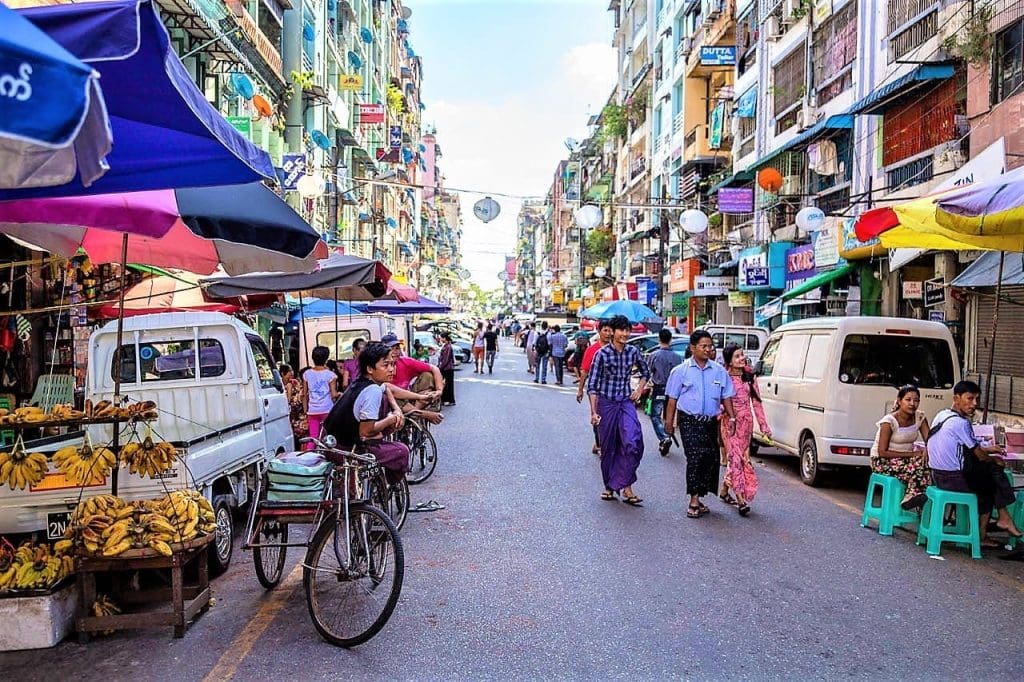 Or just wander the small streets and admire the colonial architecture around Sule Pagoda.
Shopping in Yangon
It's hard not to stumble upon local markets in a Southeast Asian city, and Yangon is no exception.
Saturday afternoon we visited the sprawling Bogyoke Aung San Market – also known as "Scott Market". A large covered structure dating back to 1926, it has countless stalls both inside and extending into the surrounding streets. The inside stalls and around the main structure seemed to specialise in jewellery and souvenirs, with the outer areas and surrounding streets mainly selling clothing.
If you have a use for them, the best buy are sarongs – which the local Burmese people wear daily, both men and women. Prices were very cheap even compared to Cambodia, but the general quality of the clothing was quite low – you'd get better quality, cheap garments in Thailand.
A short break to Yangon is never going to be one filled with visits to luxury shopping malls, but if you want to buy a bottle of perfume or designer goods at the airport on the way back, duty free prices are a little lower at Myanmar airports than other countries in the region.
Getting around Yangon
We started off our first day on foot, but even as residents of Southeast Asia, we discovered the weather to be unbearably hot at times.
Taxis in Yangon were cheap, efficient, and the level of spoken English was better than expected amongst taxi drivers in the city and usually more than enough to communicate our destination. Most importantly in the scorching heat, the air conditioning worked in at least half of them. But this is one country that even surpasses Cambodia in aggressive – and terrible – driving, it seems every motorist and bus driver wants to run you over when you're a lowly pedestrian.
Sampling the local street food in Yangon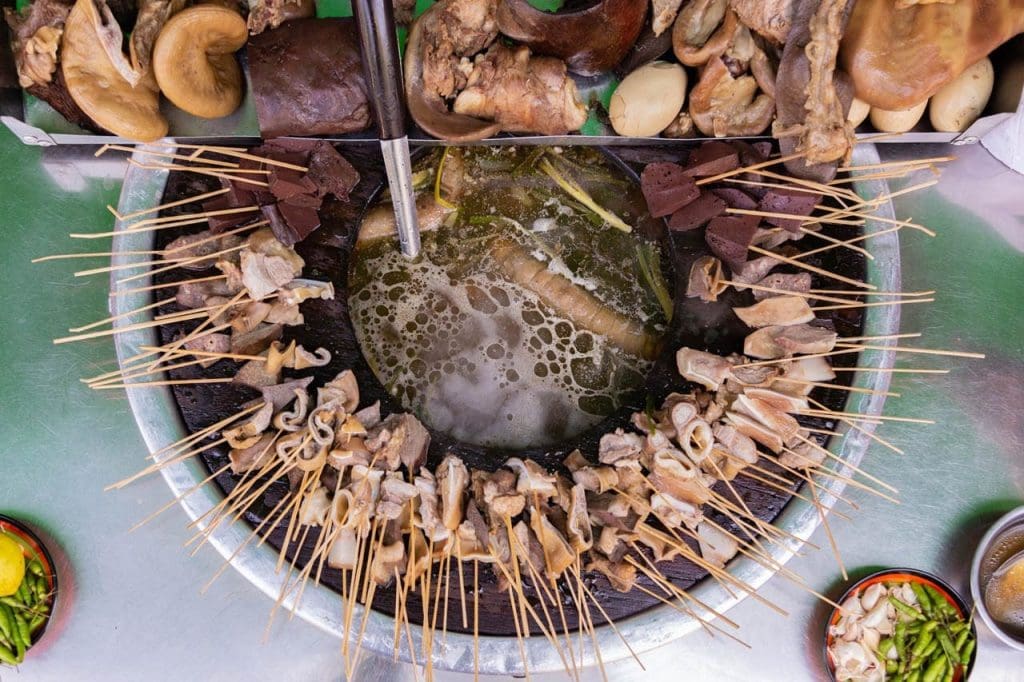 As with most of Southeast Asia, street food was everywhere in Yangon. Some may love the weird and wonderful delicacies on offer, if you can stomach it. Entrails on a stick is not my kind of thing for breakfast, but Amber had no such qualms and enjoyed every bite.
At least, I got some good photo opportunities. Aside from the questionable street food, the local fare in local restaurants was a tasty mix of garlicky noodles and curry flavours inspired by their Bangladeshi and Indian neighbours to the west. One favourite was Mingalar Shan Noodle House, a very busy open-sided restaurant down the road behind the Parkroyal Hotel in an area filled with small eateries.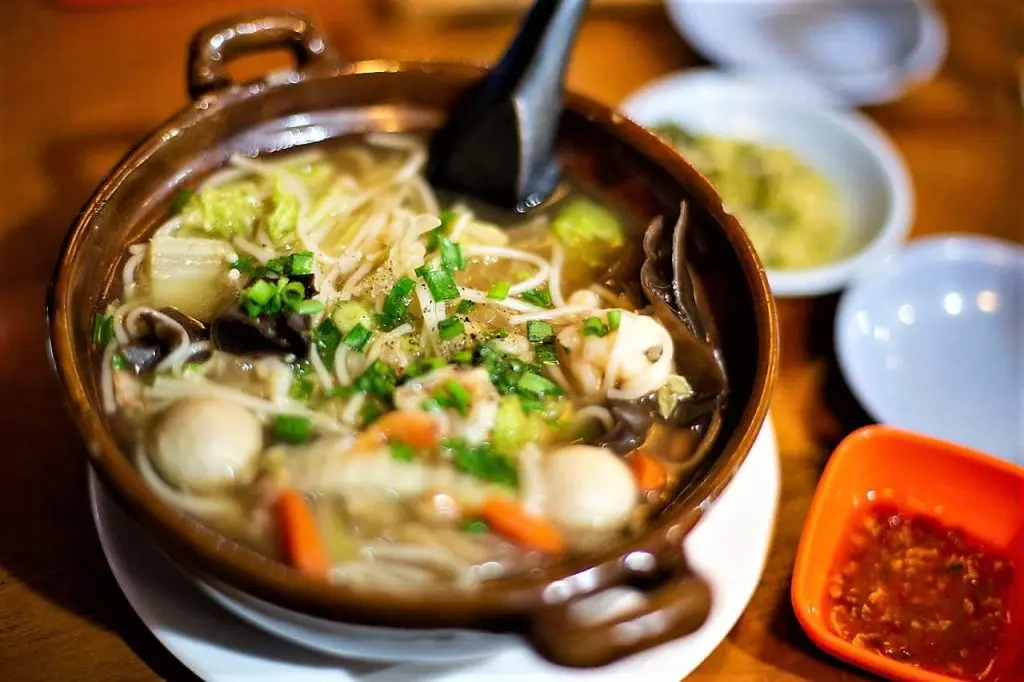 For the last night, I figured we'd treat ourselves to a good meal. After much studying of TripAdvisor I opted for the Rangoon Tea House. The food and service was excellent, and the ambience was equally appealing. Amber chose a mutton curry, while I opted for a king prawn curry, washed down with a local microbrew. Upstairs housed an attractive bar straight out of a previous colonial era – the ideal place to while away the day.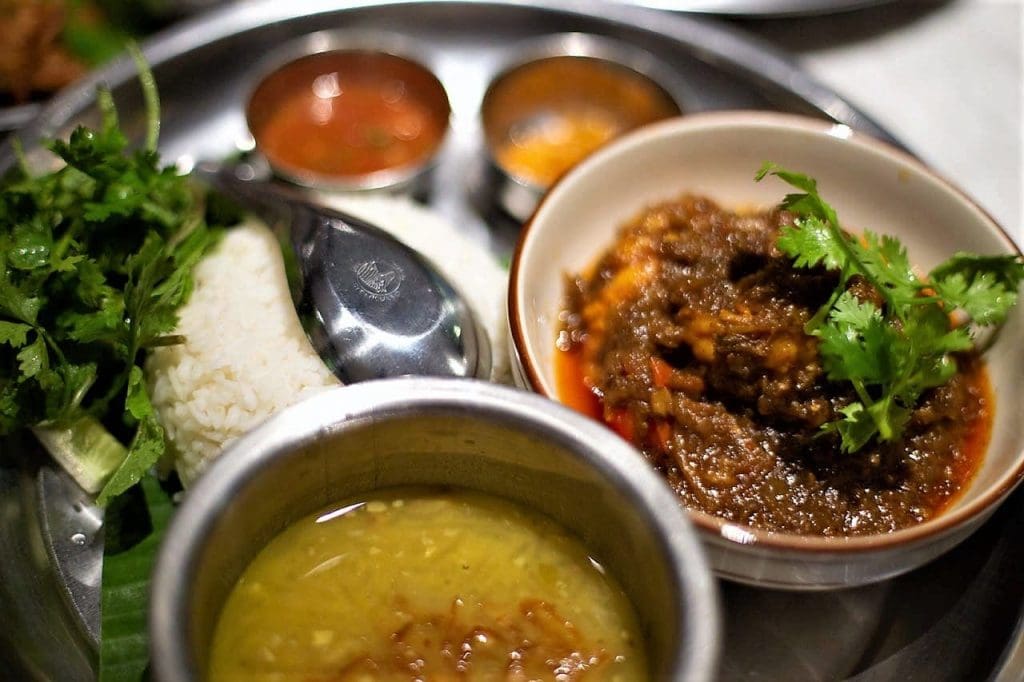 The taxi to Yangon airport the next day took my last 10,000 kyat note. I gave myself a pat on the back for my budgeting skills and boarded the plane back to Bangkok very satisfied. Myanmar is called the "Golden Land"; the parting view of the golden pagodas dominating the skyline from my plane window, made me realise why.
---
Feeling more adventurous? Why not try Myanmar Travel Off the Beaten Track?
---
Hotels in Yangon
It can be tricky to find the perfect hotel in Yangon. We stayed at the Parkroyal which has a great central location and made it easy to walk to nearby attractions. Unlike many Southeast Asian cities, Yangon seemed a bit lacking in midrange hotel options. A lot of newer hotels in Yangon are outside the city centre so check before you book. Try our hotel comparison engine by entering your dates below – we search hundreds of websites so you can find the best deals.
Flights to Yangon
You can easily find flights to Yangon from major hubs, such as Singapore, Kuala Lumpur and Bangkok on numerous regional and budget airlines including Bangkok Airways, Myanmar National Airlines and AirAsia. Try our flight comparison search engine above to find the best flights to Yangon.
Joe Ogden
Joe is Travel Begins at 40's webmaster and resident photographer. As a career freelancer and lifelong traveller he was a "digital nomad" before they had a name for it. He's based in Phnom Penh, Cambodia from where he travels the region while keeping an eye on website alerts.