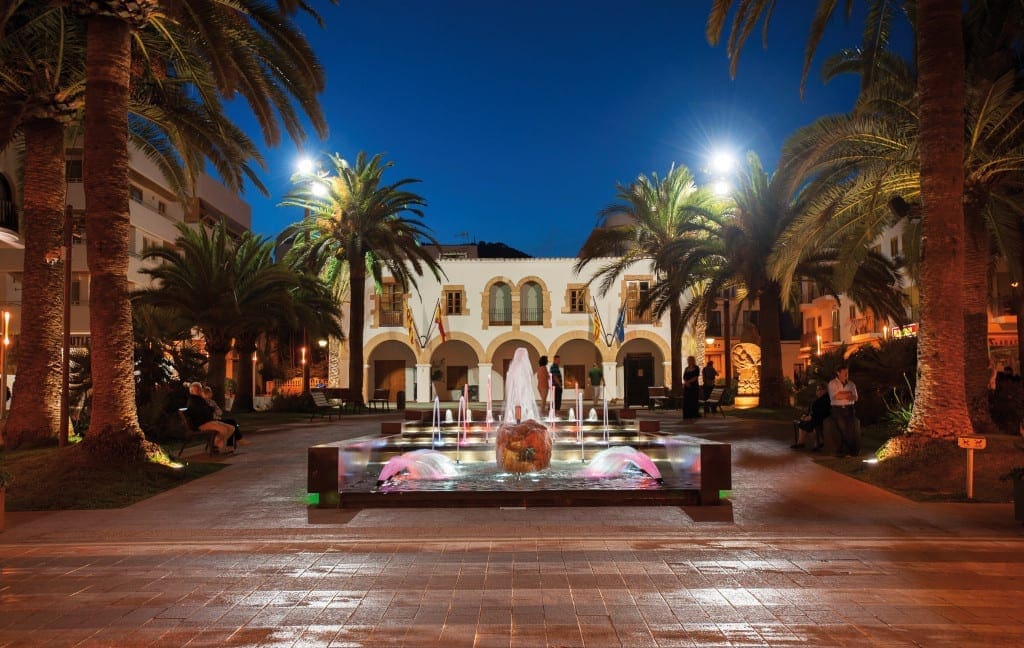 Santa Eulària des Riu : the Other Side of Ibiza
James Clark
Posted on 18th Jun 2019
Wishing to avoid Ibiza's famed nightlife, James Clark heads to Santa Eulària des Riu to discover a rich culture, fantastic food and chilled vibe.
Ibiza is known by us Brits as the Spanish destination to go to spend hundreds of euros on clubbing entries, but it turns out the island has so much more on offer.
Head to Santa Eulària des Riu, on the east coast for a beach relaxing break. You won't find any clubbers, all night drinkers, stag parties or hen dos here. Just friendly locals, going about their daily lives and chilled out tourists.
Cala Olivera beach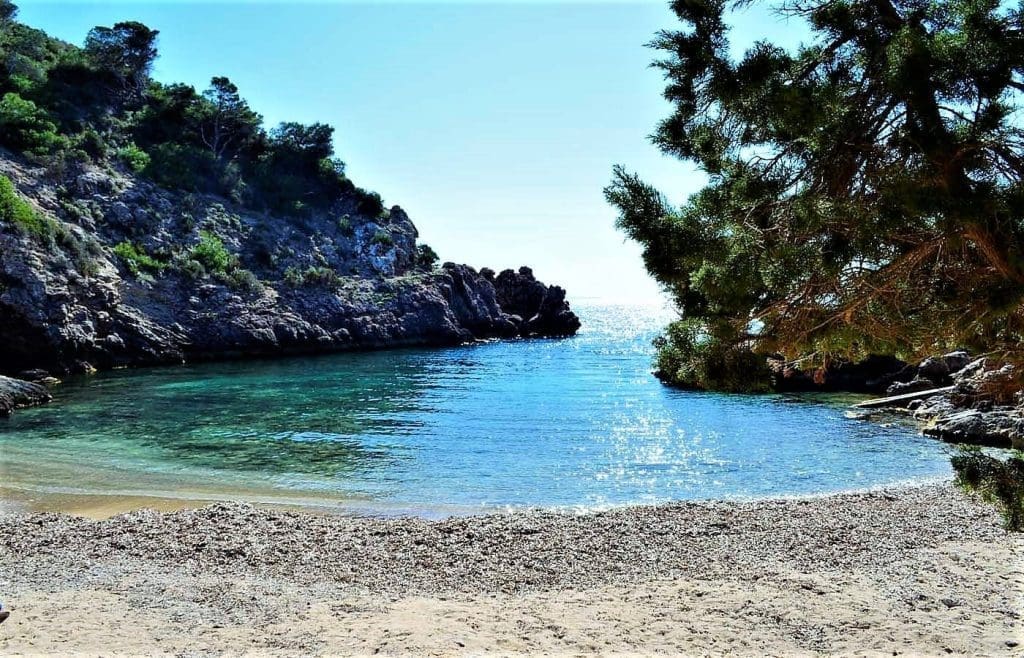 After checking in to the Aguas de Ibiza we headed eight kilometres from Santa Eulària des Riu to the small Cala Olivera beach, with its turquoise coloured sea, a sandy bay and rocks to explore, There we swam in the ocean's crystal clear waters. It's tucked away behind a forest which makes the secluded beach feel extra special.
It's worth mentioning that smoking is banned from all beaches as the environment is hugely protected here. Smokers do not despair, the beaches we visited had a bar where smoking was allowed.
Getting to the Meat of the Matter
Food is very important on this part of Ibiza, so on the first night we went to Cas Pagés, which has an excellent reputation for good quality meat.
Arriving around 8pm, a little earlier than many of the locals, we sat outside in the gentle early summer heat.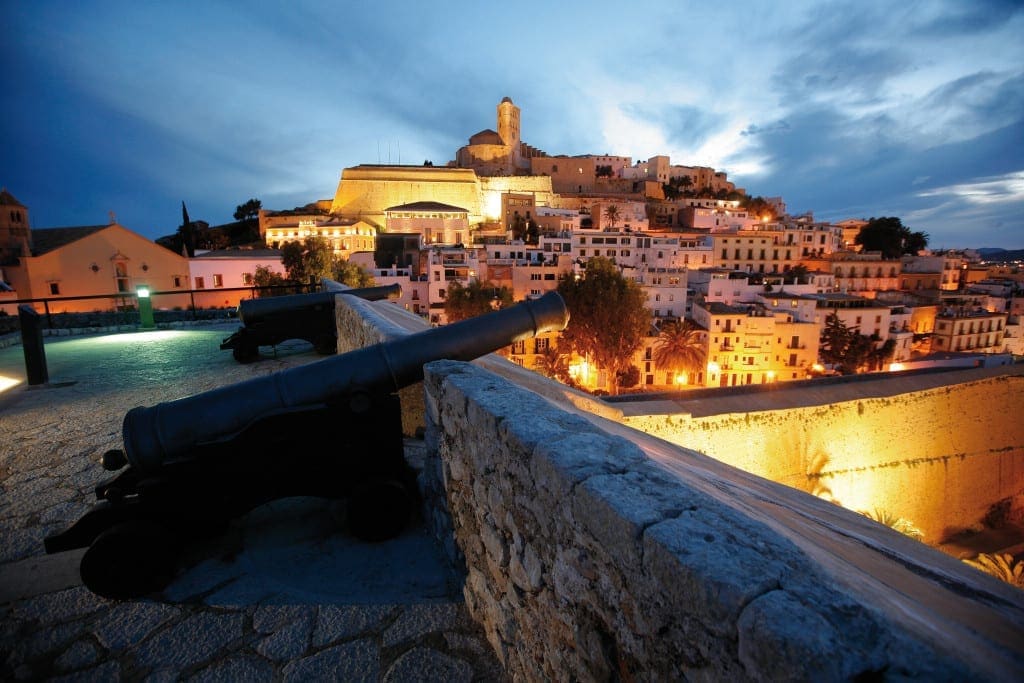 We could hear chickens on the other side of the fence. No doubt they would end up on someone's dinner plate soon enough. We wanted fresh meat and that's exactly what we got.
The meat is displayed in a butchers' cabinet and mountains of T-bone steaks, roast suckling pig, lamb chops and chicken were just some of the mouth-watering treats tempting us.
Once ordered the meat was cooked in front of us in an open kitchen. The smell of it cooking added to our excitement as we waited for the huge cuts of meat to arrive at our table. It was fabulous.
Las Dalias market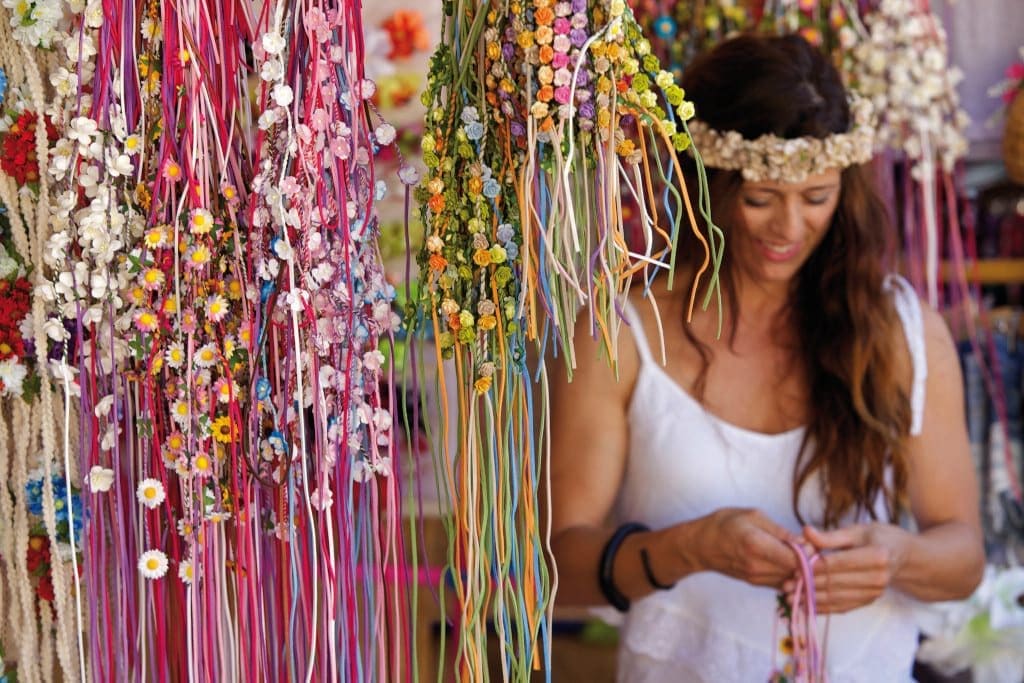 The next morning we met outside Santa Eularia's sports facilities to join a free group walk –bookable from the tourism office website – ten kilometres into the Ibizan countryside, through pine forests, the Atzaro area and the Morna valley, with towers and ancient water sources as attractions and proof that people live in the quiet countryside.
The hippy market Las Dalias has been around since 1985. Many of the stallholders arrived in Ibiza a few decades ago, set up businesses here and never left.
Bustling with locals and tourists who flock here to pick up handmade jewellery, clothing, watches and leather goods, the market is an explosion on the senses. Many of the items were a little unusual, including finger puppets, statues made of waste products and toys intended to keep children entertained and away from their iPhones.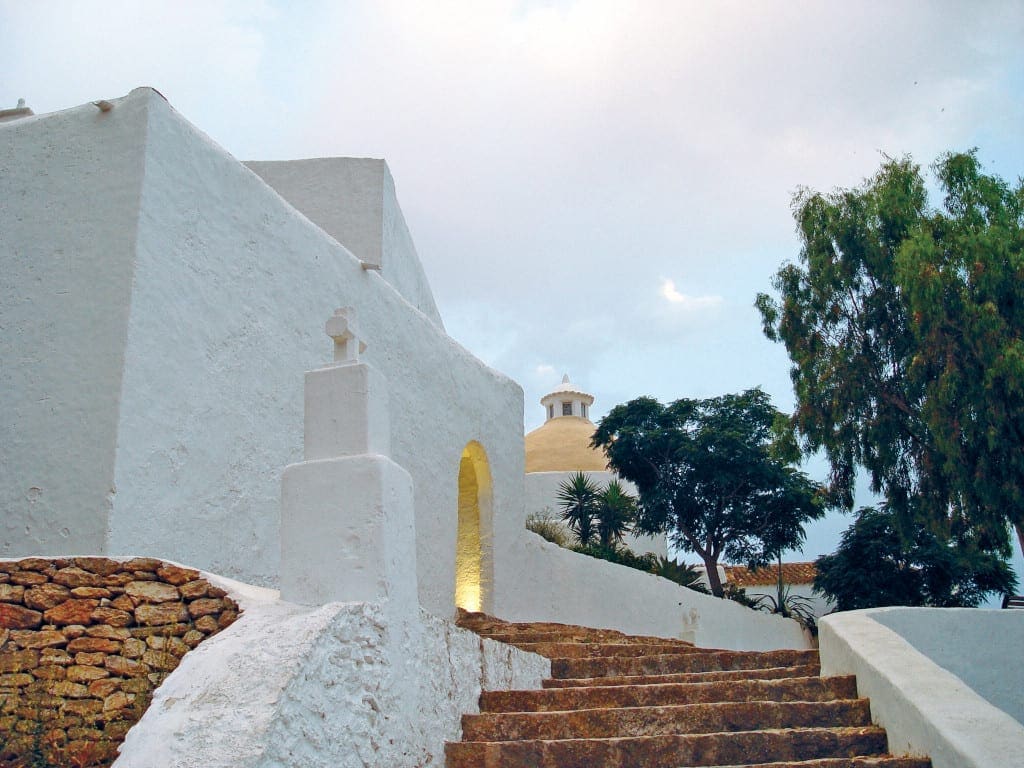 Added to the mix is a party vibe, with two bars and a DJ. We encountered a couple of groups of locals with beers in hand, intent on staying for the day.
Santa Eulària des Riu: Historical Sites
That evening we decided to take in some of the historical sites and explored the old church at Puig de Missa. Set on top of a hill with outstanding views, it dates back to the 16th Century and is the heritage symbol of Santa Eularia.
A porch attached to the church is where locals like to meet and catch up on village gossip.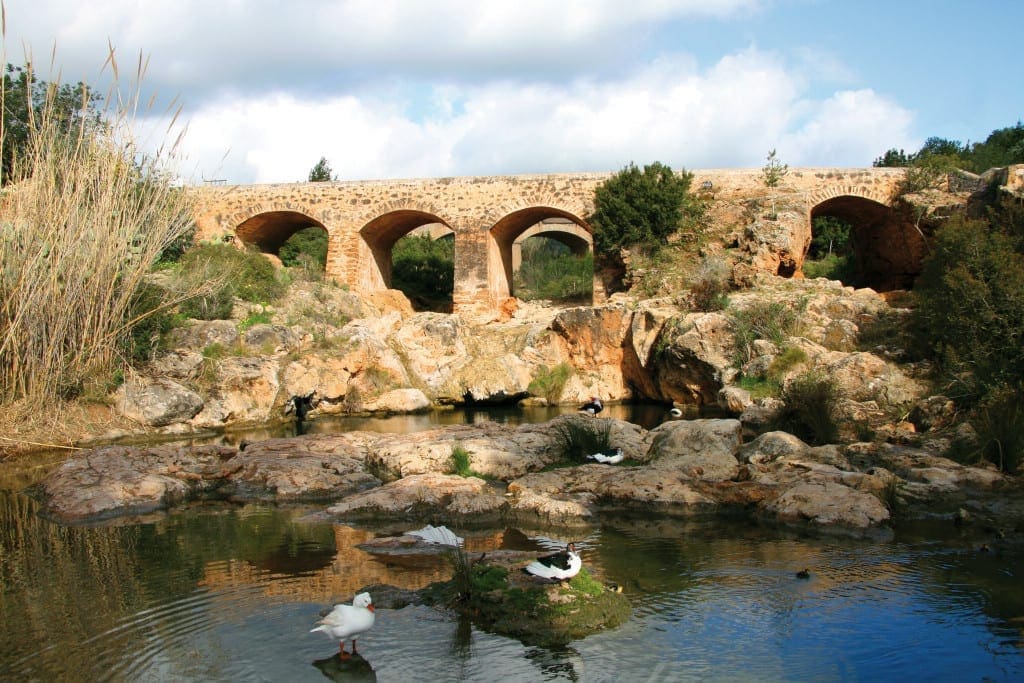 We strolled down to the old bridge (Pont Vell), dating back to the 18th century. According to legend, the devil took part in its construction. The mayor promised him the soul of the first person to cross it, so the devil completed the bridge in a single night.
Last Supper in Santa Eulària des Riu
Taking in the sites can be thirsty work, so we headed down to Santa Eularia's marina for a wasabi Mary and some mojitos. The drinks looked like works of art, but nonetheless we devoured them at the Sushi Cocktail bar, as we watched yachts swaying in the early evening breeze.
As soon as hunger struck, we wandered around the corner to the Estel Restaurant and Cocktail Bar, well known for its fish. Ibiza is famous for the flavour and quality of its fresh fish and seafood.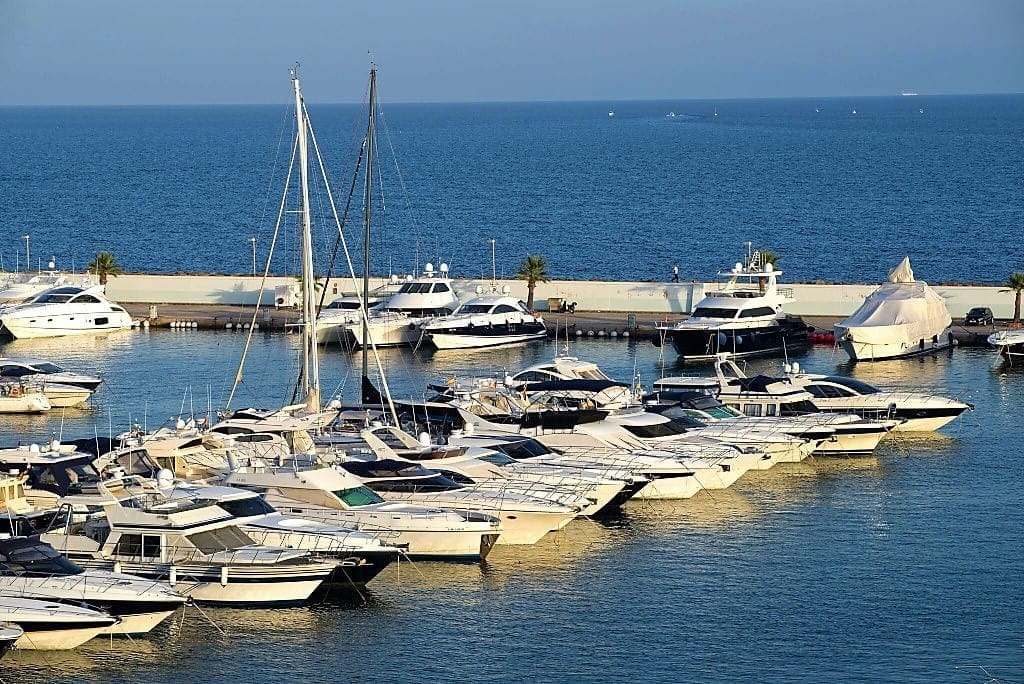 It was a little cooler than the previous evening, so we took a table inside and devoured fish dish after fish dish, including oysters, mussels, grouper, sea bass and prawns. The food was exemplary, the wine excellent and service flawless. It was the perfect way to end a wonderful weekend.
Despite what I'd heard about Ibiza, I managed to find abundant relaxation, good food and wonderful people in Santa Eularia. You seriously need to give this beautiful side of Ibiza a try.
---
Flights to Ibiza
Return flights from London Gatwick to Ibiza with BA start from £115 (including seat selection, taxes and charges).
Santa Eulària Ibiza Hotels
Standard double rooms at Aguas de Ibiza start from €154 per night based on two sharing a standard double and including breakfast.
Alternatively, check out flights to Ibiza and accommodation in Ibiza at a comparison site engine.
---
Things to Do in Santa Eulària des Riu
To book a walking tours, or for further information on things to do in Santa Eulària des Riu, click here. Photos by Jams Clark and courtesy of Ibiza Department of Tourist Promotion.
James Clark
James Clark is a UK-based travel writer specialising in adventure and the great outdoors.