Dodging Tourists in Hoi An Ancient Town
Joe Ogden
Posted on 26th Jul 2019
After visiting Da Nang and Hue, Joe Ogden continues his travels through central Vietnam to Hoi An Ancient Town, only to discover that the picturesque port has most definitely found its feet on the travel circuit. 
Hoi An is a small riverside town in central Vietnam. The main attraction is the well-preserved old town with its yellow painted buildings – this whole area of the town is a listed world heritage site similar to Luang Prabang, Laos. Walking the small streets of Hoi An ancient town could be a trip back in time to when Chinese and Japanese used it as a trading hub – except the whole place has a thick glossy tourist veneer. It seems a few years too late to really appreciate the beauty of Hoi An.
Almost every building in the old town is either a souvenir shop, a tailor shop or a sanitised tourist-orientated restaurant. After the authenticity and tranquillity of Hue this was a disappointing assault on the senses. Parking lots full of tour busses. More banana pancake stalls than Khao San Road. Vendors selling all kinds of plastic tat. Their gun toting spider-men crawling underfoot in front of the ancient Japanese covered bridge. At least the tailor shops are somewhat in-keeping with the traditions of the town. The market and street food offerings weren't much better. Usually the local market is a reliable look into local life, but here most of it was converted into a glorified food court with identical stalls selling the same dishes for tourists.
Hoi An was the place I was most looking forward to on this trip around central Vietnam – but after the first evening fighting through the crowds I was ready to get in a taxi back to Hue.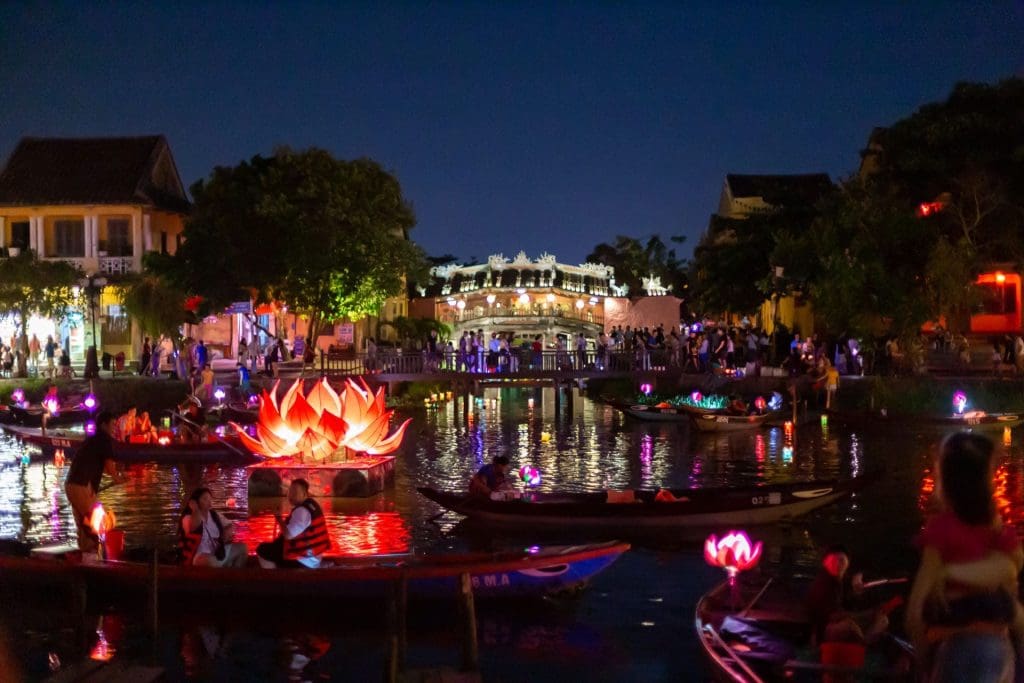 Our hotel was one saving grace. The nicely designed, newly built, and well located La Luna on the riverside was a convenient escape from the madding crowd, and with some of the friendliest staff I've ever encountered in a hotel. Upon checking in the front desk staff sat us down with a map and pointed out some recommended (although likely affiliated) places to eat and visit while we downed our welcome lemon juice.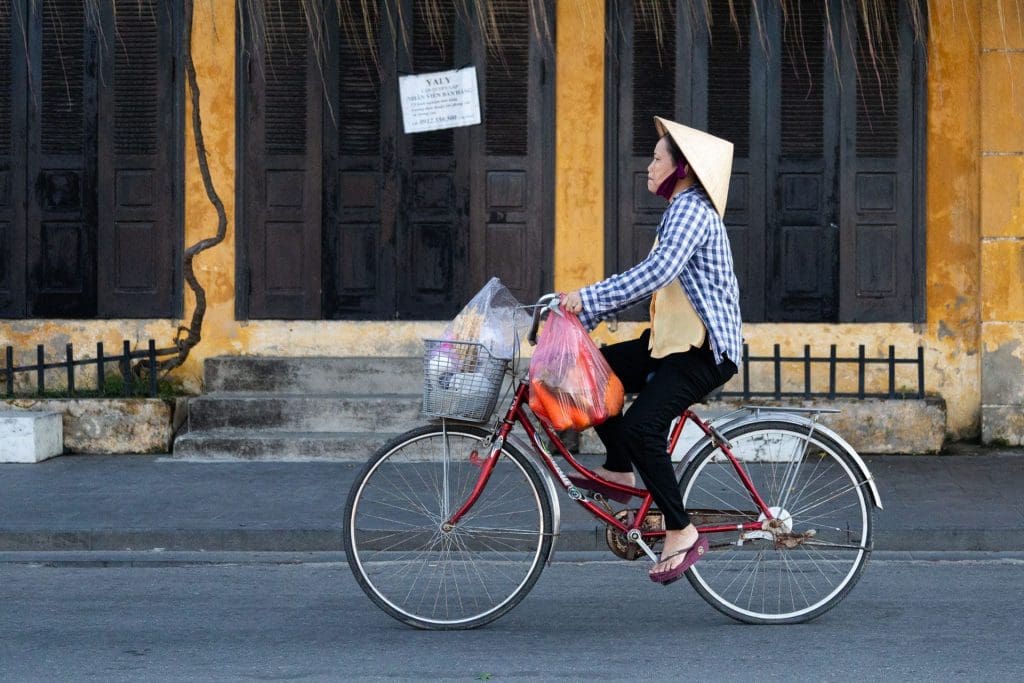 The next saving grace came after waking at 5am the first morning. A walk through the deserted Hoi An ancient town at sunrise was a truly tranquil experience. The only activity was that of local residents heading to one place – the market. Gone were the tour busses and crowds of the previous evening. The early morning air was also a welcome relief from the May heat.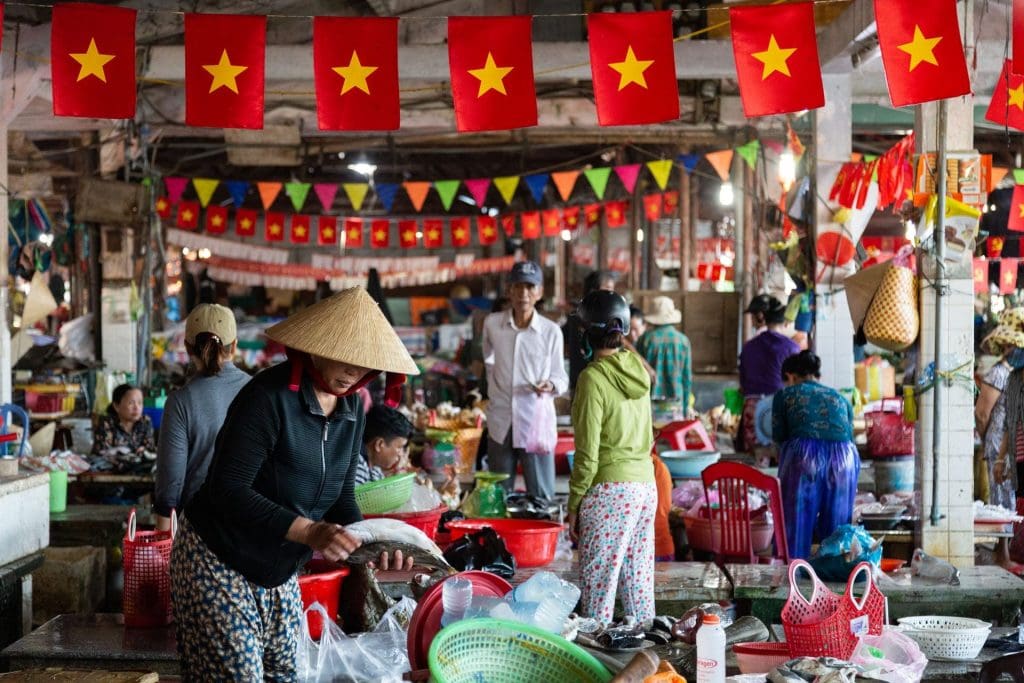 The market at this time was a wholly different experience. The riverside stalls were full of fresh produce, locally caught fish and butchered meat. While it's nothing that can't be seen at almost any other small town market throughout Southeast Asia, it was a welcome sight to see something that wasn't there purely for tourists.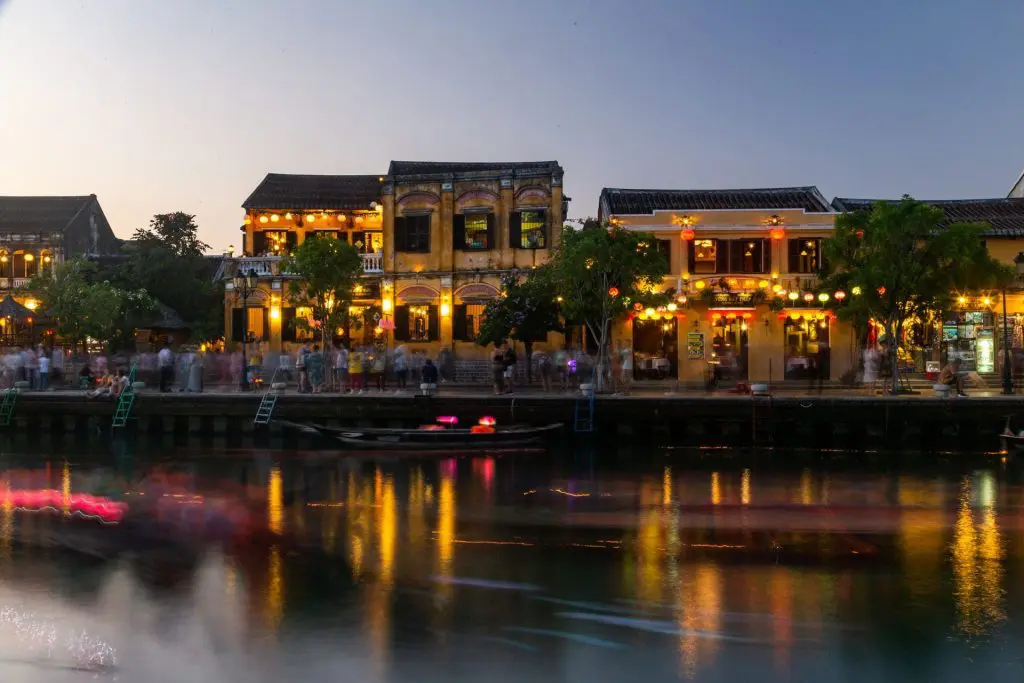 Hoi An Lantern Festival
It was the day of the full moon lantern festival, where electric lights are shunned in favour of candles and lanterns. Local traditions include floating candle lit lanterns on the river – though now tourists can do this any day of the month, it is still the full moon that is the traditional night for it. Our visit was on the full moon in May, when Vesak or Buddha's birthday coincides with the lantern festival – the two festivals falling on a Saturday explains the huge crowds in town that weekend. At least half appeared to be local Vietnamese tourists. I'm sure it was one of the busiest days of the year – after Lunar New Year anyway.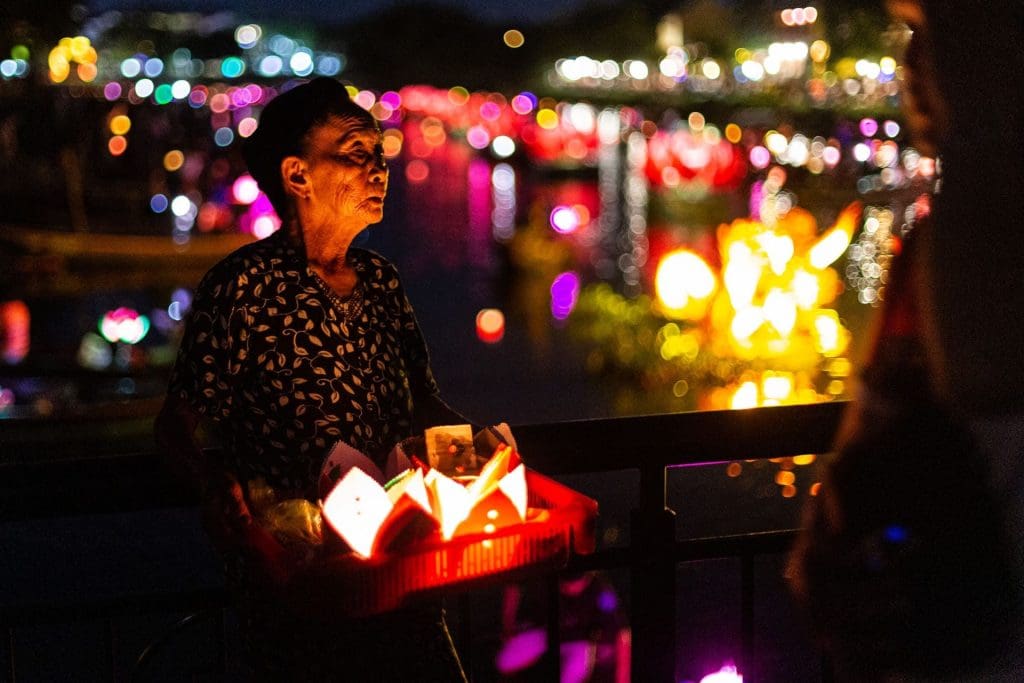 By the evening the town was lit with by thousands of lanterns. Having accepted and embraced the crowds it turned into a relaxed and celebratory atmosphere. Lion dancers and drummers paraded one way along the river and later large brightly lit floats decorated with Buddhist imagery passed the other way – each float ending up at a different pagoda. It was quite a magical experience to be in the middle of it all.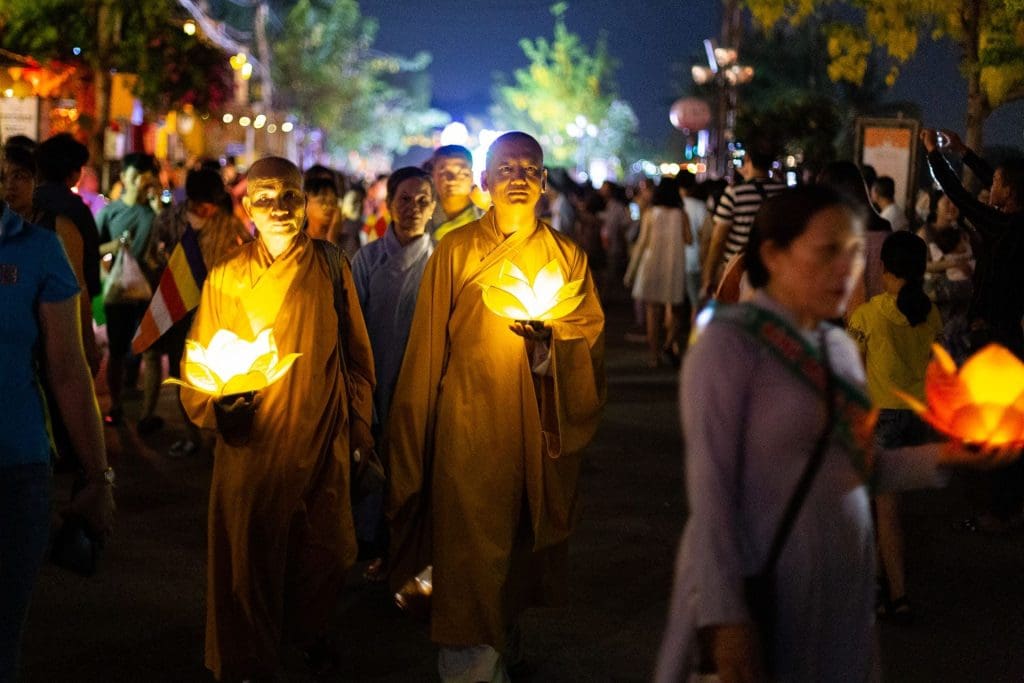 Hoi An Basket Boats
As a break from dodging tourists around the ancient town, we arranged a boat trip in a traditional round "basket boat" or thung chai. The history of these curious coracles dates back to when the French colonial rulers started levying taxes on anything they could – including boat ownership. To avoid paying these taxes, crafty fishermen created these round boats and argued that they weren't boats at all – simply baskets. Their plan worked and the woven bamboo basket boats are now a ubiquitous sight around central Vietnam.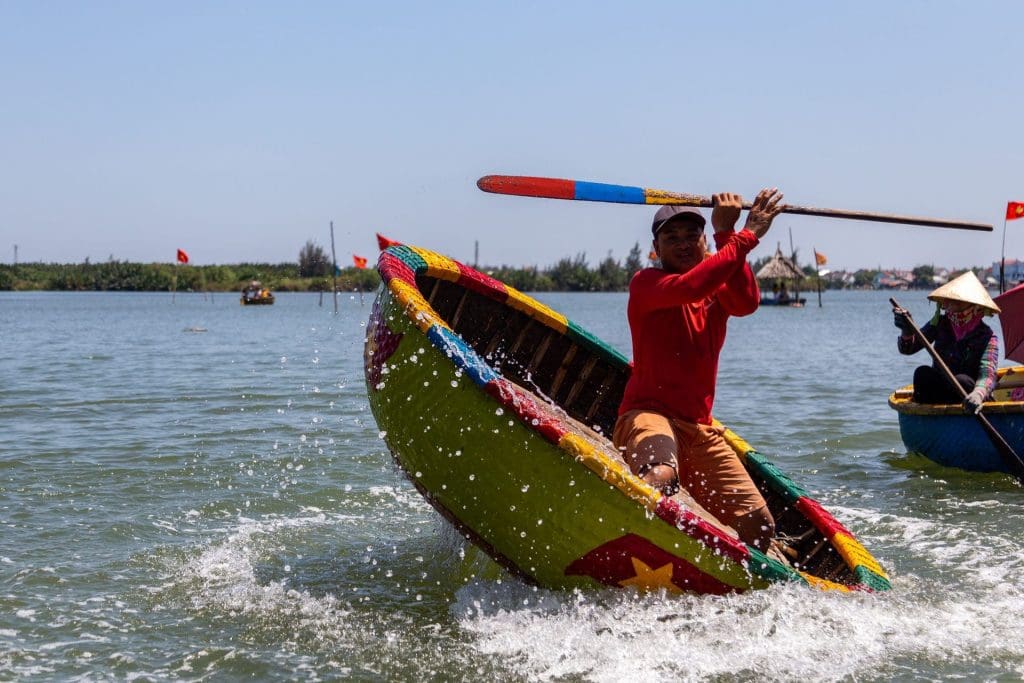 As I half expected this had also been turned into a bit of a Disney ride, with a constant parade of boats floating pairs of tourists around a pre-defined route. It was pleasant and peaceful enough though as our boatwoman paddled us along through the half-submerged palms. We then floated around a bend to find a crowd of boats surrounding a boatman spinning his coracle around as Gangnam Style blared out of speakers embedded in the riverbank. We finished the trip with a spot of crab fishing, thankfully the crabs seemed real and weren't attached to our lines for us – we caught one, but the big one got away.
---
More photos from the Hoi An Ancient Town
---
Hoi An Photography Tips
A tripod and ND filter to blur the crowds are useful additions here. I found that the southern part of the ancient town visible from over the river isn't quite orientated perfectly for either sunrise or sunset, the fronts of the buildings don't catch the light at either time. The best time was just after sunset as the sky darkened to a deep blue and the lanterns were lit.
My most used focal length was 24-70mm on a tripod. I didn't feel the need to go too wide and cropping out some tourists was a pretty desirable outcome. I captured some satisfying shots with a 50mm f1.4 while walking around in the evenings too – it's the perfect place for magical bokeh. The only thing missing that I'd have liked to have with me was a longer f2.8 lens to pick out floating lanterns and other details in the evening light.
---
When to visit Hoi An ancient town
The best time to visit Hoi An is between January and March, when it's dry and warm. By April and May it's still dry but very hot – the temperature hits 40 degrees most days we were there in mid-May. Avoid September/October as there are big typhoons arriving from the South China Sea which often leave the ancient town submerged.
Getting to Hoi An
Hoi An is only a 45-minute drive from Da Nang and can be reached via Da Nang International Airport. There are flights to Da Nang from many regional cities – we flew Bangkok Airways from Bangkok. Find our comparison engine below to compare the best Hoi An hotels and flights.
Hotels in Hoi An
There are a wide range of hotels in Hoi An from large resorts on the outskirts to a few places inside the Hoi An ancient town itself. We picked the La Luna – a small riverside boutique hotel just 5-10 minutes walk to the old town. You can also find accommodation at the beach, but this is a 20-minute drive to town. To find the best Hoi An hotel deals just enter your dates in our flight and hotel comparison engine below to search hundreds of travel booking websites:
Visa Requirements for Vietnam
Visas for Vietnam are a lot easier than they used to be, at least if you're from a country on the visa-exempt list – which includes the UK, most of Europe, and Southeast Asia. There are currently 24 countries that get visa-free entry to Vietnam, you can find this information in many places including on Wikipedia, bu we do recommend to check before travelling. British citizens can find the latest Vietnam visa information at: https://www.gov.uk/foreign-travel-advice/vietnam/entry-requirements
Joe Ogden
Joe is Travel Begins at 40's webmaster and resident photographer. As a career freelancer and lifelong traveller he was a "digital nomad" before they had a name for it. He's based in Phnom Penh, Cambodia from where he travels the region while keeping an eye on website alerts.