From Bean to Bar: a Chocoholics Road Trip
Kate Burbidge
Posted on 22nd Aug 2019
Kate Burbidge tastes her way through Andrew Baker's literary tour of the craft and artisan chocolate world – From Bean to Bar.
Anyone with even the most basic interest in chocolate cannot help but notice that it has become the latest foodstuff to come to the attention of artisanal makers. The traditional bar of plain, milk or dark, and the celebratory, placatory or consolatory box of chocs, is undergoing a makeover of epic proportions.
Bean to bar chocolate is the process by which small, caring, independent makers produce their chocolate and it is becoming a signifier for the artisan chocolate business as a whole. It involves being in control of every step of the chocolate making process, turning raw material into what the book's author, Baker, refers to as "the food of the gods".
There is a small but growing band of craft chocolate makers around the UK determined to share their passion for high quality chocolate with the chocoholic British public. This book is a celebration of what Baker refers to as "the questing mind and collaborative spirit of the bean-to-bar maker".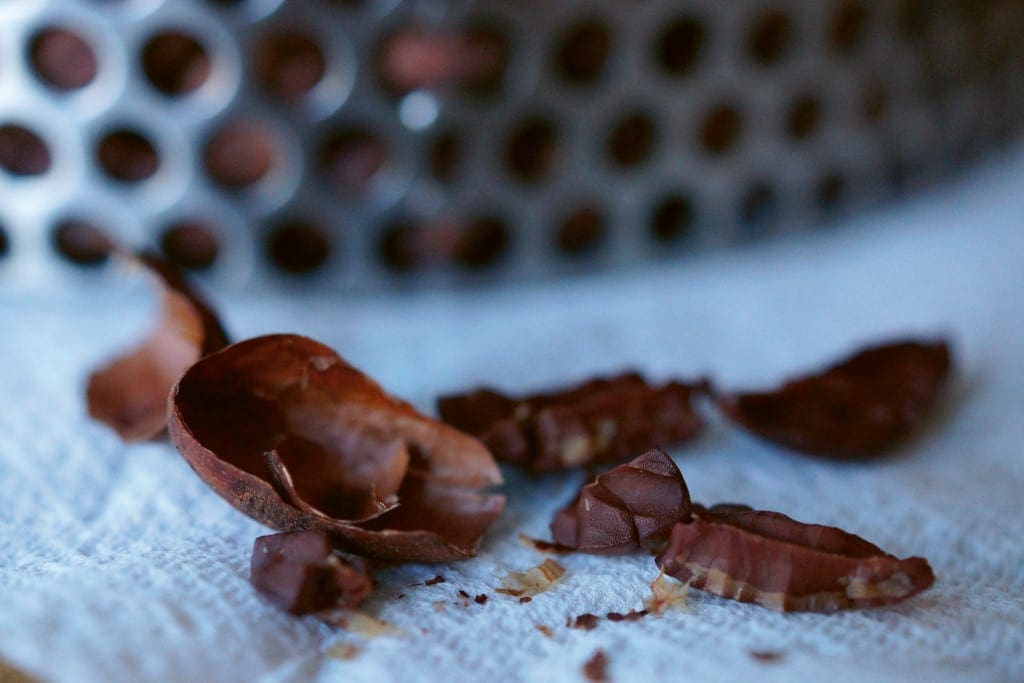 Baker first draws the reader in with reminiscences of childhood Christmases crammed like the seasonal stocking with precious chocolate treats. They are so adeptly conjured you cannot help being transported back to the chocolate bars that defined their own younger years. He continues with authority and humour that keep the reader's interest piqued along with their taste buds.
Beginning in Birmingham and thence to York, famously Britain's twin centres of historic chocolate mass production, we are taken on the chocolate lover's tour of the country promised by the title.
This is definitely a book for long winter nights, for choosing treats to fill loved ones' stockings
Passing through a few major cities, we move on, regionally, to visit smaller, less well known and definitely more artisanal chocolate making activity.
Focusing on, but not entirely devoted to, bean to bar makers of single origin chocolate, this is definitely a book for long winter nights, for choosing treats to fill loved ones' stockings, however if you read it now, you can get the road trip planned and chocolate bought before inclement weather stops play.
Via many stops, at least as many makers and countless tasting experiences, Baker firmly establishes in the reader's mind the differences between mass produced, supermarket shelf fillers and ethically sourced, sustainably produced bean to bar chocolate. The latter is as far removed from the mass former as Château Neuf du Pape is from Lambrusco, as a Tomme de Savoie is from processed cheese squares. One important distinction is that top flight chocolate does not, happily, benefit from the ageing process; as though it encourages instant gratification, to be consumed with abandon rather than restraint.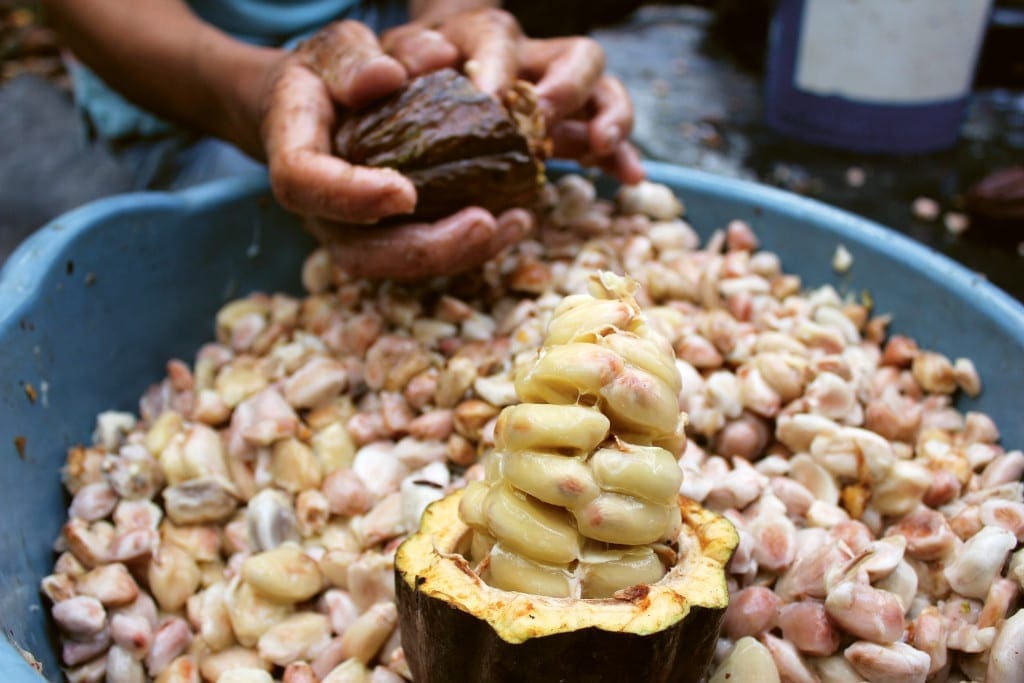 Beautifully illustrated with pictures that are mouth-watering, glossy and deliciously rich, you will need a will of iron to read this book and not reach for a nearby stash of chocolate. And the more you read, the more you will wish your stash more closely resembled the chocolate on the pages in front of you. This book will not cure your chocolate addiction, it will spur it to higher and more sophisticated planes. And more expensive ones.
Chapters start with a gazetteer of the businesses explored within, which functions as a handy quick reference guide, should you be tempted to plan your own chocolate tour. They end with "Tasting Notes" outlining the chocolate based highlights of each respective region, occasionally including what to avoid.
The whole is interspersed with sub chapters on various aspects of the art of real gastronomic appreciation of high quality chocolate, and even basic coverage of how to get started on your own bean to bar endeavour.

Put down the tasteless gunk made by faceless multinationals and seek out the good stuff
Add to that the fun of planning a road or rail trip – Baker handily includes distances from relevant train stations where appropriate – to one or more chocolate region and this book becomes far more than a testament to the nation's favourite confectionary. Peppered with attractive descriptions of some of the country's more famous, picturesque and historic spots, it is garnished with non-chocolatey but nonetheless interesting facts about the places visited on the tour.
Having read the book, it would be easy to list all the bean to bar chocolate makers, their products and websites and order bars and chocolates that most appeal but so adept is Baker at bringing out the individual characteristics of not only the chocolate but the makers themselves, that you will want to visit each one and join in their tasting, education or making sessions and meet the people behind the product. Frequent references to far flung tropical paradises such as São Tomé and Madagascar will equally get the feet itching to travel further, to the source, perhaps to experience the full tree to bar journey instead.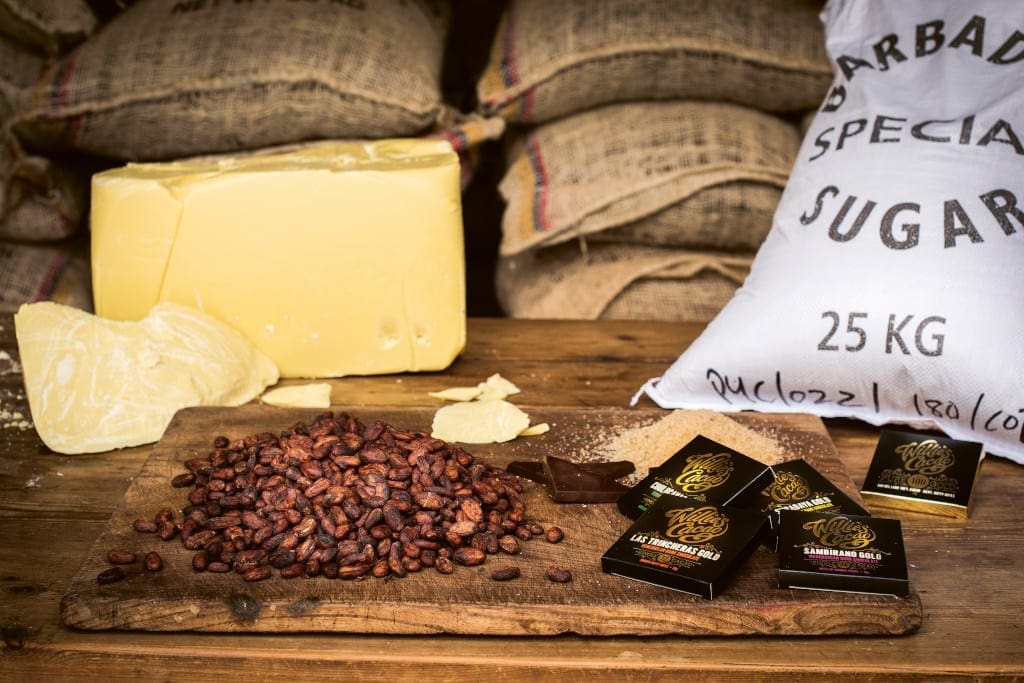 Above all, this book is an exhortation to "put down the tasteless gunk made by faceless multinationals and seek out the good stuff".
---
To discover how well chocolate pairs with whisky, read Mark Bibby Jackson's Filling Your Boots on a Speyside Whisky Tour.
---
Towards the end of the book, Baker's motivation for creating both bean-to-bar tour and book becomes clear, "Chocolate can evoke happy memories and satisfy our cravings… but when it's done right, it can leave a person never wanting it to end."
It's time to wean ourselves off the fat and sugar laden pretenders and journey into the rich, dark velvety heart of the real thing. Baker will be our guide.
---
by Andrew Baker
AA Publishing
£15.99
---
About the Author
Andrew Baker is often called upon to judge international chocolate competitions. A long-established journalist and an experienced radio broadcaster, Andrew is the son of the late, much-loved newsreader Richard Baker.
Kate Burbidge
Born in South Wales and rapidly relocated to Beirut, Kate has always enjoyed wandering. The travel bug took her early, having had the good fortune to be taken around various cultural highlights of Europe as a child. Kate enjoys sampling different cultures, food and languages, which is pretty much how she ended up in SE Asia; where she stayed for several years. A grammar authoritarian, walking thesaurus, art nerd and beach bum, Kate has since returned to Europe but she's not ready to hang her all terrain flipflops up just yet.