Things to Do in Rotterdam: Architecture and Culture
Mike East
Posted on 26th Aug 2019
Mike East travels to Holland's second city and is pleasantly surprised by the things to do in Rotterdam, including its quirky architecture.
I had come here at the request of my daughter. She had wanted to see the Erasmus University Rotterdam, but we booked some extra days. Why not? If she chooses this university, it should also be because she'll enjoy the city's feel as well.
Rotterdam was heavily bombed by the Luftwaffe in the 1940 invasion of Holland, so much of the city you now see is the result of reconstruction from the 1950s onwards. As part of this, the city opened itself up to some radical architectural designs that are a pleasure to the visitor.
Rotterdam's Eclectic Architecture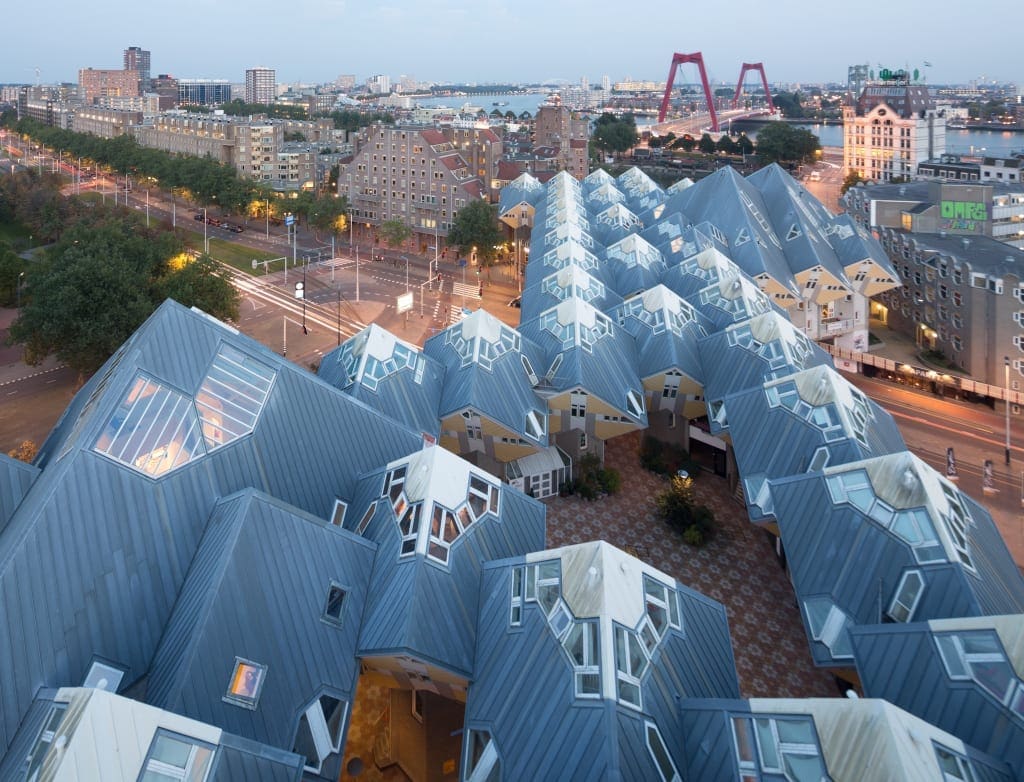 Take your pick, though the Cube Houses Rotterdam, built in 1984, are a personal favourite: brightly coloured urban tree-houses looking down on you. Though these are privately-owned, the Kijk-Kubus or Show-Cube allows you to get an idea of the insides as well.
Nearby is the Markthal, a horseshoe shaped building. The large, open central area has apartments beside and above it as well as murals of the 'Horn of Plenty' on the walls and roof.
The Erasmus Bridge is dominated by its 139 metres high pylon, giving it the nickname 'The Swan'. Beside it stand the three chunky towers of De Rotterdam. If you are looking for something older, the City Hall building is almost 100 years old.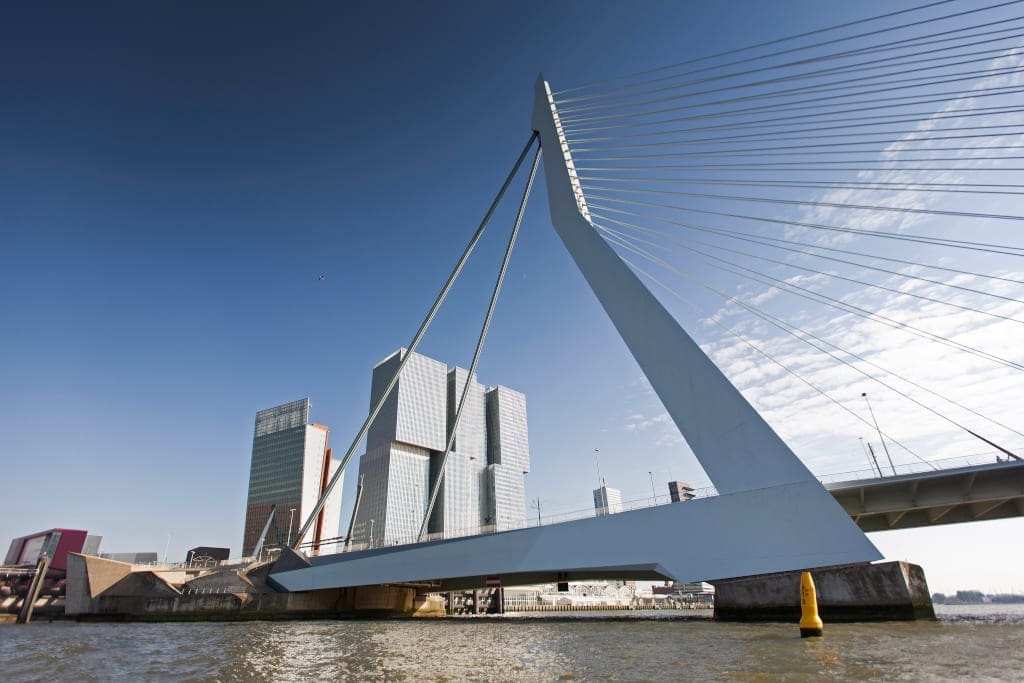 Getting Around Rotterdam
To help get around the city, visit one of the Tourist Information centres in either Rotterdam Central Station or at Coolsingel 114 and ask for the welcome card which gives you a range of discounts and, more importantly, the travel pass that allows you to move freely on the trams, metro and buses.
Techies may also appreciate the downloadable Tourist App. And if, like me, you must enjoy wandering around new places and seeing where the streets take you then pick up the Roaming Amsterdam guide from here.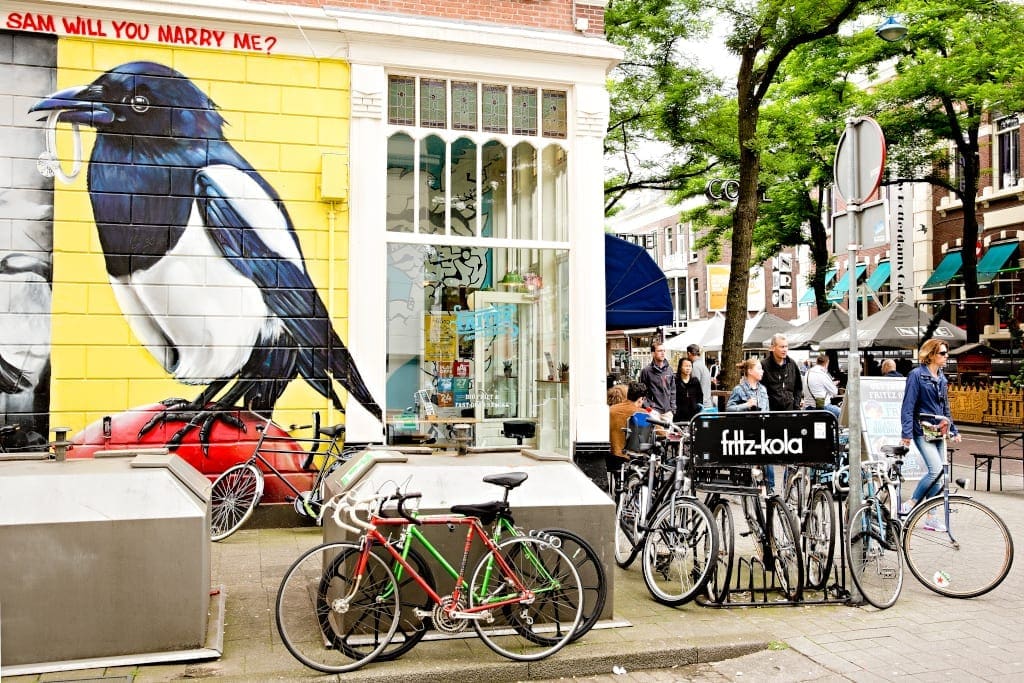 Another form of transport that Dutch cities favour is the bicycle and many places offer rentals in this city.
Cultural Things to Do in Rotterdam
This is a city of many museums and galleries. In terms of art, for example, there is the Kunsthal. The city also abounds with sculptures in public places such as The Destroyed City, a monument to the bombings; Cascade, an eight-metre tall polyester figure. Is the Santa Claus a light-hearted caricature of him, or a critique of consumerism?
Erasmus, a cultural giant in Dutch history, a key figure from the northern Renaissance, was born in Rotterdam and has a statue here in honour of his achievements.
This city is known as the 'Gateway to Europe' because of the size of Rotterdam port, so a museum that captures much of the city's spirit is the Maritime Museum.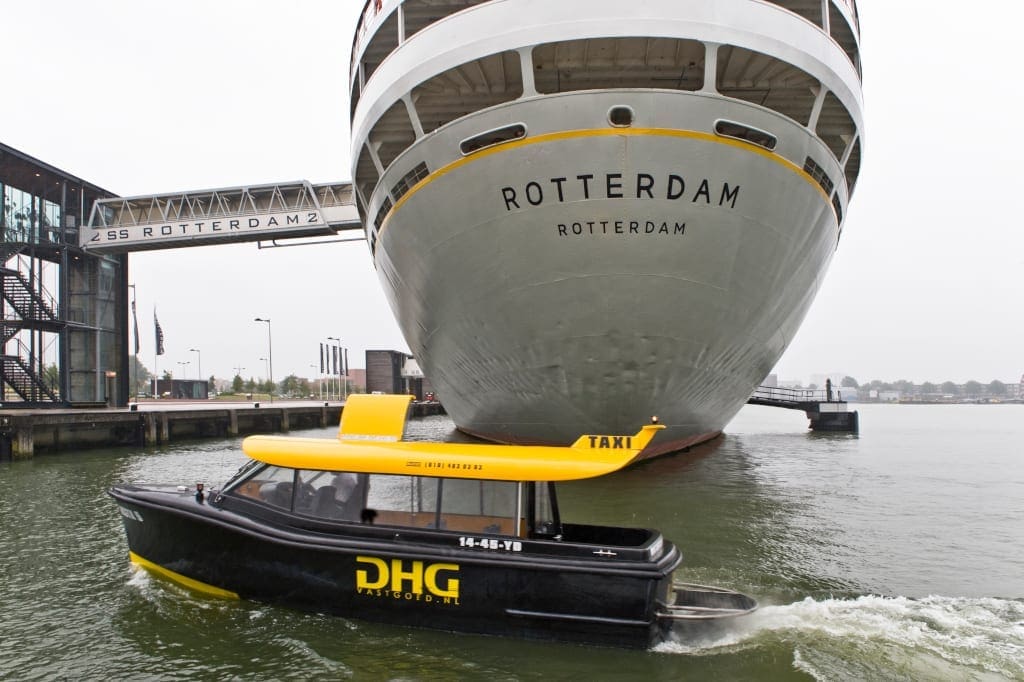 Particularly compelling is the exhibition 'Dealing with Drugs'. In the 17th century, the Dutch East India Company had the monopoly to bring opium to Holland, hence this city's long association with drugs. This is vividly brought right up to date in this role play exhibit. You take a character and are faced with greater and greater dilemmas that draw you into the complexities of the Rotterdam underworld.
Of course, the Rotterdam coffee shops in the nearby streets show yet another way to approach this matter.
Kinderdijk and Dutch Windmills
If you want to take a quick excursion to see a classical image of The Netherlands, take a water taxi to Kinderdijk and you'll be there in about 30 minutes.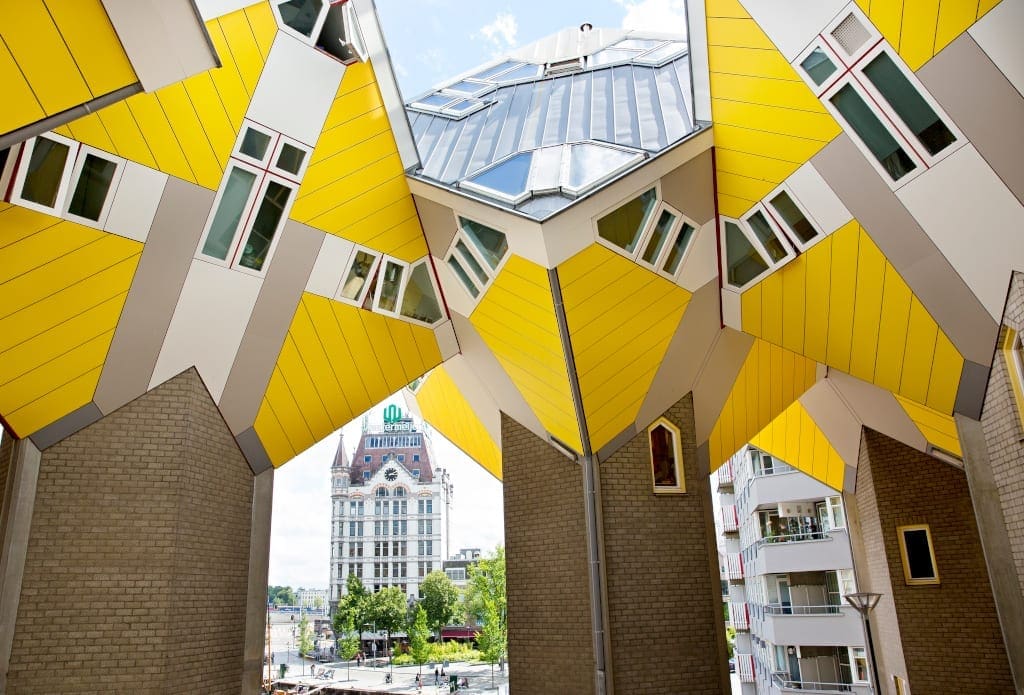 Here you'll see the canals, dykes and low-lying land (polders) protected by ranks of windmills (19 in all). It is all very walk-able and there's a visitors centre.
Rotterdam Restaurants
Back in Rotterdam, and talking about food, don't miss the opportunity to try one of many Indonesian restaurants.
Across the Erasmus Bridge on the south bank there is the Fenix Food Factory which jokes about specialising in local food, or food produced on the spot. It is a market in a converted warehouse and if you see something you like you can buy it then take a seat and enjoy it. Expect lots of cheese, a bakery, fresh veg, delicatessen, artisanal beers and ciders as well as an actual restaurant.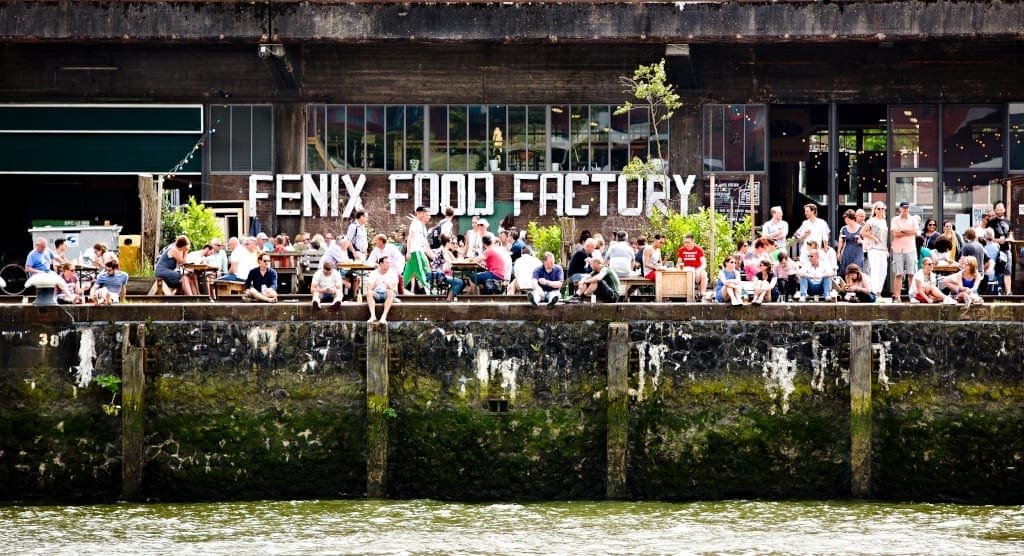 Take full advantage of the long summer evenings consider dinner at Aloha. A former swimming pool complex, now converted into a restaurant on the water at Maasboulevard 100, it has some interesting ideas about bringing in other materials produced in the building into the restaurant following the principles of developing a circular economy (as opposed to a planet-destroying economy). Consider the oyster mushrooms with coffee mayonnaise, the dumplings with a kimchi dip and the aubergine in satay sauce.
A lot of the dishes are designed for sharing, so take a seat outside and enjoy the sweeping views over the water.
Erasmus University Rotterdam is my daughter's 'reach' choice, meaning that it's one that she'll have to aim high to get into, but as for the city itself, that gained a big "Yes, please" from both of us.
---
Thing to Do in Rotterdam – Go Wild at the Rotterdam Carnival
One of the highlights of the things to do in Rotterdam in Summer is to visit the Rotterdam Carnival (Rotterdam Unlimited).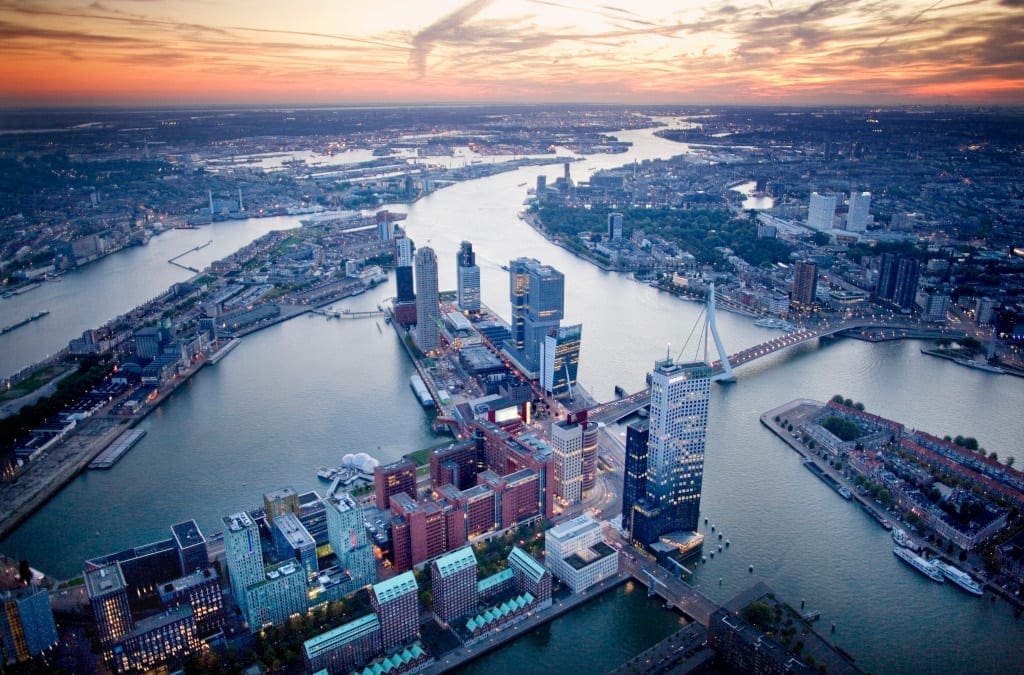 Flights to Rotterdam
There are flights to Rotterdam The Hague Airport from London City and many other airports, although you might wish to combine your trip with a stay in Amsterdam.
Hull Rotterdam Ferry
An alternative is to take the ferry from Hull to Rotterdam or vice versa. Like Rotterdam, the UK city is a great place to visit. Read Hull: a Surprising City of Culture.
Rotterdam Hotels
This was not quite, but close to, a last-minute trip and it was hard to find either reasonably priced or basic but clean hotels in the summer season, so try to plan ahead as much as possible. If you are looking for accommodation in Rotterdam, enter your dates below:
---
For more things to do in Rotterdam
Click here.
Mike East
Mike began his career in travel writing by going overseas during his holidays and writing his own guide. He then sent this manuscript off to a range of travel guide companies and got a range of rejection letters — all except one. Getting a contract to write for Roger Lascelles Publications on the Caribbean islands of Trinidad and Tobago and The Bahamas was how his career began. With this opportunity came other pieces for British magazines and The Sunday Telegraph.