A Rothschild Treasury at Waddesdon Manor
Irene Caswell
Posted on 12th Sep 2019
Irene Caswell takes a sneak preview at A Rothschild Treasury, a new permanent exhibition space at Waddesdon Manor in the Aylesbury Vale, showcasing a micro collection of over 300 exquisite items, with three-quarters coming from the family's private collection on public display for the first time.
The new aim of the miniature gallery, created in 18 months from a former Maid's Room, is to extend the displays at the Manor and A Rothschild Treasury is a celebration of the family as collectors of extraordinary objects.
"I have a few objects to display," Lord Rothschild to designer Charles Marsden-Smedley
A Rothschild Treasury
The collection is displayed in chronological order and ranges from 100AD to the 21st century.
The purpose-built exhibition space has been designed by Charles Marsden-Smedley in the tradition of The Schatzkammer, or treasure room, first created in 16th century European courts.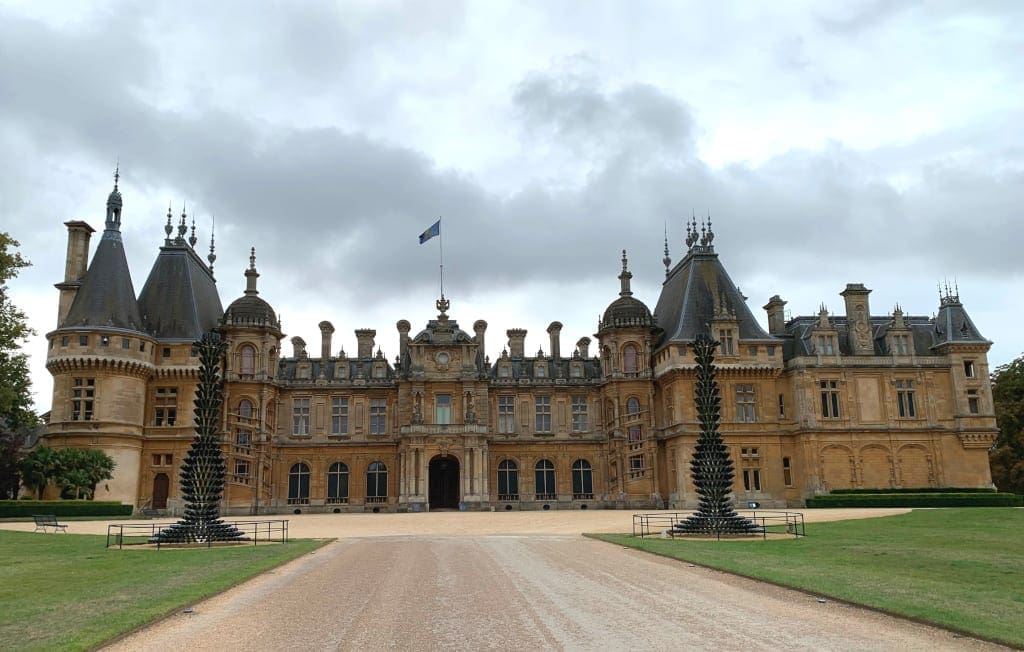 Richly embroidered textiles line the stone archway approach and gilded wrought-iron gates provide a tempting glimpse which quickens the pulse rate. The overall impression is of entering a vault, or discovering a sumptuous treasure. The experience evoked for me the excitement of reading adventure stories as a child. The lighting in the barrel-vaulted room is warm and subdued thereby allowing the glowing objects, nesting in bespoke built cabinets, centre stage.
Every Item Tells a Story
Inside, the intimate environment allows the visitor to view, up close and personal, the craftsmanship and detail of this rare and eclectic collection of items. The range of objects is remarkable as is the fact that all of the items have a personal connection to the family, both past and present.
Many pieces have been cleaned or conserved to reveal new knowledge and discoveries. A tiny gold box engraved with a Nazi inventory number, for instance, tells its own extraordinary story of confiscation in France and desecration during World War Two. There are around 20 similar pieces in the collection that were recovered after the war.
The presentation is a feast for the eye. It is stylishly curated with items spanning two millennia starting with a 1st century cameo of Gaius, Augustus Caesar's grandson, who died in suspicious circumstances aged 23. Historians have surmised that his grandmother, Livia, keen to ensure her own son Tiberius' political future had something to do with Gaius' early demise.
---
Rothschild Treasury Waddesdon Manor Photo Gallery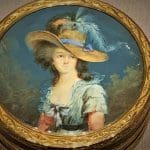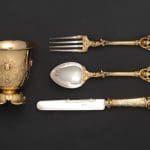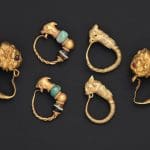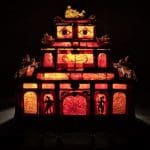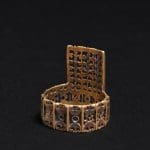 ---
Read about the Waddesdon Manor Chilli Festival.
---
Archaeological Finds
This section of the display showcases the Rothschilds' continued involvement in sponsoring archaeological excavation work. Alongside the cameo is an unusual gold engagement ring dating to the 2nd century and excavated in Tienen, Belgium in the 19th century. The most important pieces from this excavation were sold in benefit of the local communities, and Baron Edmond purchased the cameo and gold ring.
Close by are a number of fascinating pieces of ancient jewellery and delicate glass items from the Middle East. Reflecting the Rothschild fascination with natural materials, there are objects made from amber, a rock crystal cup, an onyx ewer and pieces of Chinese carved jade.
Silver and Gold
More recent jewellery, some given as gifts by Queen Victoria, are set with precious stones including emeralds, possibly acquired at the sale of Empress Eugenie of France's personal jewellery in 1872. Making its public debut is a magnificent pearl tiara by Boucheron of Paris commissioned in 1913 by Baron Edmond, cousin to Ferdinand, for his daughter-in-law on her the occasion of her wedding.
A number of delightful tiny silver toys, including a figure on a rocking-horse, were collected by Alice Charlotte von Rothschild, otherwise referred to as Miss Alice, of the Rothschilds of Austria, both sister and heir to Ferdinand. The present family has collected an extensive number of silver items for wine, an interest reflected in the Rothschild vineyards in Bordeaux. Incidentally, the wine cellar at Waddesdon stocks the largest selection of Rothschild wine in the world.
Another shared passion within the family is gold boxes. I fell in love with a gold and turtle shell circular box of an unknown sitter – an 18th century lady wearing a wide straw hat adorned with a blue feather – painted by Swedish-French artist, Peter Adolf Hall. These samples are the gold boxes that remain after an infamous burglary in 2003, and now on public display for the first time since.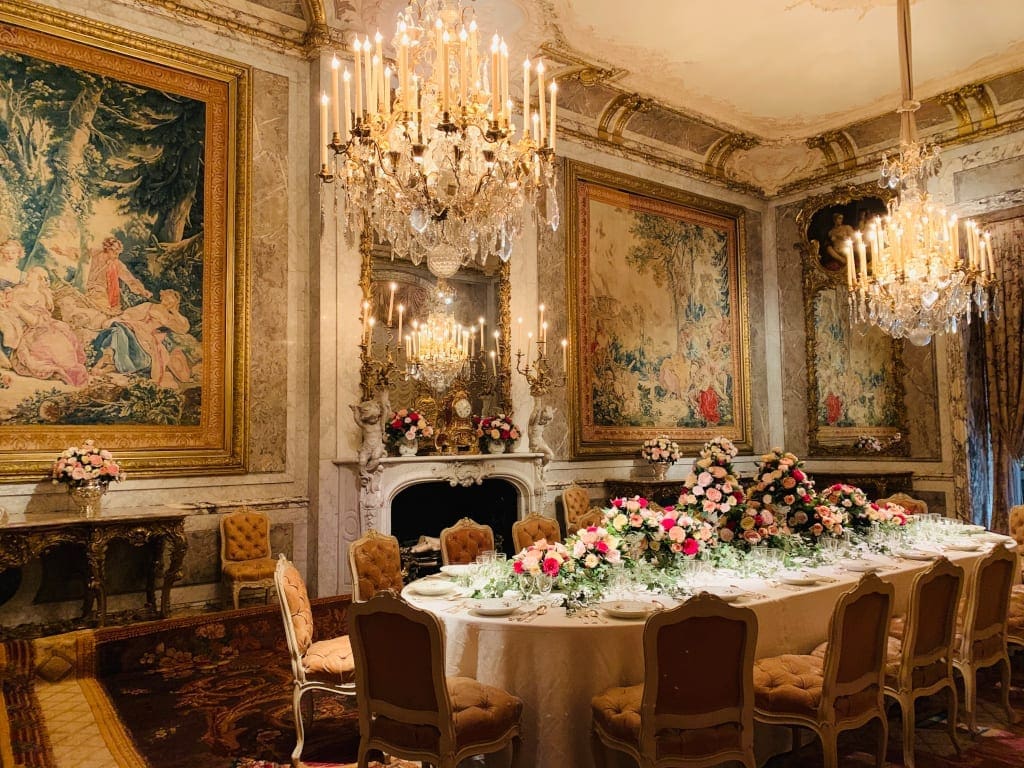 Scientific Objects
The Treasury is more than purely decorative objects. There is a section featuring two astronomical clocks including the earliest known piece by Jeremias Matzger dating to 1564 and a clock by renowned watchmaker Abraham-Louis Bréguet (1747 – 1823).
These were owned by the founder of the British branch of the Rothschild family, Nathan Mayer Rothschild (1777 – 1836). These early clocks involved complex mechanisms. Nearby is a microscope used by entomologist and flea expert, Charles Rothschild.
A Family through Four Generations
Waddesdon Manor was bequeathed to the National Trust in 1957. However, it continues to be run by the Rothschild family through a charitable trust under the chairmanship of Lord Rothschild.
Waddesdon Manor is a fairytale country-house built in 1870 in the Neo-Renaissance style of French château by Baron Ferdinand de Rothschild as a country retreat for entertaining the famous and the politically influential at his famous 'Saturday to Monday' house parties. It was also created as a showcase for his extensive collections of Sèvres porcelain, English portraits, textiles and other decorative arts.
Part of a long line of collectors, the family continues to collect to this day. The new Treasury is the jewel, a microcosm within the Grade I listed house which offers room after room of beautiful and fascinating objects, furnishings and furniture. The difference with the new gallery is that it showcases a treasure trove of precious objects that all have a personal connection to four generations of the Rothschild family members within a remarkable space. A visit is highly recommended.
If you want to find your own hidden treasure then you'll need the right equipment. Check this set of metal detector reviews on Detect History to find out more.
---
More Information on A Rothschild Treasury
Click here, and here for Waddesdon Manor.
Cover photo: Cornelius Bellekin Triton with a nautilus shell c. 1700 (nautilus shell) c. 1810-1830 (Triton and base). Photo, Waddesdon Image Library, Mike Fear.
Irene Caswell
Irene is a freelance writer with a special interest in destinations, arts and culture, food and wine. She believes a life well lived is about experiences and aims to provide readers with informative and evocative stories. Follow Irene on Instagram at @hashtagtravelin.