Hiking in the Jungfrau Swiss Alps with Sherlock
Mark Bibby Jackson
Posted on 14th Sep 2019
Mark Bibby Jackson goes hiking in the Jungfrau Swiss Alps to discover national celebrations, Swiss wrestling, meringues and Sherlock Holmes.
As soon as I disembark the bus the smell of the fresh air engulfs me. Green slopes stretch languidly towards snow-capped mountains; this is alpine cliché. Only the cows with their melodious bells are lacking
Earlier that day I had taken the Swiss International Air Lines flight from London City Airport to Zurich, leaving the UK capital's polluted streets well behind me. From there it took a couple of trains and a bus before we arrived at our night's lodging, the Hotel Gletscherblick in Hasliberg in the country's Jungfrau region. My Swiss Travel Pass assured that the journey was simplicity itself, and everything went like Swiss clockwork.
Swiss National Day Celebrations
Not one noted for excessive pre-trip research, I hadn't realised that our arrival coincided with Swiss National Day (1 August), which celebrates the creation of Switzerland in 1291. After checking in to the hotel, we stroll down to the nearby bathing lake, where all the locals have congregated to drink wine or beer and eat sausages and Swiss cheese beside a marquee.
An old man is playing the alphorn while another hurls the Swiss flag in the air catching it effortlessly. In vain, I wait for him to drop it just once.
While we drink our beers and enjoy some raclette, a group of kids ready themselves by the lake for a lantern procession. Unfortunately, as they are halfway around the heavens open and their endeavours are drowned out as we shelter in the beer tent. Still the rain does not deter our hosts as an impressive firework display lights up the skies, and beacons are lit on all the surrounding hills.
Aare Gorge and the Cheese Factory
The weather has not improved much for our second day – after all we are in the mountains. So, instead of hiking the Via Alpina to Engstlenalp as intended, we decide to flip our schedule on its head and take the cable car to Meiringen and then proceed to the Aare George.
Called Aareschlucht in Swiss, the gorge is some 1,400 metres long. This being a national holiday, the site is packed with people marvelling at this quite wonderful national phenomenon. I am surprised to see a man in a wheelchair here, impressed at how accessible the Aare Gorge canyon walk is.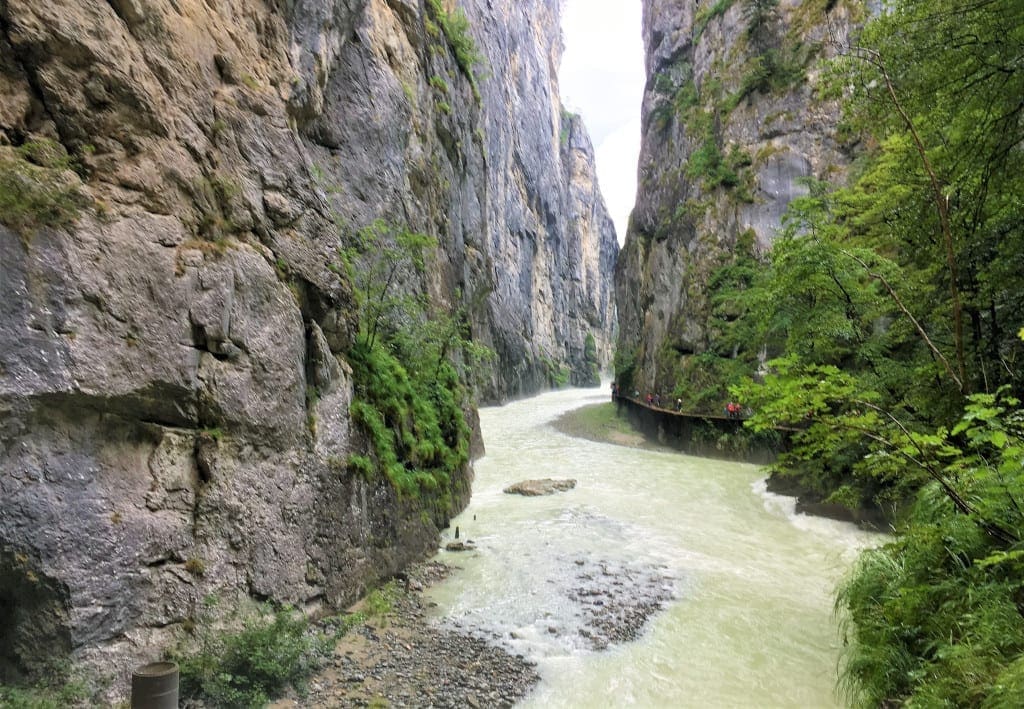 It takes us the best part of an hour to navigate the narrow path as it snakes its way beside the River Aare, with the rocks rising up on the other side of the waters.
Swiss cheese is world renowned, so our next visit is to a cheese dairy, which serves as a cooperative for the local farmers, and produces some 10,000kg of cheese per year.
After a brief tour to the storeroom where the cheeses are stored, during which the production process is explained, we have a quick nibble – somehow the cheese tastes better here than in the supermarket in town.
Schwingen in the Mountains
That night we spend at the Hotel Engstlenalp, enjoying some wonderful roesti. Dating back to 1892, this is the type of lodge you might imagine British adventurers residing at the start of the last century before tackling the Swiss Alps.
This is not something that consenting couples got up to in the Seventies, but a traditional mountainous form of wrestling, akin to judo
There is something quite idyllic about waking up in the mountains, the freshness of the air invigorating both body and mind. After breakfast, we walk to the nearby Engstlensee lake, marvelling at its turquoise colour. A father leads the way for us, walking down to the water's edge, with his son, both fishing rods in hand.
Swiss Alps weather is notoriously unpredictable, so after the disappointment of yesterday's false dawn, I am pleased to awake to blue skies, as today we will walk the stretch of Via Alpina intended for the previous day, only in reverse – the route not us.
First, we have another unexpected treat. The tiny town of Engstlenalp has become engulfed with people, eager to see that day's Schwingen competition. This is not something that consenting couples got up to in the Seventies, but a traditional mountainous form of wrestling, akin to judo.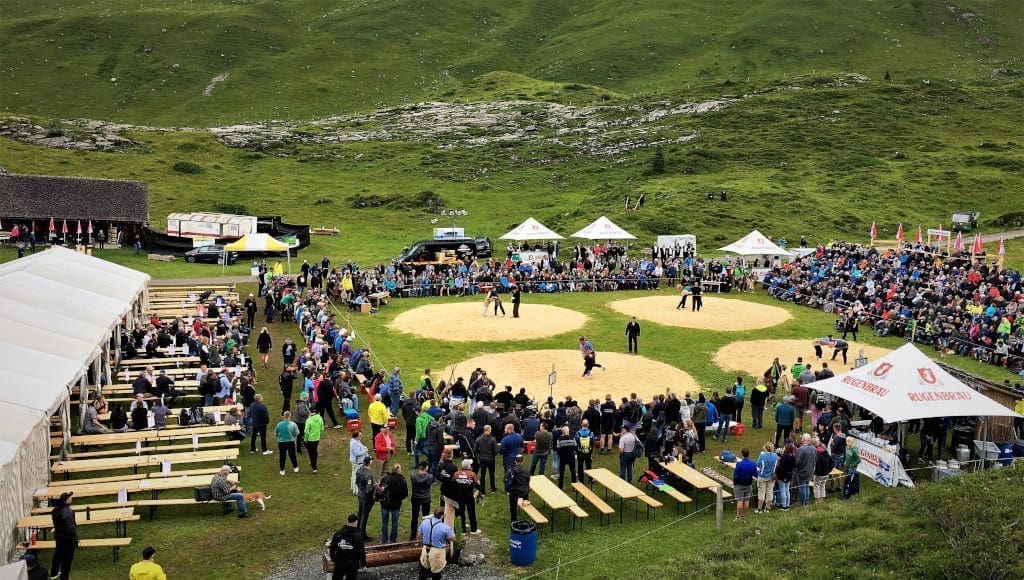 In front of us, four sand rinks are marked in the ground. Some 100 or so competitors have assembled from across Switzerland. A series of bouts will determine who proceeds to the next round and so on until the final held tomorrow. The winner will take home a cow. In the distance men are playing alphorns on the hills, creating a mournful sound that reminds me of The Last Post.
Occasionally, the crowd bursts into applause as one of the competitors flips his adversary onto his back, and is declared the winner, but more often the contest peters out with no clear winner, at least to the ill-informed.
Hiking the Via Alpina
I could have lingered far longer, but we have the Via Alpina to assail, or at least one short stretch of the route that has 20 stages, taking at least the same number of days to traverse in its entirety from Montreux to Vaduz in Lichtenstein.
My last serious trek was while walking in Lanzarote, in December the previous year. Initially, my legs struggle with the steep hills and I find myself slightly short of breath due to the altitude. However, encouraged by the majestic scenery surrounding me, I soon find my feet.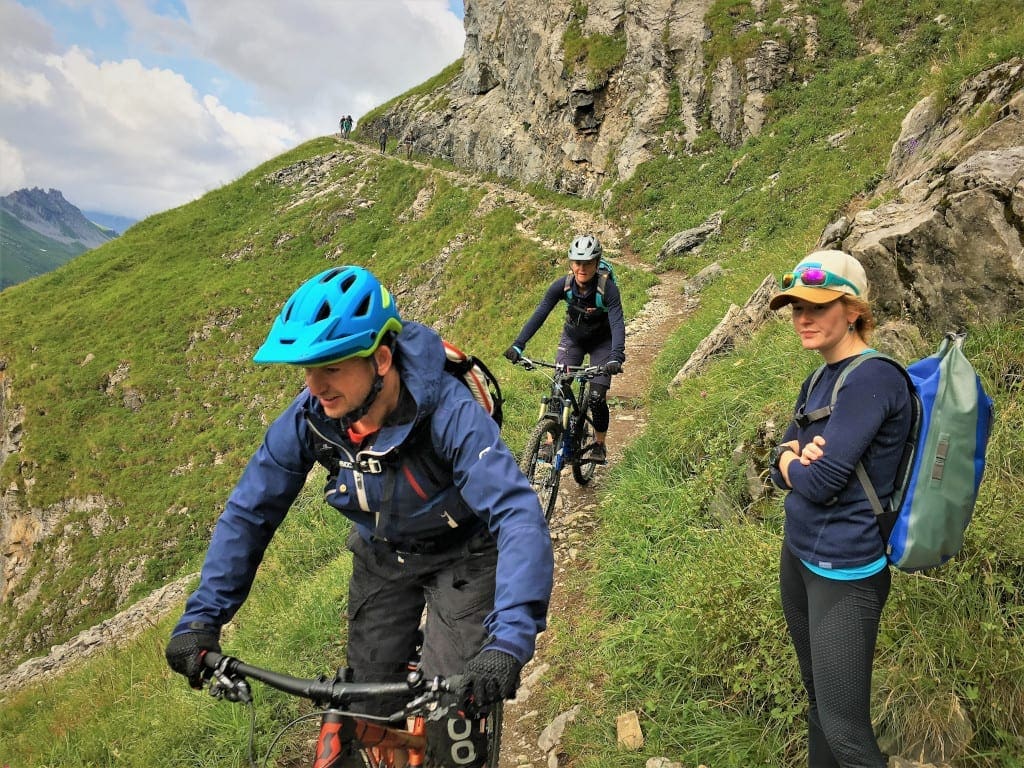 We are walking along one of the red and white trails, which means it is suitable for all – and truly, although there are some steep sections, the walk is quite manageable even if you are not training for an Ironman, as I proved, so long as you walk at your own pace.
And the transfixing beauty all around you more than compensates for any aching you might feel in your legs.
At one stage, a man riding a mountain bike passes us on the steep incline, his leg muscles look as though they might explode from the exertion. Glad that I have never been one for two wheels I give him a round of applause in camaraderie, to which he smiles back. Along the trail, biker and walker seem to live in harmony unlike their city cousins. Although, if you do decide to bike the Via Alpina, I would advise you walk the steep downhill stretches, especially near the cliff edge, as last year tragically one biker did fall to his death here.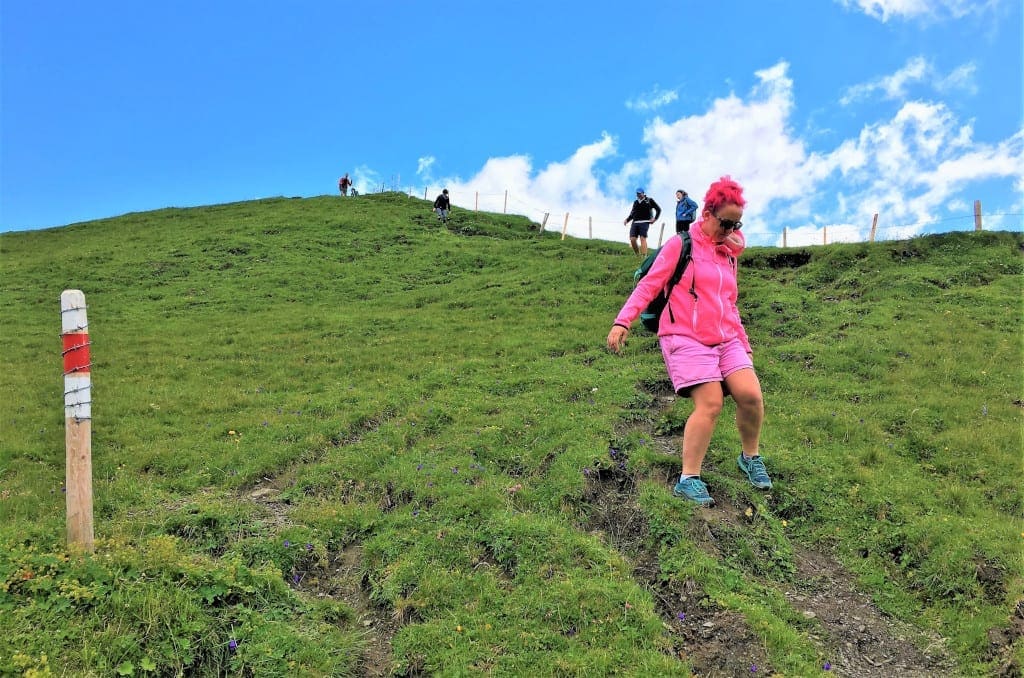 In total, we walk some nine miles, more up than down, taking us about 4.5 hours, stopping for a pack lunch of local Swiss cheese, sausage for the meaties, and fresh bread, while admiring the phlegmatic cows.
Eventually, we ended up at the Alpen Tower in Planplatten some 2,235 metres above sea level, where we had decided to abort our walk the previous day. I feel a sense of accomplishment as well as weariness, and am glad to take the cable car back down to Meiringen, especially as I enjoy the view, camouflaged in cloud the day before, all the way down towards Interlaken and its beautiful lakes.
Sherlock Falls and Meringue Rises
That evening after a much-needed shower and rest, we complete the Holy Trinity of Swiss cuisine, sitting on the street terrace outside our hotel Rebstock.
Roesti and raclette already ticked off my culinary Swiss bucket list, I enjoy a wonderful cheese fondue, dousing the tiny pieces of dough ball bread into the cauldron of cheese to wonderful effect. Apparently, you are supposed to drink black tea and white wine with your fondue, but we find that the latter – a lovely crisp Swiss wine – sufficed.
However, it is not for fondue that the town of Meiringen is renowned. For it is here that the meringue was invented in the 18th Century, although this is disputed. Backerei Konditorei just across the road from the Hotel Rebstock claims to be where the puffed dessert was first created.
Somehow after the fondue I manage to find sufficient space to taste some meringue, and have to admit to finding it easily the best I have tasted, possessing none of that sickly-sweet flavour I tend to associate with the dessert.
The invention of the meringue is not Meiringen's sole claim to fame.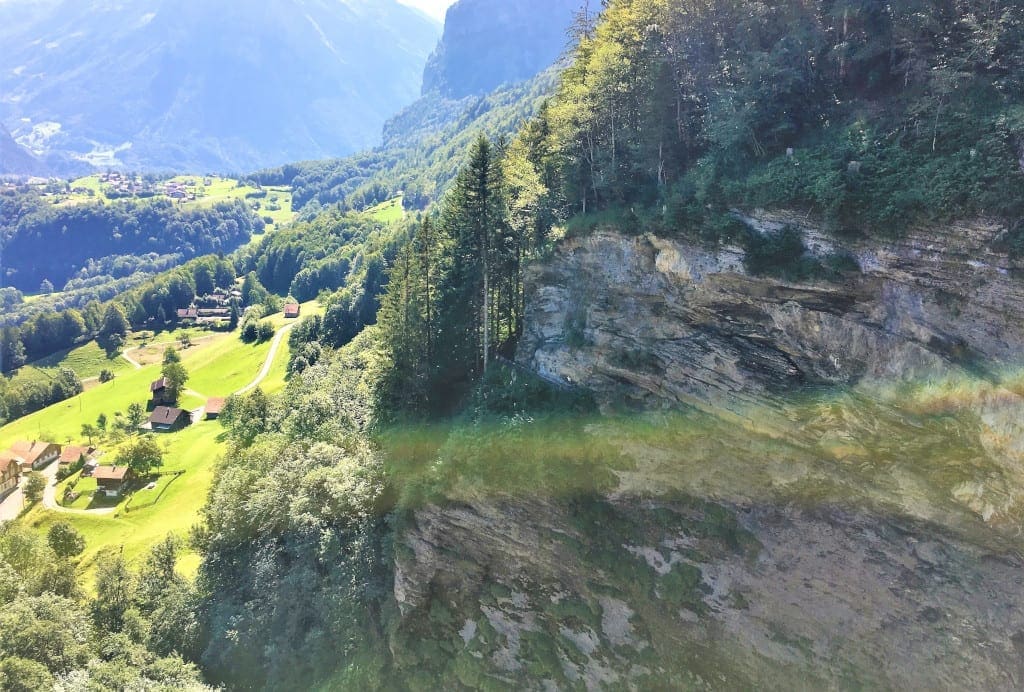 On our last morning, we take a short walk and even shorter funicular ride to the Reichenbach Falls where Professor Moriarity struggled with Sherlock Holmes to deathly consequence. A star marks the point where they struggled. There is also a small Sherlock Holmes museum in town, outside of which is a statue of Holmes as well as information explaining author Conan Doyle's visit to the town and the story.
The walk is pleasant, even if you are not a devotee of Holmes and Watson, and the views back down along the valley were as spectacular as by now we have become accustomed to, in what is surely one of the most scenically beautiful countries on earth. I inhale one final breathe of Swiss Alpine air before commencing my journey home.
---
Jungfrau Swiss Alps Photo Gallery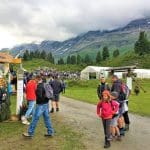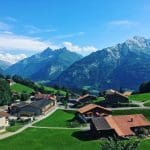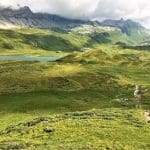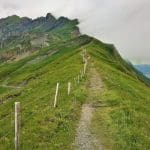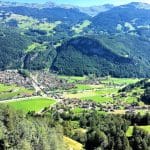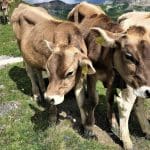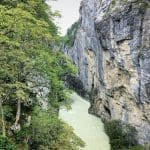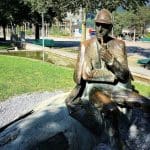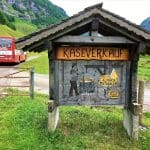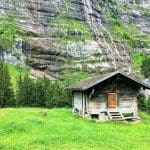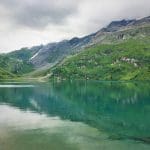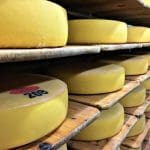 ---
Swiss International Air Lines
SWISS operates up to 180 weekly flights to Switzerland from London Heathrow, London City, Manchester, Birmingham, Edinburgh (seasonal during summer) and Dublin. The all-inclusive fares start from £84 one-way (London-Geneva classic fare). For more information visit swiss.com or call 0345 601 0956.
Swiss Travel System
The Swiss Travel Pass (from £185, second class) offers unlimited travel across Switzerland's rail, bus and boat network. This pass covers scenic routes, as well as local trams and buses in 90 towns and cities, and includes a Swiss Museum Pass that allows you free entrance to 500 museums and exhibitions. Call Switzerland Travel Centre on 00800 100 200 30 or visit: www.swisstravelsystem.co.uk.
---
For more things to do in Switzerland
Visit www.MySwitzerland.com or call the Switzerland Travel Centre on 00800 100 200 30 (freephone).
Mark Bibby Jackson
Before setting up Travel Begins at 40, Mark was the publisher of AsiaLIFE Cambodia and a freelance travel writer. When he is not packing and unpacking his travelling bag, Mark writes novels, including To Cook A Spider and Peppered Justice. He loves walking, eating, beer, isolation and arthouse movies, as well as talking to strangers on planes, buses and trains.