A Global Beer Trip: Is There an Oktoberfest Near Me?
Johan Smits
Posted on 4th Sep 2019
In a thirsty quest around the world, Travel Begins at 40 helps you answer the question "Is there an Oktoberfest near me?" for when you can't make it to the original Oktoberfest in Munich, Germany.
With the famous Munich Oktoberfest coming up soon, the Travel Begins at 40 team has asked itself, "Is there an Oktoberfest near me?". That's how desperate we are – but luckily the answer seems to be yes. From Japan to Namibia and Canada to Brazil, the famous German Oktoberfest has outgrown its Munich birthplace to have become a planetary event that can be celebrated in nearly all corners of the world.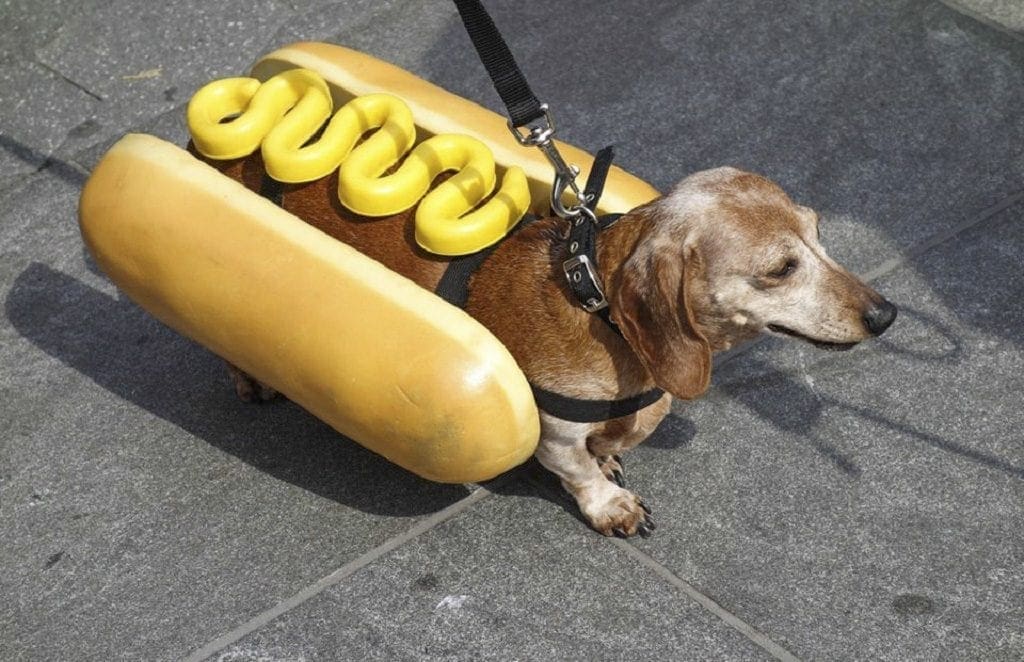 Zinzinnati Oktoberfest, USA (20 – 22 Sep.)
With its name referring to how German immigrants pronounce Cincinnati in Ohio, the Zinzinnati Oktoberfest is the biggest one in the US attracting annually half a million visitors. Quite unique to this Oktoberfest is its Running of the Wieners where every year the celebrations are kicked off with a race of some hundred dachshunds disguised as hot dogs. Add to that the largest chicken dance in the world – the 48,000 participants in 1994 made it into the Guinness Book of Records – and you're guaranteed a party you won't easily forget, even if you try. Expect lots of bratwursts, spareribs and potato salads in American portions. And of course a steady flow of liquid gold.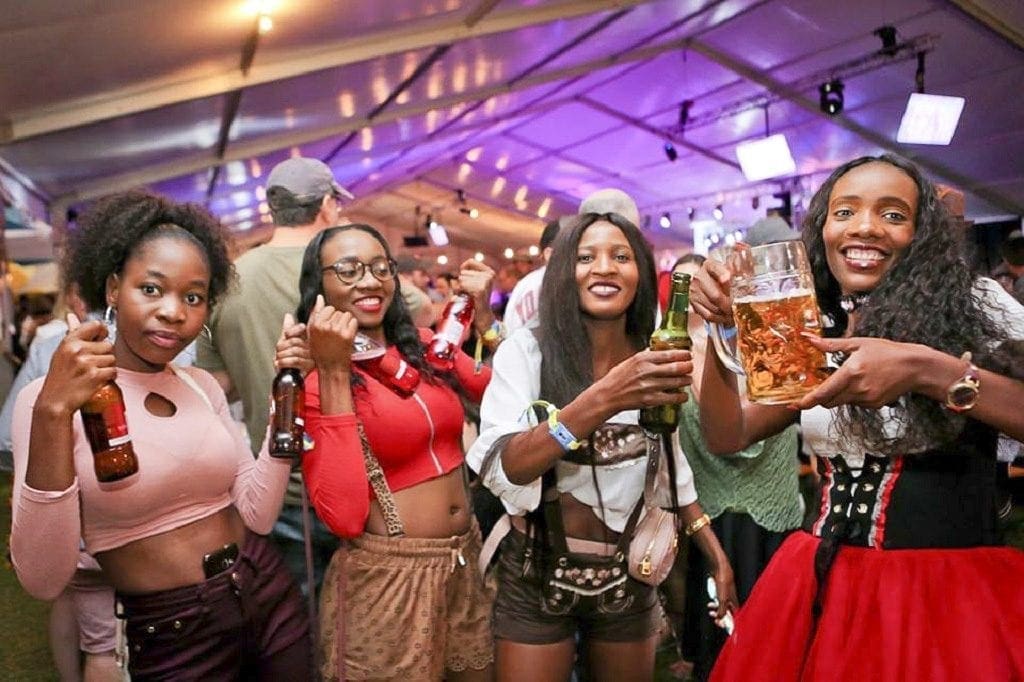 Oktoberfest Windhoek, Namibia (25 – 26 Oct.)
Namibia's current capital was also the capital of the former German colony of South West Africa when the city was spelled Windhuk. These days, well over a 1,000 revellers participate in its annual Oktoberfest that includes tree sawing and the election of the Beer Queen who can carry the most one-litre steins. But most impressive of all, the Namibian beer served here is brewed in accordance to the requirement of the 1516 German Reinheitsgebot or purity law. Prosit!
Kitchener-Waterloo Oktoberfest, Canada (11 – 19 Oct.)
North-America's biggest Oktoberfest is in Ontario where up to a million revellers indulge themselves in beer, bratwurst and German brass band music in 16 different beer tents. Following Munich traditions, there is an official tapping of the keg – in 2016 this was done by the country's Prime Minister Justin Trudeau no less – as well as a parade of elaborate beer floats and a chance to show off your thigh-slapping skills in traditional Bavarian dancing. They even use the German word Gemütlichkeit to brag about the cosiness of their fest.
---
If you can't get enough of beer, read about our 7 Great Beer Festivals in the UK, Belgium, Germany and the US.
---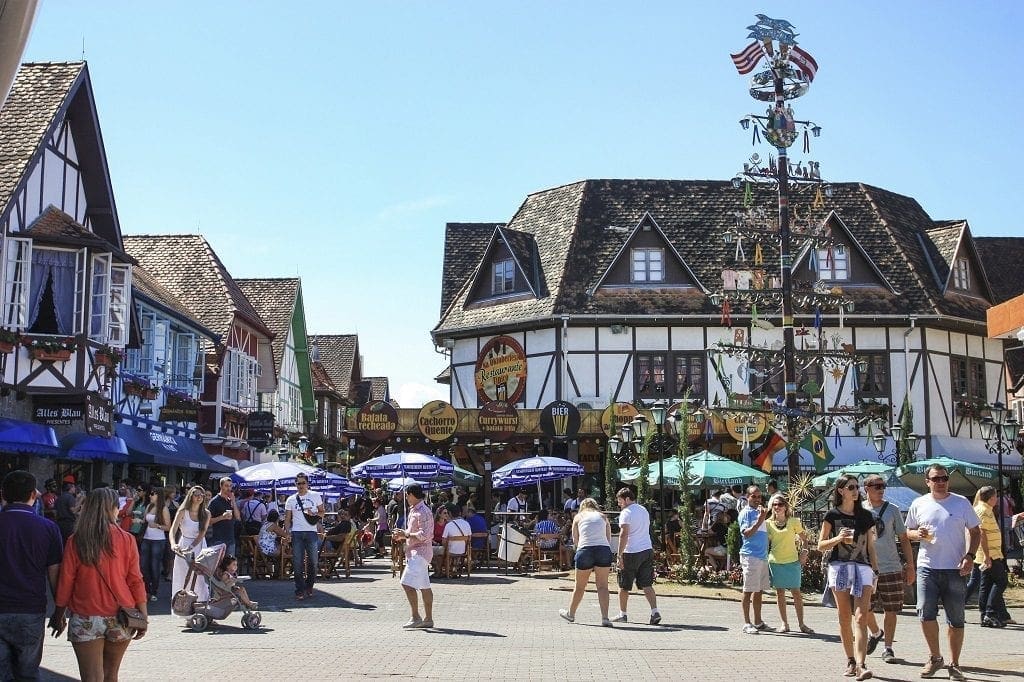 Oktoberfest Blumenau, Brazil (9 – 27 Oct.)
The city of Blumenau in the state of Santa Catarina was founded in 1850 by the German immigrant Hermann Otto Blumenau and, with about a third of its population claiming German ancestry, it's informally known as Little Germany. They have been holding an Oktoberfest since 1983 which has over time grown to attract 700,000 visitors and is, after the Rio Carnival, Brazil's biggest folk fest. Spread over more than two weeks, expect beer brewed according to the Reinheitsgebot, one-litre beer mugs, Weißwurst and German brass bands flown in for the occasion and mixing their Teutonic tunes with Brazilian samba. Apart from daily drinking contests, there's also a Queen of the Oktoberfest competition whose winner will represent the city during the coming year.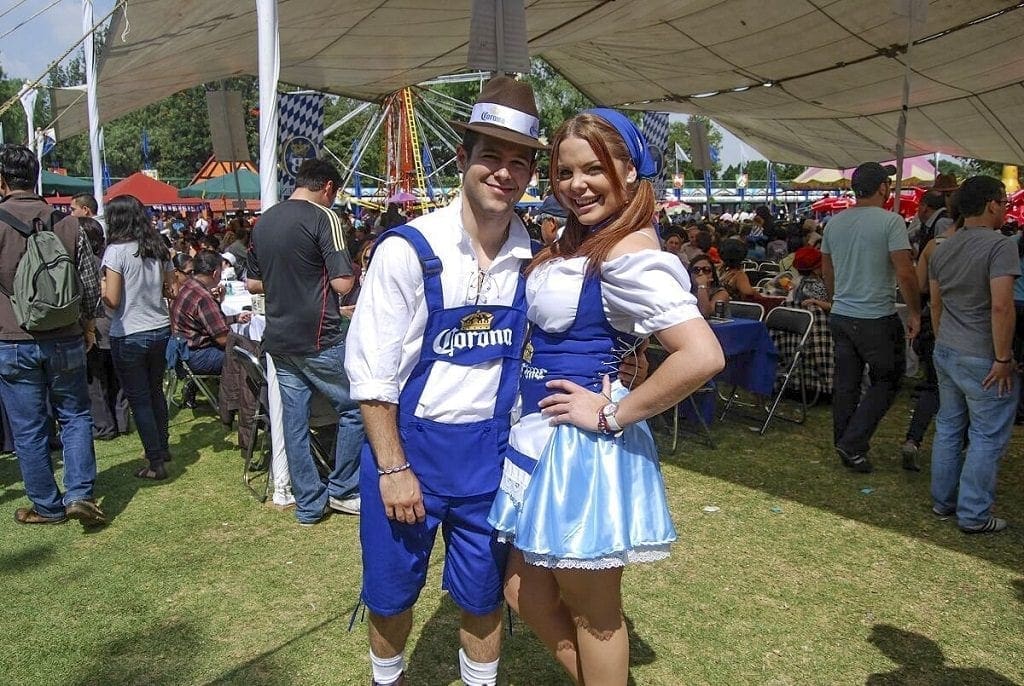 Oktoberfest in Mexico City, Mexico (5 Oct.)
Exchange your sombrero for a felt hat and expect German food with a Mexican twist when you attend the Oktoberfest in Mexico City. Held in the Club Alemán in the Xochimilco borough, this is an annual highlight for the local German-Mexican community but lots of visitors from around the world also attend this German-style fiesta that is increasing in popularity with every passing year. Apart from large kegs of cerveza expect also amusement rides and a handicraft market.
Hibiya Oktoberfest Tokyo, Japan (mid – late May)
Held in the Hibiya Park in the heart of Japan's capital, this Oktoberfest is reportedly Asia's longest-running one. Perhaps this is no surprise given that Germany is the third most popular holiday destination for Japanese. From Bangkok and Singapore to Taipei and Shanghai, enthusiastic beer drinkers from all over Asia mix here with locals and tourists to join in the fun. Authentic German beer brands – including the famous Späten, Hofbräuhaus, Erdinger and Paulaner – are served alongside local Japanese brews, while there's also no shortage of German sausages, from bratwurst and blutwurst to knackwurst and Bockwurst.  There's one caveat though: this Oktoberfest takes place in May.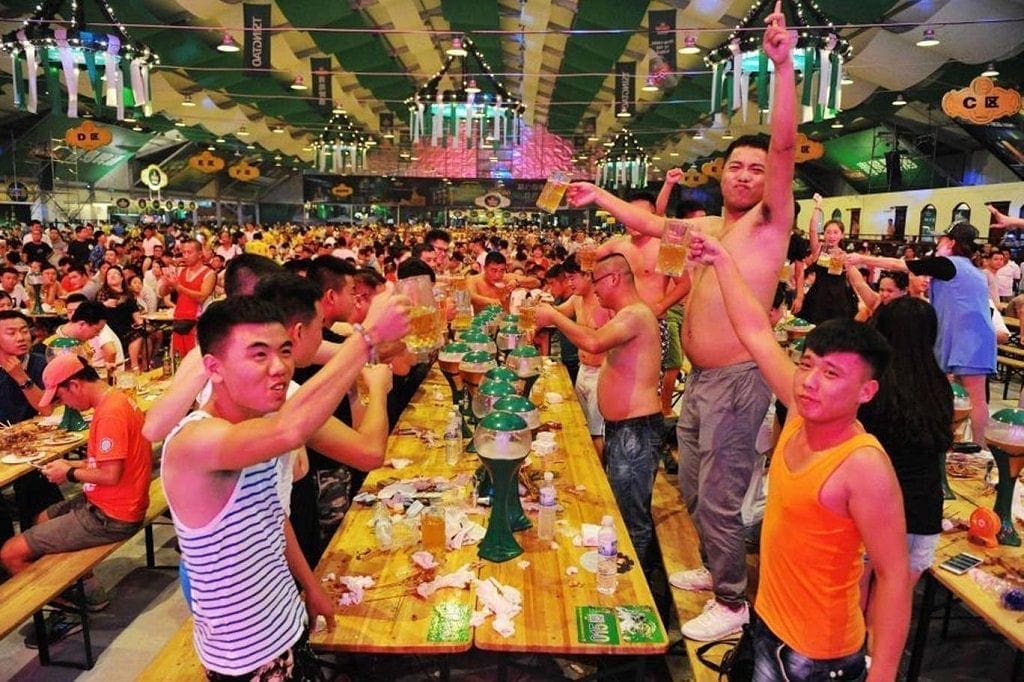 Oktoberfest Qingdao, China (Jul. – Aug.)
This is where the world's second biggest Oktoberfest takes place every year with some three million visitors drinking in Bavaria-style pre-fabricated chalets. Between 1897 and 1914 this East-Chinese region was a German colony during which period the Tsingtao brewery was founded. Over time this Oktoberfest has morphed into an international beer festival with international breweries from all over the world, but who's complaining? You have plenty of notice to plan for it since it takes place from end July to well into August, but for a rather surreal picture of lederhosen- and dirndl-wearing people in China, this is where you have to be.
Frankenmuth Oktoberfest, USA (19 – 22 Sep.)
Again in the US, the Frankenmuth Oktoberfest is one of the country's favourites. Founded by German immigrants in 1845, Frankenmuth's population is only 5,000 but its Oktoberfest attracts more than 100,000 visitors in just a few days. In 1996 it was even opened officially by the then-mayor of Munich. Authentic German Hofbräuhaus beer is served here, while this beer fest particularly pays attention to keeping true to the traditions, sights and sounds of the original one in Munich.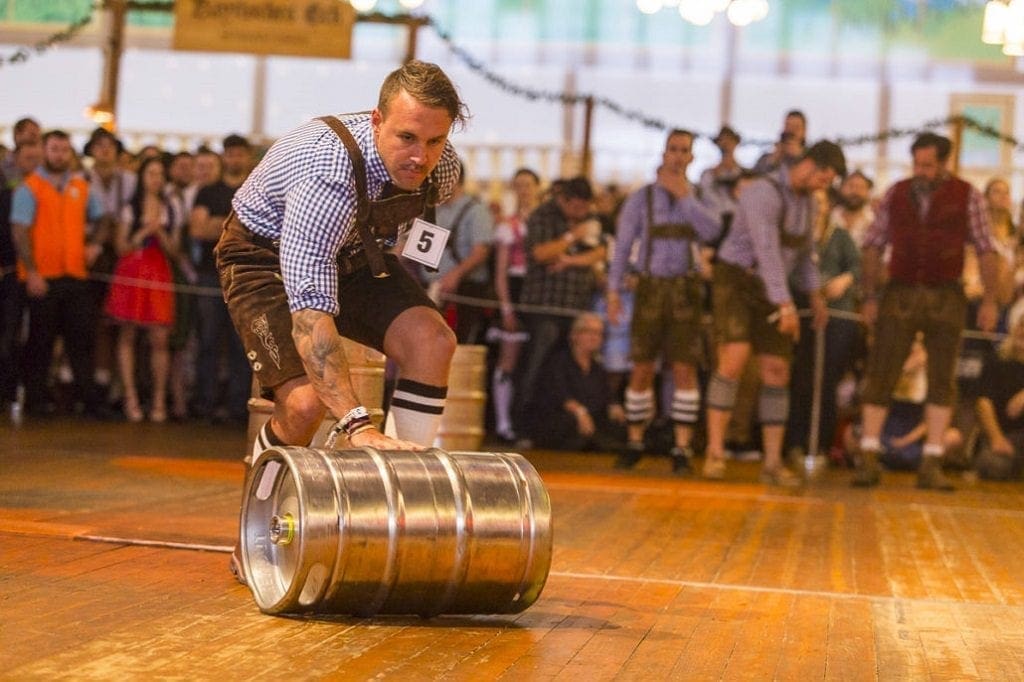 Brisbane Oktoberfest, Australia (11 – 13 & 18 – 20 October)
This is the most famous Oktoberfest down under where during two weekends you can indulge yourself in drinking German and Australian beers out of huge steins, eating Weißwurst, and hear the yodelling of a lady called Heidi. A German brass band is flown in especially from Bavaria to add the obligatory oompah tunes to a host of other activities such as tug of war, a barrel race, stein holding and other beerfest-related challenges. The atmosphere here is very familial since the organisation is still run by only two German-Australian families.
Is there an Oktoberfest near me?
If this selection of worldwide Oktoberfests doesn't answer the above question, don't despair, there are literally hundreds around the world, from smaller Oktoberfest parties organised by hotels and German embassies to dedicated organisations and clubs throwing their own authentic German beer fest. Check with a German embassy or mission near you for details. And if you find yourself in London on 19 Oktober, then the Brixton Oktoberfest is a must.
Johan Smits
Freelance writer, translator, web content developer, author of the novel Phnom Penh Express and Tommy, a short story. Loves trying out local brews, avoids noise. Chronically indecisive about where to lay down his hat. Shortlisted AITO Travel Writer of the Year 2018.
Subscribe to our newsletter