Japan Winter Festivals: Naked Men and Sake
Johan Smits
Posted on 19th Sep 2019
From naked men to setting off fireworks and lots of sake, here is our round up of  Japan winter festivals, ranging from the quirky to the strange.  
During what is probably Japan's largest and most popular winter light festival, over 8 million LED lights cover the Nabana no Sato flower park with a bright blanket of colourful lights. Amongst its many highlights are two light tunnels that run to over 100 metres and change colour over time, a 120-metre-long river of lights, and intricate animated light shows that depict various natural scenes, from Mount Fuji to waterfalls. The Nabana no Sato Winter Light Festival runs over several months and attracts every year thousands of local and international visitors keen to enjoy the flowers sweet flagrance while strolling through the cold winter air.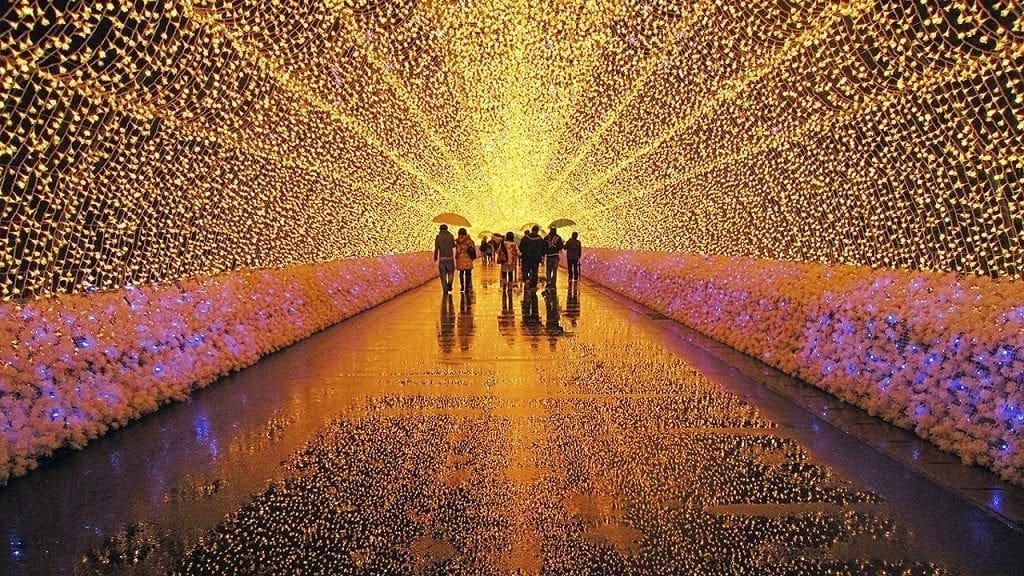 Matsutaki Festival – 14 January 2020

With over 300 years of history, this is one of Japan's largest new year's festivals, beginning at sunset on 14 January, and taking place at the former Date clan's head shrine and Sendai landmark, Osaki Hachimangu, which is dedicated to the Shinto god of war. Festivities begin at sunset when a large bonfire known as a goshinka, or 'sacred fire', is lit, and people travel from nearby with their previous year's decorations, good luck charms and amulets to burn on the fire, as a way of showing gratitude for the luck and cheer they brought. It is believed that for those who come close to the fire, the grace of the deities will also cleanse the mind and body, keeping believers and their family safe and in good health in the coming year.
Eboshi Snow Firework Festival – 18 January 2020
The mountains around Miyagi are famous for juhyo, or 'snow monsters', trees which have been twisted into strange shapes by the wind and covered with snow, attracting Japanese and international snow lovers to see the strange spectacle. For a truly special visit, make time to visit Eboshi ski resort, one of the many, almost secret snow parks that pepper the mountains across northern Tohoku region, which celebrates the middle of the season with a grand firework display of around 1,000 colourful fireworks, lighting up the sky and snow-capped mountains to music. Ski instructors perform a torch lit decent of the main slopes, adding to the extravaganza. Eboshi snow park is unusual as the only ski resort in Japan to have 'penguin walks' – when Sendai aquarium's penguins visit with their keeper on 16 December for a walk.
---
---
Japan winter festivals: Shikoku Sake Matsuri – 22 February 2020 (date TBC)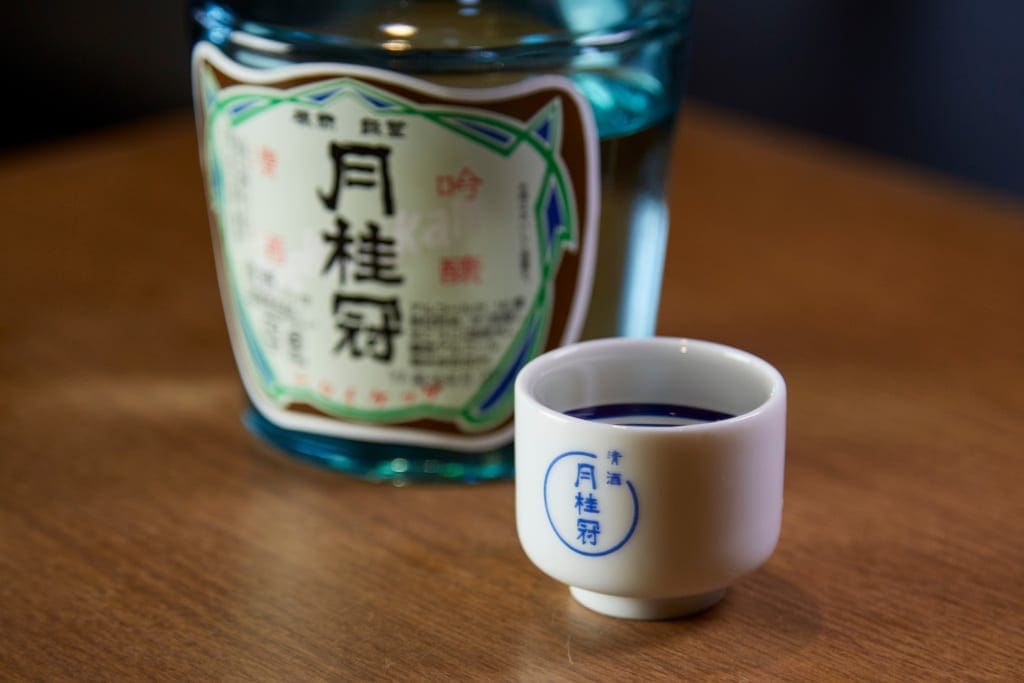 Every February the city of Mikoshi in Tokushima celebrates its excellent reputation for sake production with one of the country's largest sake festivals, at Awa Ikeda Centre for Commerce. Entrance tickets allow visitors to taste more than 40 types of sake from across Japan's fourth island, and tasting for sake from across Japan is available on an enhanced ticket. Chief brewers are in attendance and discounted tickets are available to foreign visitors. During the weekend, ticket holders can also visit local sake breweries that are not normally open to the public, between 11am and 3pm.
Matsushima Oyster Festival – 2 February 2020
On the first Sunday in February, Matsushima celebrates the unusually fat and juicy oyster grown in the bay and along the Sanriku coast with the Matsushima Oyster Festival. Grilled oysters, bowls of kakinabe oyster soup, and other oyster dishes are served, and fresh seafood is sold at bargain prices for people to cook themselves. Seafood lovers can relax with friends at their own grill station, warming themselves while cooking the freshest seafood over pop-up style barbeques. Cold beer and warm sake is available, and there is also a food market selling local specialty goods as souvenirs and a variety of other fresh ocean treats.
---
If you do not fancy any of these Japan Winter Festivals, read Mark Bibby Jackson's Japan Travel: Glamping, Zip-cords and Samurai for further travel inspiration.
---
Aone Onsen Snow Light Festival – 9 February 2020 (date TBC)
Aone Onsen town developed around the mineral rich geothermal hot springs that gush forth from a deep mountain spring, and was a favourite resting place of the prominent Date feudal clan. A visit to this famous hot spring town is always special, and especially magical during the Snow Light Festival, when locals and visitors come together to build small, sandcastle-like sculptures from the snow, placing a lit candle in each to create a beautiful display of small glowing snow cones across the townscape. Some bring their own materials, but there's everything you need to make your own snow sculpture.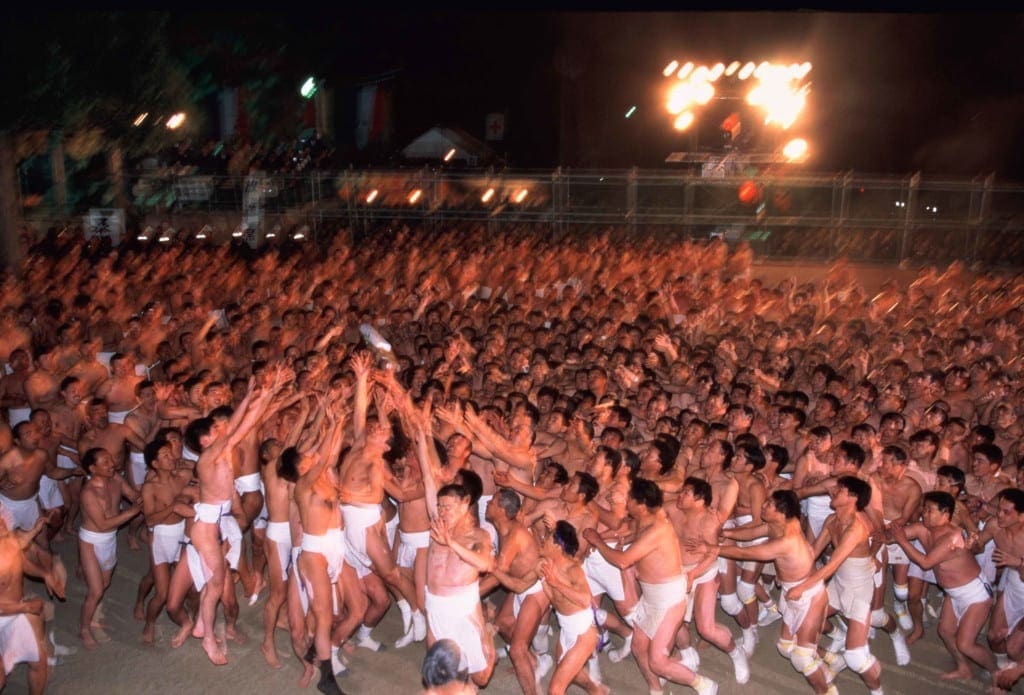 Otherwise known as the 'Okayama Naked Man Festival', Hadaka Matsuri is one of Japan's more extreme local festivals and sees loin cloth-clad men running through icy water on the coldest day of the year, then wrestling inside the temple grounds with a crowd of nearly 10,000 participants hoping to claim the lucky sticks. Foreigners are welcome to participate, though the wrestling is strictly men only, the festival is very much a spectator sport. Taking place annually on 3rd Saturday of February, locals celebrate with street barbecues and encourage the participants with shouts of encouragements and handfuls of salt thrown for good luck.
Tohoku Japanese Sake Festival – 25 and 26 April 2020
The largest sake festival in Northern Japan, Tohoku Sake Festival takes place in April at Naganuma Futopia Park. Over 100 different sake brewers and brands from across the region showcase their classic sake and new innovations, such as Hedeyoshi Brewerys sparkling 'champagne style' sake. Visitors will be able to purchase specialty and local sake at discount prices.
Hotels in Japan
For accommodation in and flights to Japan, enter your dates in our flight and hotel comparison engine to search hundreds of sites for the best deals:
---
More information on Japan Winter Festivals and tourism
Visit JNTO's website to help plan your trip to Japan.
Johan Smits
Freelance writer, translator, web content developer, author of the novel Phnom Penh Express and Tommy, a short story. Loves trying out local brews, avoids noise. Chronically indecisive about where to lay down his hat. Shortlisted AITO Travel Writer of the Year 2018.
Upcoming Events
November 10, 2022

-

January 4, 2023
Subscribe to our newsletter