When Flying Scotsman Meets Northern Belle
Mal Tattersall
Posted on 26th Sep 2019
Mal Tattersall goes steaming back in time on the Nostalgia Express with the Flying Scotsman engine and the Northern Belle luxury train.
"For rail enthusiasts this is a very big deal indeed," TV reporter Ralph Blunsom breathlessly tells Granada viewers. "It's a once-in-a-lifetime spectacle. Railway history is being made today."
The local newspapers across Lancashire, too, have been full of the story all week. And excited crowds of trainspotters and photographers are out in force.
For Flying Scotsman, the world's most famous steam engine is about to haul the Northern Belle, one of the world's most luxurious trains.
A time when the stylish way you travelled to your destination was as important as actually getting there
And we, glasses of champagne cradled in our hands, are sat aboard it.
The Flying Scotsman was the first locomotive to reach 100mph and then run non-stop from London to Edinburgh, while the seven burgundy and dream Pullman carriages of the Northern Belle, once part of the iconic Orient Express group, are a throwback to the glamorous days of 1930s rail travel. This was at a time when the stylish way you travelled to your destination was as important as actually getting there.
So today, coupled up together, the engine and carriages form a sort of Nostalgia Express.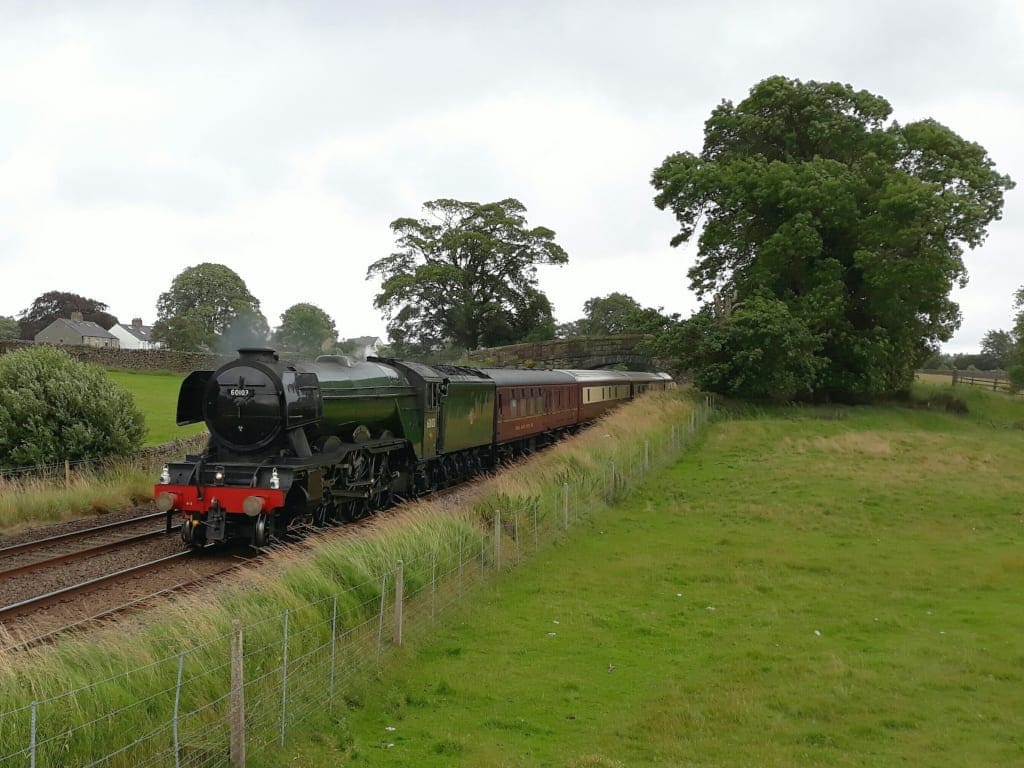 Well Attired on the Northern Belle
Perhaps never before has such a well-dressed group of nearly 300 train passengers milled around on Manchester Victoria Station's Platform One.
Across the tracks on the other platforms are the usual motley Saturday evening crew in their shell suits, football shirts and baseball caps.
But here most of the men wear smart suits. Many sport ties; indeed several have bow ties. Several gents are in fedoras, and one smartly turned-out chappie even has a jaunty bowler.
The women look even more elegant in their best frocks. Not a pair of jeans or trainers to be seen.
For the people who run the Northern Belle expect certain standards of their passengers – particularly on trips like this or to prestige occasions such as Royal Ascot.
And when you are paying around £300 – sometimes even more – for a ticket, then it is worth dressing up for the occasion.
A False Start and a Last Minute Understudy
Bang on time at 6.40pm, the signals turn green and there comes the unmistakable rumble of an approaching train.
A kilted piper begins playing Scotland the Brave. People pull out cameras and crane their necks to get a better view.
Then a communal groan. For trundling through the station comes a seemingly never-ending goods train carting biomass to the Drax power station in North Yorkshire.
It's a few minutes later before Northern Belle slides majestically into the platform.
As we stroll back down the platform to our Pullman carriage, liveried stewards stand to attention by little red carpets next to the doors.
A vintage diesel locomotive is pulling it, for last-minute engineering work on the track has forced a slight change to the route.
Instead the Flying Scotsman will be waiting instead a few miles down the track at Preston station to take us on the rest of our journey.
Rolling out the Red Carpet
But that's no problem. For it means my companion Kit and I get the added bonus of briefly alighting there to watch the gleaming green steam engine hissing and groaning as it is coupled up.
As we stroll back down the platform to our Pullman carriage, liveried stewards stand to attention by little red carpets next to the doors.
Each is named after a stately home or castle and ours is called Warwick. Forget the usual spartan interiors of today's boring commuter trains.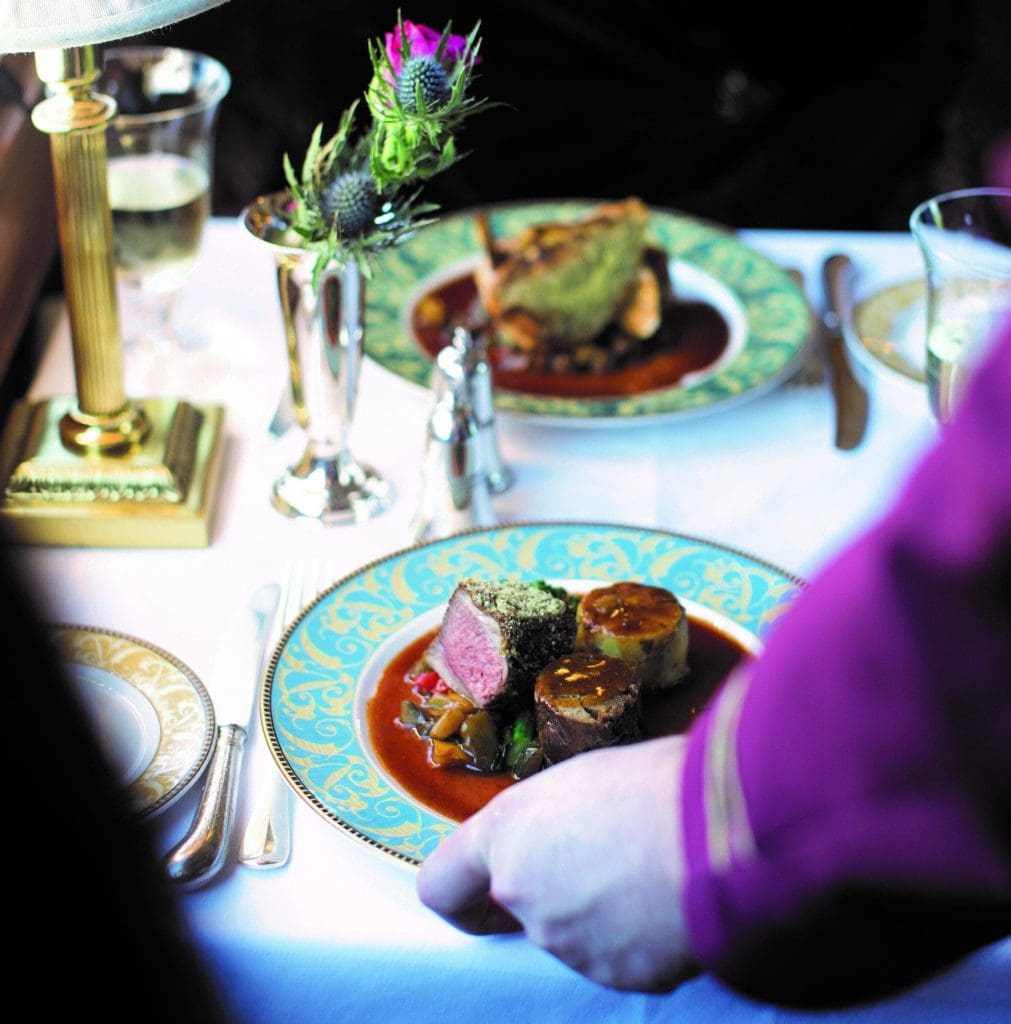 Inside Warwick are tapestries and marquetry, oak panels inset with walnut, boxwood, satinwood and maple. There are flower arrangements on the tables. Even the toilet boasts fancy mosaics.
Fine Dining on board the Northern Belle
No sooner have we settled back into our armchair-style seats, sipping glasses of champagne, than there's a piercing blast of the Flying Scotsman's whistle and we start chugging out of Preston.
Soon, we are tucking into the first part of our slap-up seven-course dinner as, clouds of smoke billowing past the windows, we roar through Blackburn.
Between mouthfuls, we act like royalty, waving back at hordes of people lining bridges and station platforms who are enthusiastically waving at us.
Summer green vegetable soup with English rapeseed oil follows hot smoked salmon with Jersey royal salad, samphire and salad cream as we pass Clitheroe, with brooding Pendle Hill, home of the infamous witches, in the background.
Then on to Hellifield and through the beautiful Yorkshire Dales to Settle while we stuff ourselves full of breast-fed chicken with a herb crust and Cumbrian air dried ham, served with asparagus, young peas and truffled carrots.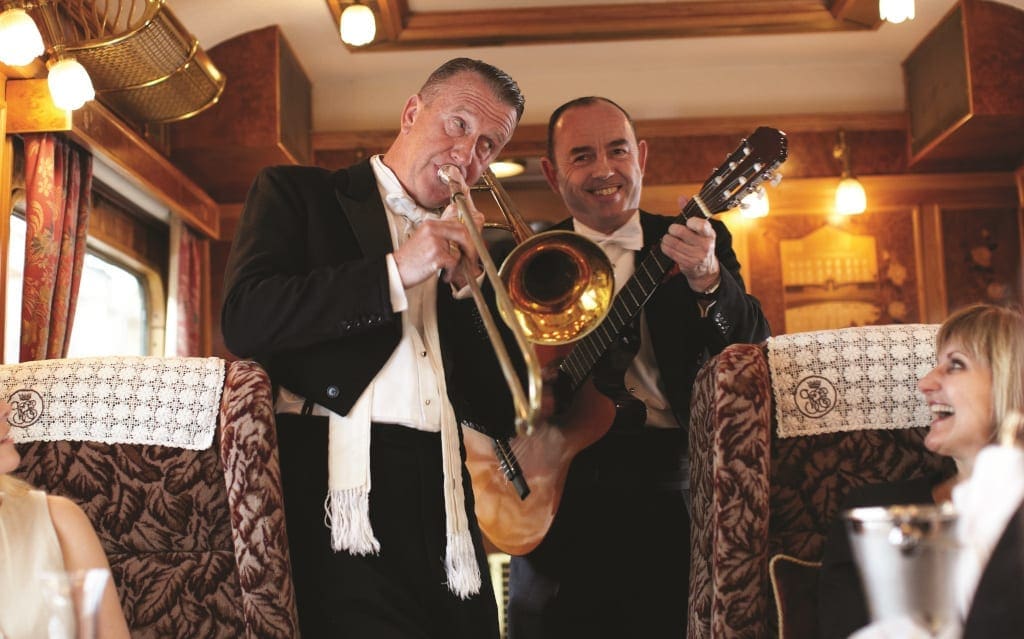 A Brief Encounter at Carnforth
Eventually we reach Carnforth, with its carefully-restored station. The classic 1940s movie Brief Encounter, starring Trevor Howard and Celia Johnson, was filmed here – and if that doesn't bring a tear to your eye (like Celia's character in the film) then nothing will.
Now as we head off to Morecambe Bay before turning back south towards Preston, out comes the Great British cheeseboard and then a dessert of Summer berry Pimm's jelly, elderflower and lemon verbena cream with candied orange.
All washed down with a delightful bottle of Côtes du Rhône, followed by a glass each of a decent port before finally coffee and petit fours.
The food, the service, the train – everything was outstanding. This was indeed history in the making
It makes my mouth water again just writing about it. So compliments to head chef Matthew Green for cooking up such a delicious meal while travelling at up to 75mph in a kitchen barely bigger than a cupboard that was fitted out in the 1950s.
An Unforgettable Evening with the Flying Scotsman
All too soon we are back at Preston where the Flying Scotsman leaves us and the diesel loco takes over again for the last leg of the journey back into Manchester, finally reaching Victoria station shortly after midnight.
---
If you have enjoyed Mal's tale of the Flying Scotsman and Northern Belle, read his: Not Brassed Off by Yorkshire Brass Band Music.
---
It has been an unforgettable evening for Kit and I. Among the other 274 passengers is Yorkshire businessman David Pitts, who bought the Northern Belle train for an undisclosed sum from Orient Express a couple of years ago.
"I wouldn't have missed this for anything," he says afterwards, his eyes still gleaming with pride. "The food, the service, the train – everything was outstanding. This was indeed history in the making.
"Flying Scotsman is only allowed to make 15 mainline outings every year and to travel 300 passengers miles. So those of us lucky enough to be on board had an experience we will never forget."
Indeed we did, David.
---
Northern Belle Offers
Northern Belle day trips run to various destinations and stations all over Britain. For more details see www.northernbelle.co.uk or phone 01270 899681.
Mal Tattersall
Malcolm "Mal" Tattersall spent almost 40 years working as a staff journalist on some of Britain's biggest-selling tabloid newspapers. Originally from Lancashire, he once found himself under house arrest in a brothel after a military coup in Africa, taught English in Istanbul, narrowly avoided being thrown in Turkey's notorious Midnight Express prison, and, for a brief period, was a brickie's mate labouring on a building site in Muskogee, Oklahoma. Now semi-retired, Mal loves travelling, writing and supping real ale – although not necessarily in that order.