7 Ancient Peru Sites Away From Machu Picchu
Mike East
Posted on 31st Oct 2019
Machu Picchu and Cusco are rightly world famous, but how many other sites of ancient Peru can you visit? Many, says Mike East.
Remnants of Peru's ancient civilisation abound throughout the country, from the still-inhabited Incan town of Ollantaytambo to one of the oldest cities in the Americas at Caral, the history of Peru is fascinating and is little known outside of its borders. Here are our seven recommendations for sites of ancient Peru apart from Machu Picchu.
Caral Peru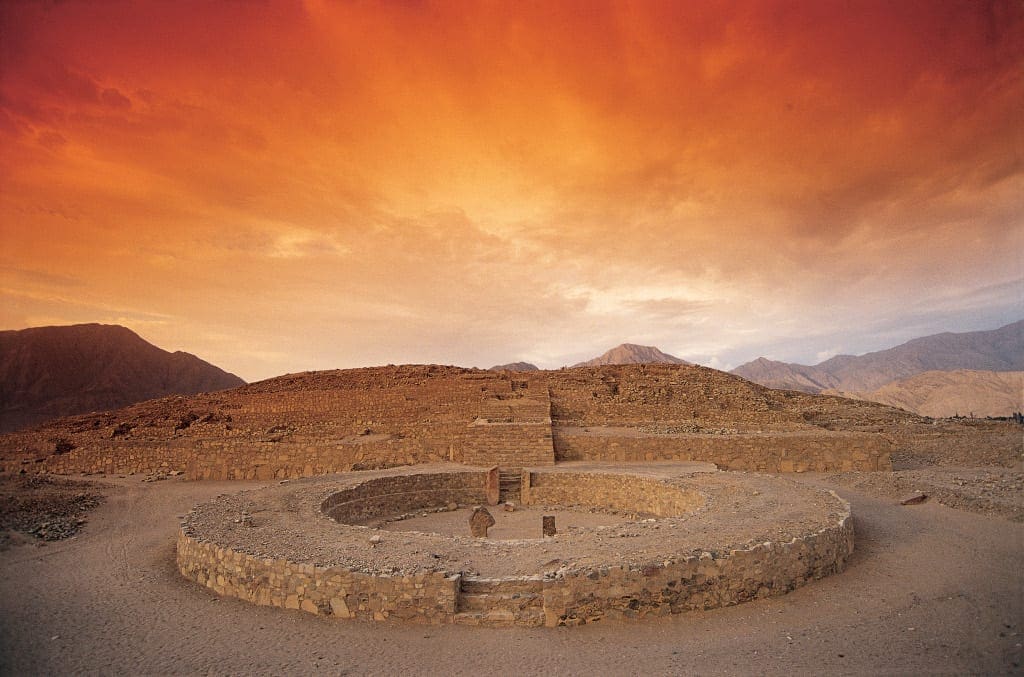 About 4,600 years old, part of what is known as the Norte Chico civilisation, and once considered the oldest city in the Americas. Caral is located 200 kilometres, or three hours' drive north of Lima, so you can visit it and return in a day. The site is well-preserved, due to the dry environment, and contains six pyramids, altars, ceremonial rooms and a geoglyph (a large design on the ground), to the west of the city itself.
Chan Chan Peru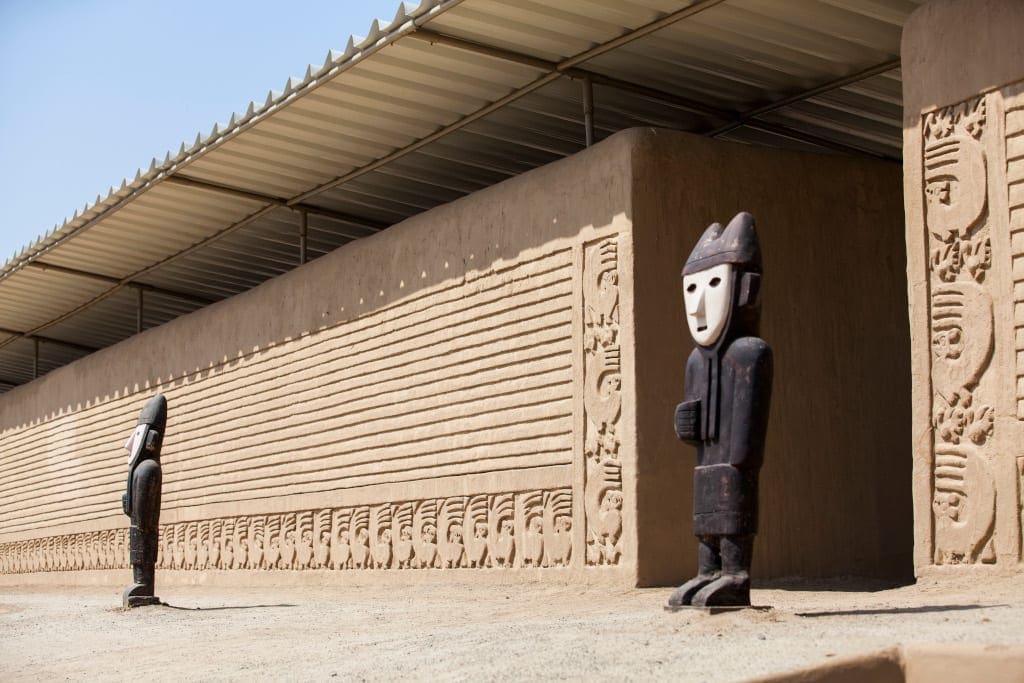 Further north, beside the modern-day city of Trujillo, lie the ruins of the capital of the Chimor Empire. It was a massive place stretching over 20 square kilometres, where over 100,000 people lived. Chan Chan is triangular in shape and surrounded by city walls up to 60 feet tall. Inside are the remains of the houses, plazas, temples, and workshops of its former citizens. There is a small on-site museum. The city fell to the Incas and was absorbed into their Empire.
Chavin de Huantar Peru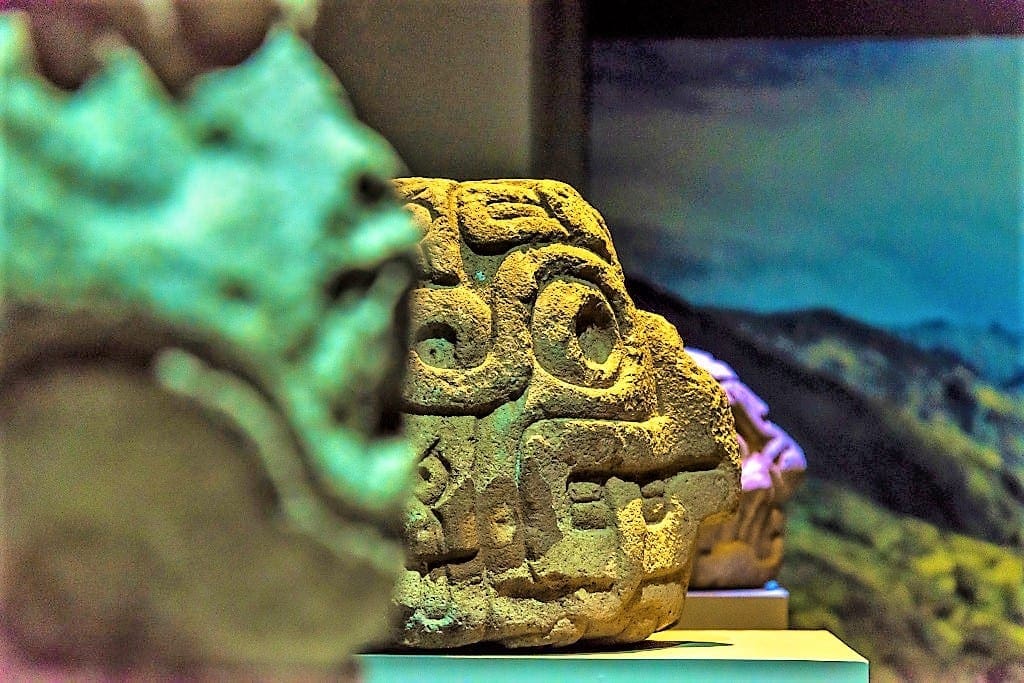 In the mountains to the north of Lima, Chavin de Huantar has a large flat-topped temple with carved walls that are some of the earliest surviving forms of art on the continent. The presence of other temples here suggests that it was a major ceremonial centre of the Chavin people. Some pieces from this site are on display in Lima, others are in the museum here.
Choquequirao Peru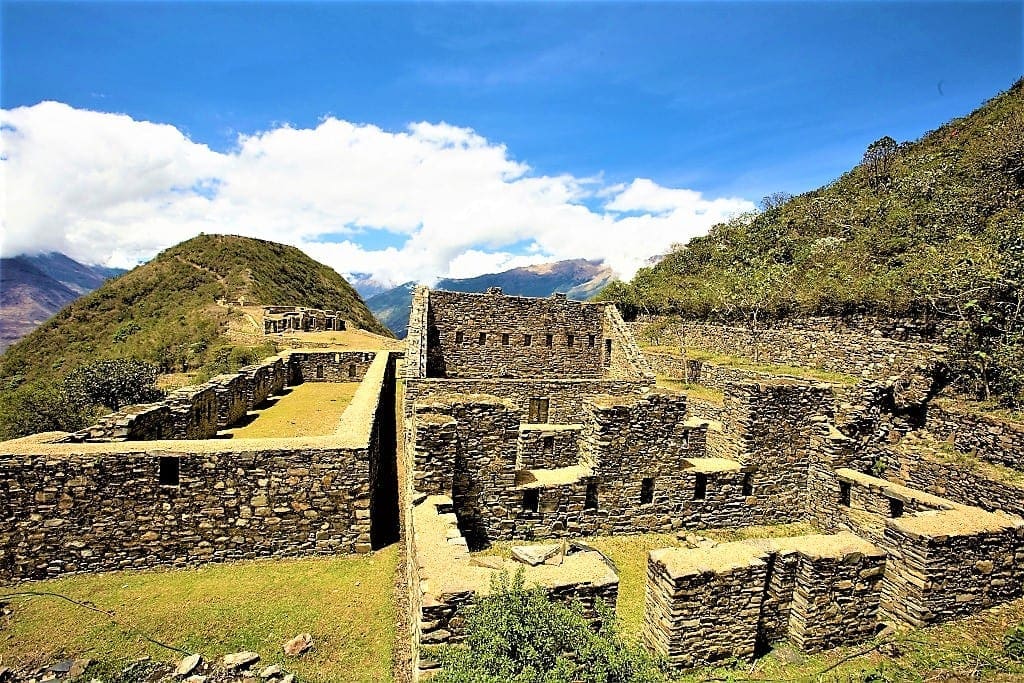 This old Incan town in the Cusco region can only be reached by hiking. It is build on and around a flattened summit. There are two plazas, houses, baths, workshops and temples, with terraced land surrounding it, and some spectacular views of the Andes.
Kuélap Fortress Peru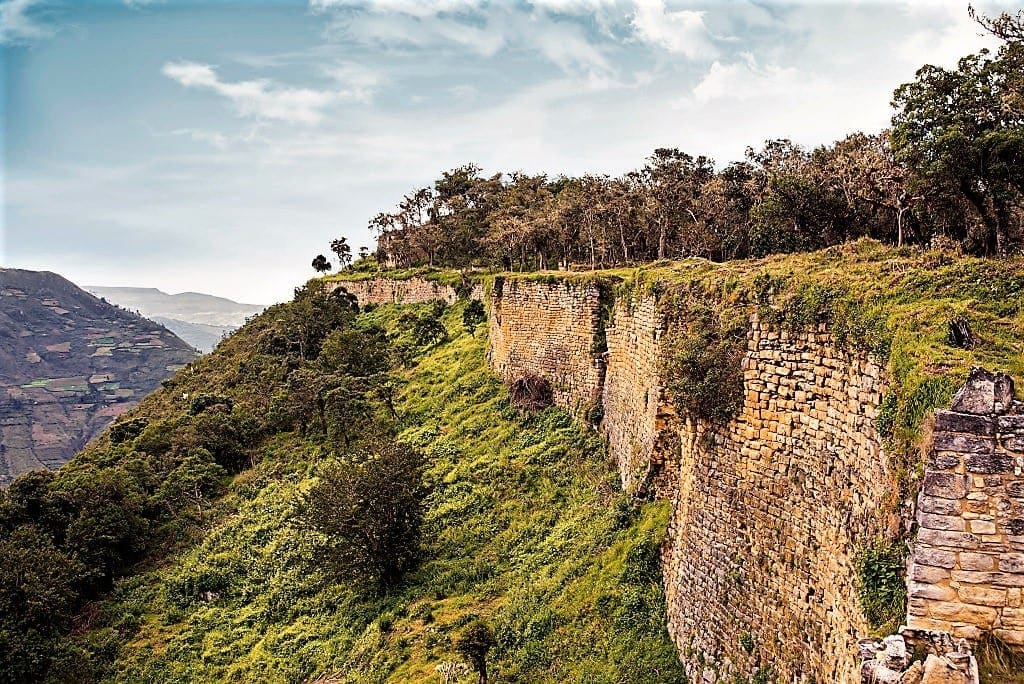 This mountaintop walled settlement is in the north of the country where the uplands meet the Amazon rainforest. It was part of the Chachapoya civilisation and has three gates in walls up to 60 feet high. Around 300,000 people lived here until it was abandoned at the time of the Spanish invasion. A cable car up to near the ruins makes visiting easy.
Ollantaytambo Peru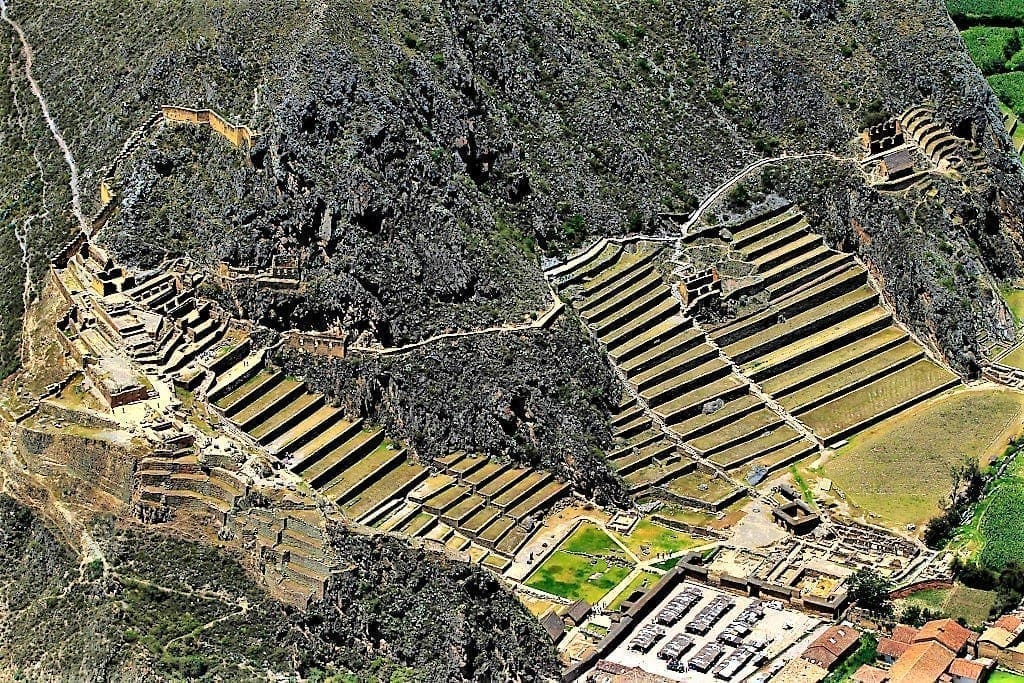 West of Cusco and in a once sacred valley, is the town and temples of Ollantaytambo. It is unusual as it is an Incan town that is still lived in today and in the oldest part of the city you can see the original Incan grid pattern of streets. Nearby is Temple Hill that looks like a fortress, but whose function was actually ceremonial. In 1537 the Incas defeated a Spanish force near here under Pizarro.
Pachacamac Peru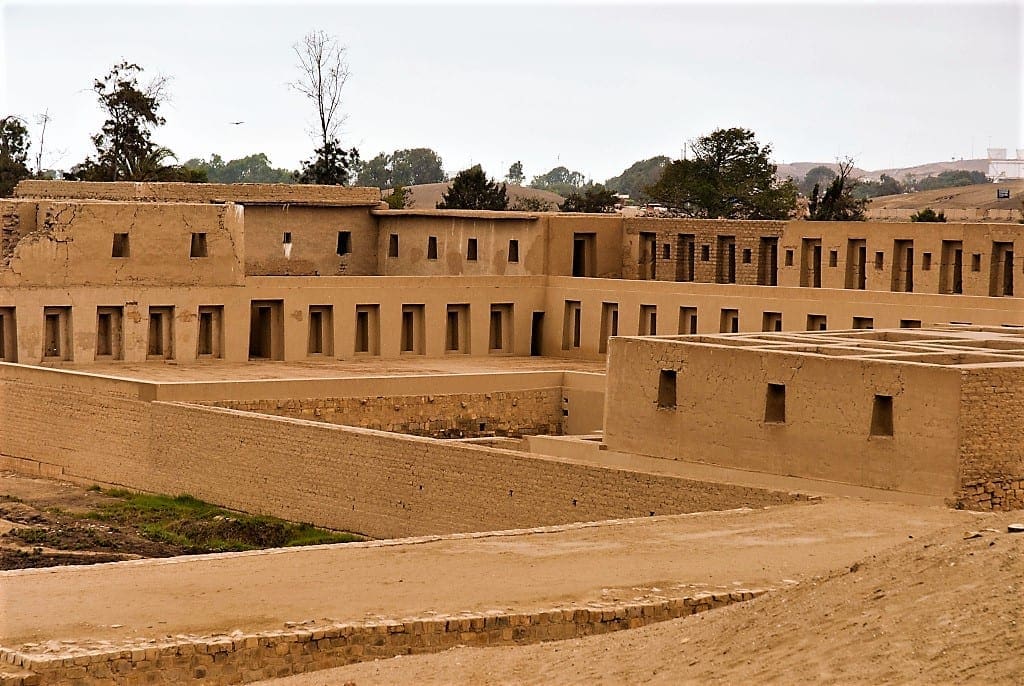 At less than 25 miles away, this is another site very accessible from Lima. It was names after the 'Earth Maker' or god of creation, and is another site abandoned to the Conquistadors. The temple of the sun is particularly impressive: a trapezoid, stepped pyramid. At the time of the Spanish conquest, Pizarro sent his brother here to steal the temple ornaments; however, contemporary sources say that the priests ordered that the gold here be hidden…
…and to this day it has not been found…
Each of these seven historical sites in Peru is special in one or more ways and worth consideration on any visit to this fascinating country.
---
Discover more about Lord of Miracles, Señor de los Milagros, one of the most religious ceremonies in the country.
---
Best time to Visit Ancient Peru 
There is no clear cut answer to this. If you go in the winter months from May to September it will be colder. If you go in the summer months from December to March, it will be warmer, but it will also be wetter.
Flights to Peru
Jorge Chavez International Airport in Lima is the main entry point to Peru. There are flights from Amsterdam, Dallas, Houston, Los Angeles, Madrid, Newark, Orlando, Paris, Miami and New York.
Ancient Peru to the Modern Day
Peru history didn't stop with the Incas, for ideas on places to see in the country, read Hugh Clarkson's Planning Your Perfect Peru Holidays.
Peru Hotels
To find the best accommodation and worldwide flights, please search via our comparison engine, which scans all the major booking sites.
---
For more ideas on things to do in Peru
Visit: www.peru.travel
Mike East
Mike began his career in travel writing by going overseas during his holidays and writing his own guide. He then sent this manuscript off to a range of travel guide companies and got a range of rejection letters — all except one. Getting a contract to write for Roger Lascelles Publications on the Caribbean islands of Trinidad and Tobago and The Bahamas was how his career began. With this opportunity came other pieces for British magazines and The Sunday Telegraph.