Languedoc Wine Tourism: a Sustainable Approach
Irene Caswell
Posted on 2nd Oct 2019
Irene Caswell travels to the Langueoc-Rousillon region of France to discover why such a fuss is made about Languedoc wine.
In the Langueoc, France, winemaking is taken very seriously. It is not an occupation so much as a way of life. Here 3,000 winegrowers have geared their vineyards towards producing quality Languedoc wines coupled with a commitment to preserving the environment. Wine growing and making is not for the faint-hearted and requires devotion to the grape and an allegiance to the land.
I spent four days exploring the region where producers make award-winning wines by biodynamic methods.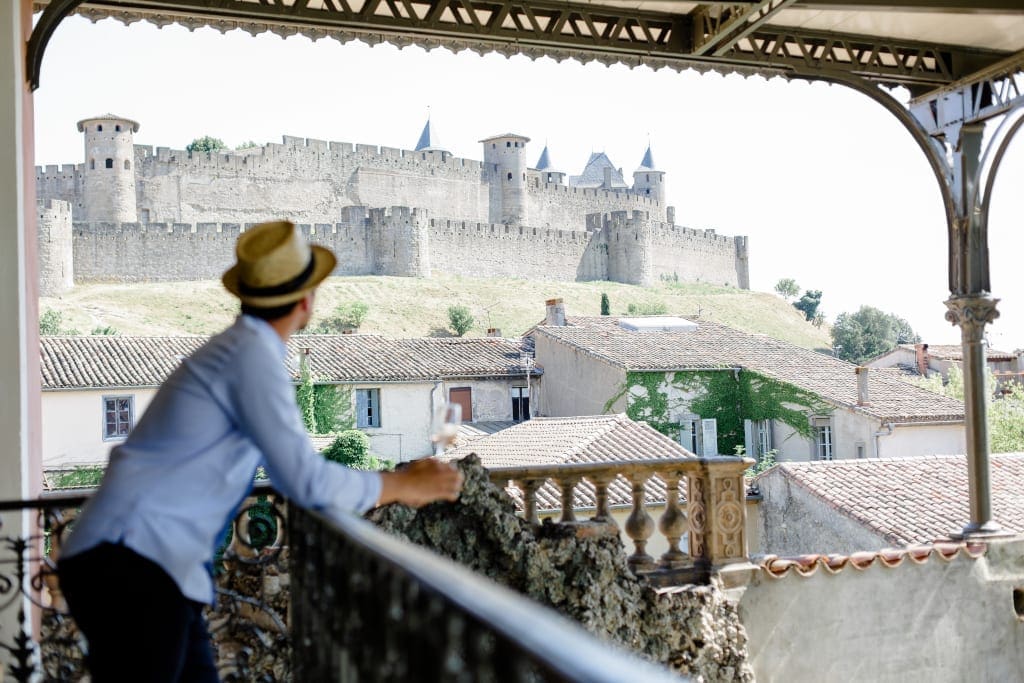 Langueoc-Rousillon is situated between the Mediterranean and the Pyrenees. The region offers a cornucopia of cultural, historical and heritage attractions from a relaxing boat ride on the Canal du Midi to a stroll around the medieval city of Carcassonne. There are secret beaches, markets and restaurants offering gourmet food, all set within unspoilt landscapes, which stretch as far as the eye can see at the base of the Pic Saint-Loup.
Languedoc Wine Tourism
In the Languedoc wine tourism is about exploring the wines of the region while enjoying the Mediterranean life. Les Vignobles Foncalieu wine co-operative group farms 4,000 hectares of vineyards from Carcassonne to Beziers. This mosaic of countryside between sea and mountain is home to 650 wine growers.
We visited the Comptoir de la Cité at the foot of the mediaeval walled city of Carcassonne. The former old palace from the Belle Époque, and later a 19th century distillery and a registered French historic monument, has been lovingly restored to its former beauty. The restored former ballroom is now the tasting room and is also used for events. On the ground floor below is a retail space. As a piece of fun trivia the loos are accessed through a hidden door in the colourful mural behind the sales counter.
We enjoyed a wine and food pairing workshop. The hands down winner here was L'Apogée, AOP Saint-Chinian, 2013, made with 85% Syrah and 15% Grenache noir grown in a soil composed of fossil sandstone and limestone-clay, which I learned gives a light mineral taste, and aged for 12 months in new French oak barrels.
Gastronomic indulgence
Wine and food go hand in hand in France. We dined one evening a Les Grands Buffets, a French institution located in Narbonne. Created in 1989 by Louis Privat and Philippe Roques, the truly remarkable dining experience revives a dying tradition of the classic French feast.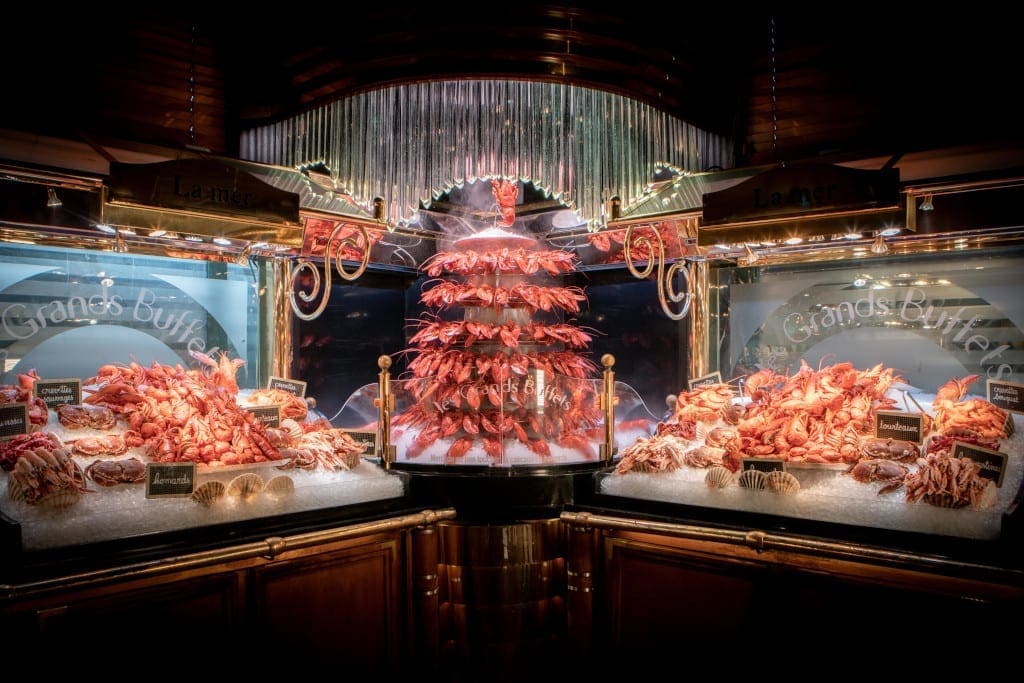 The restaurant is located in a municipal swimming pool complex which is rather unnerving. Stepping inside feels like entering Doctor Who's Tardis. Immediately, you are transported into a vast world of chandeliers, antique furniture and exotic gardens; a larger-than-life Rabelaisian stage set.
The buffet tables are themed.
For instance, the cheese banquet table features a staggering 111 regional cheeses of all shapes, sizes and colours, including a bright green basil cheese. The seafood platter features an abundance of fresh crabs, mussels, oysters and lobsters. There are more than 50 desserts, homemade by six pastry chefs – as well as a Chocolate Fountain – and every type of bread imaginable. Whole suckling pigs and Pyrenean milk-fed lamb sit alongside farmyard chickens, roasted quails and haunches of beef.
Les Grand Buffets is the Willy Wonka factory of gourmand food.
There are also 70 wines by the glass on offer. For €37.90 you are able to try as many dishes as you wish. A once in a lifetime visit.
---
For an alternative wine tasting experience, try Moldova Wine Communism and Underground Monks.
---
Best Hotels Languedoc Rousillon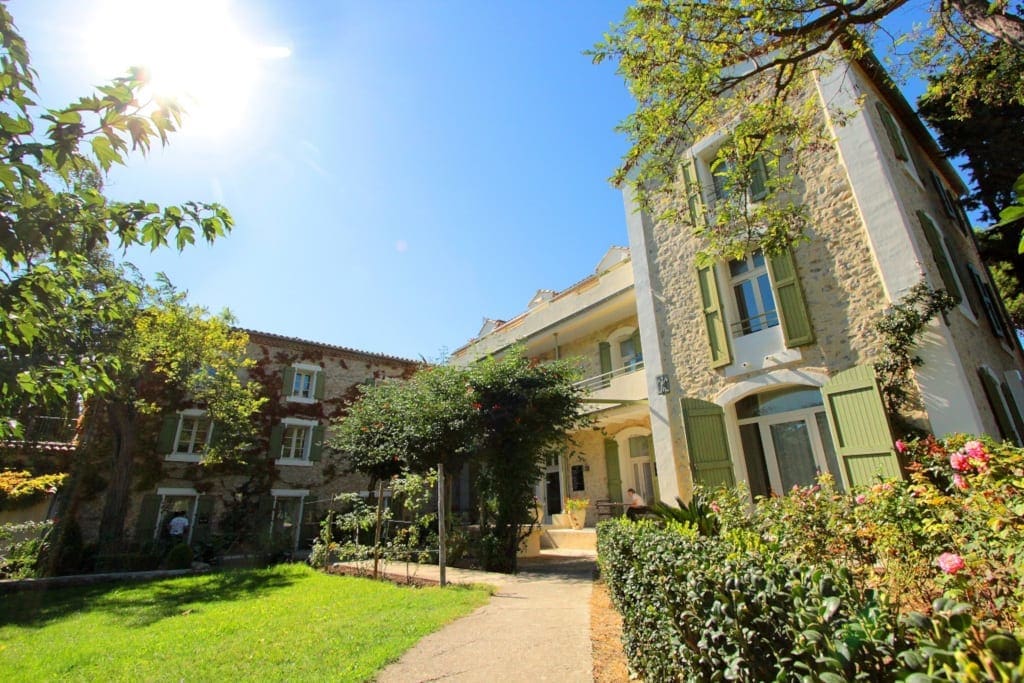 We based ourselves at the Château l'Hospitalet situated at the centre of the protected massif, La Clape.
One of 15 wine estates owned by Gérard Bertrand, it features a 38-bed hotel. Initiated into the harvest techniques as a child, Betrand retired as captain of the Stade Francais rugby team in 1994 and took over the family estate after the accidental death of his father to become a renowned winemaker.
Eight of the estates use the biodynamic method, without any chemicals and in line with the Maria Thun Biodynamic Sowing and Planting Calendar. Thun explored the influences of the moon, planets and constellations, and organic materials, on plant growth in the 1950s. Bertrand aims to have all of his plots – which grow different grape varieties – converted to this method by 2023.
The hotel nestles comfortably into the lush and peaceful Languedoc vineyard landscape. The rooms and suites are comfortably furnished using natural materials.
Dining at the Restaurant La Vivre
The interior design of the Restaurant La Vivre at the Chateau is contemporary design. The menu is simple and elegant and features fresh local produce under young Chef Laurent Chabert, Maitre Restaurateur. The Chateaux is also developing its own vegetable garden and produces its own fruity, extra virgin olive oil for use in the restaurant.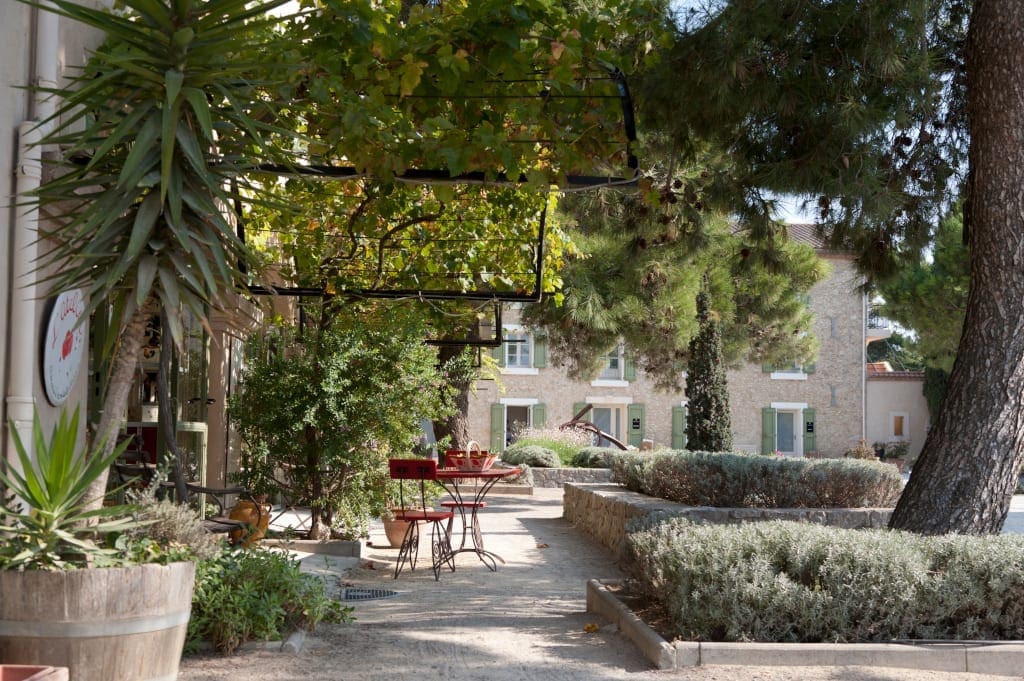 A magnificent glass-fronted wine cellar allows guests the opportunity to choose from three 'wine options': Our Properties, Great Wines or Single Vineyards for tasting access to a range of wines and prices.
Dinner included a salad of the freshest heritage tomatoes from Narbonne, with basil and oil. This was followed by a regional lamb. For non-meat eaters there was a plump round stuffed courgette baked with a rich tomato ratatouille stuffing. The dessert main consisted of sun-ripened apricots, which had a rich sweetness, unlike any supermarket fruit in the UK.
Accompanying wines included Clos de Temple 2018 which is perfectly balanced, elegant and fresh. Made from a blend of very old Cinsault, Grenache Noir and Syrah, it's grown on the historic terroir of Cabrières, the birthplace of rosè wines which dates back to Roman times. The rosè wines in this region are not overly sweet but crisp and intense and pale in colour.
The hotel features a good sized outdoor pool for guests under the trees, essential for cooling off in the summer temperatures of the region, which were in the high 30 degrees when we visited.
I recommend booking a 90-minute guided tour of the estate (€13). Informative, it offers a comprehensive but accessible explanation of the fascinating biodynamic method of agriculture. The underground wine cellar is an impressive space with oak barrels stretching away into the distance. It is also possible to book a Master Class or a Blending Workshop.
Each summer there is a Jazz Festival at Château l'Hospitalet and, later in the year, the Harvest Celebration and the Truffle Fest. Rooms at Chateau l'Hospitalet are from €141 for a Classic Room.
Sustainability and Languedoc Wine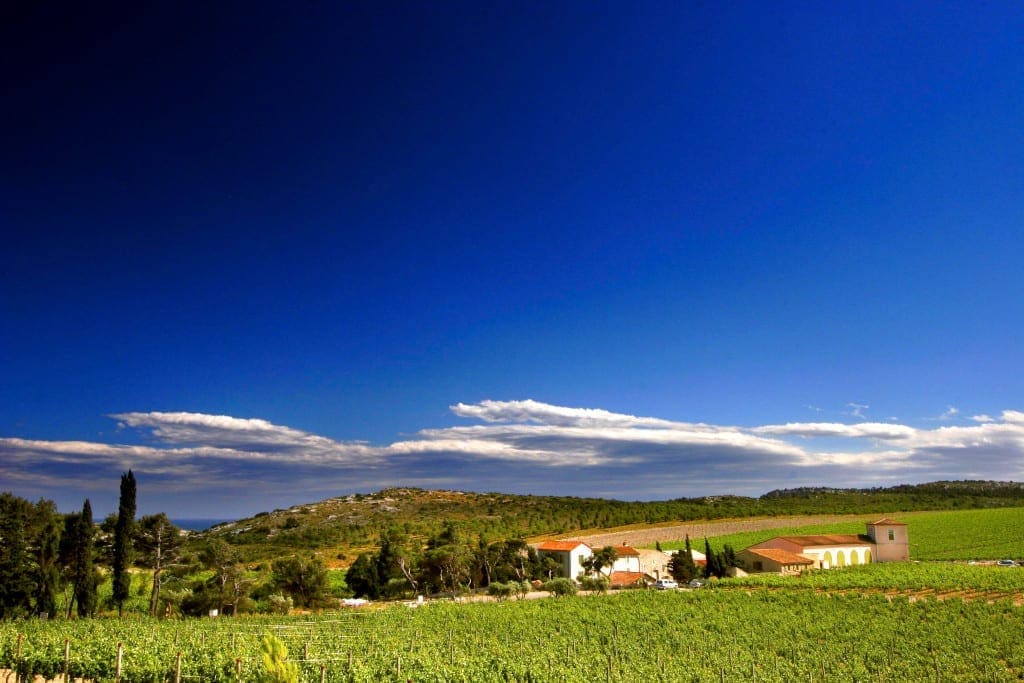 Wine drinking trends in France, as in the UK, are now to consume less but better quality wines.
Sustainability has become a fundamental social trend, but Languedoc's pledge towards sustainability dates way back. For these winemakers, equally important to producing great wines is preserving the land, heritage, culture and community, with skills being passed down through the generations.
The Languedoc is a stunningly beautiful region and the people are passionate and keen to share their approach to wine, and life. It is rather like taking a step back in time to a slower and more enjoyable day-to-day pace.
You really take the time to enjoy food and wine, not just the eating but the growing and making. The landscape and nature are a natural part of this and I could not get enough of the endless views of sloping vineyards and trees.
---
Before visiting Languedoc's vineyards, Irene made a much more solemn trip to the War Graves in France, Pas-de-Calais.
---
Flights to Toulouse
Irene flew from Gatwick to Toulouse in just 90 minutes and toured from there courtesy of the Conseil Interprofessionel des Vins du Languedoc.
For more information on Languedoc France
Visit here.
Irene Caswell
Irene is a freelance writer with a special interest in destinations, arts and culture, food and wine. She believes a life well lived is about experiences and aims to provide readers with informative and evocative stories. Follow Irene on Instagram at @hashtagtravelin.