This Is What To See in Rome in a Weekend
Travel Begins at 40 Editor
Posted on 1st Oct 2019
Rome is a city rich with history and culture. A destination filled with things to do and places to see, which can make choosing exactly what to do a little difficult. This is why we have provided some tips on what to see in Rome in a weekend.
In this article, we will be looking at the best places to spend your time during Rome in a weekend break, as well as the "must-see" attractions that should be at the top of your list to visit in the Italian capital, as well as providing a little background on the history of Rome.
Rome in a Weekend : Rome Colosseum
No weekend visit to Rome would be complete without seeing the iconic Colosseum. Technically named the "Flavian Amphitheatre" after Titus Flavius Vespasianus, the Roman Emperor who ordered its construction, the Rome Colosseum was built to house over 50,000 spectators and, at the time, it was the largest amphitheatre ever built.
The Ancient Romans used the Colosseum for a huge variety of lavish entertainments, from plays and dramas to larger public spectacles, such as gladiatorial fights, animal hunts, executions, etc. At one point, it was even filled with water so that competitors could conduct mock sea battles known as naumachia.
Nowadays, the Colosseum is more commonly used as a theatre and entertainment venue, but you can take a VR tour that transports you back to its more bloodthirsty origins.
Circus Maximus
Life in ancient Rome revolved around public entertainment and, alongside the Colosseum commissioned by his father, the Emperor Domitian built the huge Circus Maximus a short walk from the Roman Forum.
Rome has always had a close historical relationship with horse racing, Domitian built the Hippodrome to accommodate 150,000 screaming horse and chariot racing fans. That huge space is now a tranquil park located a stone's throw from the city.
If walking through all that equine history gives you a taste for the real thing, the Capannelle Racecourse is well worth a visit. This more modern version of the Hippodrome has its own rich history – having been built in 1881 – and while it, unfortunately, doesn't feature any chariot races these days, you can still try your hand at picking a winner in some of the biggest horse races in Italy.
Trevi Fountain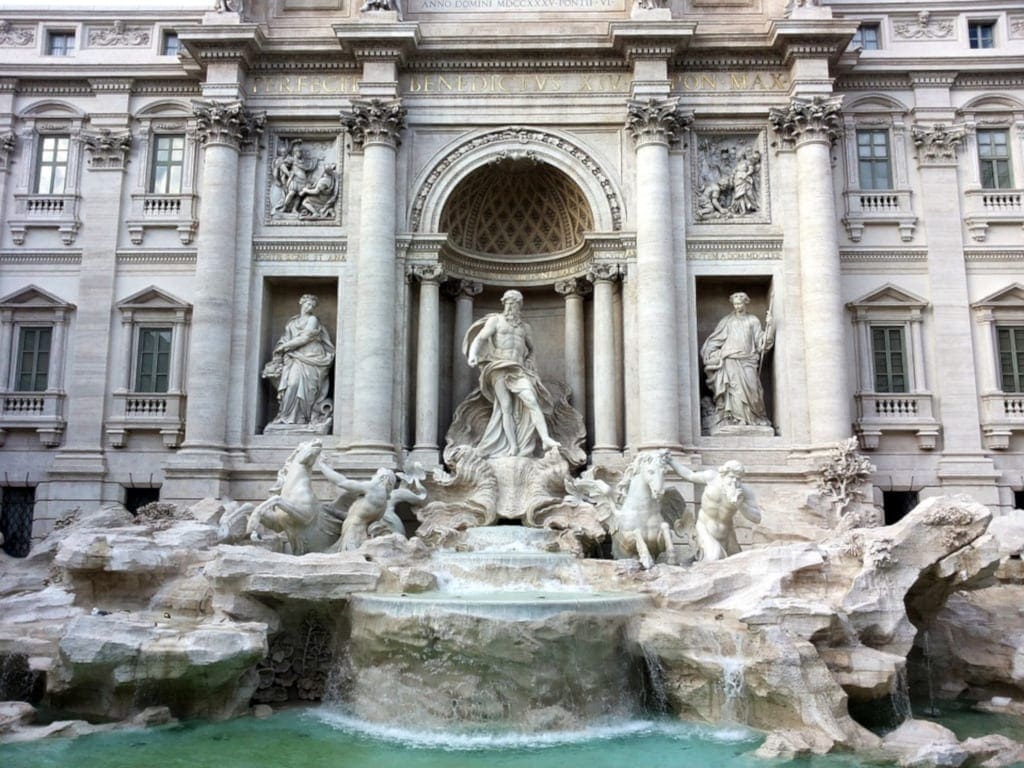 Stepping forward in time a little, the Trevi Fountain is an example of how Rome continued to lead the world culturally after it had ceased to lead it politically and militarily. Built in the mid-18th century, the Trevi Fountain is a massive Baroque installation recognised the world over, making it one of Europe's most famous fountains.
The fountain lights up stunningly at night and it is said that throwing a coin into the fountain will bring you good luck for a year. To some extent, this is true, as nearly 3,000 euros are thrown into the fountain every day, only to be collected in the evening and used to feed the needy.
The Spanish Steps
Located on the Via del Babuino, just off the Piazza del Popolo, the Spanish Steps were made famous by their inclusion in the Audrey Hepburn and Gregory Peck film, Roman Holiday.
The steps, which are technically part of the construction of a church, are called the Spanish Steps because the Spanish embassy to the Vatican used to be located at the base of the stairway, in the Piazza Spagna or Spanish Square.
The steps were built to celebrate a peace treaty between the nations of France and Spain, but their construction almost caused further conflict when the French insisted on the designs of Francesco de Sanctis – a relatively unknown architect from the city of Verona – over the designs of the papal architect Alessandro Specchi. Tensions were eventually eased when both men met and agreed to work on a joint design.
The Spanish Steps have become such an iconic part of Rome, and so many people wanted to sit on them to re-enact scenes from Roman Holiday that they started to deteriorate, so they were declared a monument and it is now illegal to sit on them.
Worth a Return Trip to Rome
By following our guide to what to see in Rome in a weekend, you'll be able to visit the Italian capital, see a mixture of history, art, architecture and still have enough time to stop and taste the gelato without hurrying from place to place. Of course, there is far too much to see in Rome for you to cover it in just two days, but visiting these iconic attractions will give you a taste of what Rome has to offer and give you all the impetus you need to book your next holiday in this amazing city.
---
Rome hotels and Flights to Rome
If you are looking for a flight to Rome airport or booking a hotel for your Roman weekend, please consider using our booking portal:
---
Cover Photo by Julius_Silver / Pixabay License 
Travel Begins at 40 Editor
Travel articles, news, special offers, festivals and events from the Travel Begins at 40 Editorial team and our global network of travel industry contributors.